20 Best Process Templates for PowerPoint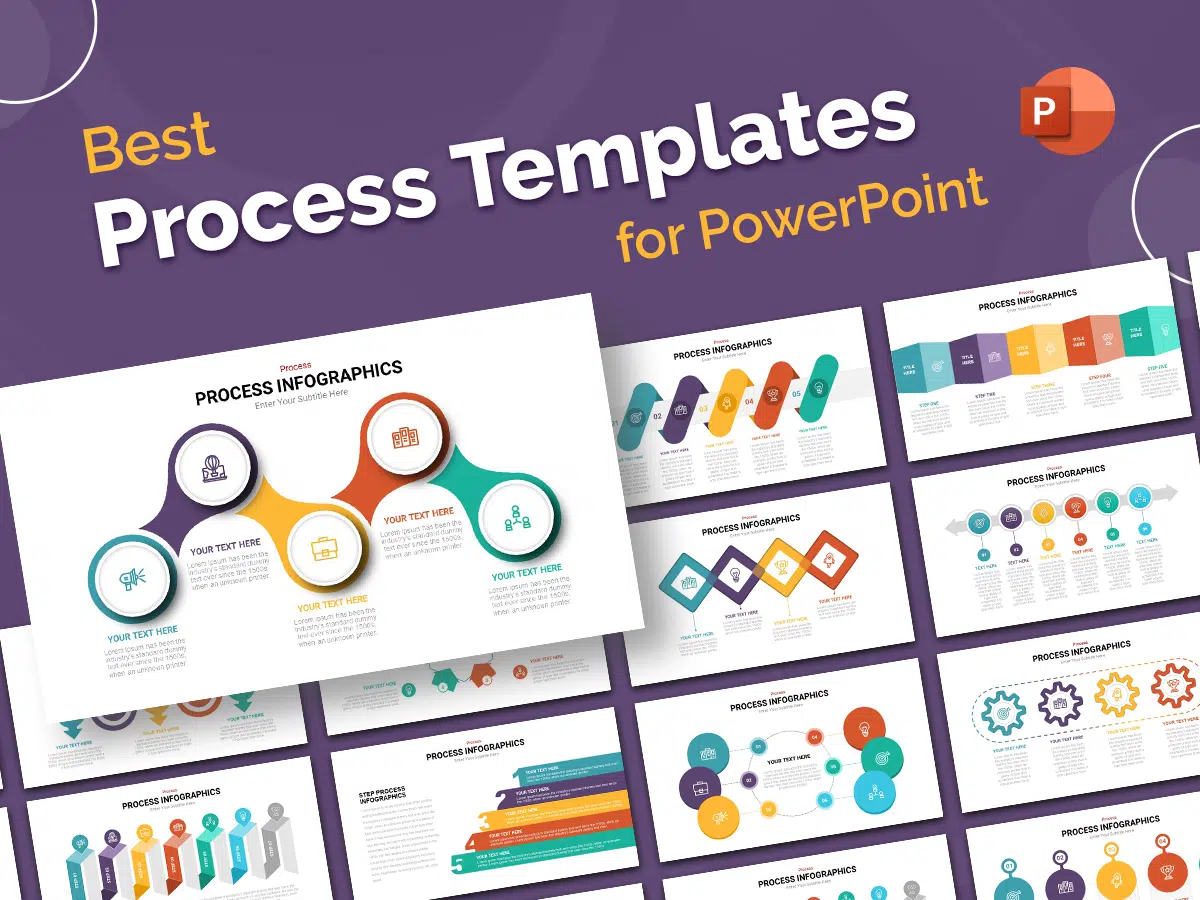 It would be best if you had different styles and shapes to describe a process. We have a range of editable best process templates for PowerPoint presentations. A process is a series of steps and the way one phenomenon needs to complete its success going. Documentation such as process maps, matrices and models are useful for detailing the workflow of an organization's processes. If you are a business manager or an educator, you need process templates to showcase how you will execute the core aim.
The following best process template for powerpoint presentation will come in handy when discussing project planning, creating a timeline for events, or laying out the steps of a complicated task or procedure steps. Using these best process infographics to show linear or non-linear processes, cause-and-effect relationships, hierarchical relationships, and more.
In this blog, we have summoned the 20 best process templates for powerpoint. Each one feels unique and interesting, hoping that you might find one that suits your needs.
1. Linear business process diagrams template
A business process template in linear design is an excellent way to entice your audience. The clear layout and simple design make the presentation look casually elegant while conveying all the essential information. This type of ppt template is perfect for businesses that want to present a professional image without appearing overly formal.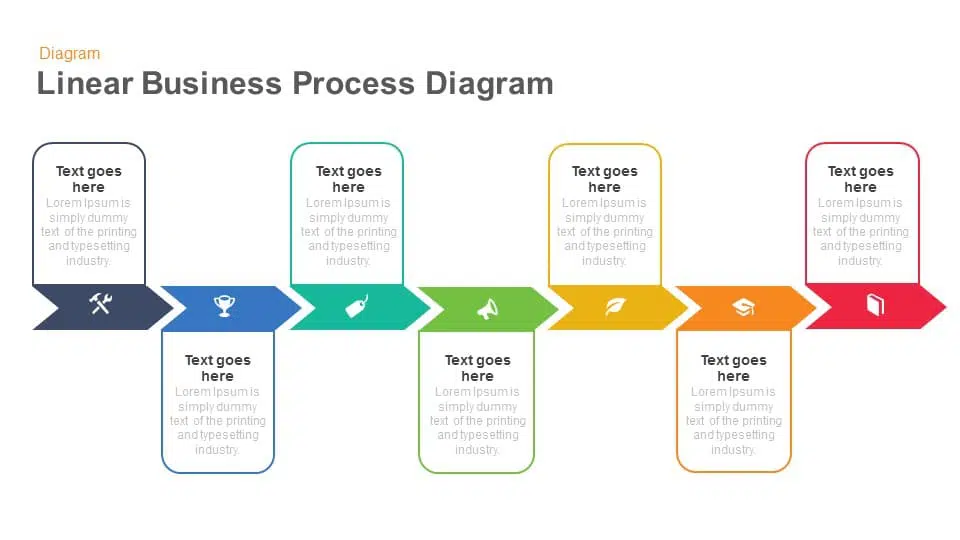 USE THIS TEMPLATE
2. 5 stage process flow diagram
Simple PowerPoint diagrams in a sequential flow would always be on-demand since they display messages with the intent you need. The process template is appropriate for showcasing project management, product development, and business process development. It is a roadmap template design of five circular shapes designs.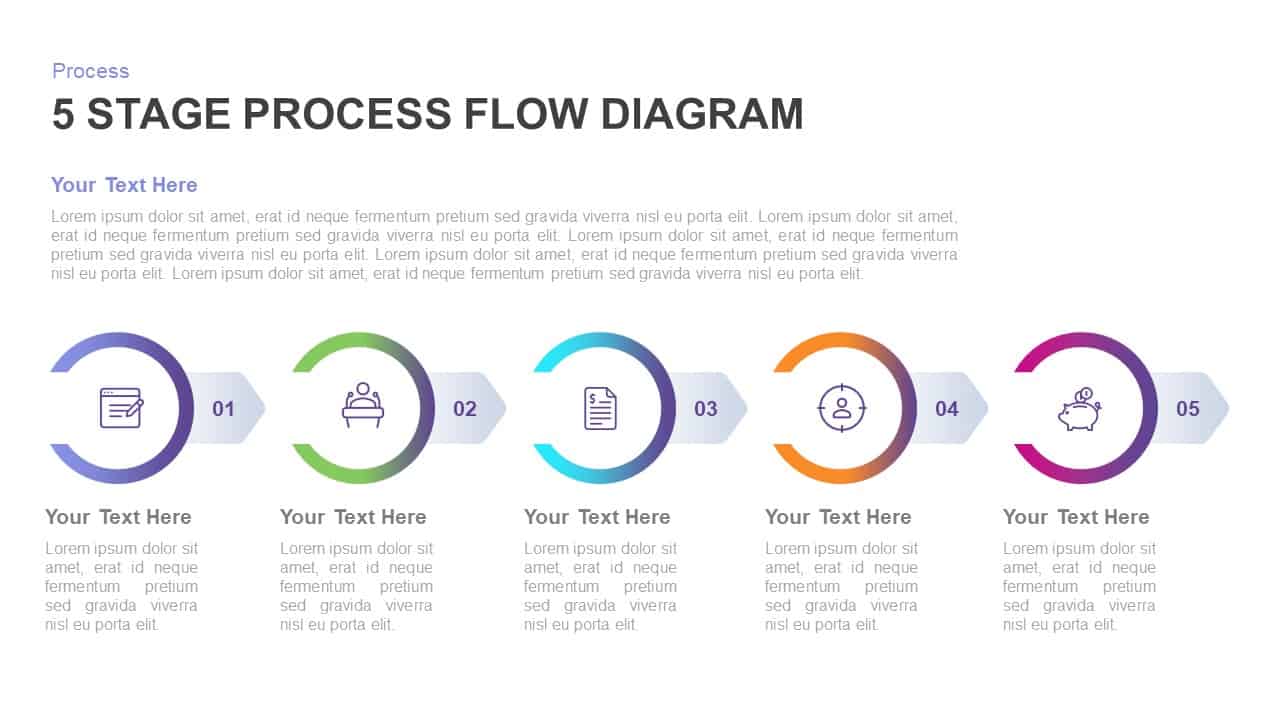 USE THIS TEMPLATE
3. Before and after the process change the PowerPoint template
The before and after PowerPoint template is a unique and useful presentation slide for those who want to show the pre and post-condition of a business or event. This template comes with two slides. The first one is for the before part, where you can present the cause of change with suitable visuals like photos or clipart. And, in the second slide, you can explain what changes have been made after the change process.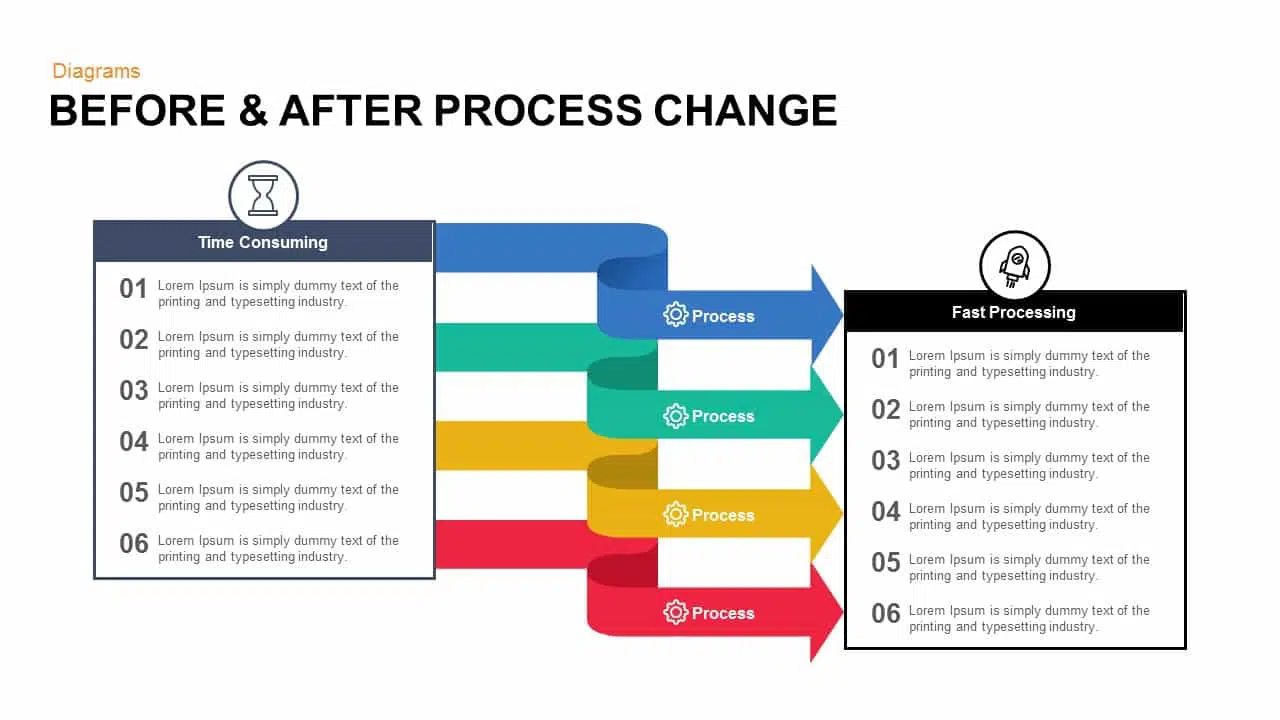 USE THIS TEMPLATE
4. 6 Stage service process template for PowerPoint
If you're looking for an easy way to create the best process diagrams and timelines, look no further than the 6 Stage Service Process Template. This handy editable template makes it a breeze to create professional-looking flowcharts with just a few clicks. In addition, the wagon-shaped sample models are perfect for making process diagrams quickly and easily.
USE THIS TEMPLATE
5. Process flow infographic
The linear diagram with wave-line arrow ppt indicators is perfect for showing the timeline development of your business and process. Process PowerPoint should be simple and catching to keep the audience in the presentation.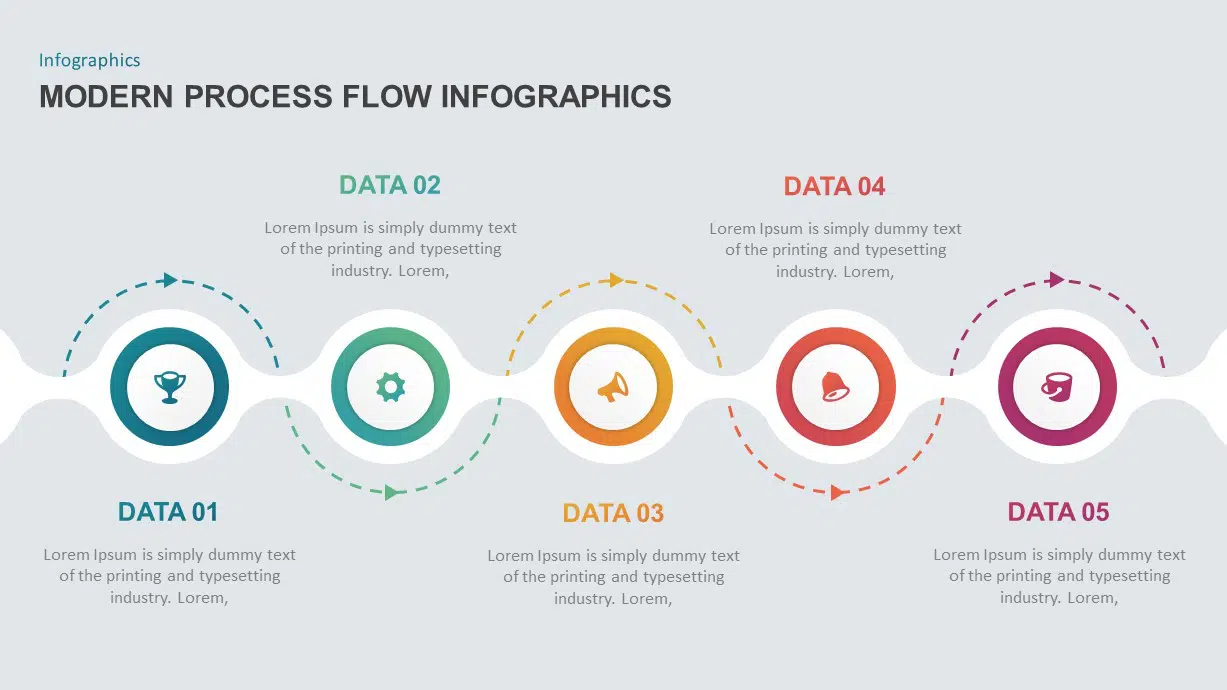 USE THIS TEMPLATE
6. Linear process flow diagram infographic
The linear process template is best for showing connections and relations. The 4-step multi-functional PowerPoint can be used to present any topic that has links. Besides, it is especially useful for relationship diagrams. For example, a linear process template could be useful in showing the different stages of a process, the relationship between other objects, or time progression.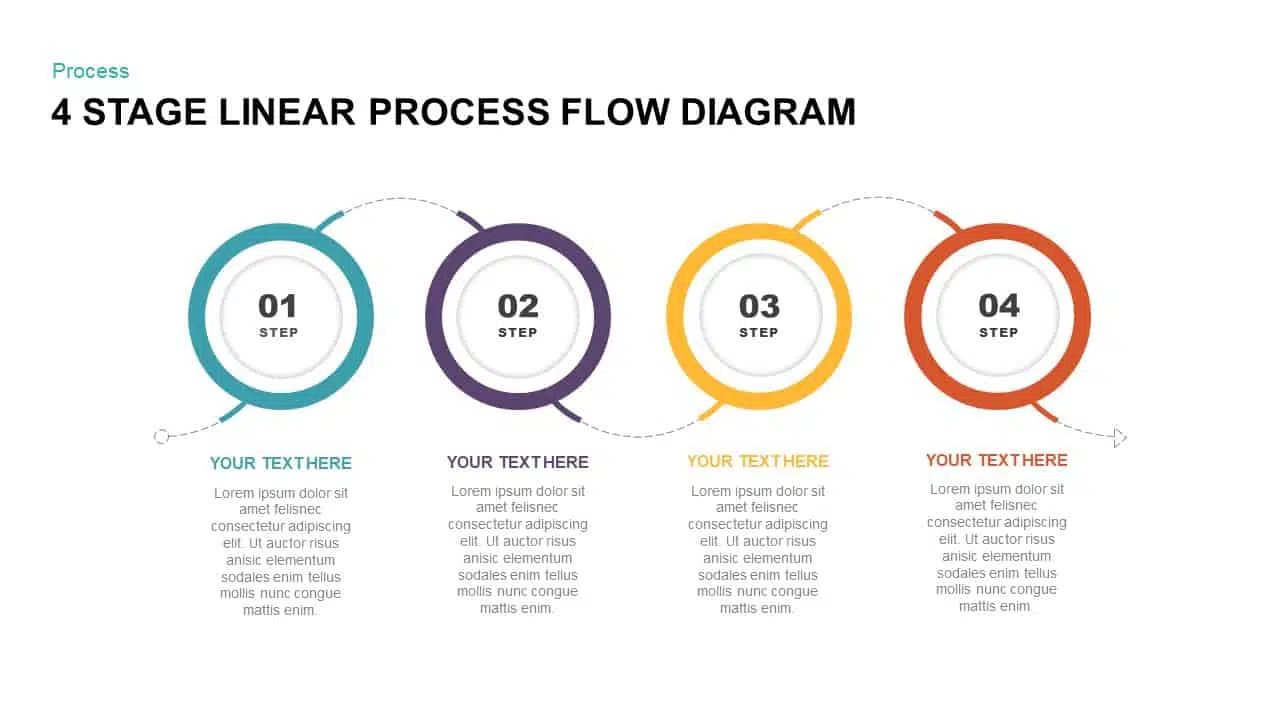 USE THIS TEMPLATE
7. 8 step arrow process diagram PowerPoint template
This process flow diagram for ppt presentations is an excellent way to engage your audience. The process flow diagram is a horizontal process flow with U-turn rotation, and the slides are incredibly unique and help illustrate a work process or business model. In addition, the timeline template is extremely helpful in visualizing a process or project, and it will help your audience understand your message.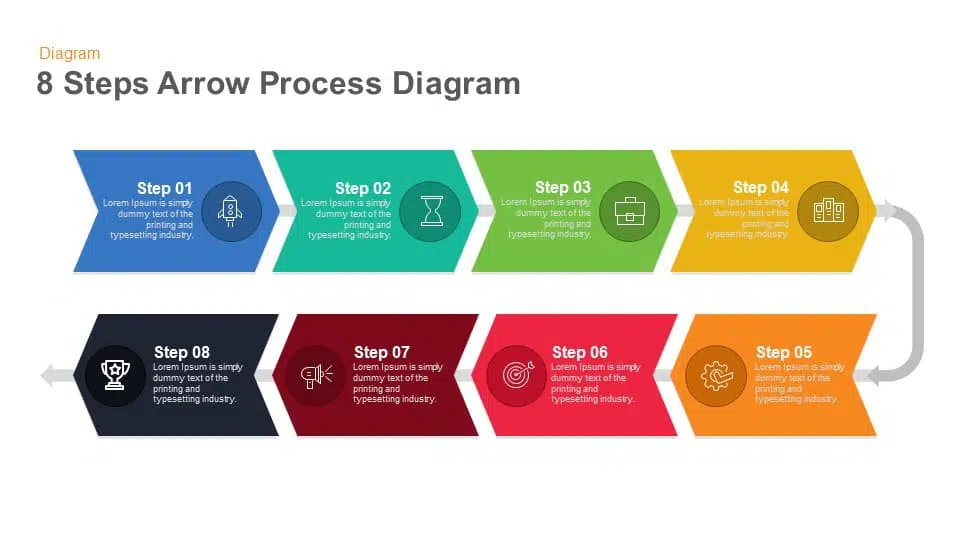 USE THIS TEMPLATE
8. Service design process journey PowerPoint
The pendulum design of process journey PowerPoint is a professional business template that helps you chronologically present your business development journey. It is easy to use and comes with different colour combinations. This PowerPoint template is perfect for any business presentation. You can easily add your content and visuals to make your presentation more engaging.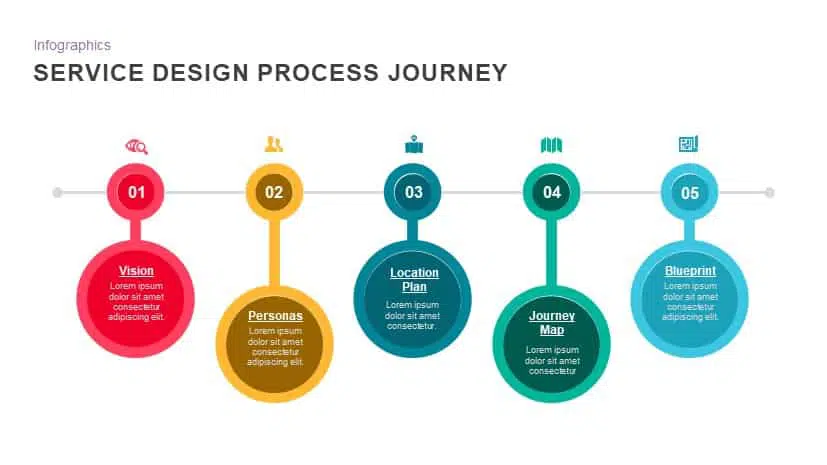 9. Marketing process PowerPoint template
The marketing process PowerPoint template is a great way to present the various steps involved in marketing in a timeline sequence. The template highlights the basic components of the marketing process, such as research, plan, implementation, measures, and optimization. The simple PowerPoint shapes and large text areas on the surface make your presentation outstanding.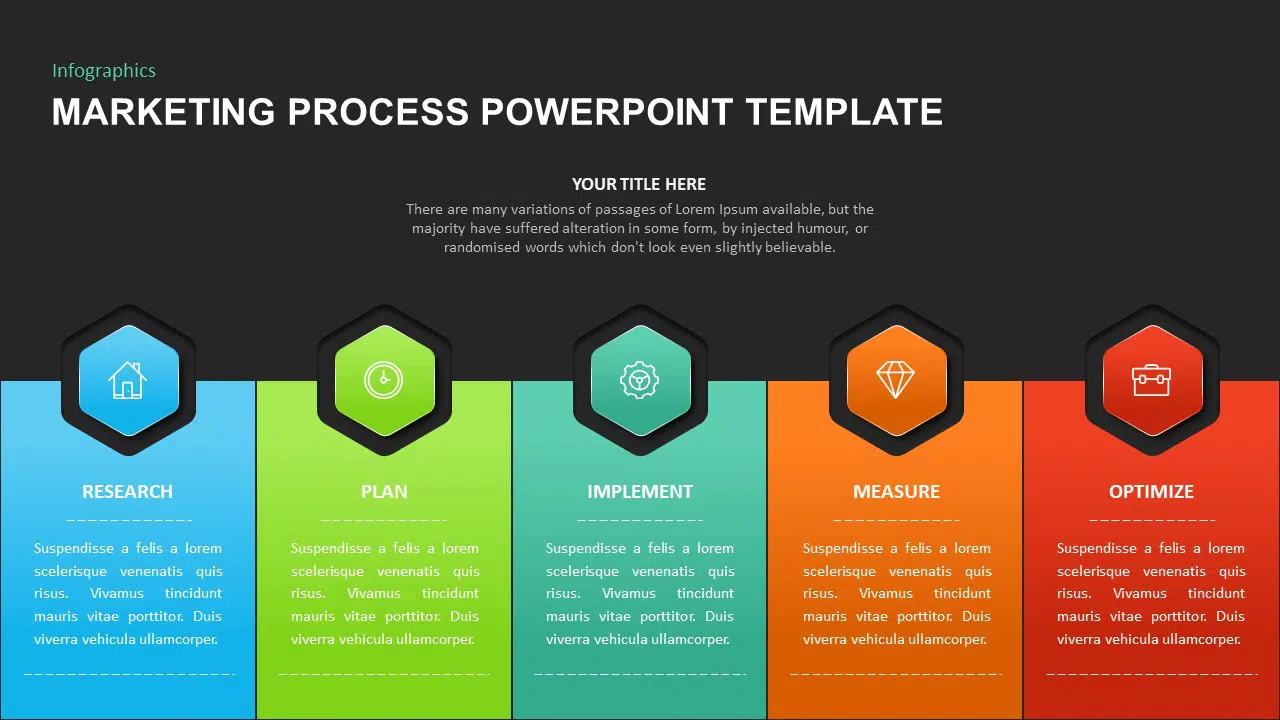 USE THIS TEMPLATE
10. Product development process diagram template for PowerPoint & keynote
The editable product development process diagram best shows product development phases in step-by-step visual graphics. Here, the PowerPoint template clearly defined the product development process from the starting stage. As a result, the slide is ideal for manufacturing and production processes. It contains five steps: product ideation, product planning, product development, product launch, and post-launch review. In addition, every stage has its colour scheme, making this product development process PowerPoint presentation more attractive and engaging.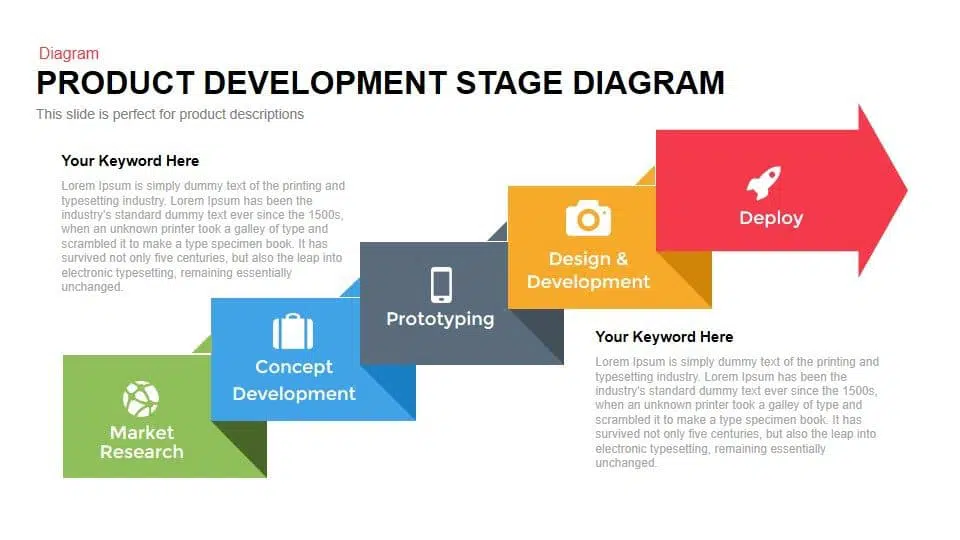 USE THIS TEMPLATE
11. Effective brainstorming process template
The brainstorming process is an essential part of any project or presentation. Idea generation and careful consideration of all ideas ensure that the final product will be high-quality. However, brainstorming can often be a chaotic and disorganized affair. So, this is where the semi-circle diagram comes in. The chart provides a neat and clean process template for PowerPoint that can display the brainstorming process attractively and professionally.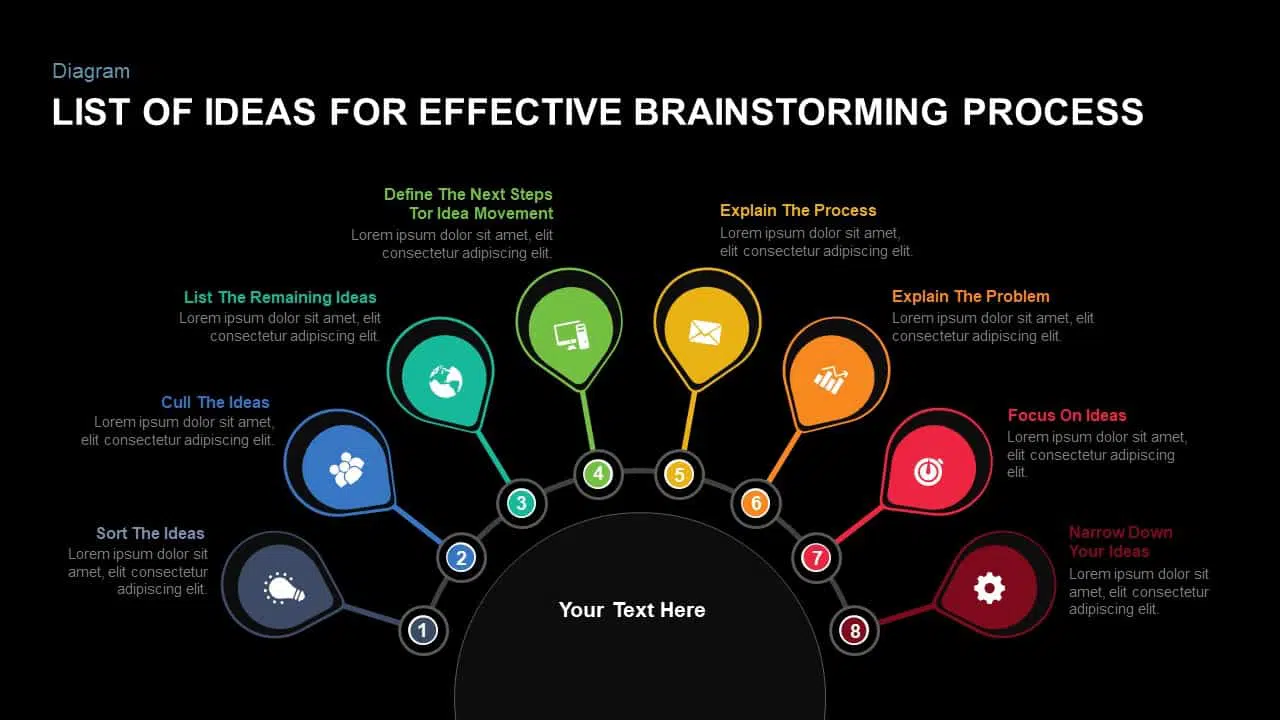 USE THIS TEMPLATE
12. 5 stage linear process flow PowerPoint template
The linear process flow PowerPoint template is a horizontal timeline layout that diagrammatically illustrates the steps involved in a process. The snake diagram is a graphical representation of the process, and the template helps you map out the process and visualize it. The template is fit with both Keynote & PowerPoint, and it is compatible with all versions of PowerPoint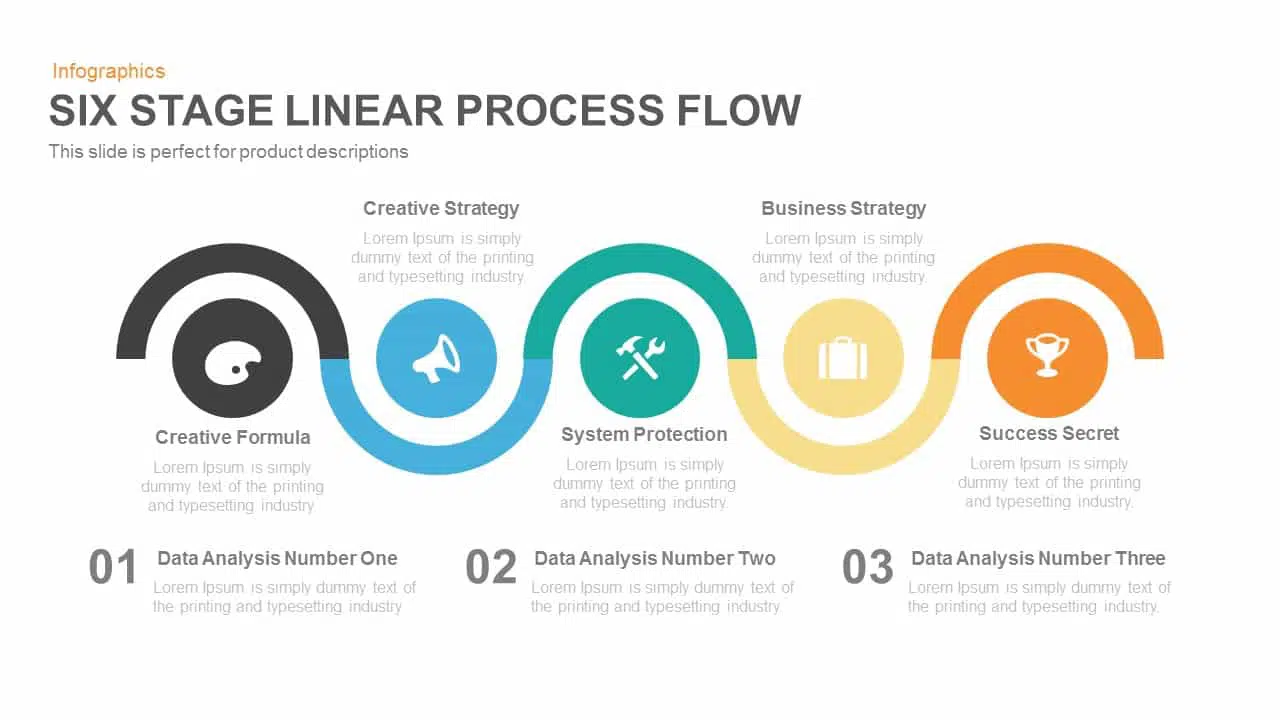 USE THIS TEMPLATE
13. Cycle process PowerPoint template
The circle PowerPoint template is an attractive design that shows the business process development and its sequences in a connection. Process diagram PowerPoints are fit to present iterations of developments as a recurring cycle. The circle PowerPoint template is an easy way to represent the process diagrams for your audience.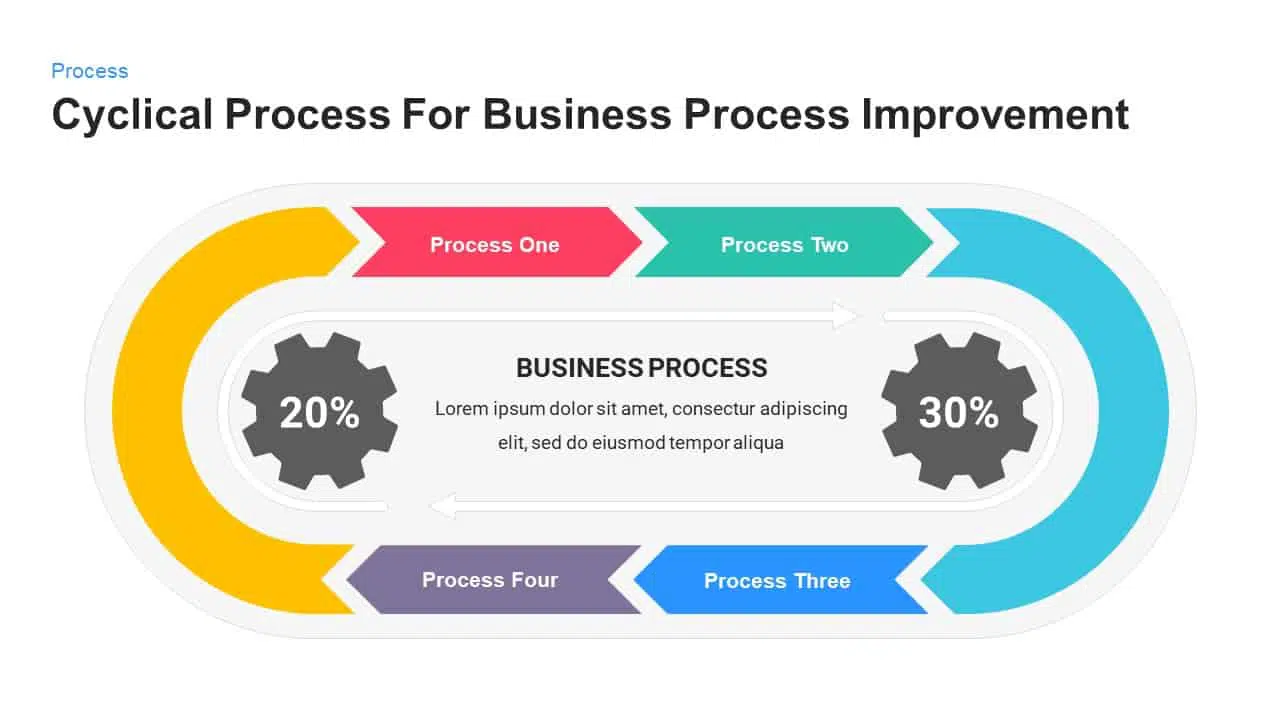 USE THIS TEMPLATE
14. Process arrow PowerPoint template
The arrow process PowerPoint templates offer a unique and professional way to show the progression of an event, project, or process. The thin line arrow pointing from left to right shows the step-by-step journey from start to finish. This simple yet effective design is perfect for presentations on business processes, project development, timelines, business strategies, product development, and historical evolution.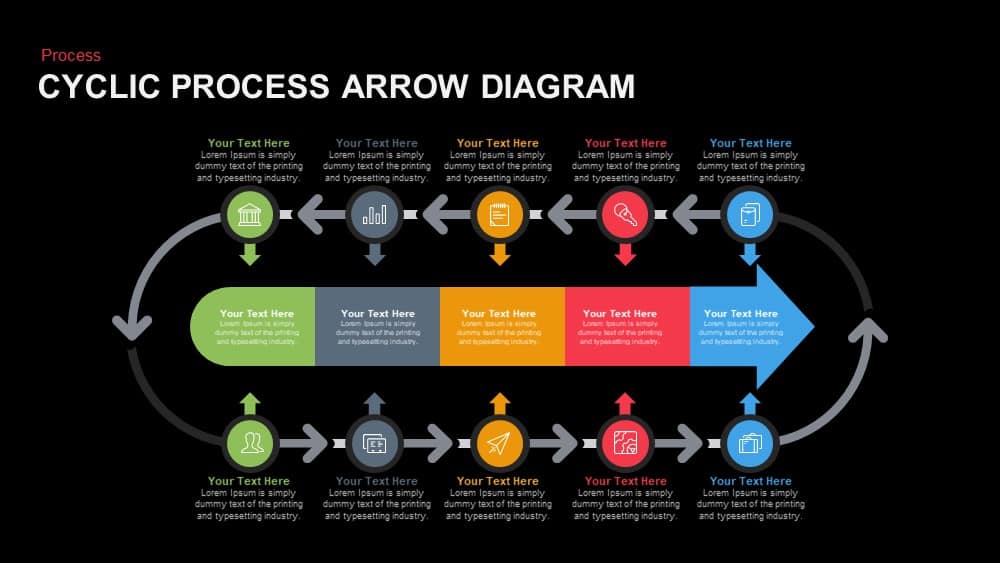 USE THIS TEMPLATE
15. Process mapping PowerPoint template
A process map template is a visual diagram that shows the steps in a process. It is also called a flowchart, process chart, process model, workflow diagram, org chart ppt, process flowchart or a process flow diagram. Ideally, this is the breakdown structure that delineates your work schedule with the help of a visual diagram. A process flow chart template is a useful tool for business process improvement. It helps you to understand and document a process so that you can improve it. The template is best for presenting any strategy, from simple to complex. It is easy to use and adapt to your specific needs. You can use it to map out the steps in a process, identify bottlenecks and make improvements. The process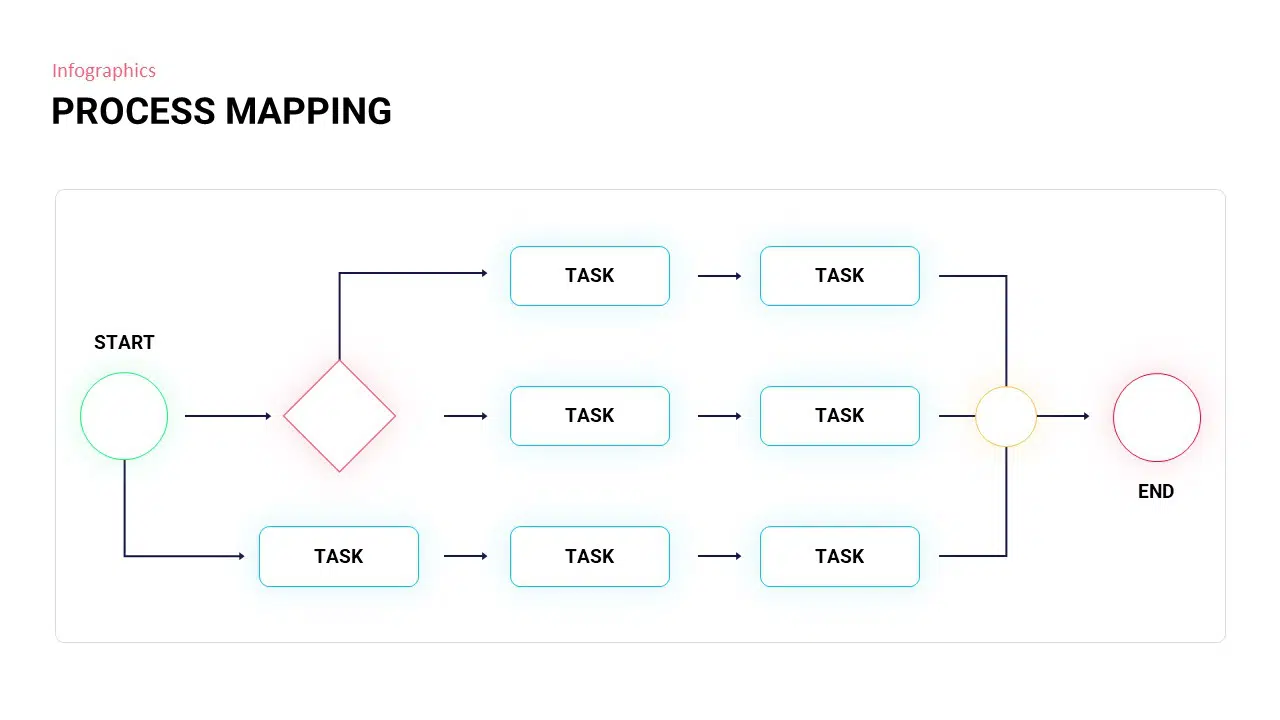 USE THIS TEMPLATE
16. Circular process diagram template
This unique circular process template for PowerPoint will help you create an engaging and professional presentation quickly and easily. The clean, modern design is perfect for any business or marketing presentation, and the slide-based format makes it easy to edit and customize to meet your specific needs. With up to 9 steps possible in each circle, this flowchart template provides plenty of flexibility for creating powerful presentations that get results.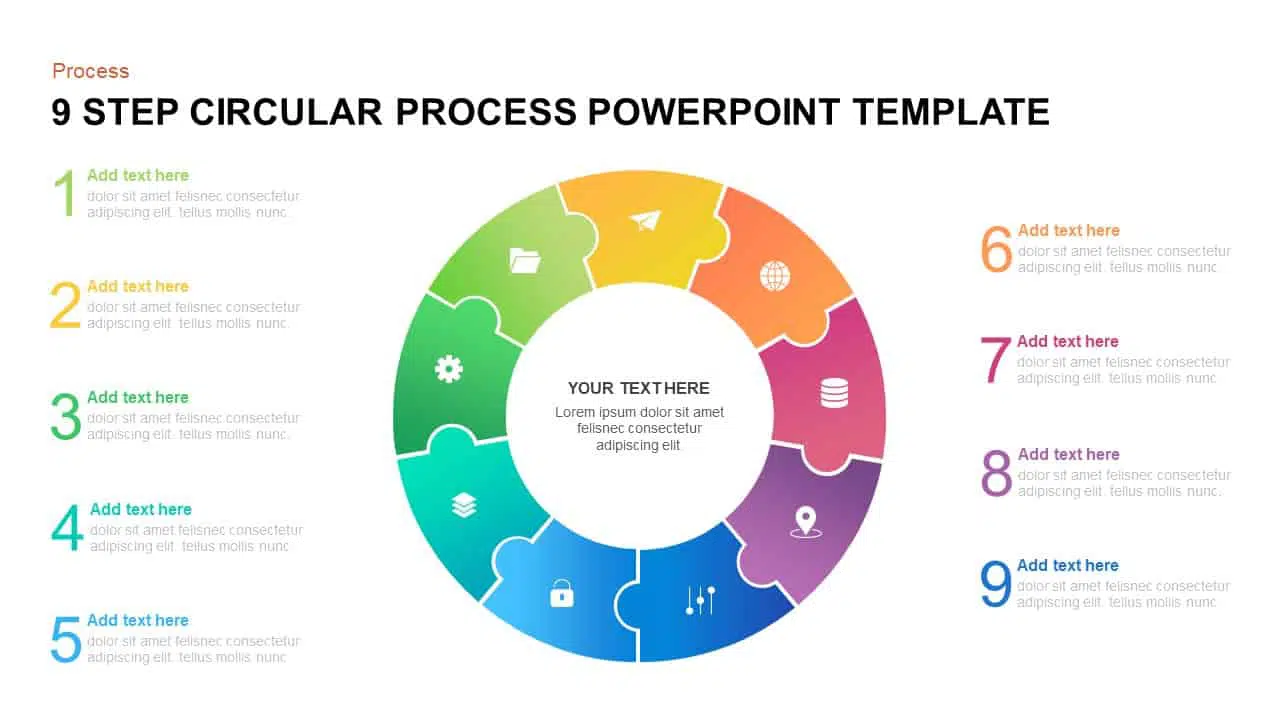 USE THIS TEMPLATE
17. Scrum process PowerPoint template
The SCRUM process PowerPoint template is a cartoon-based PowerPoint that uses distinct cartoon shapes to represent each process stage. The ten slides included can describe the SCRUM process from start to finish, making it an ideal tool for those who wish to learn more about this software development strategy. The template is also highly customizable, allowing users to edit the colours, fonts, and layout to suit their specific needs.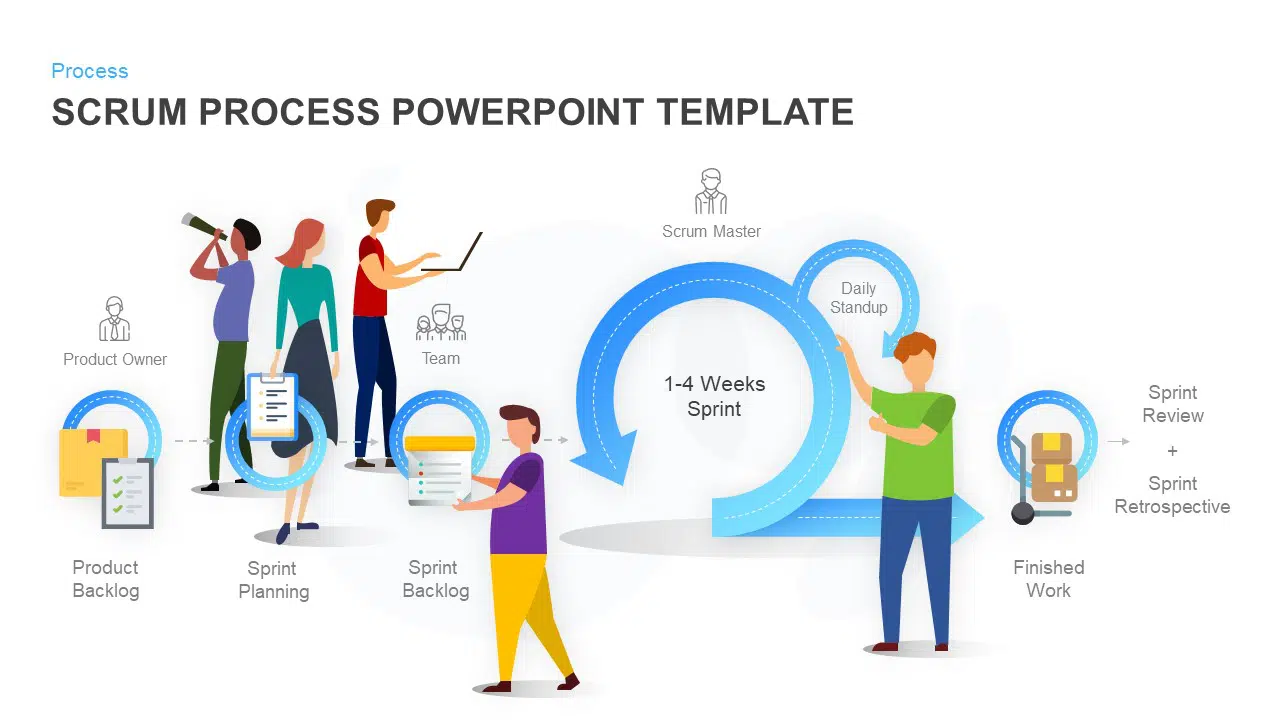 USE THIS TEMPLATE
18. Recruitment process infographic PowerPoint
The funnel diagrams are a popular way to visualize data, and the recruitment process PowerPoint funnel diagram is no exception. This funnel diagram template is an ideal tool for presenting the four stages of the recruitment process. The funnel template is a perfect way to show the screening process of any recruitment. The funnel ppt template will help guide the steps in a sales process or any other technique you want to project. Besides, this is a suitable presentation sales funnel template or marketing funnel template is a great way to present data clearly and concisely, and it is sure to impress your audience.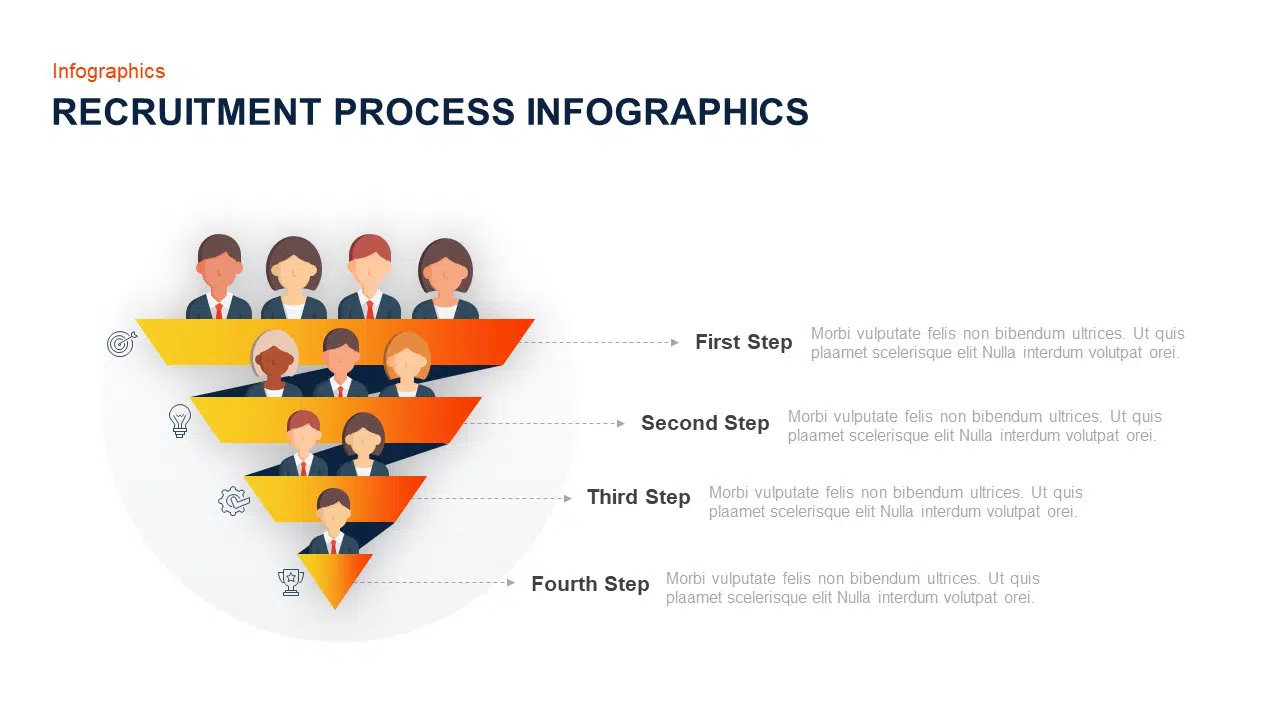 USE THIS TEMPLATE
19. Accounting process development diagram for PowerPoint
The process timeline PowerPoint design or poster layout is a suitable presentation slide showing the accounting process and its development phases. Plus, this process accounting presentation slide is perfect for showcasing your company's strategy regarding how it happened, how it developed and how it is today—creating PowerPoint slideshows using process diagram templates.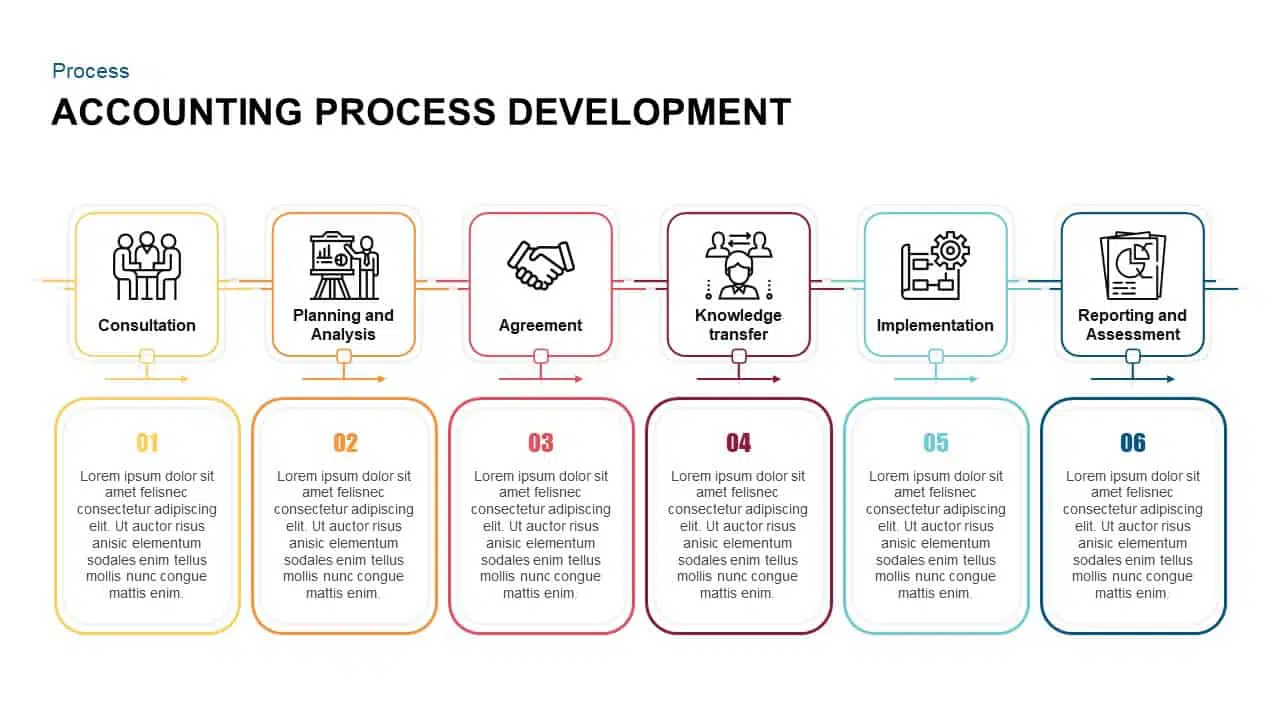 USE THIS TEMPLATE
20. 4 step process diagram template for PowerPoint
This versatile bullet point PowerPoint presentation design can represent many business or educational subjects. The arrow PowerPoint design shows each stage or step in bullet point form, making it easy for audiences to follow along. The template is also highly customizable, allowing you to change the colours, fonts, and layout to best suit your needs. So whether you're presenting data, outlining a process, or simply delivering a lecture, this bullet point presentation design will help you do so clearly and concisely.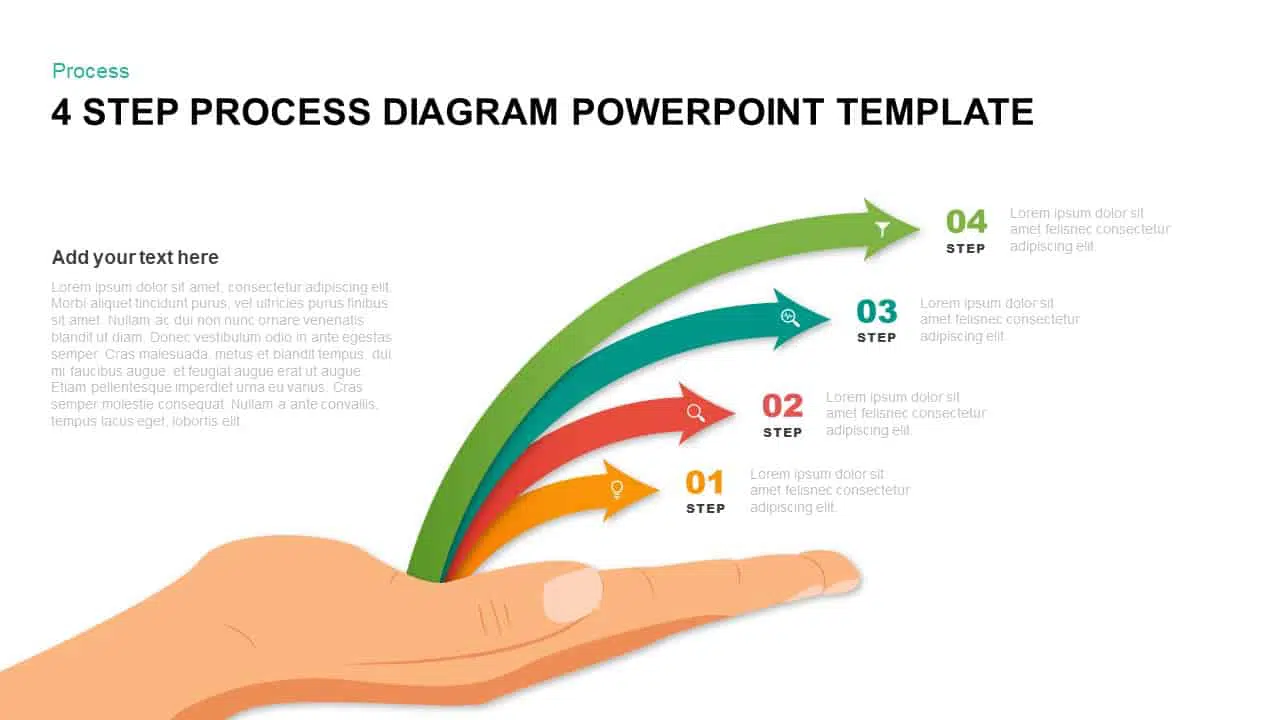 USE THIS TEMPLATE
Final word
If you're looking for the best process templates, you've come to the right place. We've got 100+ process templates to choose from, so you can find the perfect fit for your needs. We've got you covered whether you're looking for a simple flowchart template or a more complex business process diagram. And if you're not satisfied with our templates, we offer a 100% satisfaction guarantee. So, browse our process PowerPoint template category and find the perfect fit for today's needs.