Never Get Stuck On A Blank Slide Again.
Create better presentations, save time, and achieve success with high-quality PowerPoint templates.
Find templates, download them, and get started on your presentation now!
PowerPoint Templates, Keynote Templates, Infographics, Charts, Diagrams, Flow Charts, Business & Marketing Models and More!
Why Choose SlideBazaar?
We know how important your presentations are. And we want to build a world where anyone can deliver presentations confidently no matter what's at stake.
SlideBazaar is your one-stop destination to download professionally designed, well-researched PowerPoint templates and Keynote slides. Use our templates to create better presentations and achieve your goals.

Save Hours Of Work
Use templates for inspiration and to create stunning presentations. Use our free PowerPoint plugin to do it all faster.

New Templates Added
Template categories are continuously updated every week so that you can choose templates from a wide variety of options.

Premium Support
All queries are resolved quickly via tickets through our help desk to give you the best possible user experience.

Custom Design Services
Stuck with something on our template? Maybe you have a specific slide design on your mind but can't find it. We'll design it for you.
Enhance Your Workflow with Our Free PowerPoint Plugin
We've made it easier for you to create presentations with our PowerPoint add-in. Find everything you need to get started, including templates, charts, graphs and more. Find what you need with advanced search options, filters, and categories. An all-in-one presentation resource library and a sidebar full of formatting tools, to enhance your PowerPoint workflow.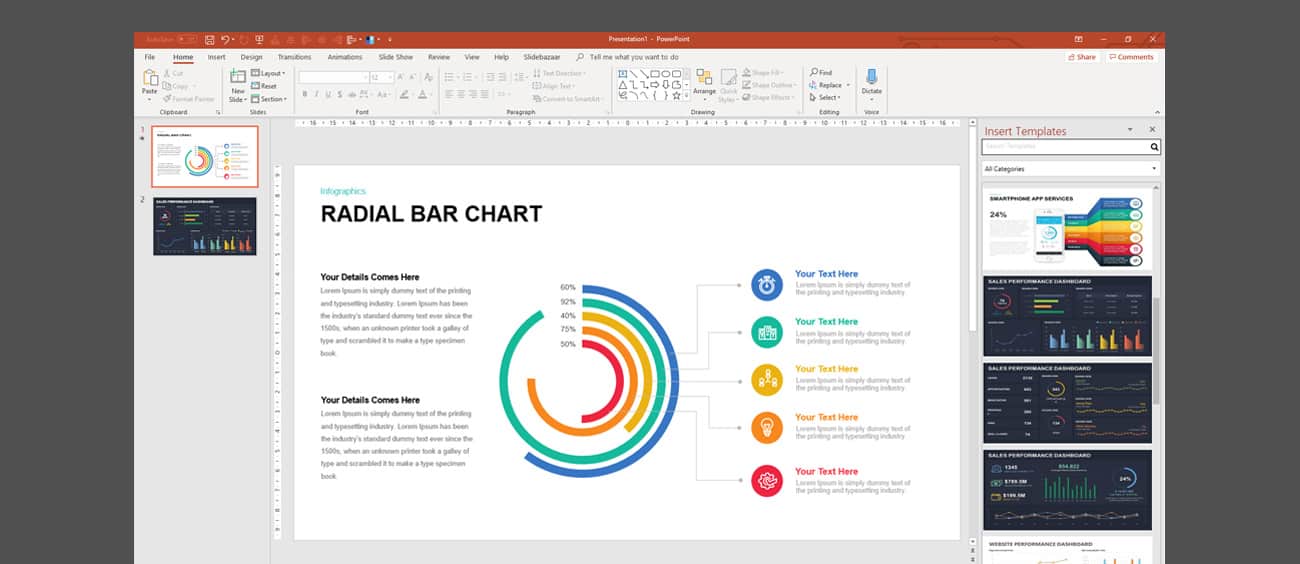 Don't Just Take Our Word for It
We're constantly striving to make sure our templates help you achieve your goals, and customer satisfaction is our highest priority. Look at what our clients have to say about SlideBazaar!
Very good templates as always, simplifying the effort to build professional projects significantly.
Thanks a lot

Thanks for all your great templates – they have saved me lots of time and accelerate my presentations. Great product, keep them up!

I loved Slidebazaar and definitely gonna recommend it. This tool helped me a lot during the final semester of university. Thanks!