Best Editable Venn Diagram Templates for PowerPoint Presentations [2023]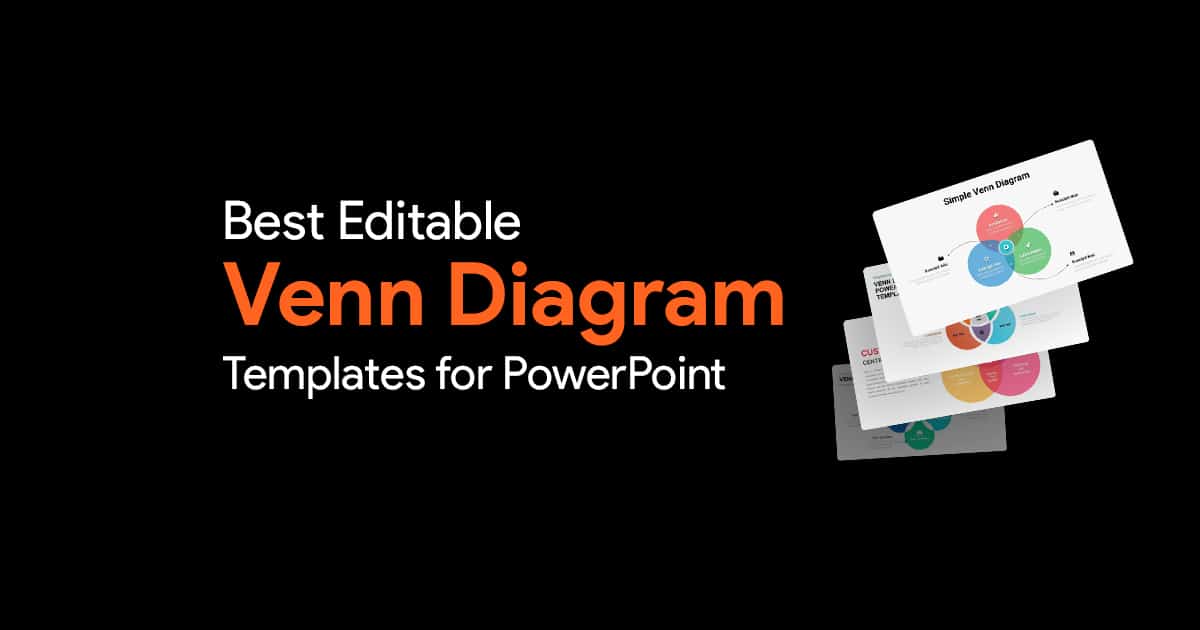 Below, we have compiled a list of PowerPoint Slides of the most commonly searched Best Venn Diagram Templates. All Venn Diagram templates can be edited online. You can change the background, images, and colors and add text to your Venn diagram as needed.
Check out this collection of Venn Diagram templates for PowerPoint!
What is a Venn Diagram
A Venn diagram is a circle intersection illustration that shows the logical relationship between two or more sets of Items. It is widely used in logic, mathematics, statistics, teaching, linguistics, computer science, education and business. Venn diagrams are best for presenting the relationship of variables within a particular universe or segment.
In this list, we have included Venn diagram templates from simple two and three-circle Venn diagrams to creative nine loops and multi-layered PowerPoint Venn diagrams.
Let's get started!
1. Creative Venn Diagram Template for PowerPoint & Keynote
When you think about Venn diagrams, the first thing that comes to mind is a circle. It is not a mere circle, but it is an overlapping circle. The creative Venn diagram template for PowerPoint & Keynote is a professional presentation slide with the typical Venn diagram intersection loops, ideally useful for depicting logical relationships.
It will help showcase various operations like intersections, differences, and mergers. The presenters can use the Venn diagram to show common features and differences. For example, what are the common features of Capitalism and Communism? And they can add one more item with these three sets, and the question can be changed; what are the common features of Capitalism, Communism, and Socialism?
2. Venn diagram PowerPoint Template & Keynote Slide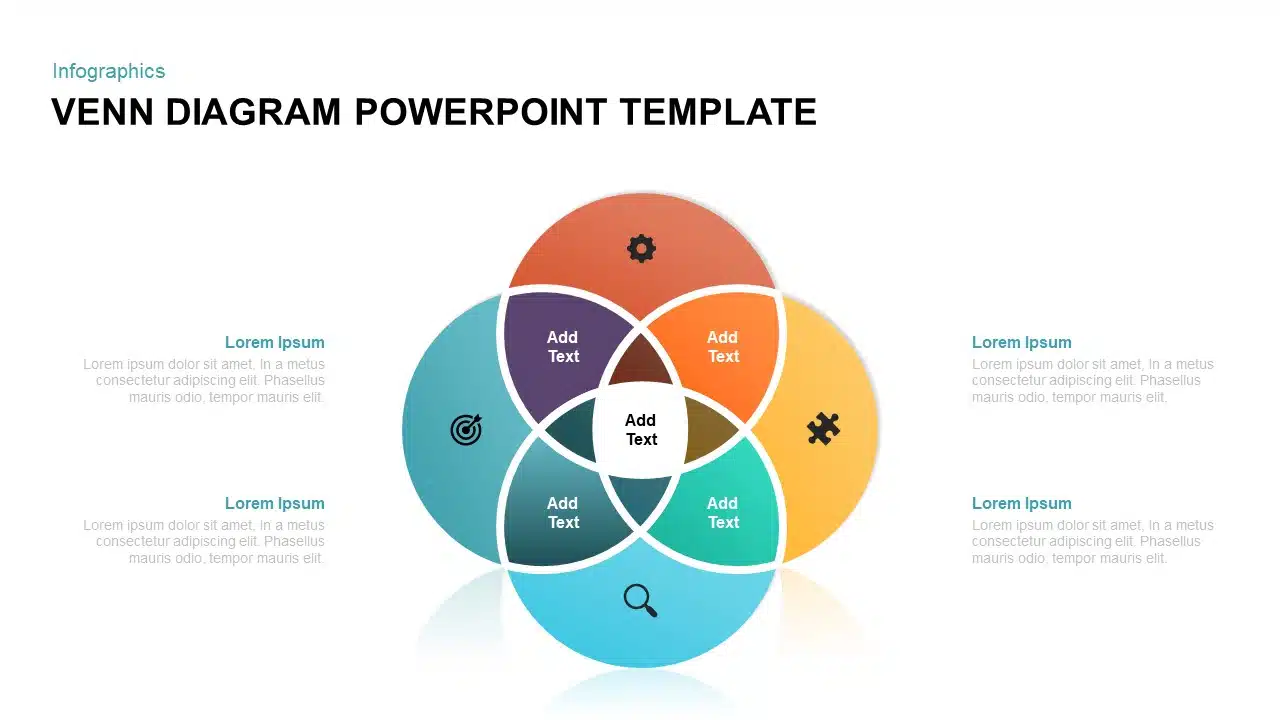 Venn diagrams are diagnostic tools to reflect connections between the subjects. This Venn diagram PowerPoint template contains nine sides in various formats. It includes a flower diagram, timeline model, and typical Venn diagram design with crossing overlaps. Since a Venn diagram is designed to reflect the connection between items, you will find the relationship further intersection and finalizing to your intent. It can be used for simple to complex presentations to display logical relationships.
3. Triangle Gear Diagram Template
This creative Venn diagram in Gear PowerPoint design shows operational flows and process developments. The design is perfect for mathematical presentation with a mechanical device. Each design together creates a modulated Venn diagram design with overlapping. When customizing the template, make sure you remember to envisage not only how the three different items interact with their counterparts separately but how they all come organized as well. Experiment with different Venn diagram formats that relate to your topic and see which works best.
4. IKIGAI PowerPoint Template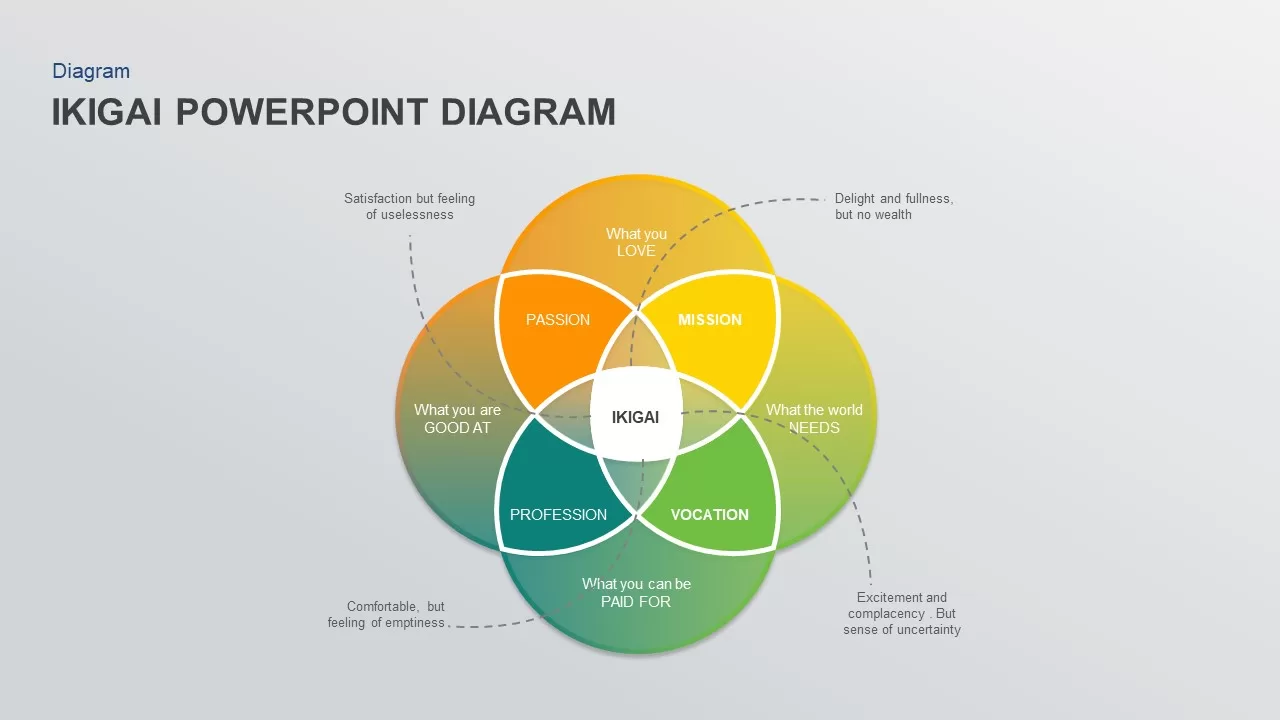 A Venn diagram can be used to demonstrate quantitative as well as qualitative subjects with logical connections. This IKIGAI PowerPoint Template is a complex diagram that fit show self-motivation concepts. The IKIGAI template displays the purpose of life with what you love, what you're excellent at, what the world requires, and what you can be paid for. This complex Venn diagram ppt has a master slide for a full-fledged view of the presentation subject and has discolored parts to display each point individually. The presenters can resize or reshape the diagram according to the requirements.
5. Venn Diagram Infographic PowerPoint Template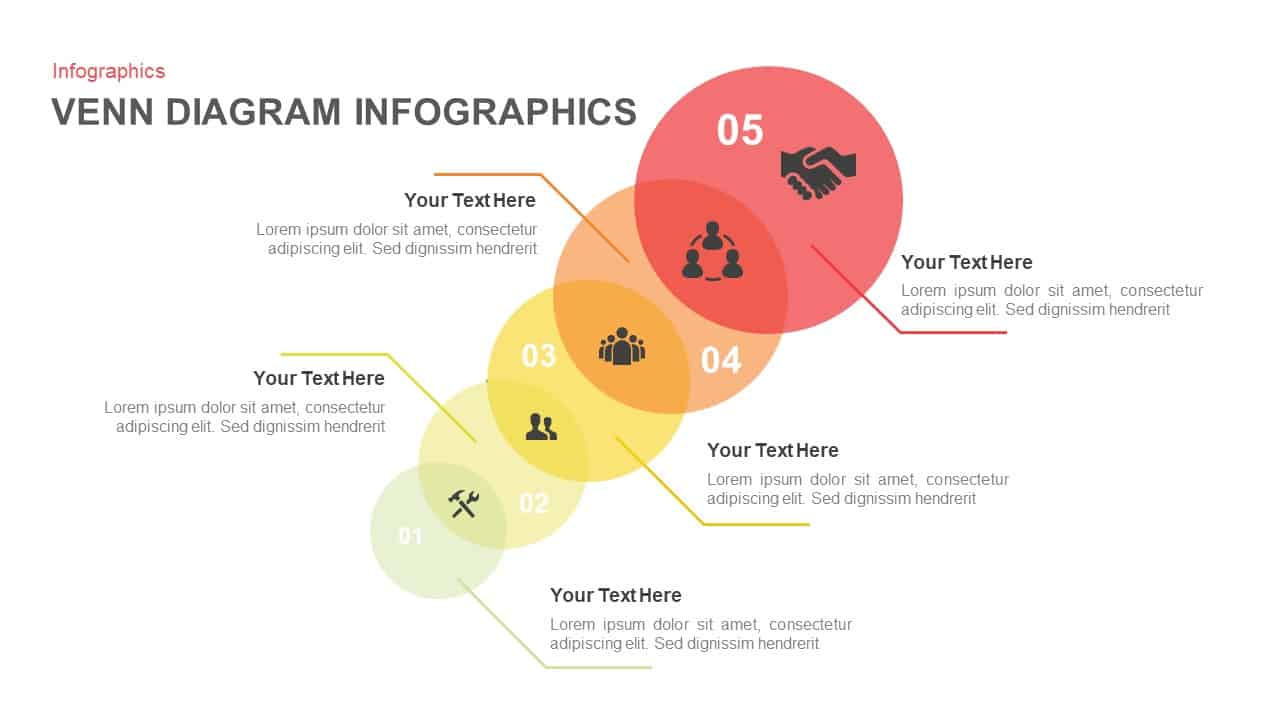 A Venn diagram is a schematic way of illustrating the elements of a universe with a connection. This Venn diagram infographic for PowerPoint presentation is not as usual in design. Here, the circle overlaps in an upward timeline design, starting from small to big. Each ring has a PowerPoint clipart that will symbolically display your point. The varying size of the crossing circle is suitable for financial or sales growth presentation.
6. Cognitive Behavioral Therapy PowerPoint Template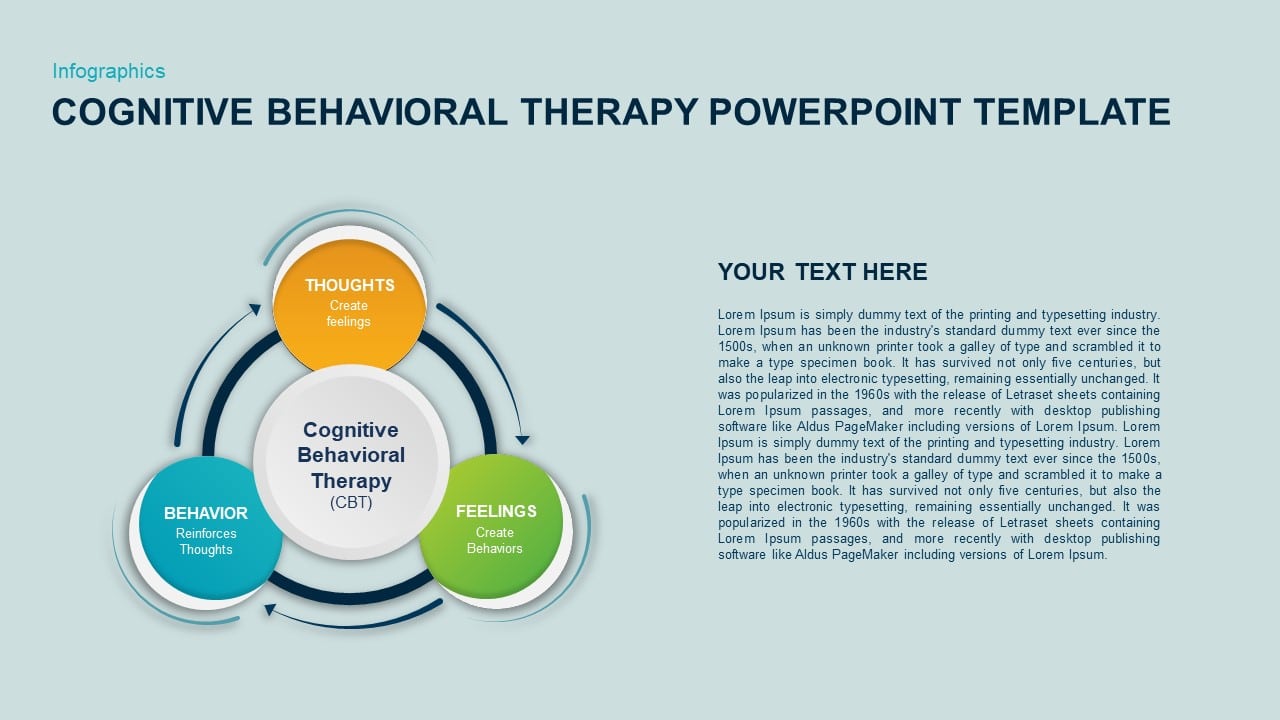 This diagram presents the idea of cognitive behavioral therapy to help learn about emotional change and its influences on behavior. Add this Venn diagram template to your live shows, social media posts, and online classes to teach about the relationship between situations, thoughts, emotions, physical feelings, and actions.
This is the simplest Venn diagram template best used to compare three subjects. First, think about typography and what would best support your words. This Venn diagram comes in three formats; a related circle with a triangle in the center, circles in rotation, and a straight line with a connected ring in timeline design.
7. 4 Section Infographic Template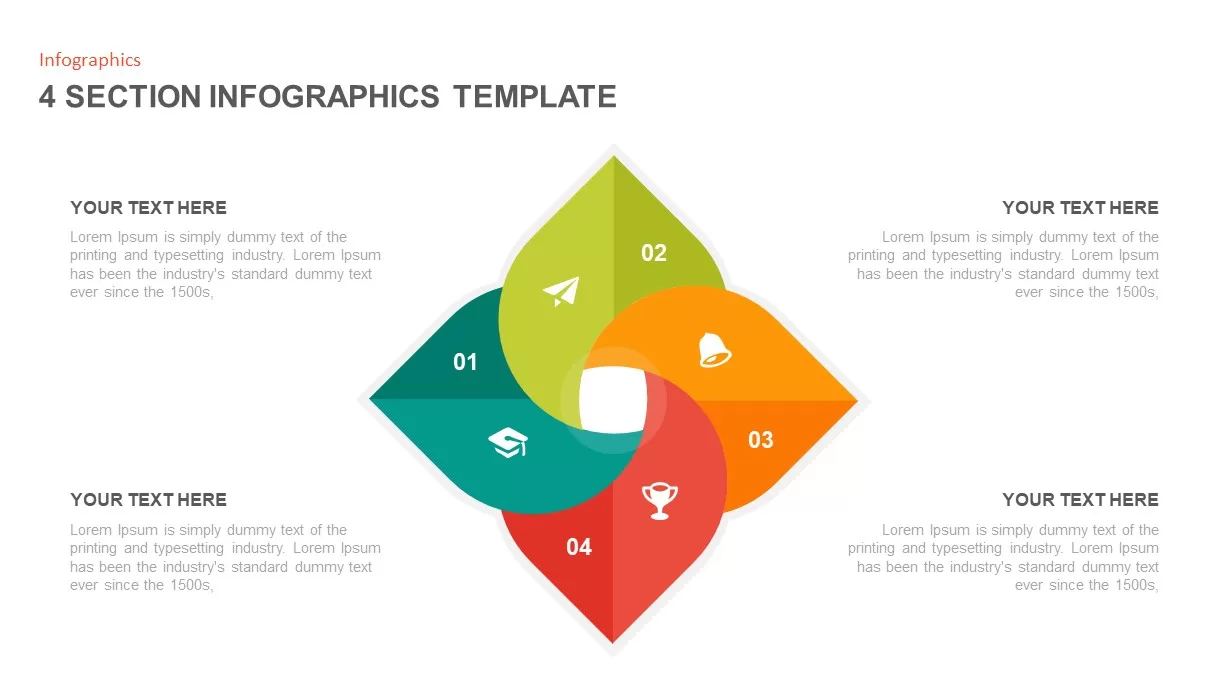 The 4 section template is more advanced than two circle and triple Venn diagram template, but just as common to visualize the relationship between four items rather than just two or three. If you want an interesting take on four subject Venn diagram, then the flower diagram provides a great example. Users can modify or change shapes, PowerPoint color mix, and infographic icons matching the concept. Personalization wouldn't be a great task, even if you don't know the basics of PowerPoint.
8. 4 steps Onion Diagram Template for PowerPoint and Keynote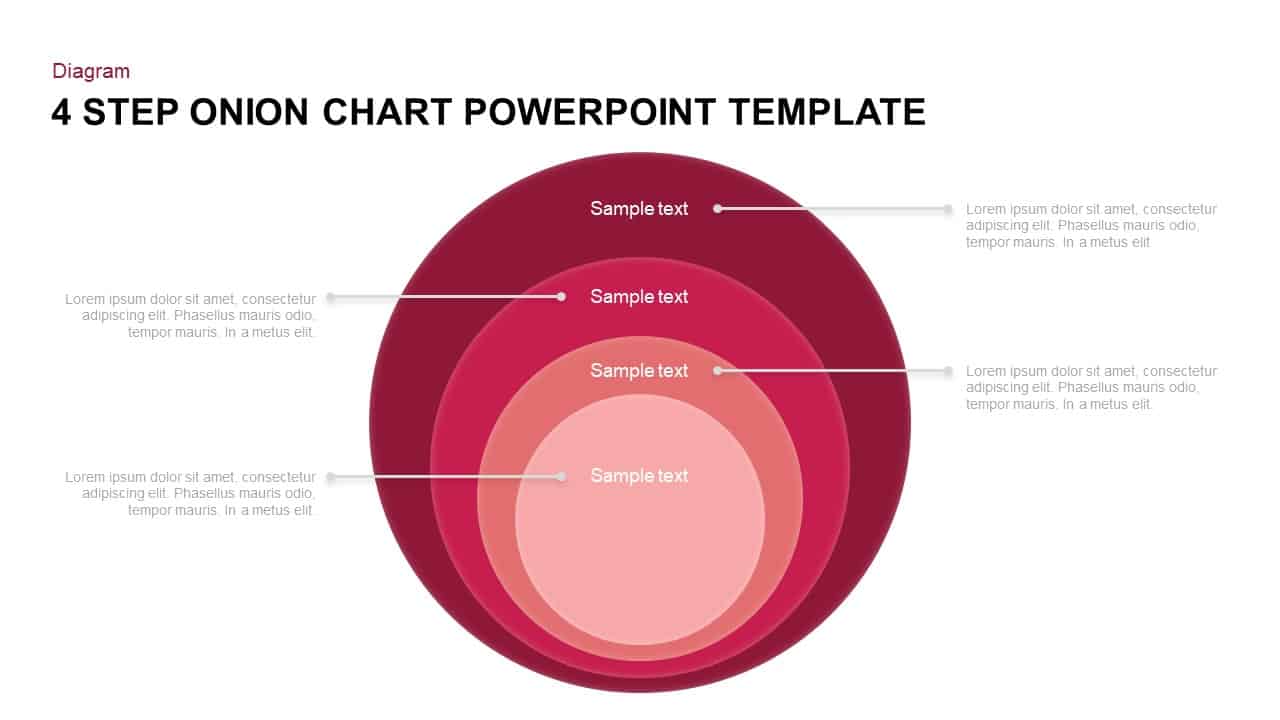 If you want a bit of a unique approach to displaying logical connections, this layered Onion diagram template might be the way to go. This template starts with a large outer circle and then the next smaller rings inside. These layers feature brown variants in color density, ensuring audience attention at maximum engagement. It is perfect for demonstrating dependencies among parts or entities. This innovative Venn diagram wouldn't restrict any field of knowledge to amalgamate through the Onion chart.
9. Business Model Spectrum PowerPoint Template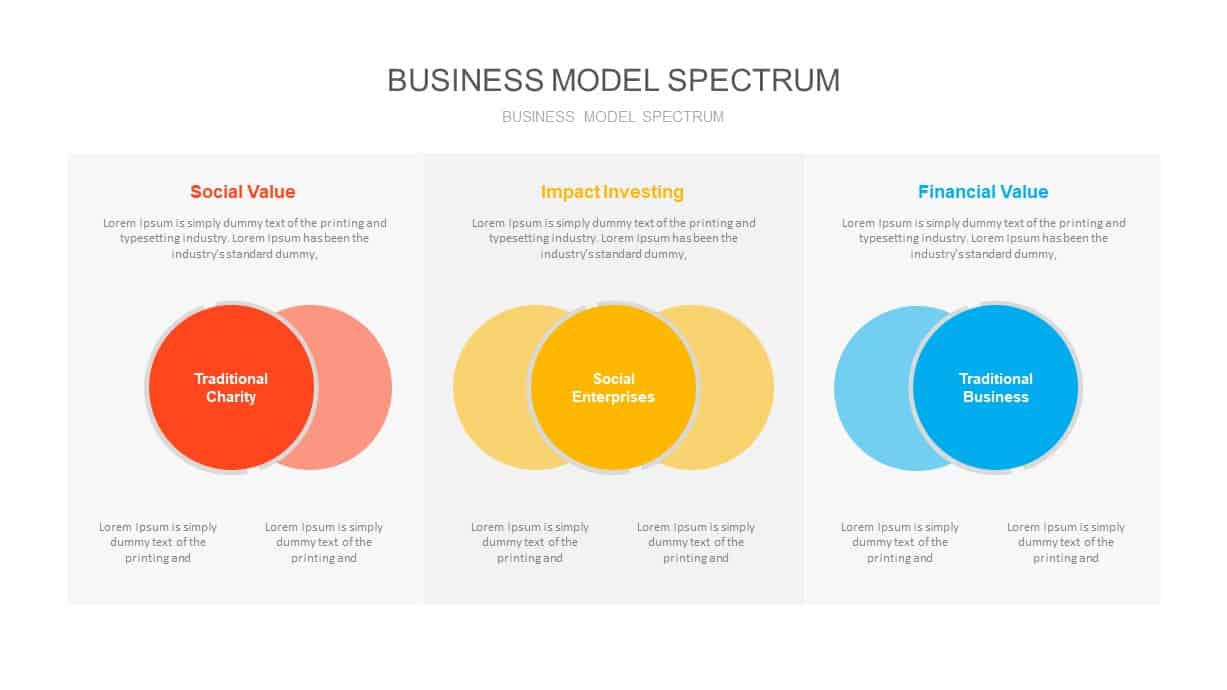 The Business Model Spectrum PowerPoint Template combines different types of relationship diagrams, mostly in circle timeline progression. It has a simple two-section loop intersection to multiple connected circled charts. This template also includes a comparison slide with logically connected lines. It is a useful tool for presenting conceptual schemas with unique ideas.
10. 3 Stage Business Chart PowerPoint Template and Keynote Slide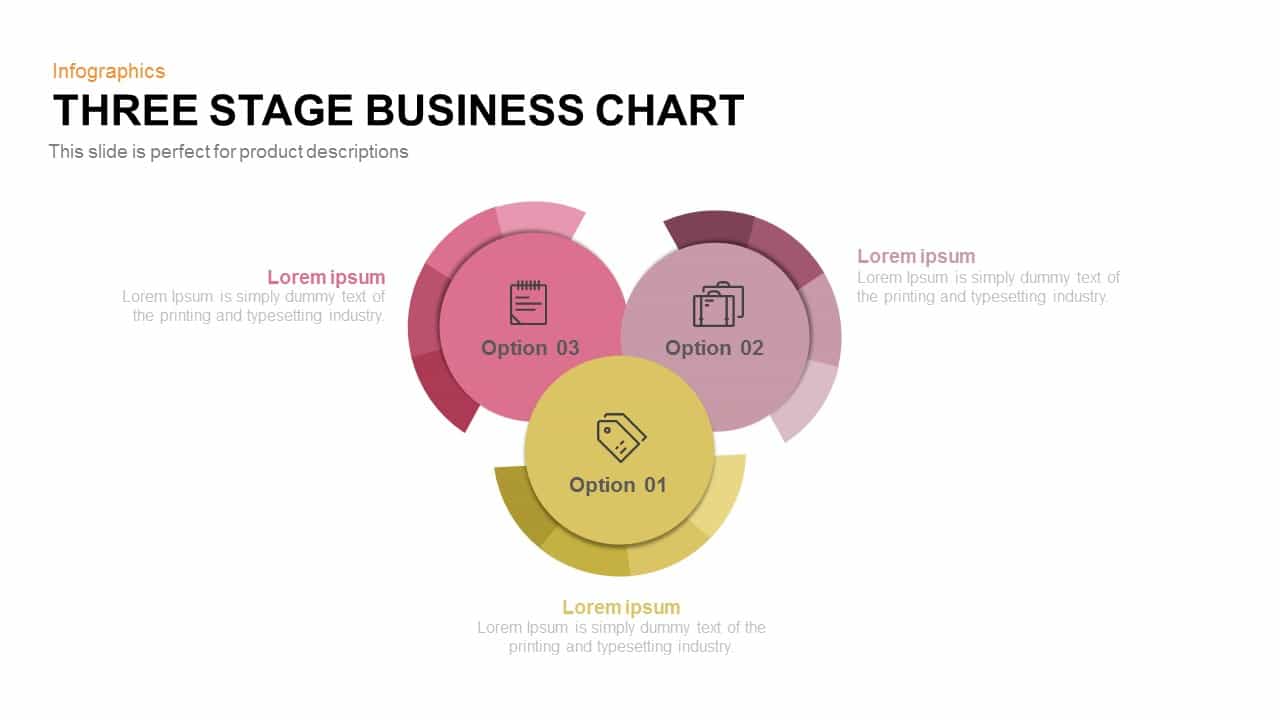 This type of common Venn diagram with decorated graphical illustrations will show how the three different topics interact with their counterparts exclusively and how they all come as a blend to provide the results. It presents all possible logical relations between finite collections of different sets. The Venn diagram PowerPoint provides heading placeholders and a section for explanatory notes with edit options. Customize this template and change the color combination, fonts, icons, and more to align it with your subject.
11. Product Design Process Diagram PowerPoint Template and Keynote
You can create a product design process in a multi-staged Venn diagram template. It contains large and big circles overlapping. You can see multiple overlapping circles in the center that allow you to demonstrate the complex distribution of relationships in two or more items. Highlight the various proportions using the unequal processes and visually display points in which different aspects of the subject or item overlap.
12. Governance, Risk Management, & Compliance Diagrams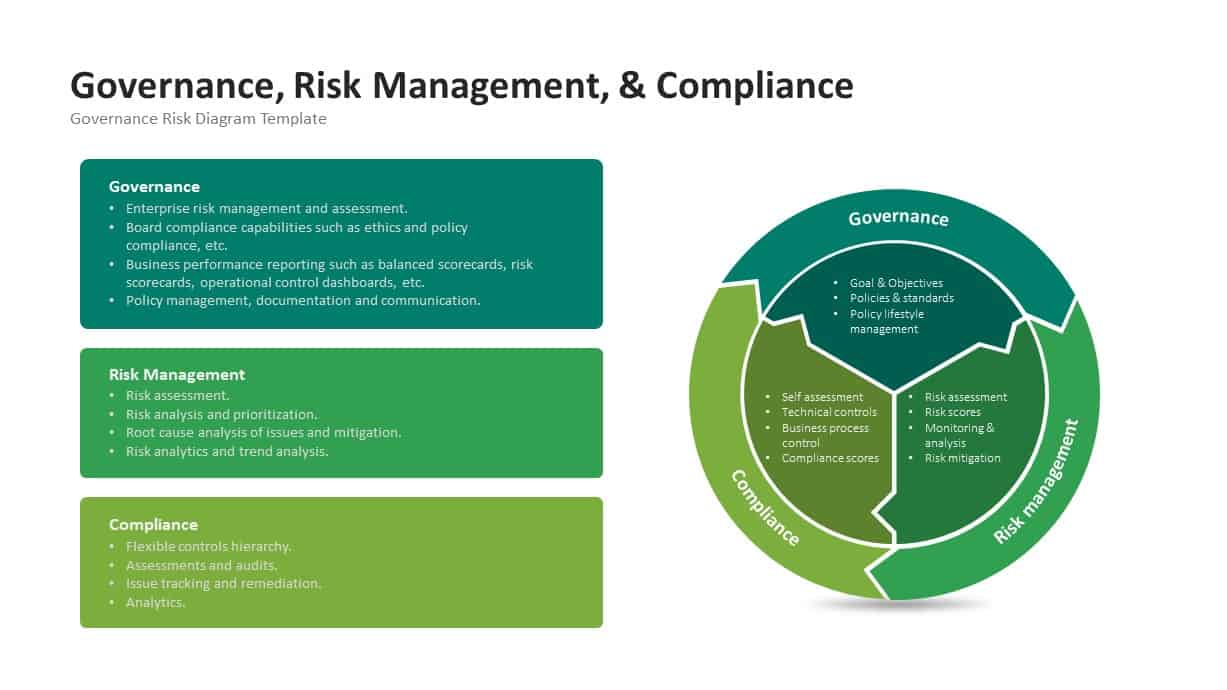 Definitely, attractive templates trigger your presentation with maximum participation. The is a set of 16 Venn diagram templates in a greenish tone. It connects with different design modulations, including step diagram timelines, three-section circle overlaps, hub and spoke circle templates, curved arrow ppt, process diagrams, and so on. This Venn diagram is a great way to understand Governance, Risk Management, and Compliance. Edit this PowerPoint Venn diagram template to describe complex topics easily and creatively.
Collaborate on your Free Venn Diagram with your class or team
1. Free Venn Diagram Presentation Template
This is probably the most common type of Venn Diagram in the simplest design. This is the universal set that is used to compare two subjects. Perhaps, you have seen this type on many occasions and in scientific presentations. It is easy to use; pick two topics, put them in their respective circles on either side, list their traits, and then insert their common features in the middle. Users can modify color, features, and text fonts.
2. Free simple Venn Diagram
The free Venn Diagram PowerPoint has been developed to represent three pillars and their dependability. This type o Venn Diagram design is best for presenting similarities and differences.
Last word
In this list, we have compiled some of the most common Venn Diagram designs to show simple and complex relationships. You can choose your needed template, edit the text, customize the background, surface colors, and fonts, and you're good to go. So download, Save time, and go with professional Venn Diagram Templates.