Best Timeline Templates for Presenting Business Development Process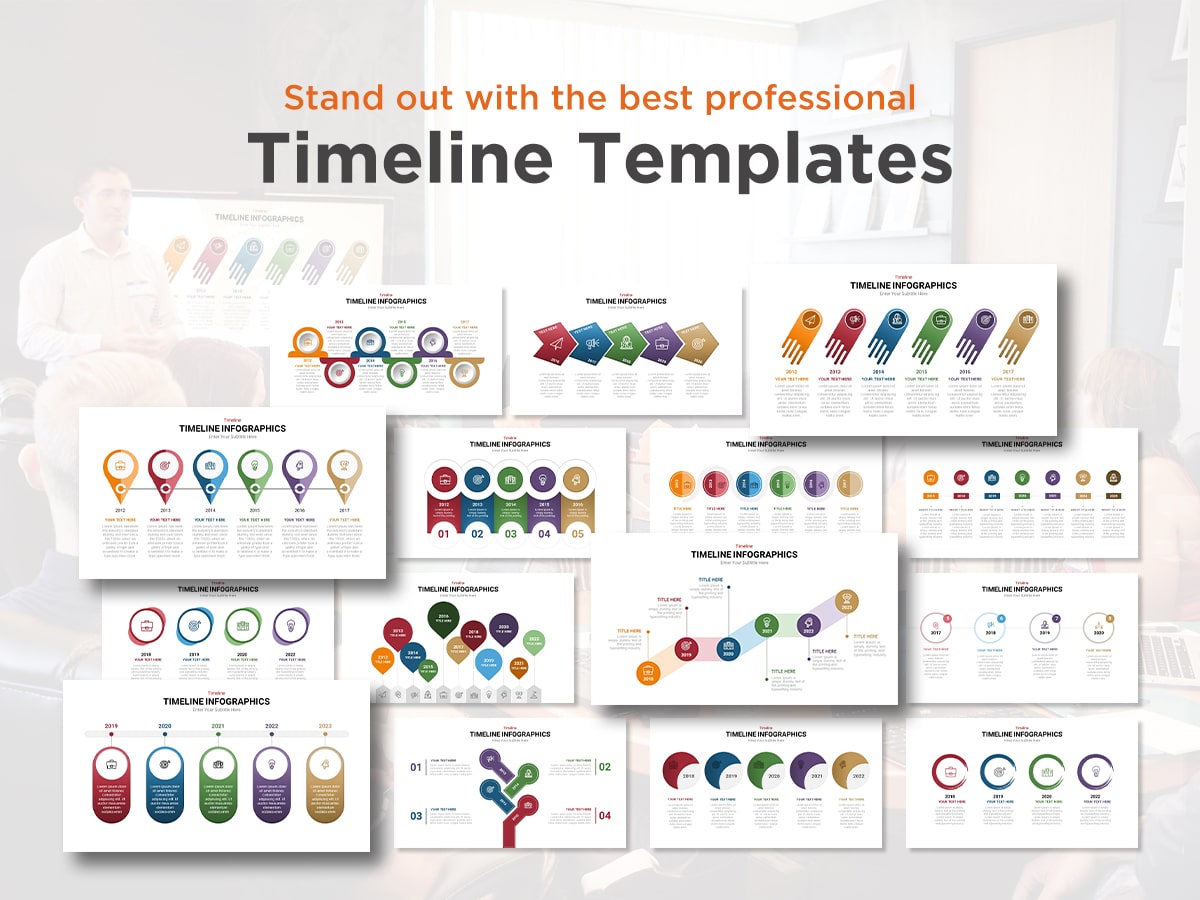 You need to create a presentation slideshow to showcase a development process or history in chronological order but you don't have the time to make the slides from scratch. You obviously need a timeline template for PowerPoint. Worry not, I have compiled some of the best timeline templates you can get, in this article. Check out all the templates, and choose the one that fits your needs.
With our easy-to-use timeline PowerPoint templates, you can quickly and easily create beautiful timelines that look great on any device. Our templates are fully editable, so you can customize them to fit your needs.
As a project manager, you know the importance of creating timelines. They help keep your projects on track and ensure that everything is completed on time. But how can you create a timeline that is accurate and yet easy to use? Try one of the best timeline templates.
These templates make it easy to create timelines for any project, large or small. Plus, they are all customizable, so you can make them fit your specific needs. Check out the best and top timeline templates now and get started on your next project!
What if we told you that at the end of this blog post, you get to choose your own reward? Well, scroll down and find out what awaits you at the end of this post!
List of the best timeline templates available for download
1. Infographic circular timeline template
DOWNLOAD
This PowerPoint template provides a creative way to display complex information. The circular timeline makes it easy to show the development of a project or process.
2. Timeline infographic PowerPoint template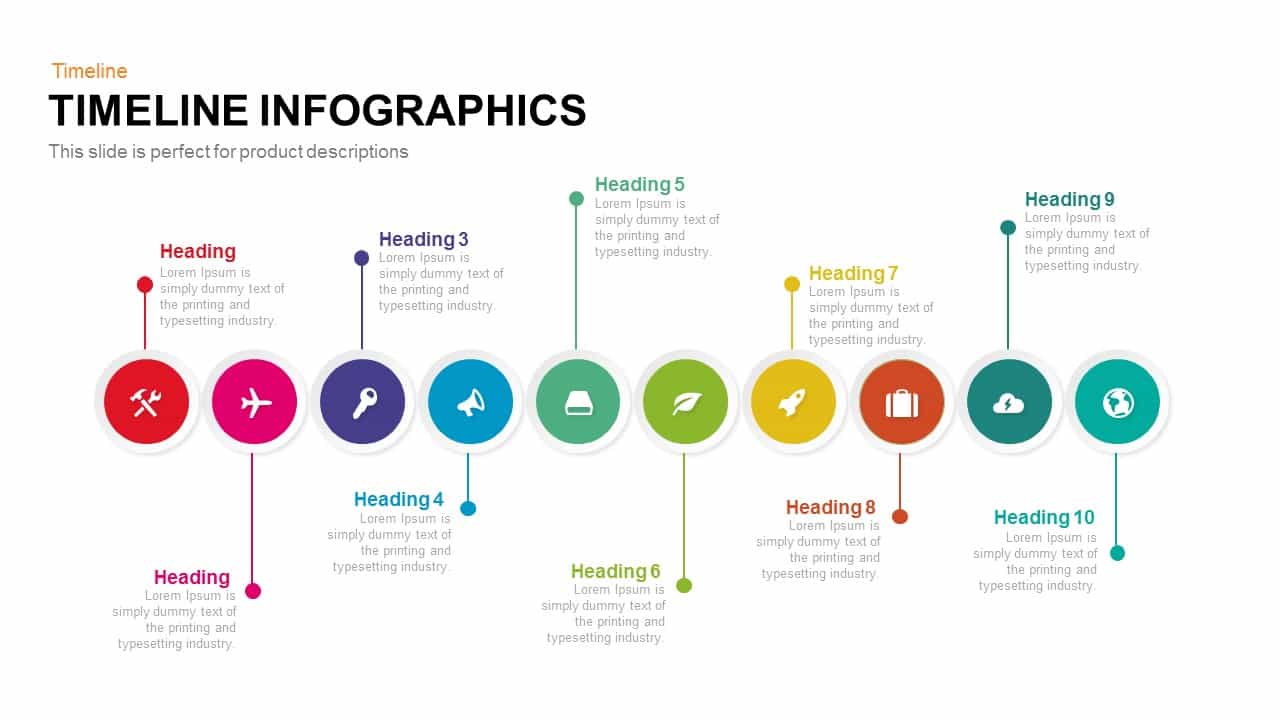 Make your next presentation a breeze with this timeline infographic PowerPoint template. This easy-to-use template will help you organize your ideas and communicate your point clearly to your audience. With different color combinations and heading numbers, this template is sure to keep your audience engaged and informed. So, download today and make your next presentation a success!
3. Timeline roadmap with milestones PowerPoint template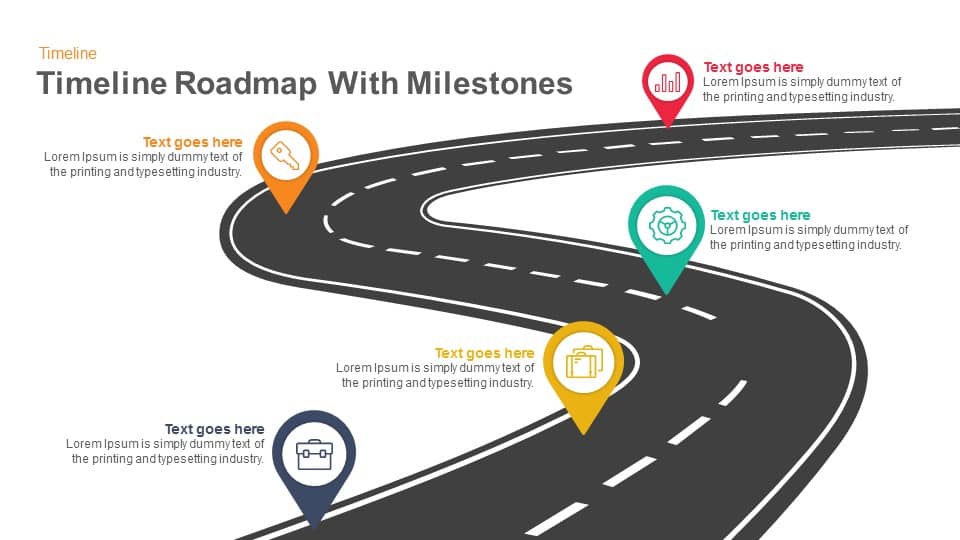 Giving a presentation on your project timeline and milestones? Make sure it looks professional by using a roadmap template. This one has milestone icons and room for descriptions, making it perfect for any purpose.
4. Vertical timeline PowerPoint with boxes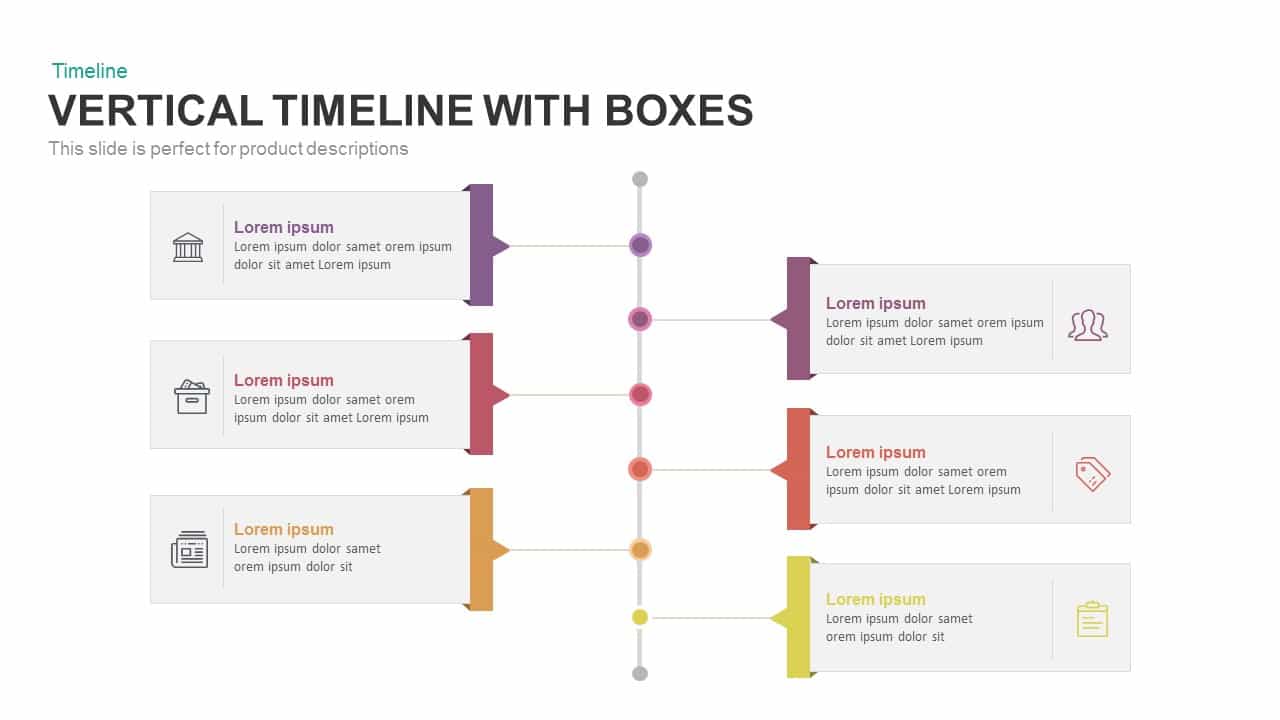 Make your presentations stand out from the rest with this awesome vertical timeline template! This download includes both PowerPoint and keynote versions, making it easy to get started on your next project. The te features a series of colorful boxes that can be customized to fit your needs. Perfect for any type of presentation, the timeline template is sure to impress your audience.
5. Timeline template for technology advancement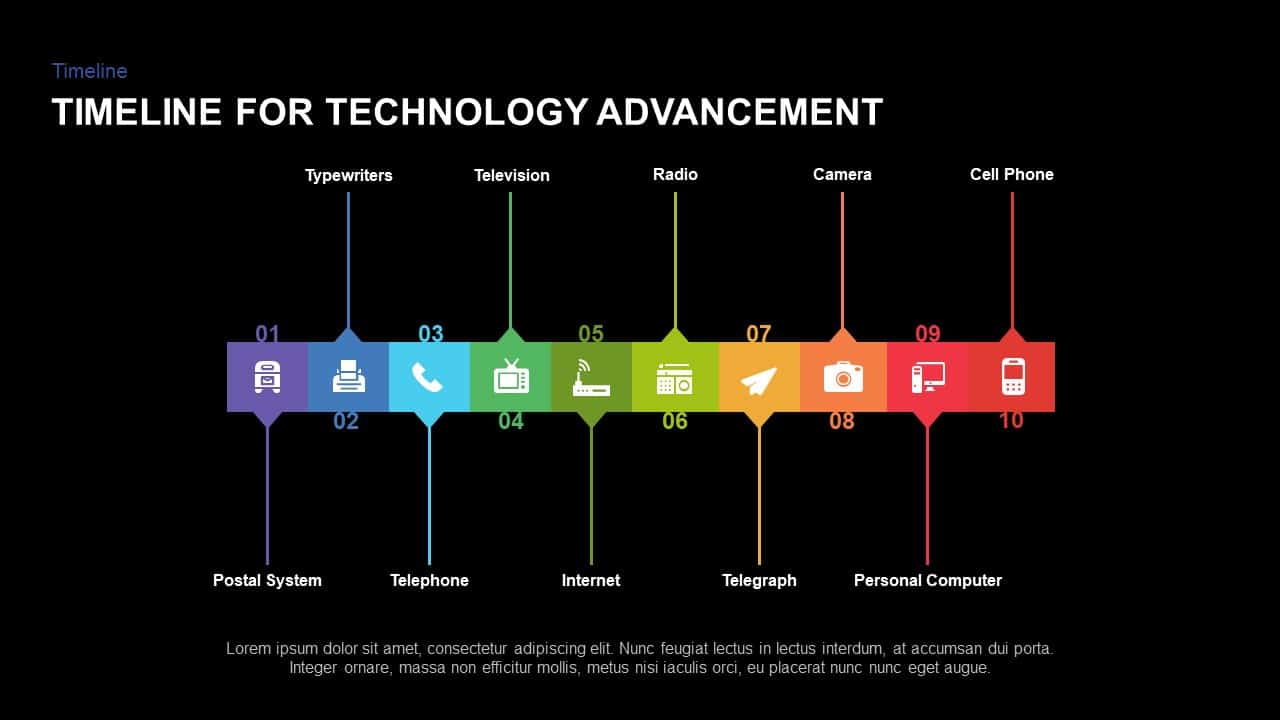 The timeline for technology advancement PowerPoint is most suitable for linear processes. The timeline template shows ten phases of technological evolution with the changes in technical devices that are used for day-to-day interaction.
6. Circle timeline template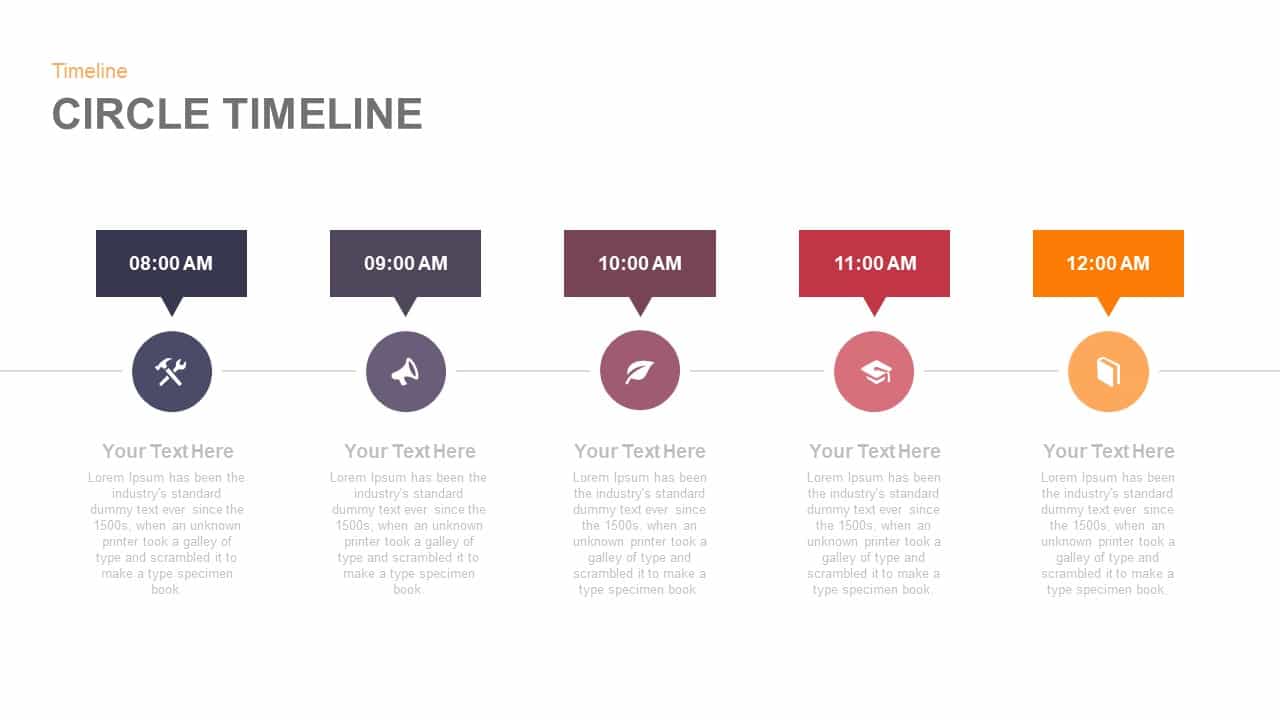 The circle timeline PowerPoint template is a great way to display events or series effectively. The template is made up of circles that are in chronological order, making it easy for viewers to follow along.
7. Product development plan template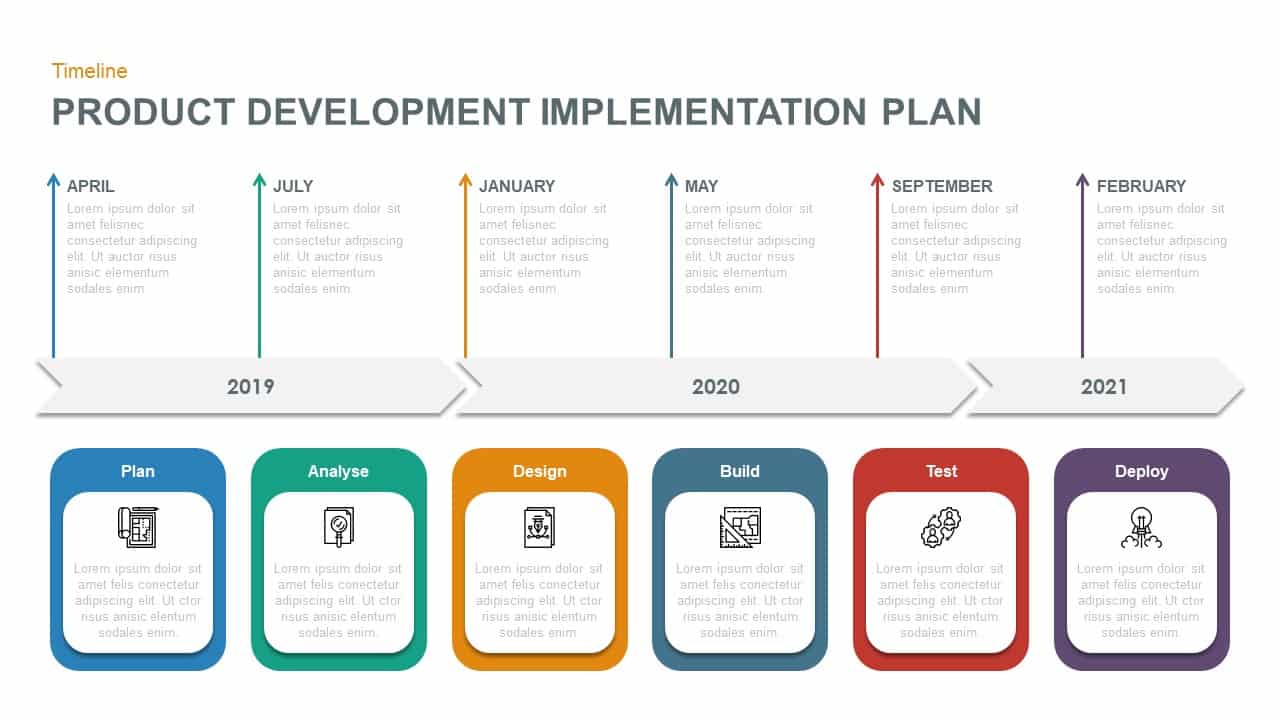 A well-organized and easy-to-use product development timeline template for PowerPoint. This slide is perfect to help showcase your product development strategy and implementation plan in a clear, concise way.
8. Five-step puzzle flow diagram
This 5 step puzzle flow diagram is the perfect way to visually represent your process or workflow. The semi-circle PowerPoint layout gives it a snake diagram feel, which makes it eye-catching and engaging. Plus, the color scheme can be easily customized to match your branding.
9. Arrow circle flow diagram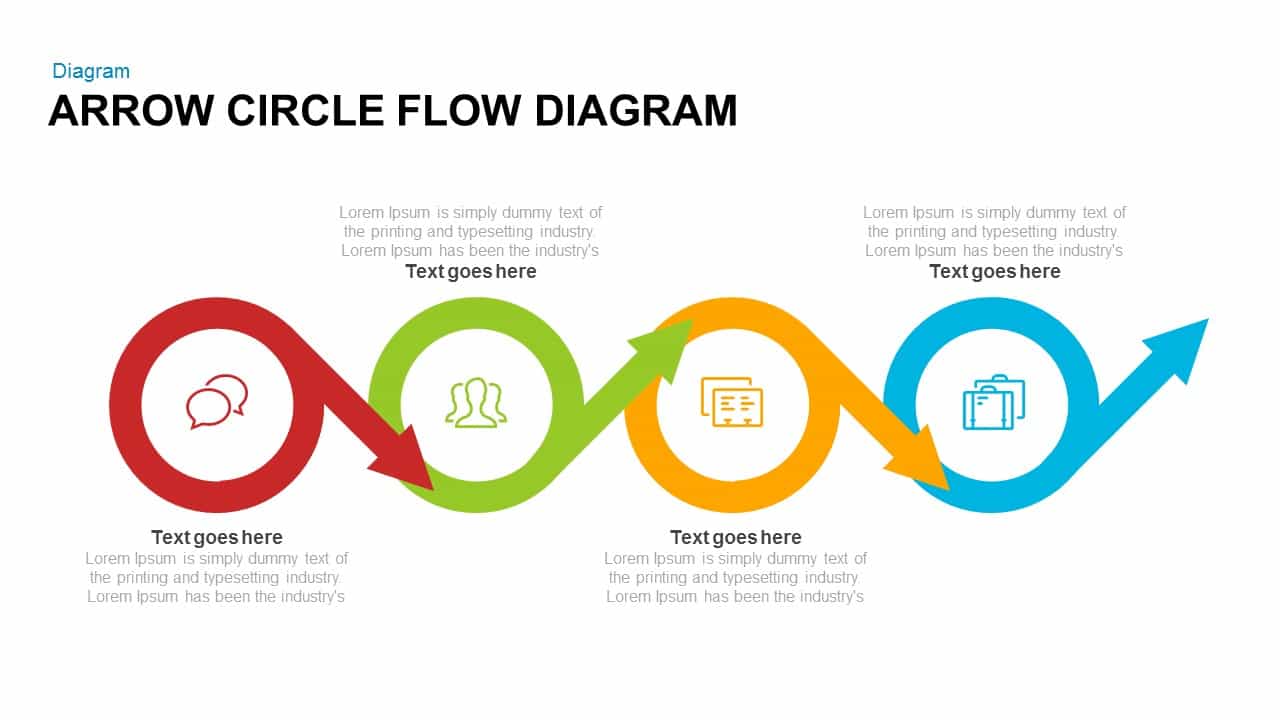 The arrow PowerPoint circle flow diagram is a horizontal diagram that shows the connecting process of an activity. It's perfect for presentations on business and marketing topics, or any situation where you need to illustrate a process. This template is easy to use, and it's totally customizable- so you can make it fit your specific needs.
10. Marketing process template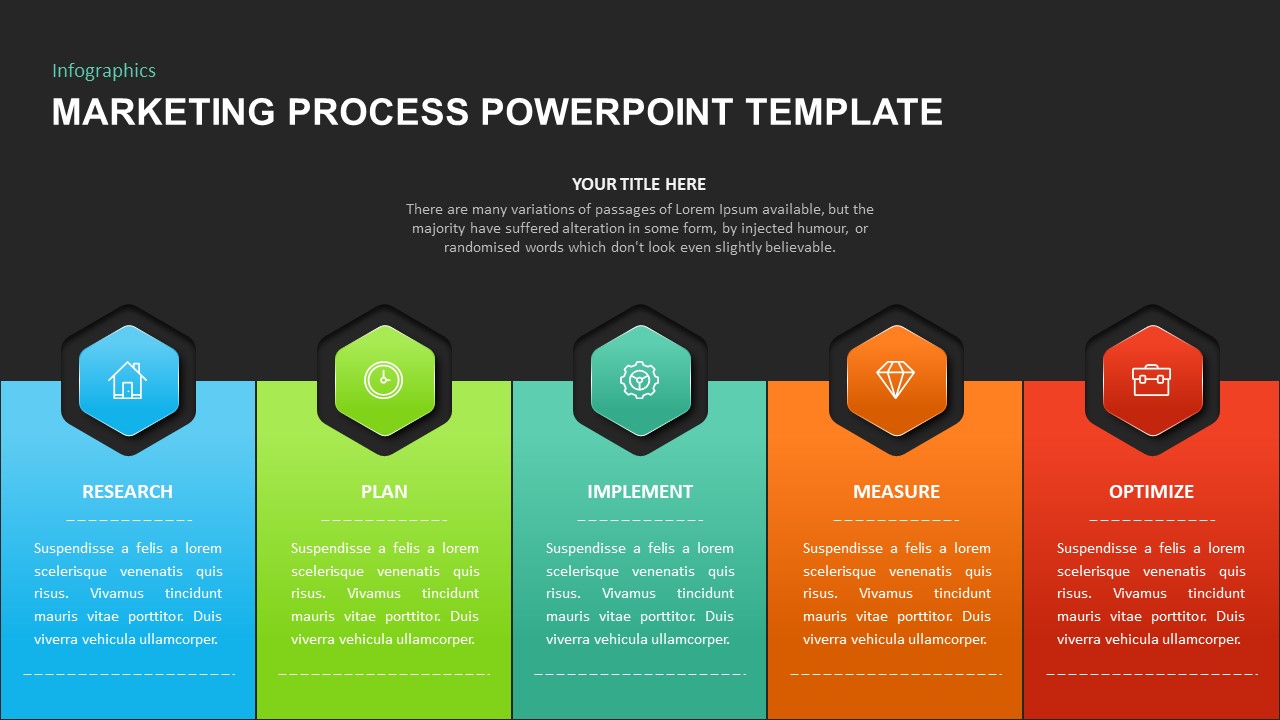 This marketing process PowerPoint template is perfect for anyone looking to highlight the basic components of their marketing process in a timeline sequence. Whether you're researching your next campaign, planning out your strategy, or measuring and optimizing results, this template has everything you need to get started!
11. Target achievement journey template for PowerPoint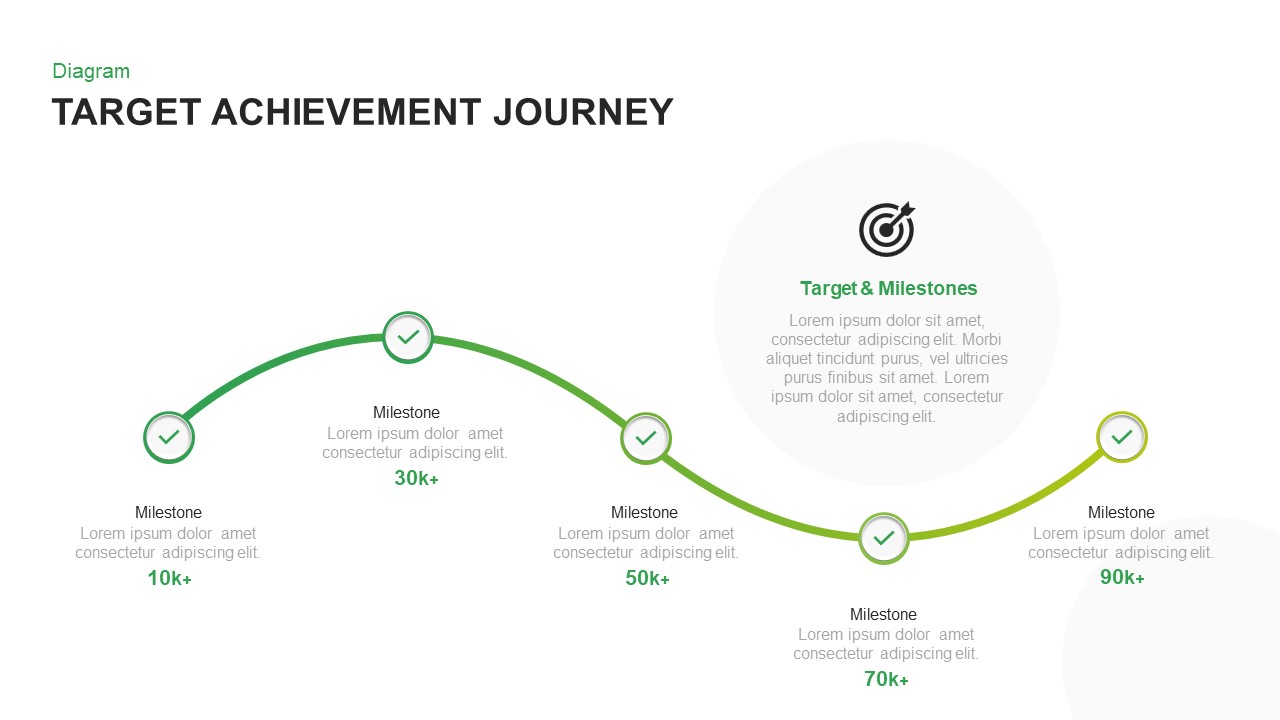 This is a simple timeline PowerPoint could be used for statistical reports. The sales journey template is perfect for tracking your progress towards a goal. With its curved line graph, it makes it easy to see exactly how close you are to reaching your target. Use it to visualize your journey and achieve success!
12. Bubble timeline template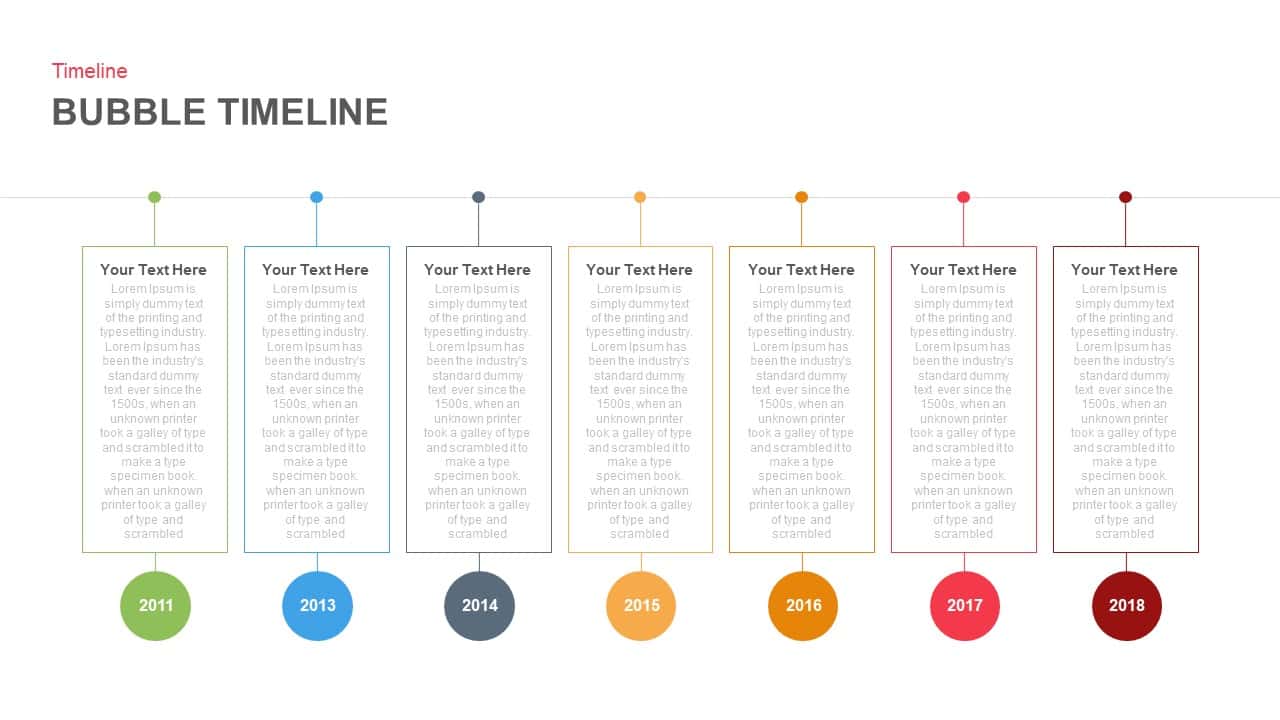 The bubble timeline PowerPoint template and keynote is a simple smart art to show the timeline development of a phenomenon or an event. It can help you effortlessly create beautiful timelines that are both professional and easy to understand.
13. Business timeline template for PowerPoint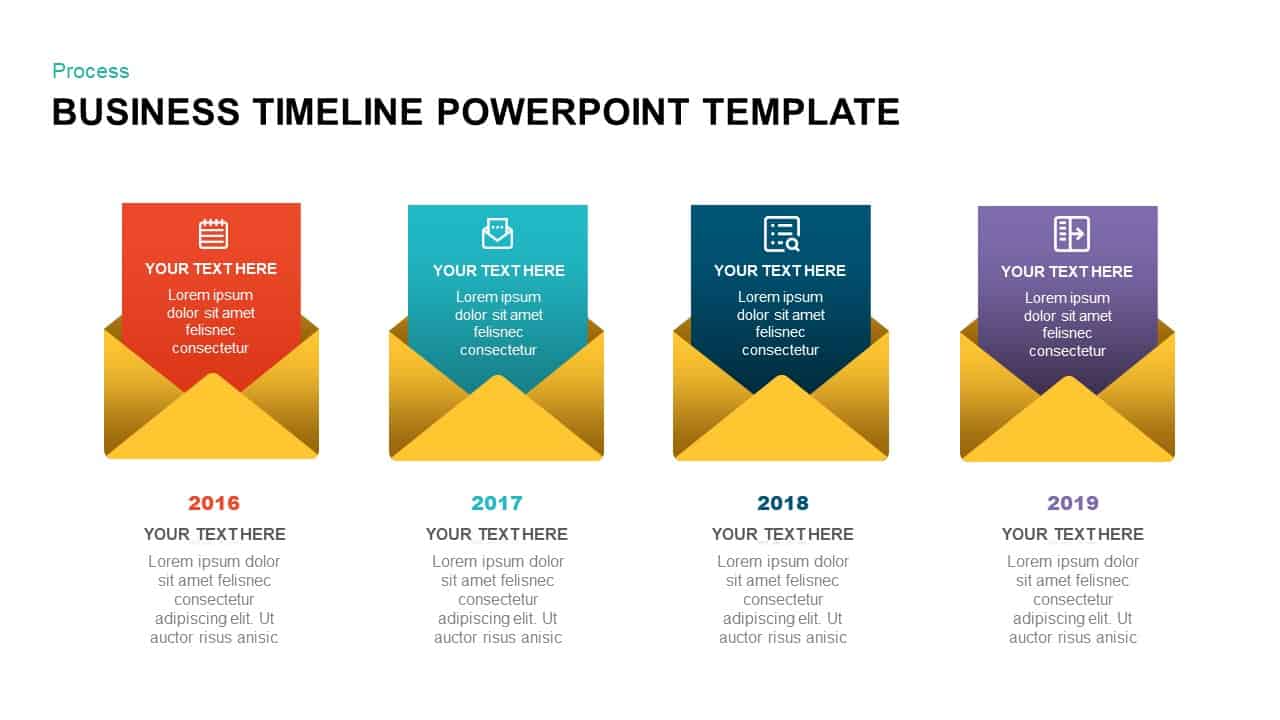 The business timeline PowerPoint template is a great way to track the growth of your business. With sequential phases illustrated in a linear timeline, this template is perfect for business review analysis and progress reports. Besides, the envelope design enables display email marketing campaigns.
14. Timeline roadmap template for PowerPoint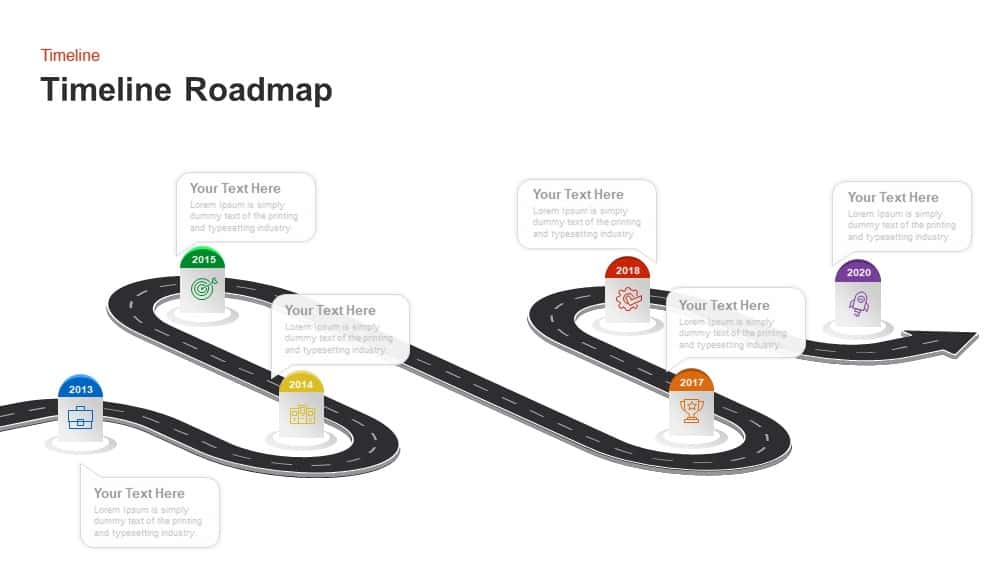 Looking to wow your audience with a stunning presentation? This timeline roadmap PowerPoint template and keynote is perfect for showing the development of an event or product. With its enchanting design, your business achievements will be sure to stand out!
15. 7 stage timeline infographics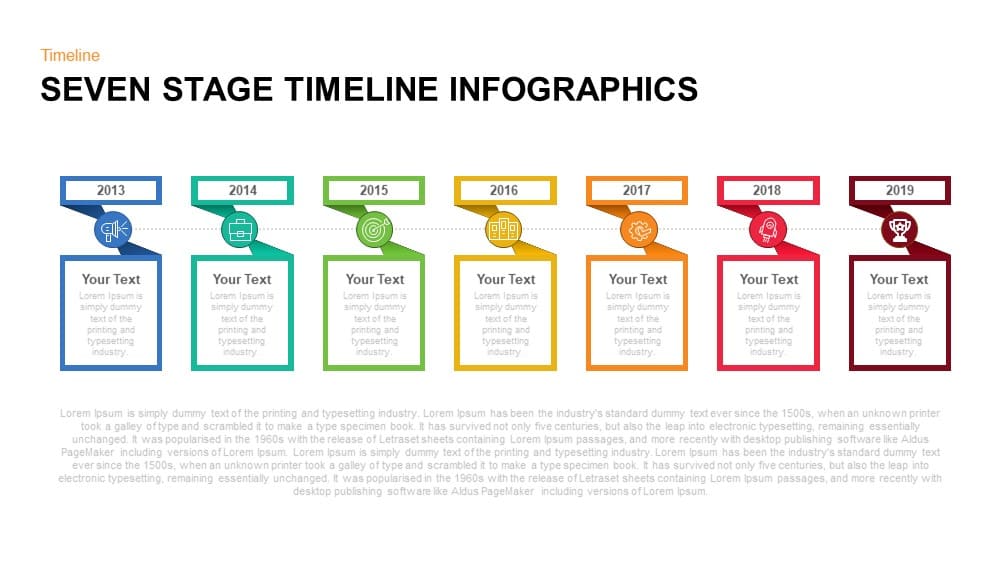 7 Stage Timeline Infographic PowerPoint sticky notes are perfect for any sort of presentation. With each clipboard, you can add infographics icons, these sticky notes are a great way to add visual support to your presentation. Whether you're giving a speech at school or pitching an idea at work, these notes will help make your point clear.
16. Company evolution timeline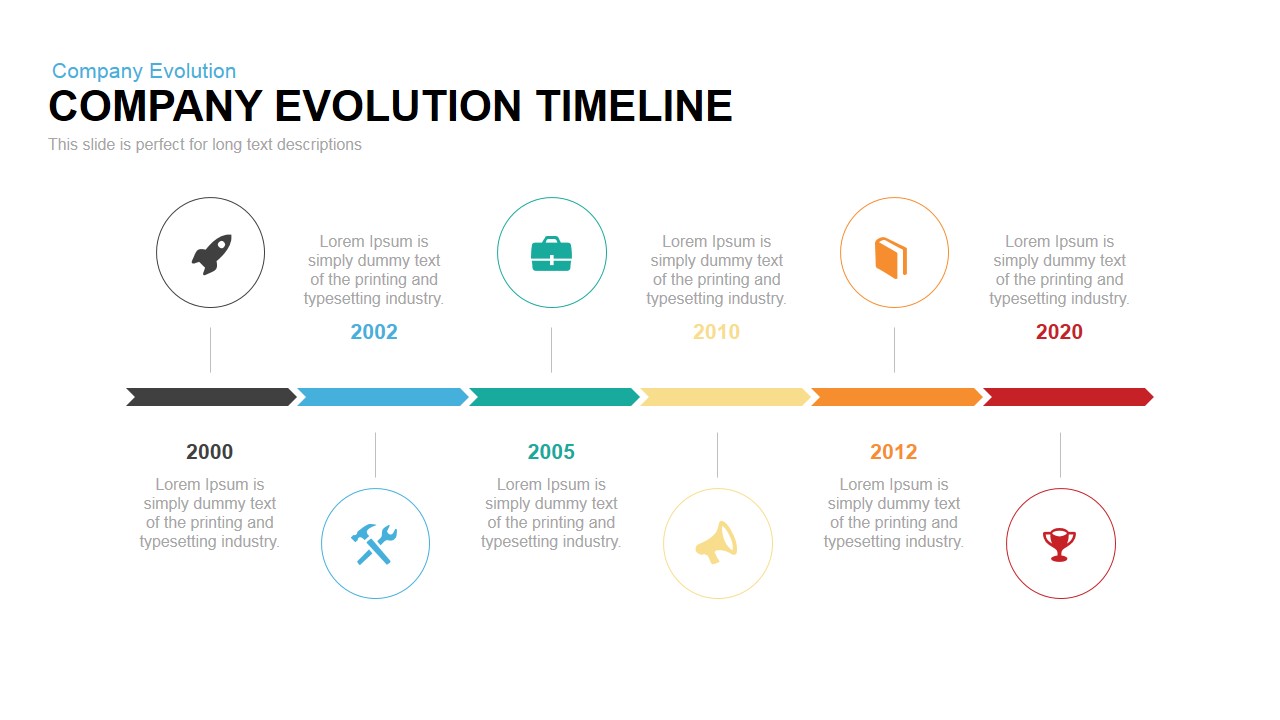 This company history timeline PowerPoint lets you track the growth of your company, from its humble beginnings to the powerhouse it is today. Each inch of this sturdy poster ppt aid imprinting your company's history, letting you and your team revisit your origins and reflect on where you're headed.
17. 4-step linear process flow diagram template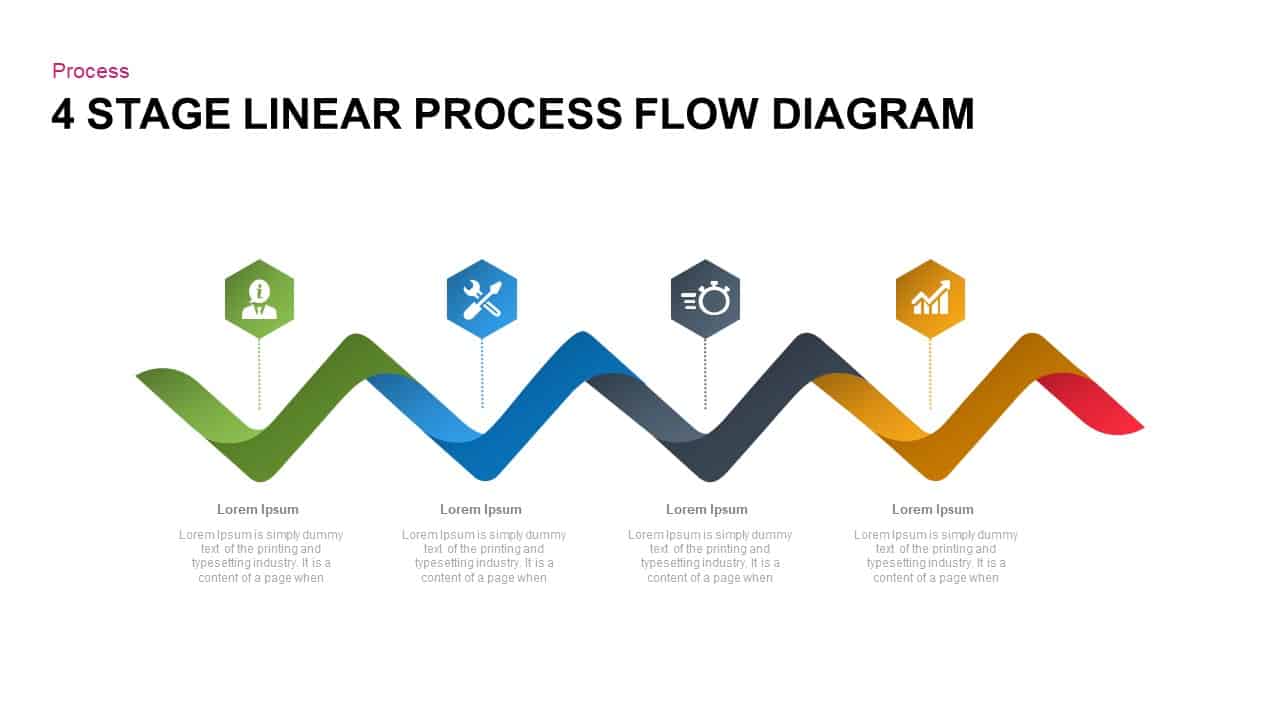 The 4 steps linear process flow diagram is a professional PowerPoint template created with the zigzag layout. The common model timeline PowerPoint is fit to show the growth stages of your company or business. This template can be used to display different phases of a project, product launch, or other business milestones
18. Business milestones PowerPoint template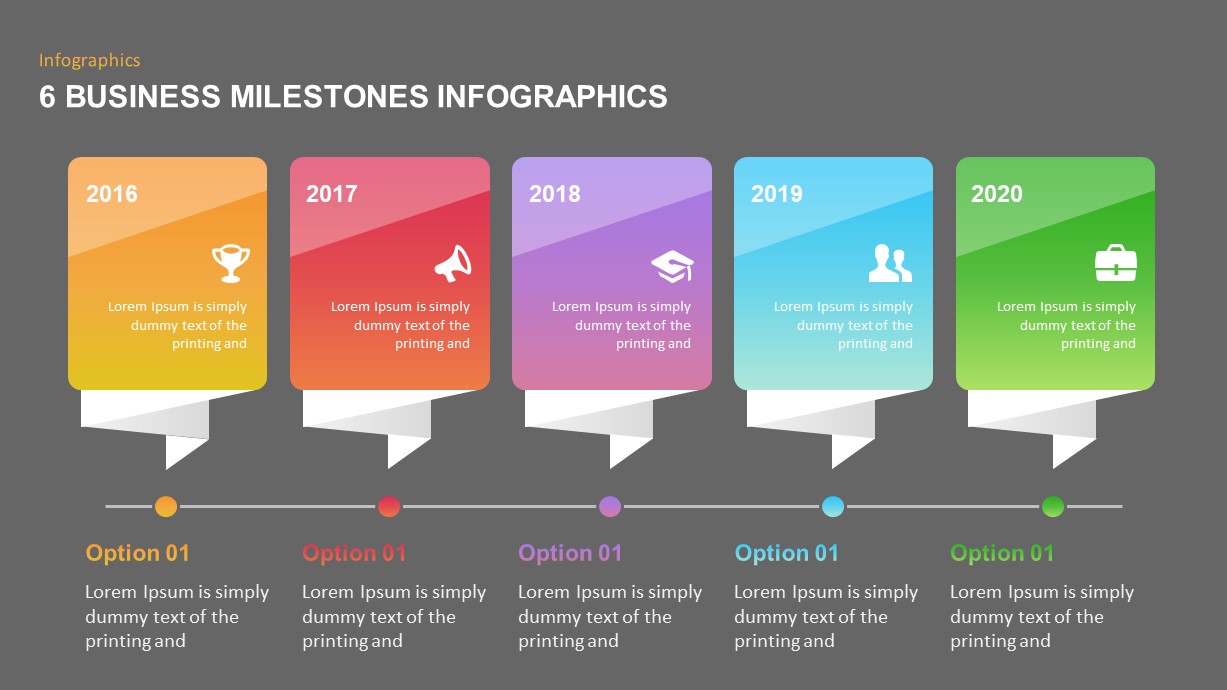 This business milestones presentation template is the perfect way to showcase your company's major achievements. The timeline format makes it easy to navigate, and the banner design ensures that your information will be seen by your audience.
19. Project timeline template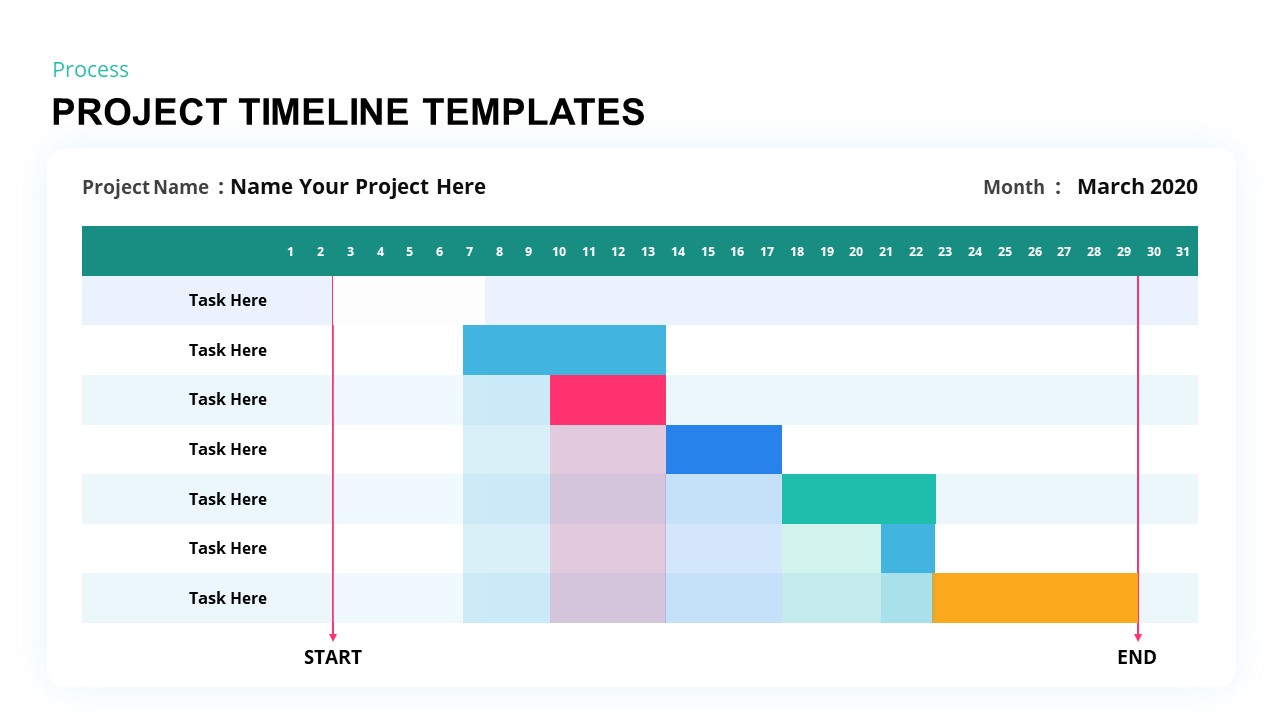 This PowerPoint template is perfect for project managers who need to show the development process and project schedules in a chart slide. It contains many versatile designs, including different variations of a Ppt Gantt chart.
20. 3D timeline infographics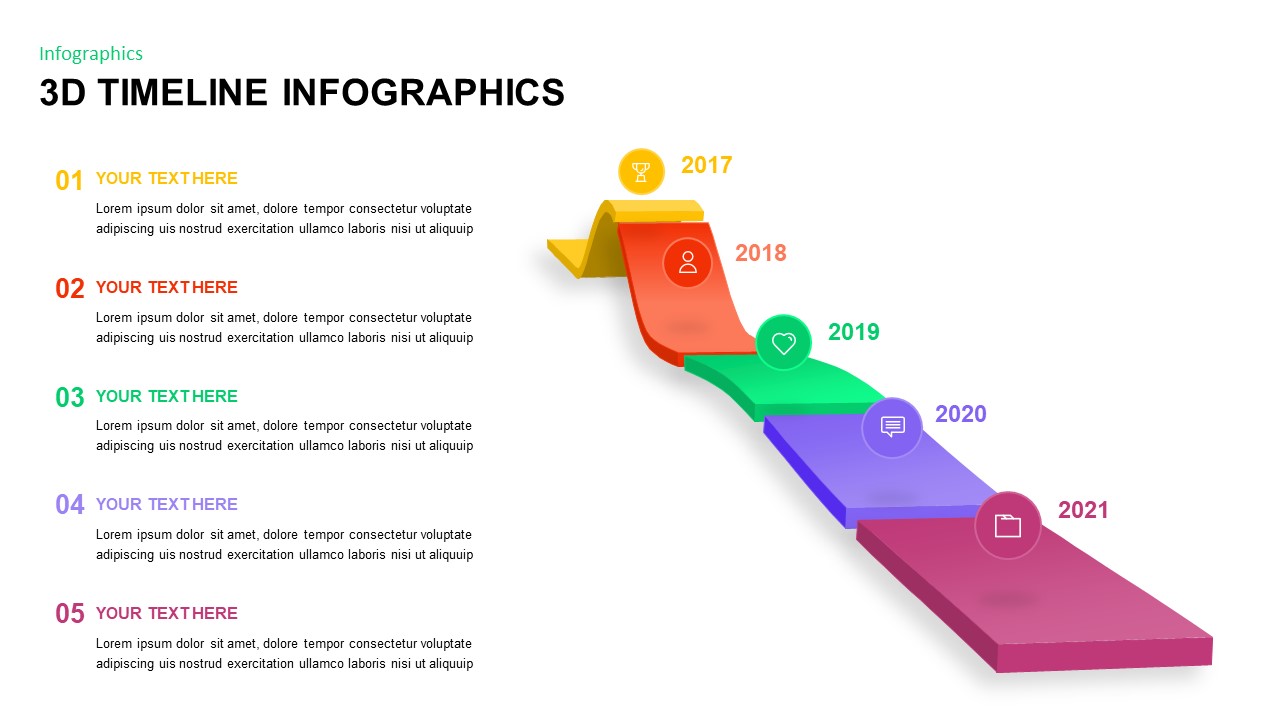 3D timelines are the latest and greatest way to present your data in a visually appealing way. By using five paved tiles, you can create an arch-shaped timeline that is sure to impress your audience. With its 3D effect, your data will leap off the page!
21. 5 staged sequential tags timeline template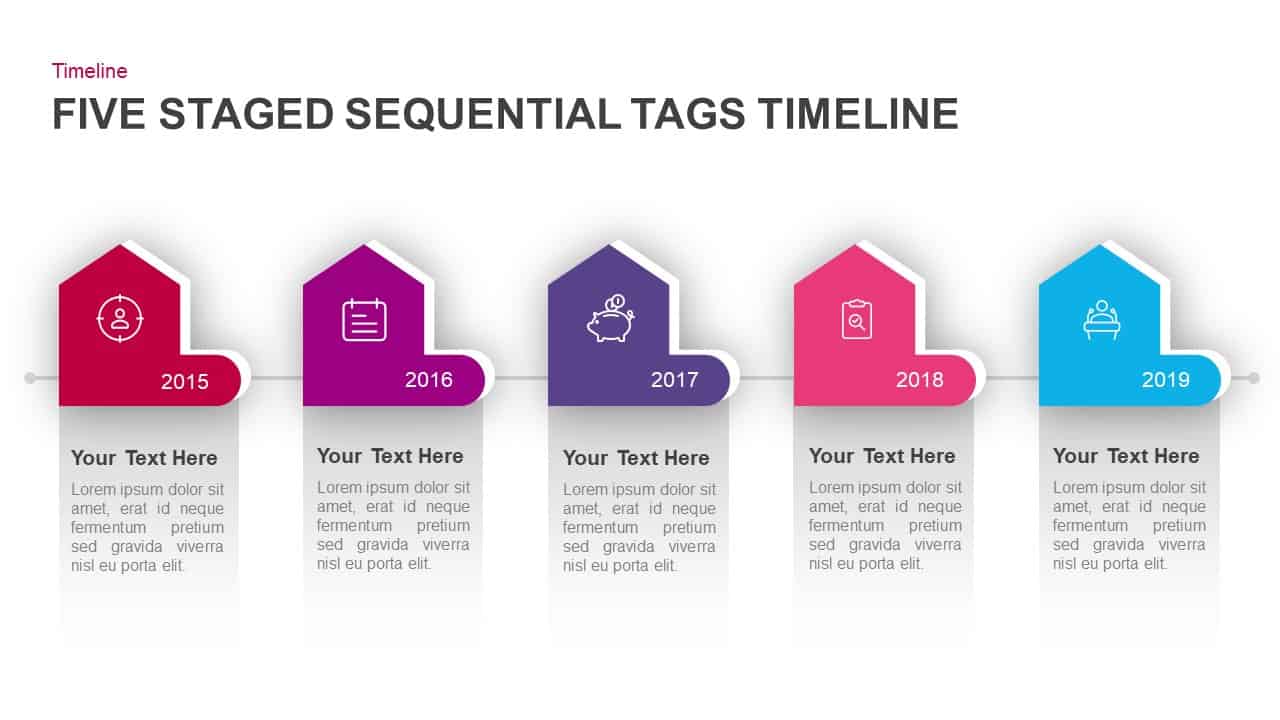 These five staged sequential tags template is perfect for presentations of any kind! Whether you're showing the history of your company or the progress of a project, this timeline diagram is sure to help you make your point. With its creative and engaging design, your audience is sure to be impressed!
22. 4 step process PowerPoint template
This business presentation template is perfect for showing 4 steps in a sequence of achieving business goals and objectives. The process flow diagram is perfect to show the arrangement of events that give success to businesses.
23. Noise analysis PowerPoint template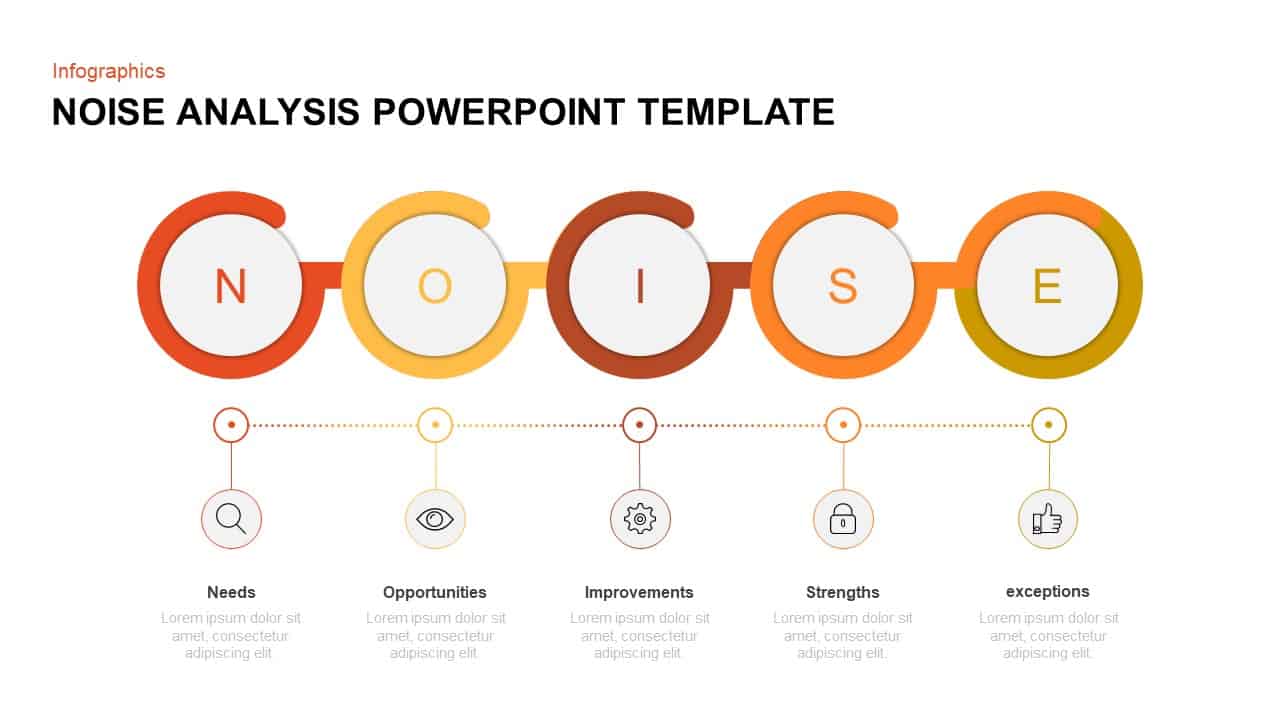 Make your presentations more powerful with the NOISE analysis PowerPoint template. This template is designed for management professionals who need to analyze the actual condition of their business and come up with improvement strategies. With this template, you can make your point loud and clear!
24. Development goals timeline presentation template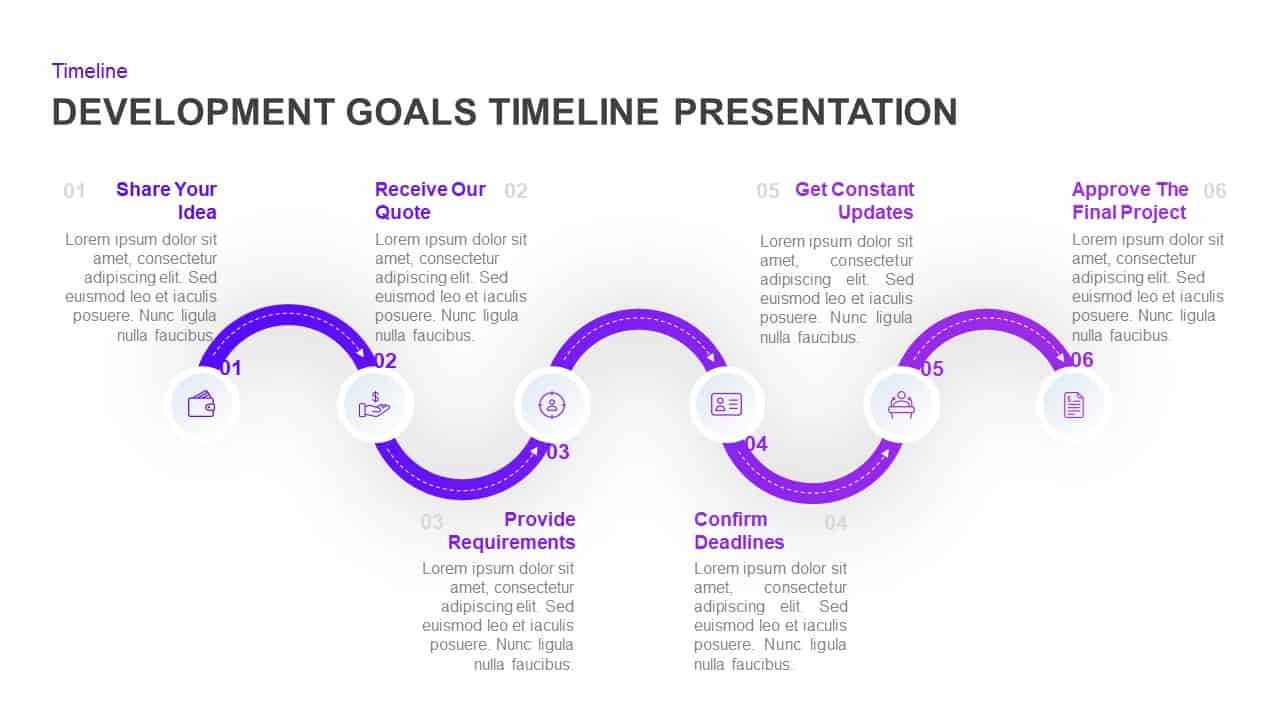 This zigzag timeline template is perfect for showing spontaneous flow in any developmental process. Whether you're creating a workflow diagram or outlining the steps involved in a project, this template will help you do it in style. With six easy steps, it's simple to get your process presentation started.
25. Company history timeline template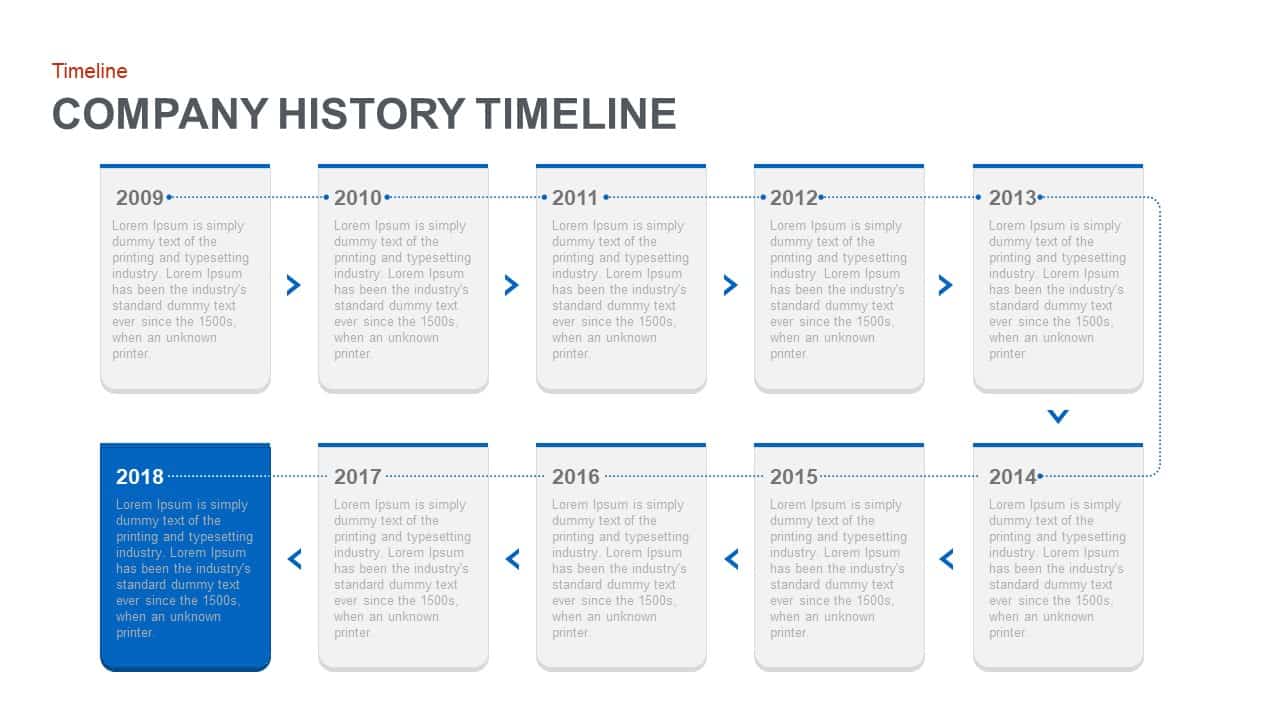 The company history timeline presentation is the perfect way to start telling your company's story. This presentation will help you outline your objectives and mission, and show how you overcame challenges and threats in the past.
26. Roadmap diagram PowerPoint template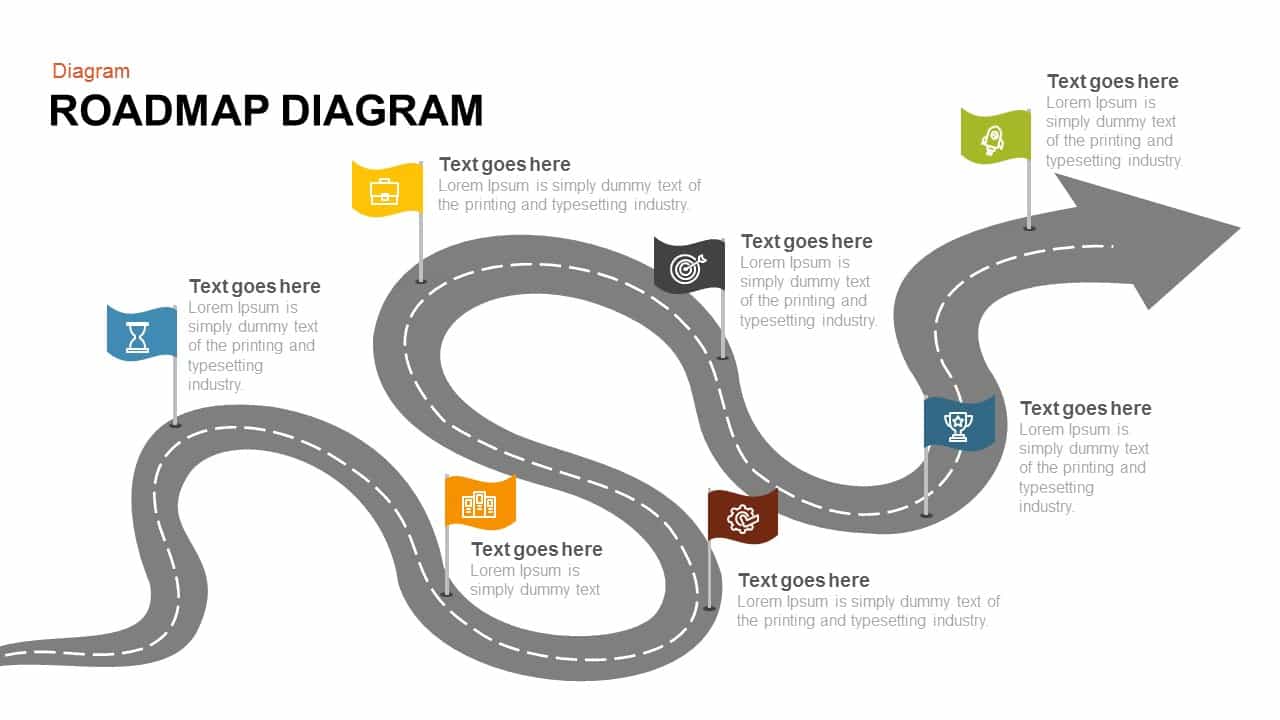 This roadmap PowerPoint template provides you with a number of different layout options, so you can easily create a professional and engaging presentation. With icons, graphics, and colors that are easy to edit, you'll be able to customize your slides to match your specific needs.
27. Winding roadmap diagram for PowerPoint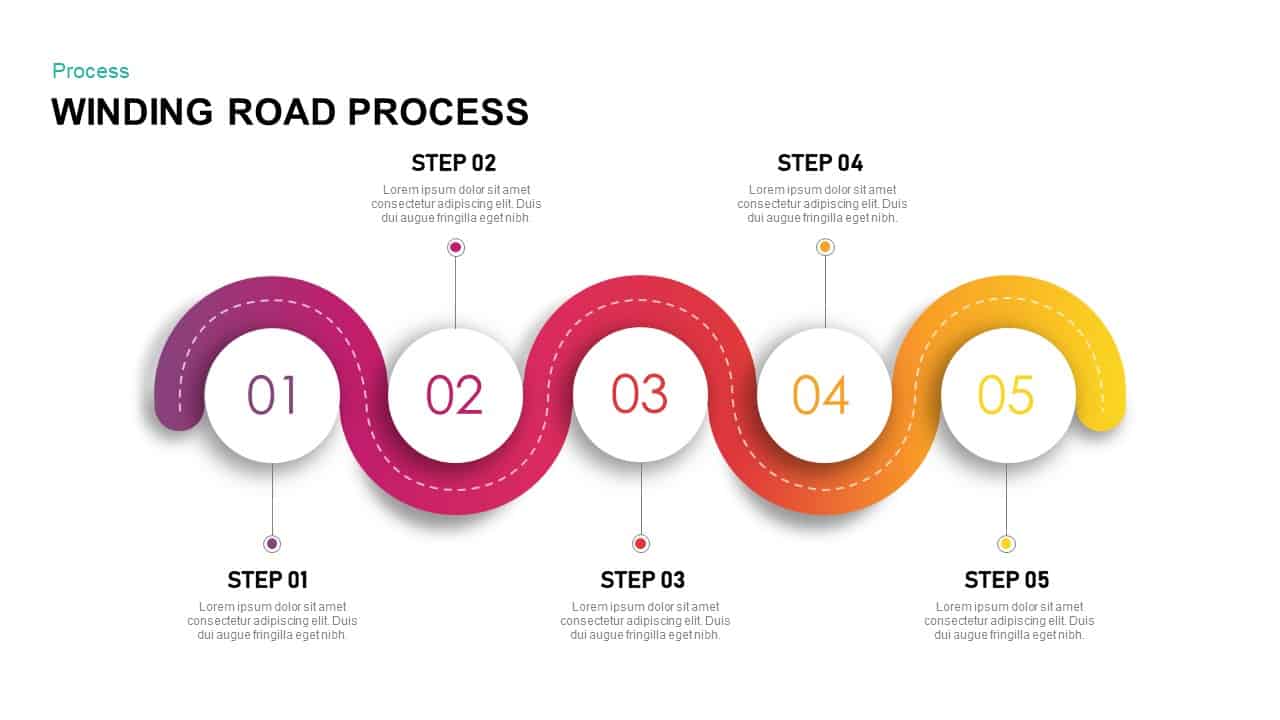 The winding roadmap diagram is perfect for presentations that need to show a timeline or project prognosis. The zigzag design is stylish and professional, making it the perfect choice for business and marketing strategy presentations.
28. 5 level timeline template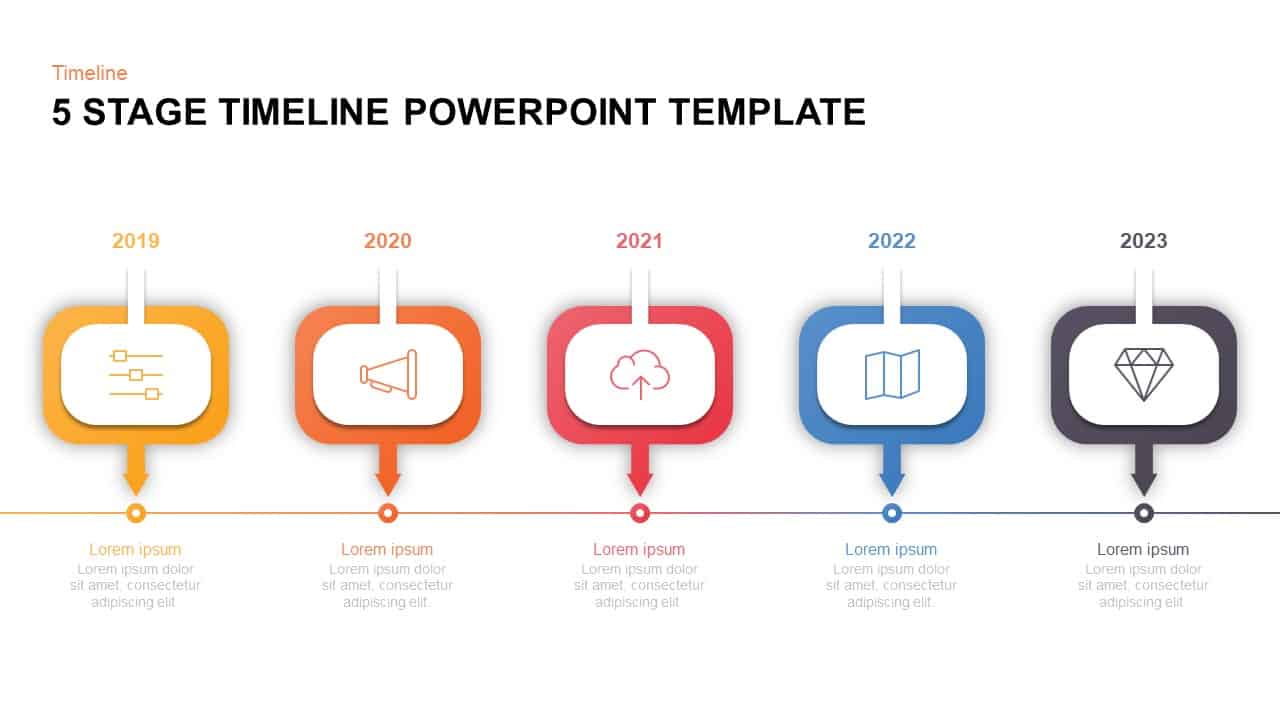 5 level timeline ppt template is a perfect generic PowerPoint for presenters who want to showcase a timeline or history of events. It has 5 levels, which makes it easy to organize your information. Plus, the professional design will make your presentation look great.
29. Creative stage timeline
Do you need to show off your company's history in a visually appealing way? The creative stage timeline is perfect for showing off your business' growth. With brightly colored blocks, this display will make any room look more professional.
30. Business flow diagram template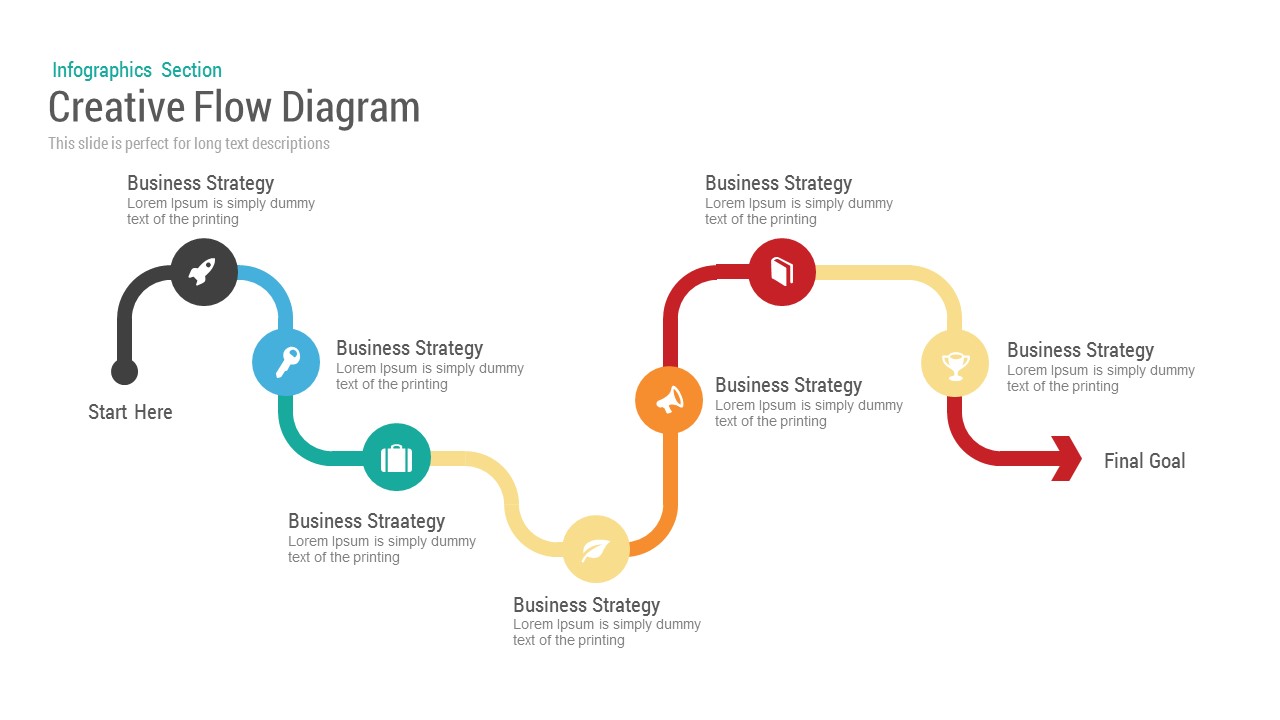 The flow of the development can be portrayed in a unique style of roadmap. Seven milestones of the company achieved in a course of time can be displayed with this simple timeline model.
31. Creative hexagon timeline template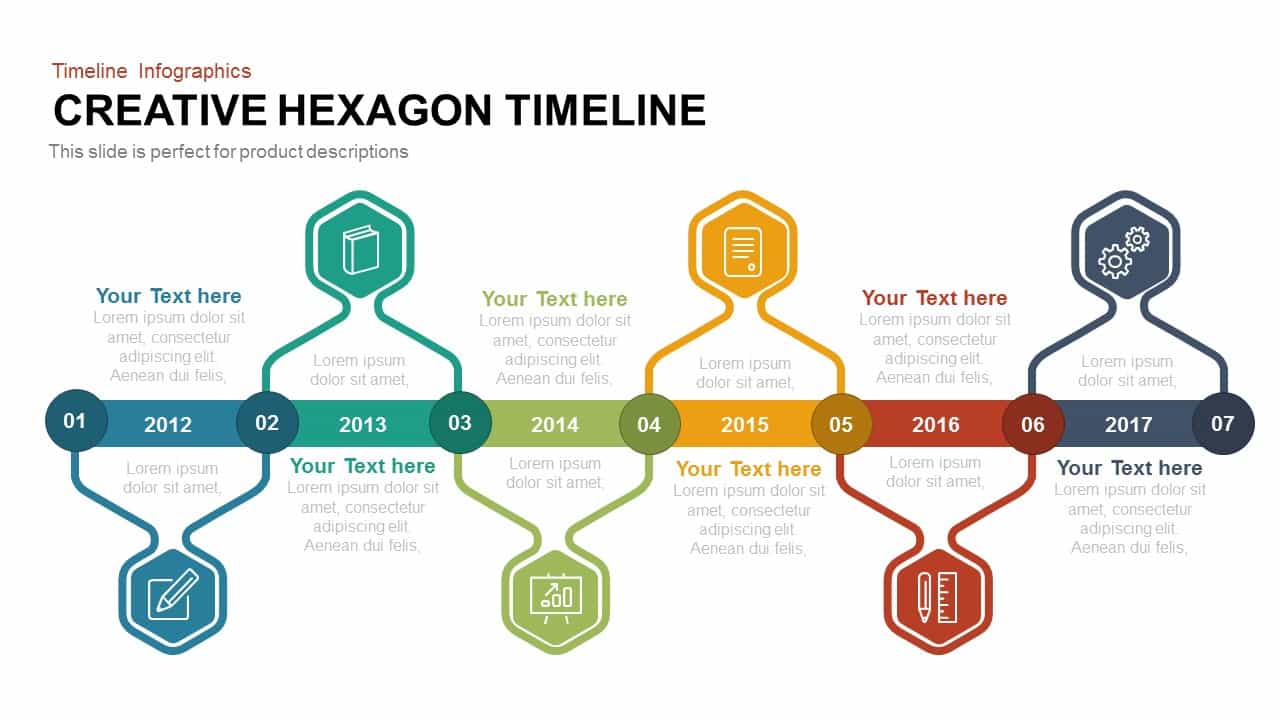 This creative hexagon timeline template is the perfect way to give your presentations a fresh, new look. With its stylish design and colorful icons, this template is sure to impress your audience. So why not try something new and exciting with your next presentation?
32. 3D layer infographic free PowerPoint template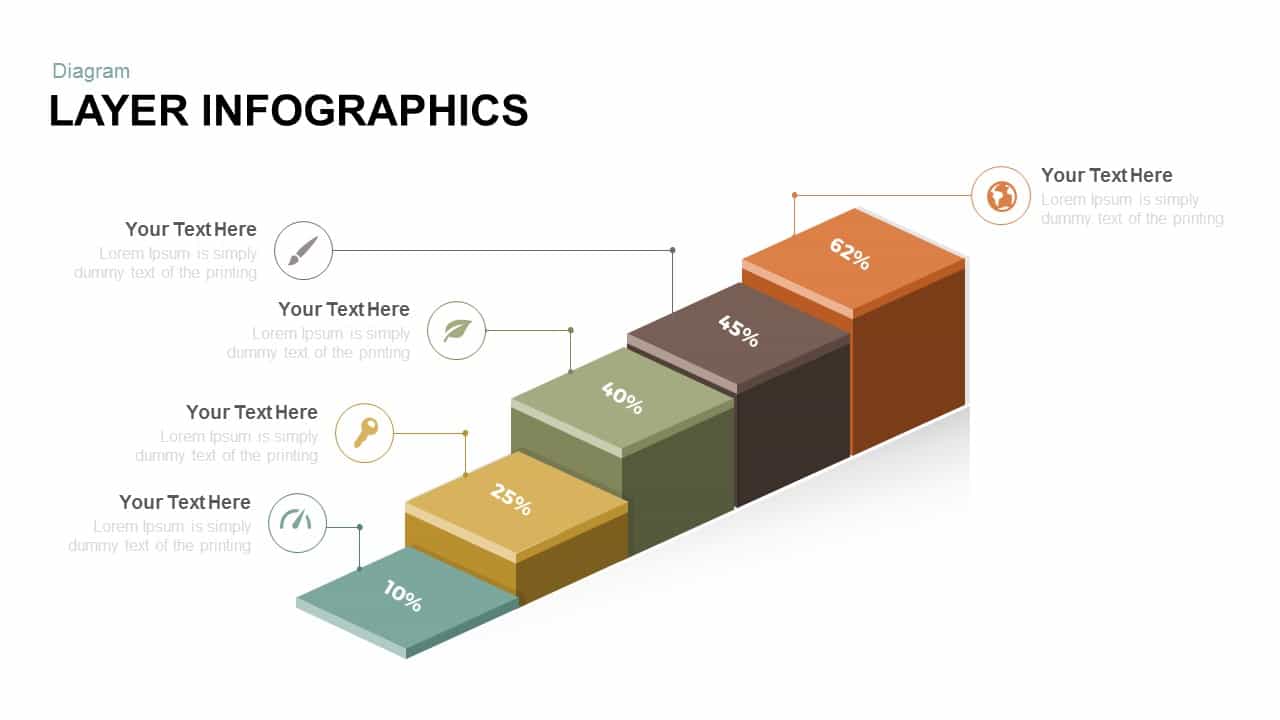 If you've read this far, here's a small reward for you. Check out this free PowerPoint template that you can download right away.
Ending note
As we come to the end of this post, we hope you have found this compilation of the best timeline templates for PowerPoint presentations useful. If you are looking for more ways to present your ideas in a flow, be sure to check out our collection of multipurpose ppt timelines. With well-designed timelines, you can breathe life into your company history and designs, without having a top project timeline roadmap. Let us know how you go!