Expert Tips on Presenting a Project Proposal [Project Proposal Templates]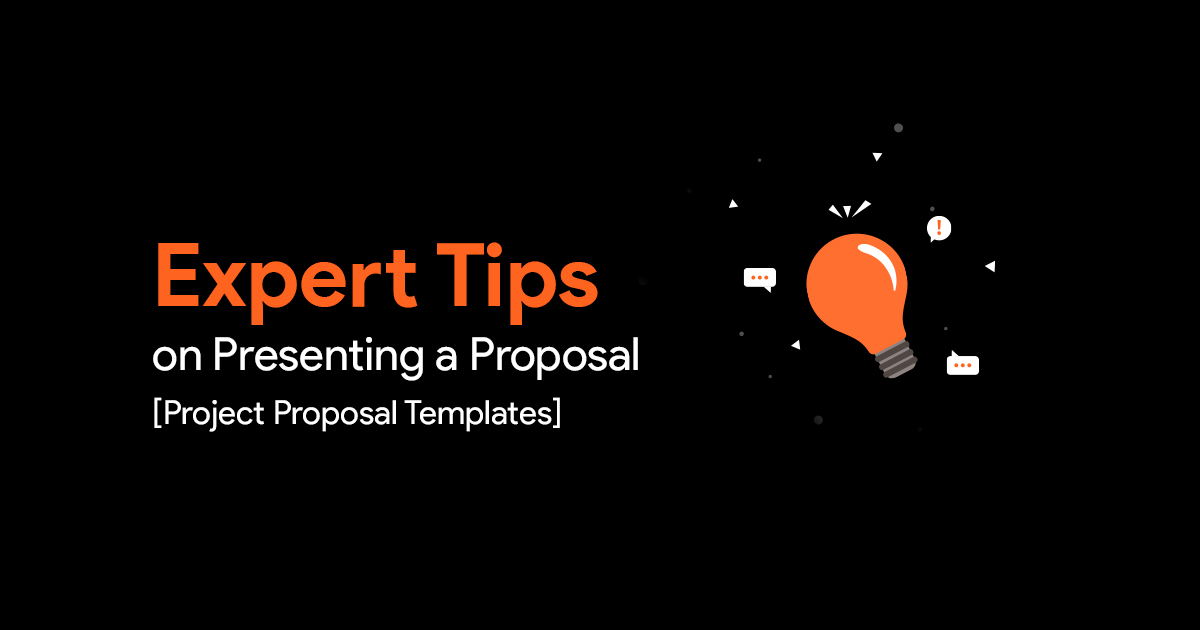 At some time in their careers, managers and executives must prepare and present proposals for projects or initiatives. It can be daunting, but not if you get the right guidance. This article will help you with tips and tricks on writing and presenting a project proposal to an audience. It is important to convey the right message to engage and persuade your audience.
What is a Project Proposal?
A project proposal is prepared when a new project or initiative is being planned to communicate what the project entails and what is required to bring it to fruition.
Fundamentally, it contains start and ending dates, goals, purpose, the chief outcome desired at completion, and a title.
Project proposals have clear segments that can effectively communicate the idea behind the project. You need to provide context about the problem to which you are providing a resolution through this initiative, the action plan to implement the project, and what resources you require to implement it.
A project proposal differs from a project plan; the latter is an in-depth project implementation plan. Both documents do contain many similar details, yet, vary in nature. Several details may change from the time of the project proposal presentation till the final project plan is approved.
Project Proposal PowerPoint Templates
Before we move on, check out some templates for project proposals that you can use with PowerPoint: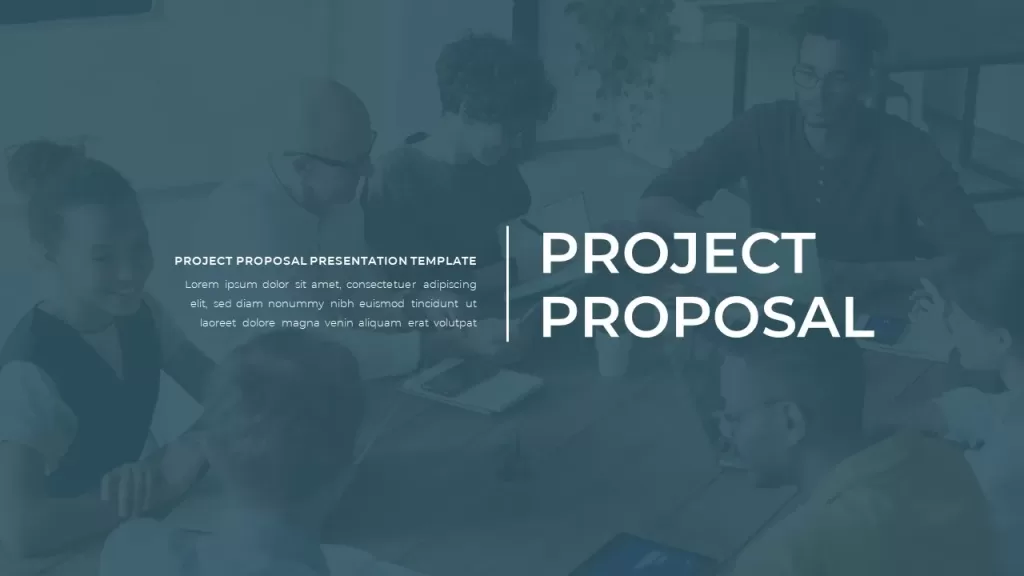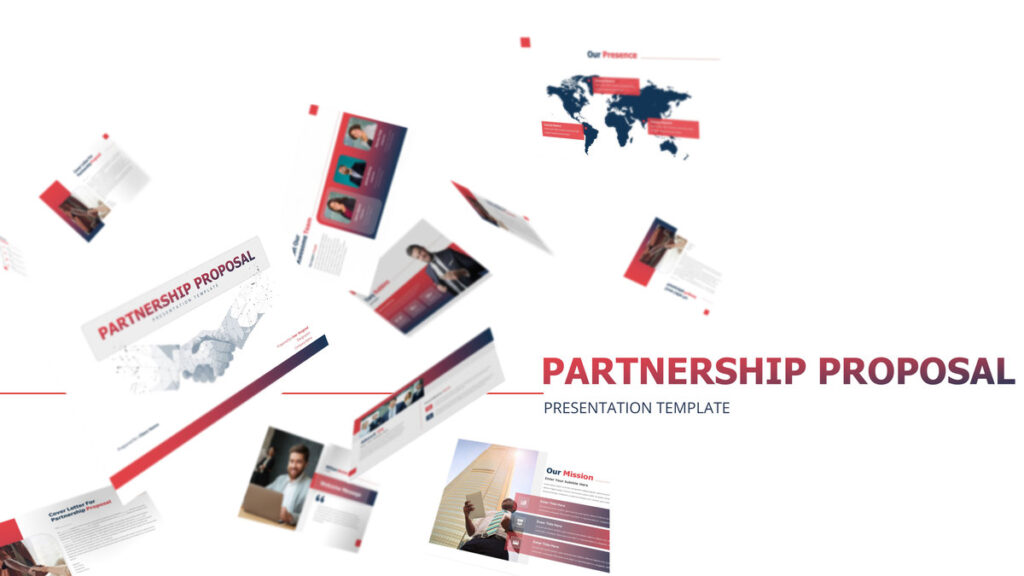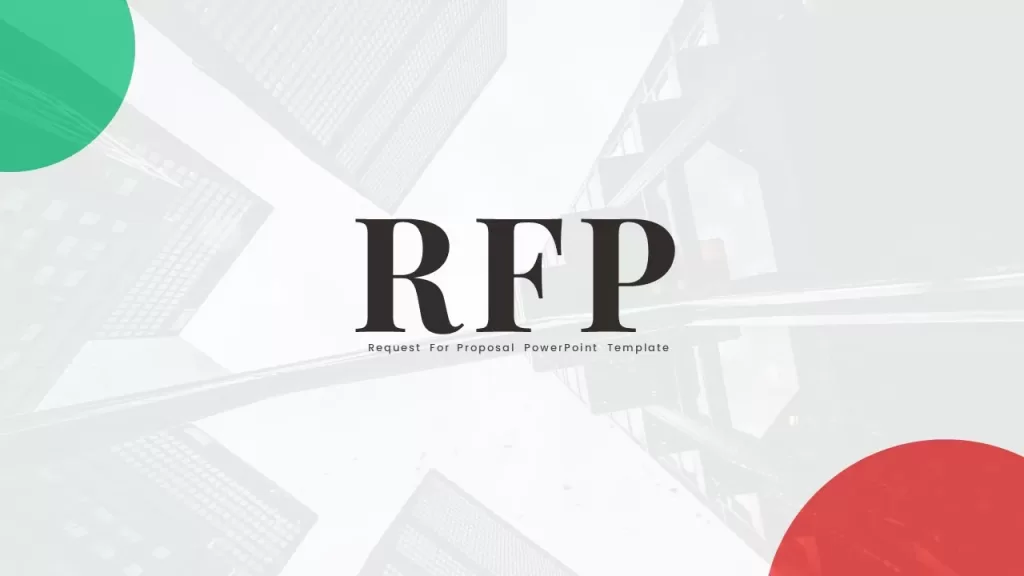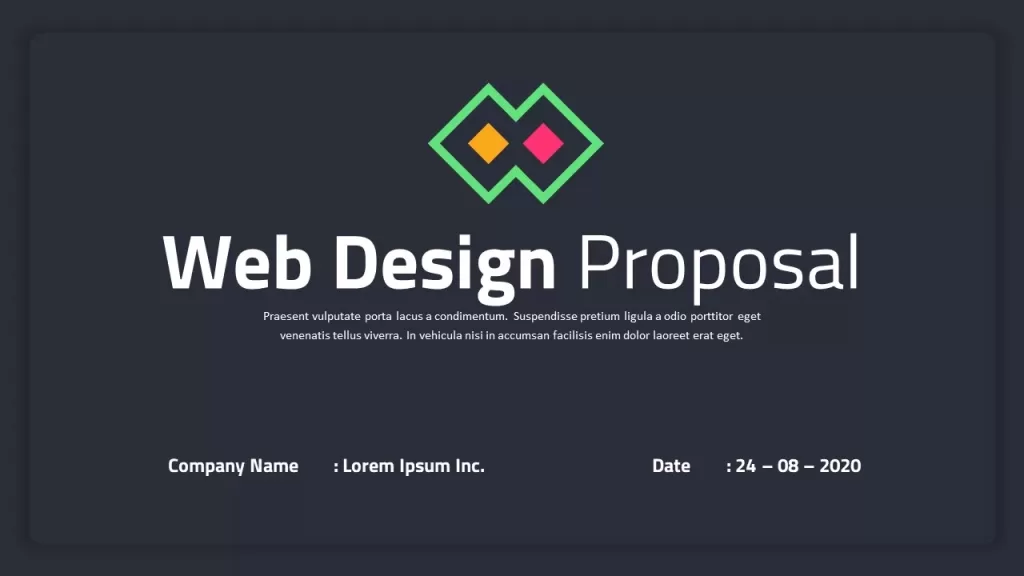 When do you Need to Write a Business Project Proposal?
Initiatives are conceived of when forecasts are prepared, and plans are made for the coming financial year or near future – to plan for growth. Big or small, every organization has to make several plans because every business aims to grow and expand. A project is planned to make this growth happen or resolve some pain points hampering growth and stagnating the business. But such projects have to be evaluated dispassionately, and the main decision-makers have to be convinced about the need for the project and that it will produce the required outcome. This is why presenting a proposal becomes necessary. Remember, your proposal has to be informative and persuasive.
Benefits Of a Project Proposal
When drafted properly, a project proposal offers several benefits:
Fosters innovation – when you provide in-depth information about a project and correctly communicate what the project will achieve, stakeholders will be more confident about investing in it. Innovative projects raise the reputation of the company in the public domain.
Predict and detect problems early – as you present your plan to an audience that wasn't part of drafting it, they are more likely to be able to identify potential challenges that you could not. Discussing them allows you to brainstorm ways to resolve them so they don't blow up later.
Allows focus – when the implementation is in progress, you can use the proposal document as a point of reference and stay focused and on track. This helps in delivering what was promised and is expected.
Helps planning – a well-written project proposal helps business owners and other stakeholders plan finances, resources, and time for future allocation and make accurate predictions about the project's impact on their business in the short and long term.
Writing a Project Proposal
Each proposal is unique, and a lot depends on the nature of the business and its size, hierarchy, management structure, and so on. However, we can provide a rough guide to writing a formal project proposal. You may have to tweak this outline to make it a better fit for your industry or department.
1: Defining the Purpose
It is important to be able to prove that this initiative has a purpose and that it is going to solve an actual situation or problem. Most business decisions are made to address pains faced either by the organization itself or its customers. This step is essential so that the stakeholders understand the importance and need for your project and the negative consequences of not allowing it to happen. When doing this, be sure not to get overly dramatic with the problem or the consequences of not implementing the project; however, be persuasive about the problem. Keep business cases, facts, and figures ready to back your claims.
2: Talk About the Solution
After getting your audience's attention to the problem, it's time to introduce your solution. First, you must get your audience to understand the benefits your solution will provide. The main talking points for you to focus on are how the solution will resolve the issue and how your company will benefit from it. The benefits could be improved customer service, innovative products, cost cutting, higher profitability, greater brand visibility, gaining a competitive edge, etc. Try to convey the impact your project will likely create, and think of the comprehensive outcomes; that will impress your audience.
3: Detail the Outcomes and Norms for Success
What are the projects' deliverables– tangible and otherwise? Mention in detail what each outcome will achieve, how it will function, and the benefit it will provide. You can include details like the essential tasks to ensure each outcome and their due dates or deadlines. You also have to specify what characterizes success. How to determine if an outcome has been produced as desired? The best criteria to assess the achievement is by applying the SMART approach – specific, measurable, achievable, realistic, and time-bound – goals. Use a roadmap to recreate the deliverables and their due dates visually.
4: Plan Resources
Any project requires several resources for execution. Financial estimation of resources is the first step. Each resource required has to be mentioned in budgetary terms, and you have to compute a specific figure that will need to be invested. You then provide details of every resource, like equipment, technology, manpower, facilities, services (consultancy, marketing), etc.
5: Lay Out Your Schedule
Now it's time to integrate resources and desired outcomes to create a complex roadmap, highlighting the project's beginning and closing, due dates, resource usage times, and so on. This helps in materializing the project proposal in high-level tasks.
6: Executive Summary
When you finish the in-depth version of your project proposal, you need to craft an executive summary containing a high-level register of all the critical components of your project proposal. You need to create a summary of your entire project proposal on a single page, but it has to be clear enough to understand the general scope easily.
Tips for writing an effective project proposal
What we told you above were the steps involved in writing a project proposal; now let's see how we can write all of that effectively to create maximum impact on your audience:
Remember who your audience is, and use the language they can relate to and identify with. You can look up the company website and social media handles to understand how to write for your audience clearly.
The proposal aims to convince your audience to take a specific action or decision – ergo, you must be persuasive. Use case studies, historical data, market forecasts, results of surveys, testimonials, and so on to spur them on in the right direction. You can also showcase your qualifications and experience and boost your confidence.
If the project does not matter to your audience, they may refuse approval even if they think it sounds good. You must stress the link between the project and the goals or needs of the audience and improve your success possibilities.
Stay moderate with jargon and complex terms. Please keep it simple, and use a user-friendly format to clarify your proposal. Follow conventions with regard to the structure of your presentation to make sure everything is clear.
Go over your proposal and ensure there are no grammatical or spelling mistakes; this makes it easy for the audience to understand and shows professionalism. You can also get help from a colleague or professional editor to do it for you.
Presenting a Project Proposal to Stakeholders
You have written, edited, and fine-tuned your proposal document. Now it's time to present the proposal in front of the stakeholders. Here are some guidelines for a successful presentation:
Slide 1: Cover Slide
The first slide should ideally have the name of the project and the presenter – you; this must be done before you delve into the presentation properly. Think of an attention-grabbing name for your project, something that will stay with your audience.
Slide 2: Contents Table
Letting your audience know what is coming in the presentation is good. Therefore, your next slide should be a table of contents – similar to the meeting agenda. It prepares the audience for the structure of details or information presented; it's a best practice in presentations to provide this information and prepare your audience.
Slide 3: The Problem
You have written about the problem in detail in the proposal document; however, you must be brief and bold when presenting the same to the stakeholders. Be explicit about what the problem is and the why and how of it. Also, mention the impact of the problem and its consequences. Finally, let the message sink in regarding the real pain that has to be solved.
Slide 4: The Solution
Now you must communicate to your audience what you plan to do to resolve the problem. Be simple. Keep it to a couple of sentences. Reveal just enough to arouse their interest and curiosity among the audience members. Start being persuasive now – it is the right time to do it.
Slide 5: Goals and Benefits
Here you have to talk about the initiative's chief aims, what the project will achieve, and the main benefits your company will get from implementing this project. Again, don't talk at length here – your audience can read details in the document – but mention a couple of the points in your document. Be sure to talk about the most important and impressive benefits. Group and categorize the goals and benefits – you need to mention a few more details than what is seen on the slides. PowerPoint slides are meant to carry minimal information, after all.
Slide 6: Deliverables and Success Criteria
Run through the outcomes, timelines, and criteria for considering successful outcomes without delving very deep into them.
Slide 7: Project Management Strategy
Lay out the strategy you will follow while executing the project, and make sure you describe and explain it briefly. Only some audience members will likely understand a specific project management strategy. For example, if you plan to use Kanban boards, briefly explain what it entails.
Slide 8: Budget
Budget is a very important yet simple slide. Here you talk about the total budget you predict the project will require and the breakdown into the important categories or resources. Then, to help the audience understand it, mention what percentage of each resource's budget will be needed.
Slide 9: Project Requirements
Talk about the other requirements for the budget apart from finances. This includes manpower, technology, equipment, location, space, etc. Again, you can run through this, as the details are available in the main document.
Slide 10: Project Proposal Timeline
While it may not be possible to depict the complete timeline in your project proposal presentation, you can still present an outline. For example, include the chief stages, outcomes, and their due dates. You can even use a proper calendar to mark the timeline of stages and deliverables. This will provide a visual context to your audience in terms of weeks, months, etc., and will give a better understanding of how much time it will take.
Slide 11: Conclusion
Conclude your proposal with a summary – like a recap, so that your audience can remember the chief reason for the presentation. But, again, reinforcing the problem and benefits of the solution will help gloss over the financial and other requirements of the project.
Slide 12: Thank You Slide
It's always a good practice to thank your audience for their patient hearing to conclude your presentation. In addition, providing your contact information is a good idea so they can contact you should they need to clarify any matter later.
To Wrap Up
Here we have seen how to define your project proposal and write a proposal successfully, and tips for a successful presentation. This will help you the next time you have to propose an initiative you have planned. Let us know in the comments if you have anything more to add.