Best Org Chart Templates for PowerPoint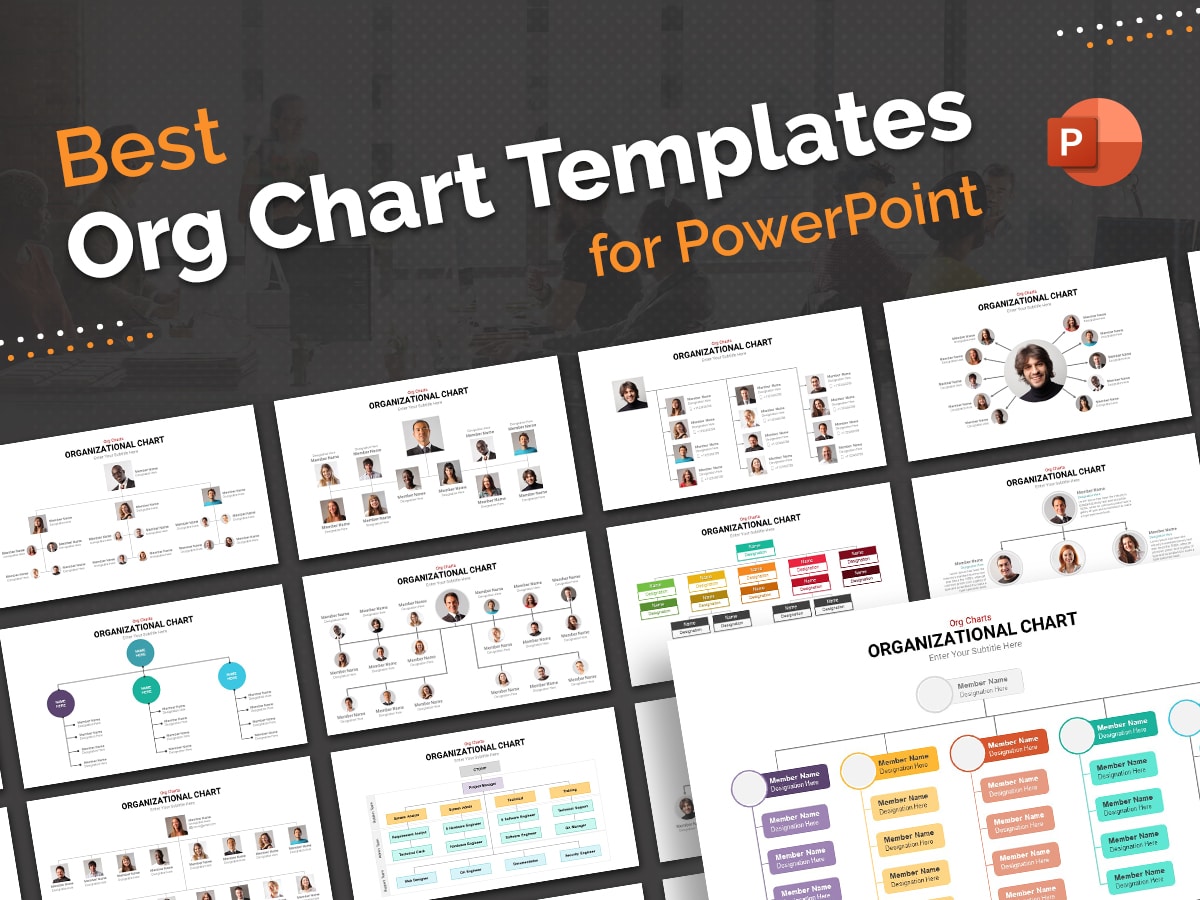 You don't have to be a design wizard to create the structure of your organisation's chain of command. We have 100+ prebuilt best org chart templates for powerpoint presentations. For example, if you are a company manager or running a non-profit organisation, you may need org charts to introduce your employee roles and responsibilities.
Organisational charts are an essential tool for any company or organisation. They provide a visual representation of the distribution of responsibilities and can help to clarify the chain of command. However, creating an effective org chart can be a challenge. There are many different software programs and template options available, and it can be not easy to know which one is best for your needs. So, if you are looking for the best org chart templates for PowerPoint presentations, look no further. Our collection of org chart templates is designed to be both professional and easy to use, making it simple to create an effective org chart for your business or organization. Choose from various templates, including those with photos, infographics, and more, and customize them to fit your specific needs.
21 Ready-to-use best org chart templates for powerpoint
These are some of the best organizational charts for powerpoint presentations that you can find on this blog. We have both premium and free downloads available, so there's something perfect no matter what your budget is!
1. Simple organizational chart powerpoint template
An org chart is a great way to visualize the hierarchy of an organization. By showing the workflow and chain of command, org charts can help to improve communication and efficiency. Many different org chart templates are available, but a simple org chart PowerPoint template is often the best choice for most organizations.
2. Organizational structure keynote & powerpoint
This cartoon ppt organizational structure keynote & powerpoint is fun and engaging to show the roles and responsibilities from lower to higher strata. Each character division helps display who is responsible for what. In addition, this org chart will get your team thinking about the chain of command in a new and innovative way.
3. Matrix organizational structure powerpoint
A matrix org chart template can be a helpful tool for presenting the structure of an organization. This type of organizational chart is especially useful for companies with complex systems. It provides a clear and concise way to show the relationships between departments and employees. The matrix org chart template for PowerPoint and Keynote slides is a simple yet effective way to present your information.
4. Organizational structure template for powerpoint
A clear organizational structure is essential for any company or organization to maintain high productivity and efficiency. This organizational structure powerpoint template can be very helpful in visualizing the organizational structure of a company or department. The topmost layer of this corporate structure template shows the higher officials, while the lower layers show the distribution of work among different individuals and departments.
5. Organizational chart with profile powerpoint
Whether introducing a new team to colleagues or presenting an update to upper management, our organizational chart with profile powerpoint is the perfect way to make a lasting impression. This professionally designed template comes complete with photos, bios, and contact information for each team member, making it easy for your audience to put a face to a name.
6. Creative organization chart powerpoint
The creative organizational chart powerpoint is a great way to present your company's hierarchical structure in a visually appealing way. This template features a timeline ppt sequence with hanging plots where you can insert your text. In addition, the colours are fully editable, so you can customize the look of your chart to match your brand. This template is sure to make a lasting impression on your audience.
7. Organizational chart powerpoint presentation
Every business has a different way of organizing its work. This can be hard to explain to employees, customers, and investors. But you can use an organizational chart PowerPoint presentation with an organizational chart to explain things. This org chart will show people how the company is structured and who is in charge of different things. You can also use this to introduce new employees and show them what their job will be.
8. Organizational chart powerpoint template with departments
The organizational chart PowerPoint template with departments is a versatile and user-friendly alternative to our team presentation template. You can use the high-definition PPT slides to introduce multiple talents or positions within your organization in a visually appealing way.
9. Simple organizational chart template for powerpoint
You can download a simple organizational chart template for PowerPoint for your next presentation. This org chart template is easy to edit, and you can use it to display your company's structure with textual explanations. In addition, the org chart template is a great way to show your company's operational procedures and hierarchical positions in attractive visual graphics.
10. Organizational structure powerpoint template
Organizational structure PowerPoint template with cartoon PowerPoint images looking amazing presentation design created to depict an organization's workflows or assignments. It helps a company assign a hierarchy that defines responsibility, roles, and supervision.
11. Corporate organizational chart powerpoint
Corporate organizational chart PowerPoint will give a clear look at the hierarchical structure of post-industrial businesses. This template is perfect for IT companies to familiarize the corporate network from higher to lower strata. Each relationship is clearly defined by the connection lines between rectangle shape designs.
12. Isometric business people organization chart template
The animated images of executives represent a modern corporate world in the isometric organizational chart powerpoint template. You can easily pitch each charter and its valued services in a stylish ppt format. Moreover, the graphics and features are ready to use, or you can add photographs in the prescribed areas.
13. Creative organizational chart template
The creative organizational chart template covers the company hierarchy structure pointing by dotted line ppt designs—this perfect org powerpoint focuses on how your company has laid its system.
14. Multilevel hierarch organization chart template
This simple and easy to use multilevel hierarchy organization chart fits any company to present their work distribution structure with roles and responsibilities. Moreover, it is an editable template. So, you can fill the circle shapes with colour effects and add or delete the circles as per the data in your hand or your organization's working structure.
15. Hierarchy structure chart powerpoint template
The hierarchy chart template is best for introducing company structure to new employees who don't know about the distribution of work roles and responsibilities. Besides, this simple org chart template infographic is the most common type, so that any organization can use sleek designs for a persuasive powerpoint presentation.
16. Project team structure org chart for powerpoint
The project team structure org chart powerpoint template comes with two variant designs. Either you can use it as a complete company profile chart, or you can use it to introduce the project team member's roles and responsibilities. Besides, the org chart template lets you insert photographs of team members.
17. Horizontal hierarchy chart template for powerpoint
The horizontal hierarchy chart is a tree diagram design that fits to present two departments and their work allocations on the same org chart template—the multi-layered ppt template designed in two colour backgrounds.
18. Organizational chart template for powerpoint
The infographics organization chart template is perfect for displaying the ranks and positions of each member. Here the users can show the executive employees of the firm and portray the relationship between the head of the department and how workflow continues.
19. Organizational chart powerpoint template
The matrix design of the organization chart powerpoint presentation showcases the chain of command in both horizontal and parallel ppt design. It is the best org chart template to depict the relationship and hierarchical deployment, strata, and roles.
20. Organizational structure ppt template
The pyramid powerpoint organizational structure template will give a clear picture of your organization's pattern. The blue-spotted colour combination is a simple yet attractive org chart template covering almost all areas of the organization's hierarchy.
21. Organizational structure template for powerpoint
Every hierarchical structure could be shaped as a pyramid or a ladder. For example, the organization structure template for powerpoint presentation is designed as a pyramid ppt with chess pawn shapes. You can easily create memorizing presentation using the minimal ppt templates.
So there you have it! Use these best org templates for a powerpoint presentation to easily show your company hierarchy structure and roles and responsibilities. To learn more about filling colour in pre-made powerpoint designs, check out this blog featuring how to create the best powerpoint backgrounds.