Best Roadmap Templates for PowerPoint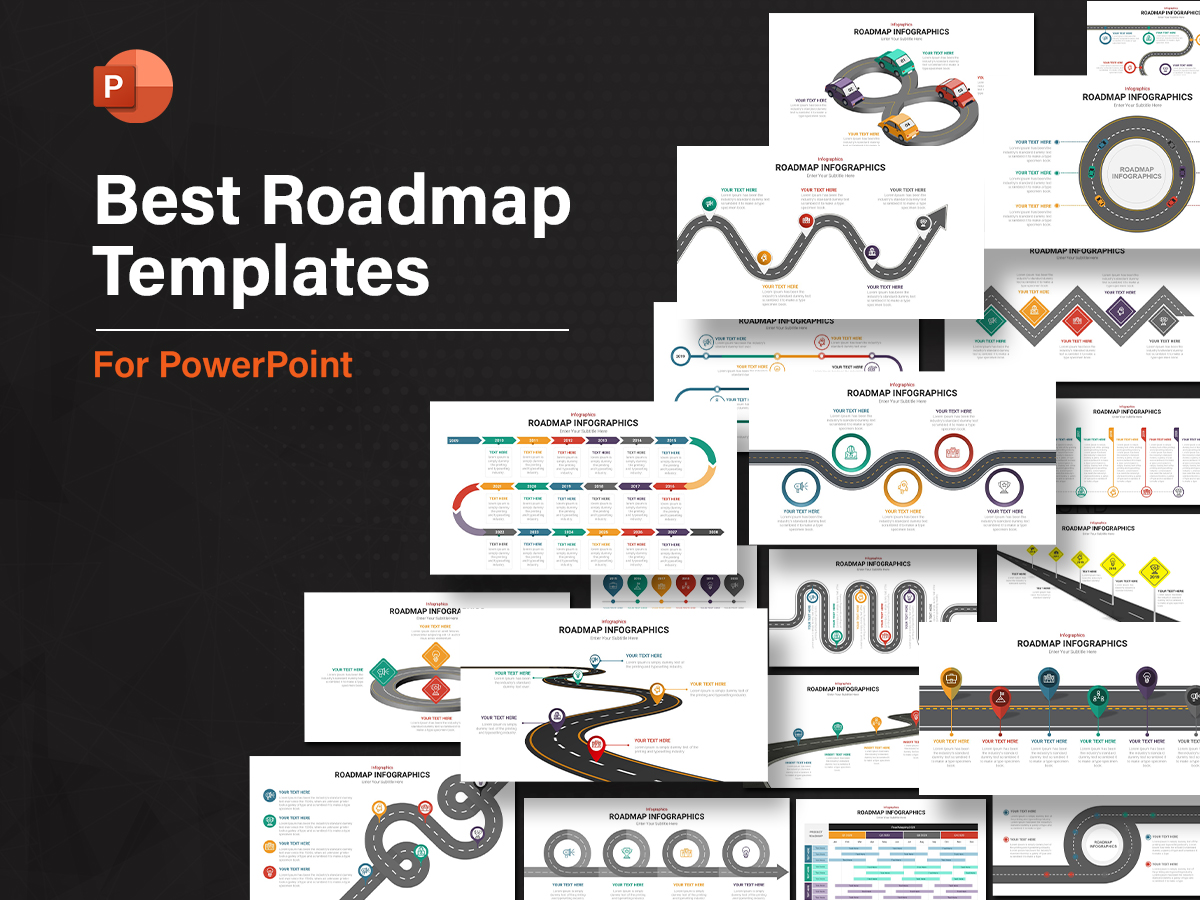 How could you share your company strategy with your teammates and stakeholders? The only way to do this is to create the best roadmap templates for PowerPoint that may induce your audience and pass your future orientation without any clutters.
Your PowerPoint presentation should aim to engage your viewers by having a sleek interface with just the right amount of information so that they can easily follow your argument without being bogged down by too much text or confusing jargon. By using the best roadmap templates, you can ensure that your presentation will be clear and concise and that your audience will be able to understand your company's vision for the future.
If you're not confident in your design skills, it can be not easy to create engaging visual graphics. That's why it's often best to download professional roadmap templates from an online resource. This way, you can ensure that your presentation will look polished and professional. In this post, we've rounded up the best roadmap templates for PowerPoint, so you can easily create a multipurpose presentation that will impress your audience.
There are many types of roadmaps such as project roadmaps, product roadmaps, timeline roadmaps, and Gannt charts that fulfil project management urgencies' duties. All these templates will get in this single platform. With these templates, all you need to do is add your content and customize the design to suit your needs. So don't wait any longer; get started today and see the difference a professionally designed roadmap can make.
1. The product development roadmap for Powerpoint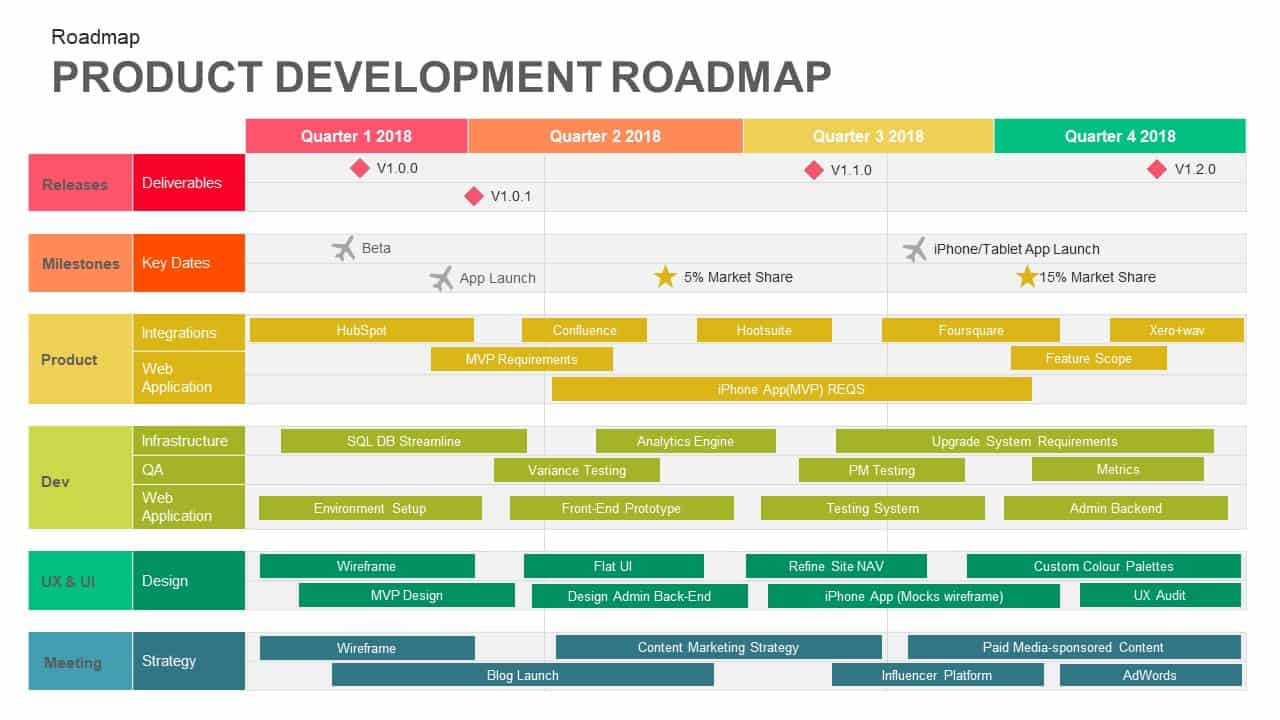 GET YOUR COPY
The product development roadmap template for PowerPoint is a comprehensive visual summary that maps out the vision and direction of your product offering over time. It involves various stages and processes that create product development. In the product development process, many steps need to be followed in order to create a successful product. The product development roadmap templates for PowerPoint can help you map out these steps and ensure that you are on track with your product development goals.
2. Timeline roadmap with milestone PowerPoint template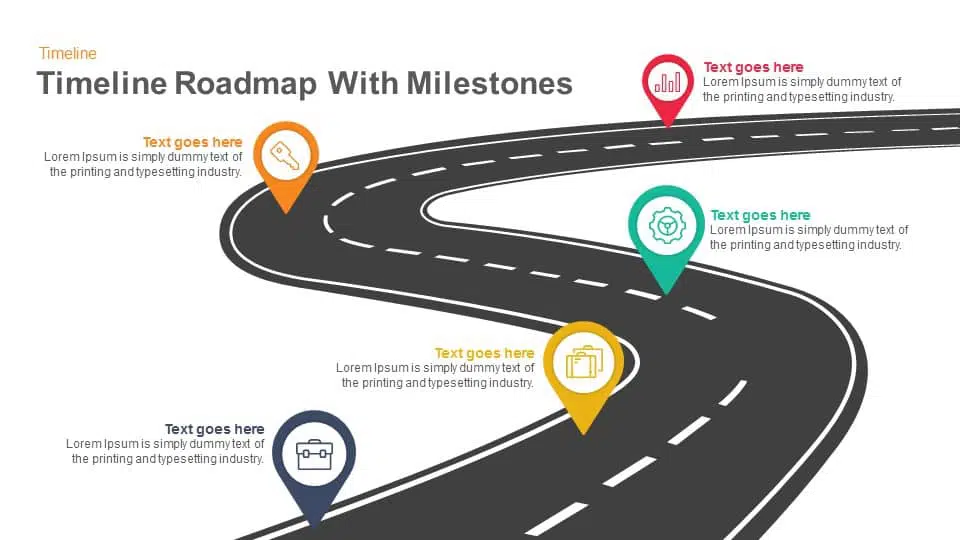 GET YOUR COPY
The timeline roadmap with milestones presentation is a great way to showcase your company's strategy development and the milestones that must be acquired. The presentation template comes with dark and light layouts, so you can choose the one that best fits your needs. The timeline roadmap is a great way to display the business process development in a sequential style. In addition, this is a great way to communicate your company's strategy to stakeholders and get them on board with your plans.
3. Timeline roadmap Powerpoint Template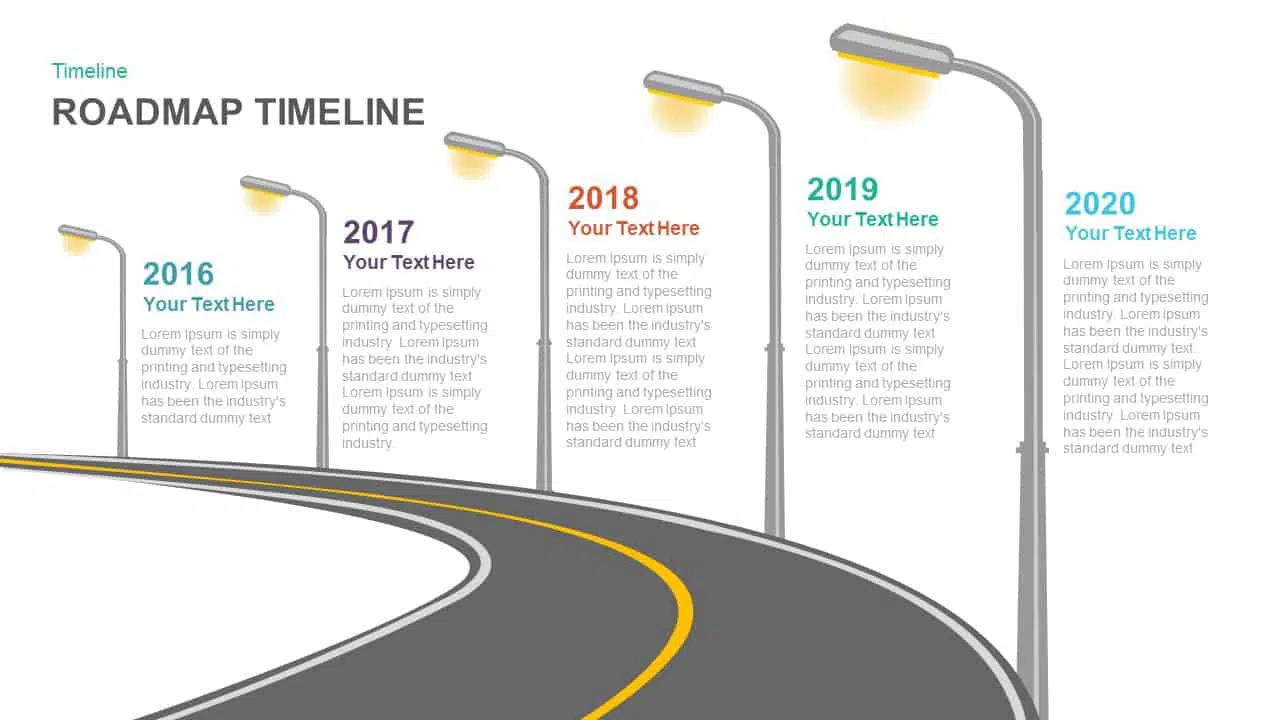 GET YOUR COPY
The timeline roadmap PowerPoint template is a professional way to present your data and engage your audience. The template features flat graphics of modern highways with street lamps arranged on the side. Besides, the SmartArt graphics makes it easy to visualize your data and see how it progresses over time. The template is also fully editable, so you can customize it to fit your needs. Whether you're presenting a business plan, marketing strategy, or project timeline, this template will help you do it in style.
4. Roadmap diagram PowerPoint template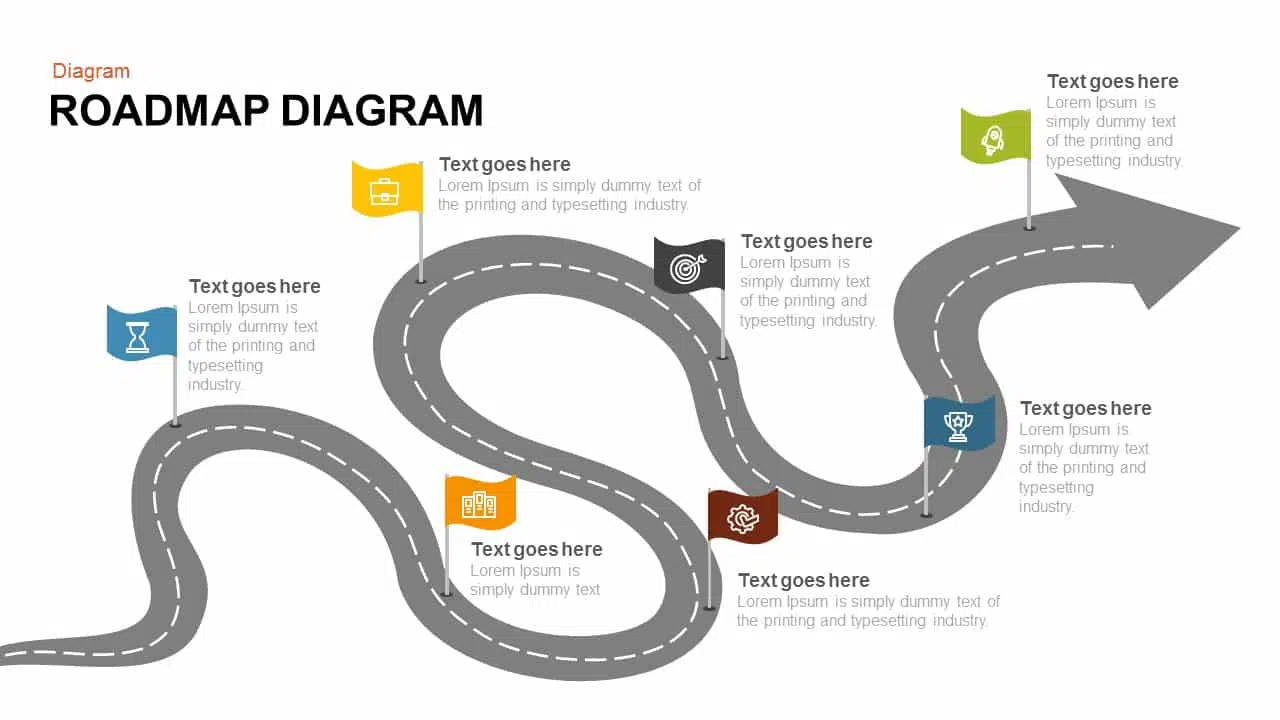 GET YOUR COPY
A business roadmap diagram is a vital tool for any company, large or small. It provides a clear picture of the company's plans and helps to identify any barriers or milestones that need to be faced. A business roadmap for a PowerPoint presentation also helps track progress and ensure that everyone is working towards the same goals. Moreover, a typical roadmap template is easy to use and can be customized to suit the specific needs of your business. So be prepared for your next PowerPoint presentation using a business roadmap template.
5. Success achievement roadmap PowerPoint template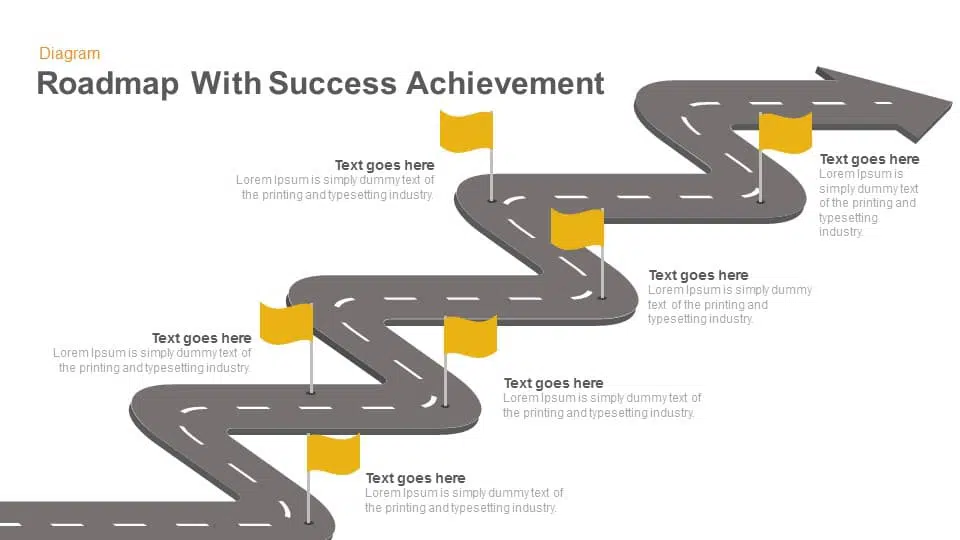 GET YOUR COPY
A success roadmap is a critical success tool that aids in various ways to achieve success. Our success achievement roadmap PowerPoint template helps you deliver presentations on the product, HR, marketing, technology, and sales roadmaps. Use edit options to make changes to colors and PowerPoint features.
6. Milestone roadmap PowerPoint template & keynote slide
GET YOUR COPY
Roadmaps are symbolic representations of your organization's work plans. They show what has been completed and what still needs to be done. Roadmaps can be used in presentations to show company milestones. You can also use them to plan future business strategy goals. This milestone roadmap ppt template aid includes all ingredients you want to imprint for presenting your business strategy.
7. Business plan timeline roadmap template for PowerPoint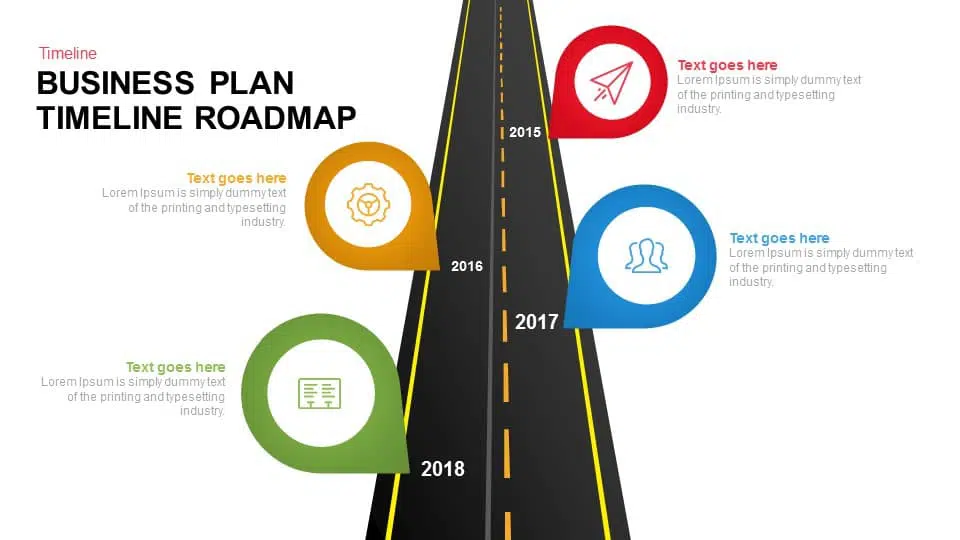 GET YOUR COPY
If you're working on a business presentation, it's important to have a variety of roadmap templates on hand to timeline your plans. Our business plan timeline roadmap infographics are must-have designs to add to your PowerPoint collections. With a variety of styles and designs to choose from, you can find the perfect roadmap template to suit your needs. Whether you're looking for a simple design or something more elaborate, our infographics are sure to add visual interest to your presentation.
8. Process roadmap timeline PPT template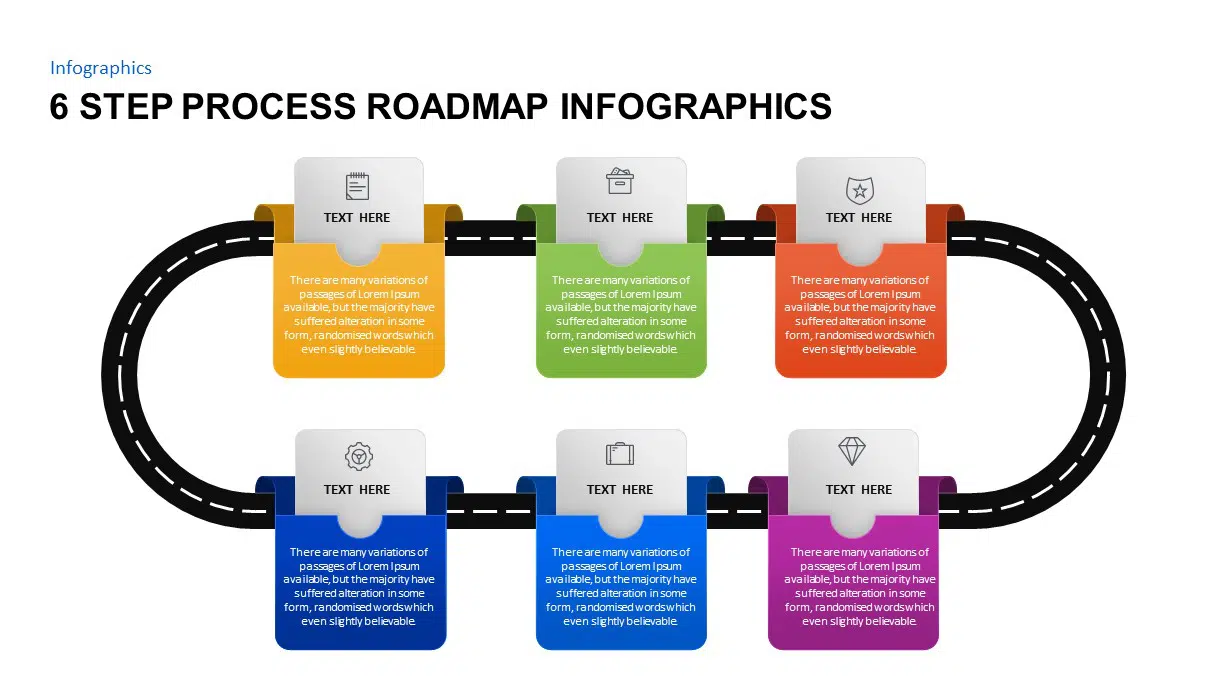 GET YOUR COPY
The process roadmap timeline infographic PowerPoint template is a business presentation that undoubtedly remembers what you will present. The process roadmap shows the root map of your business and how it has progressed over time. The colorful letterboxes and letter designs with years will create an ideal process roadmap ppt presentation with 100% of viewers' attention.
9. Curved roadmap concept for PowerPoint & keynote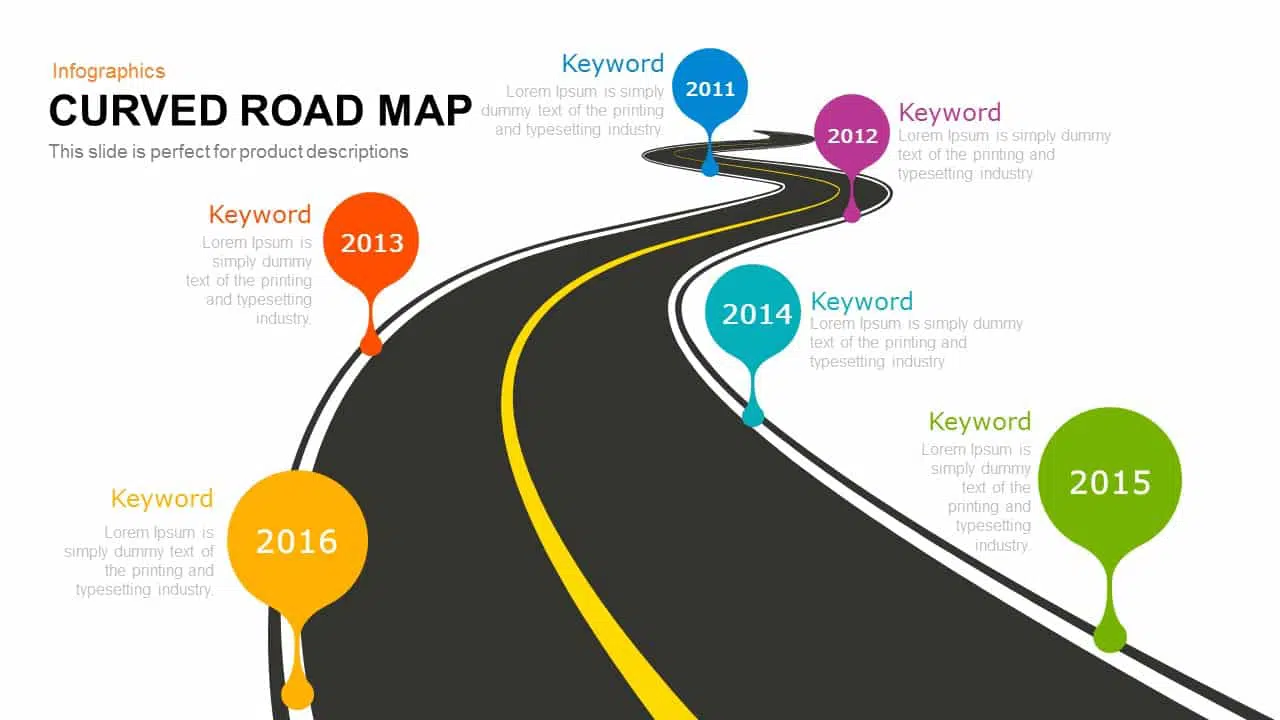 GET YOUR COPY
The roadmap concept is one of the most popular ways to visualize a journey. It is a great way to communicate the twists and turns of a business process and the risks associated with each step. A curved roadmap concept for PowerPoint is a versatile tool that could use for many different purposes. For example, it is fit to define a product launch roadmap or communicate the roadmap for a new business initiative. On the other hand, it will help visualize the roadmap for a sales process or map out the steps of a marketing plan. No matter what your roadmap needs may be, our curved roadmap concept will give you the professional look you need.
10. Product roadmap Gantt chart PowerPoint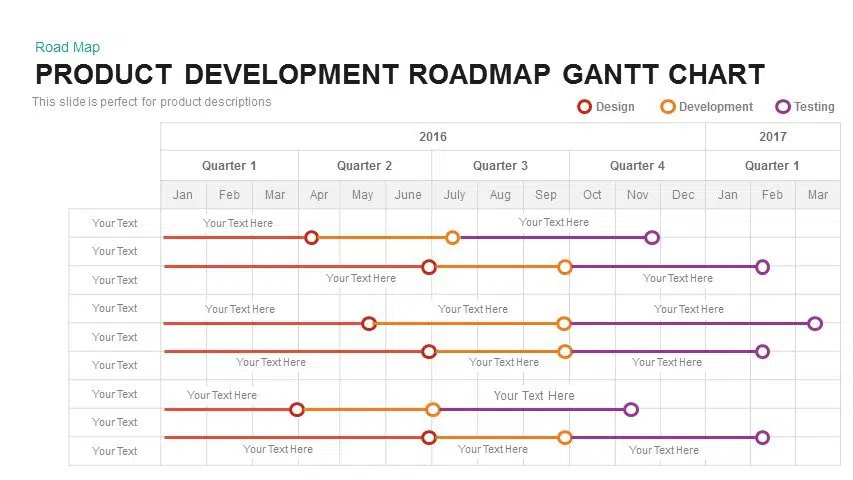 The roadmap Gantt chart PowerPoint template and keynote slide is a statistical tool that is best for presenting the phases of product development. Product roadmap Gantt charts are charts that help in better scheduling and management of a project. They have a wide range of applications and will cover various fields such as medicine, engineering, construction, and manufacturing. The roadmap Gantt chart PowerPoint template and keynote slide contain seven slides. These slides are fully editable and customizable.
11. Road timeline infographic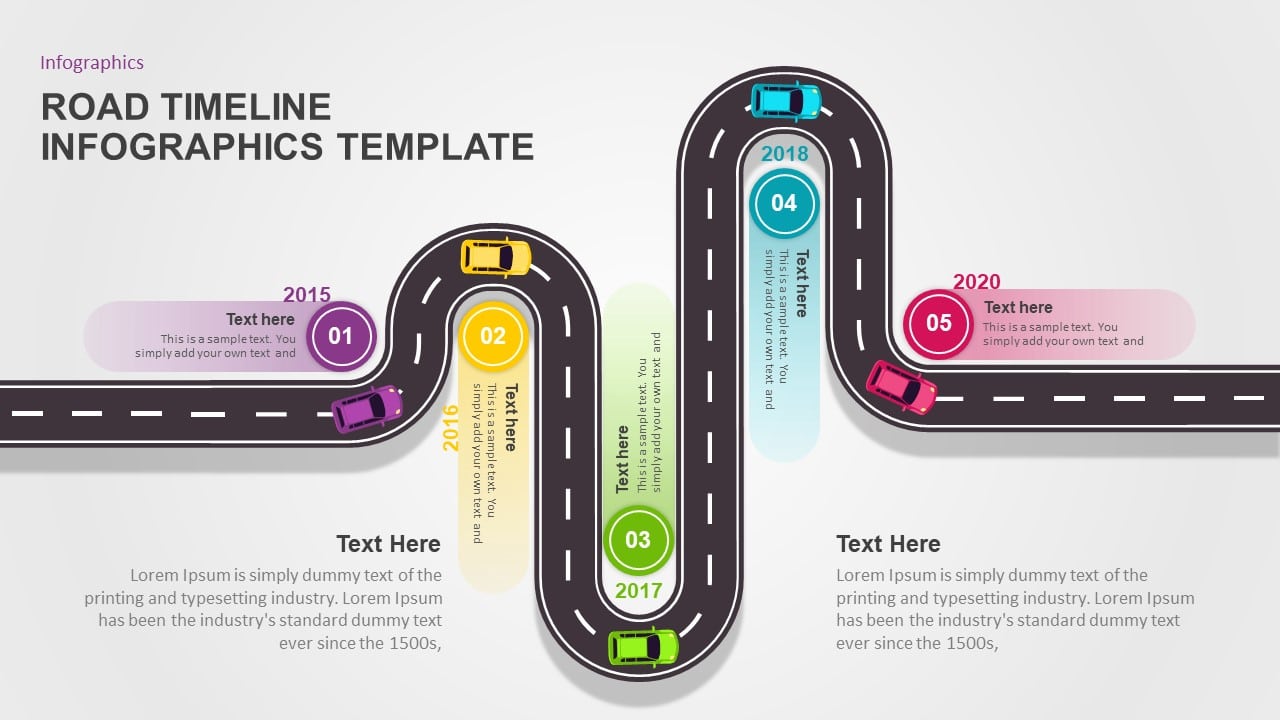 GET YOUR COPY
What makes a PowerPoint template interesting? This road timeline infographic will show you how to do it. Proper coloring and the insertion of PowerPoint metaphors can make your design look charming. This template will help you captivate the audience and transmit your business plans elegantly.
12. Roadmap PowerPoint template with achievements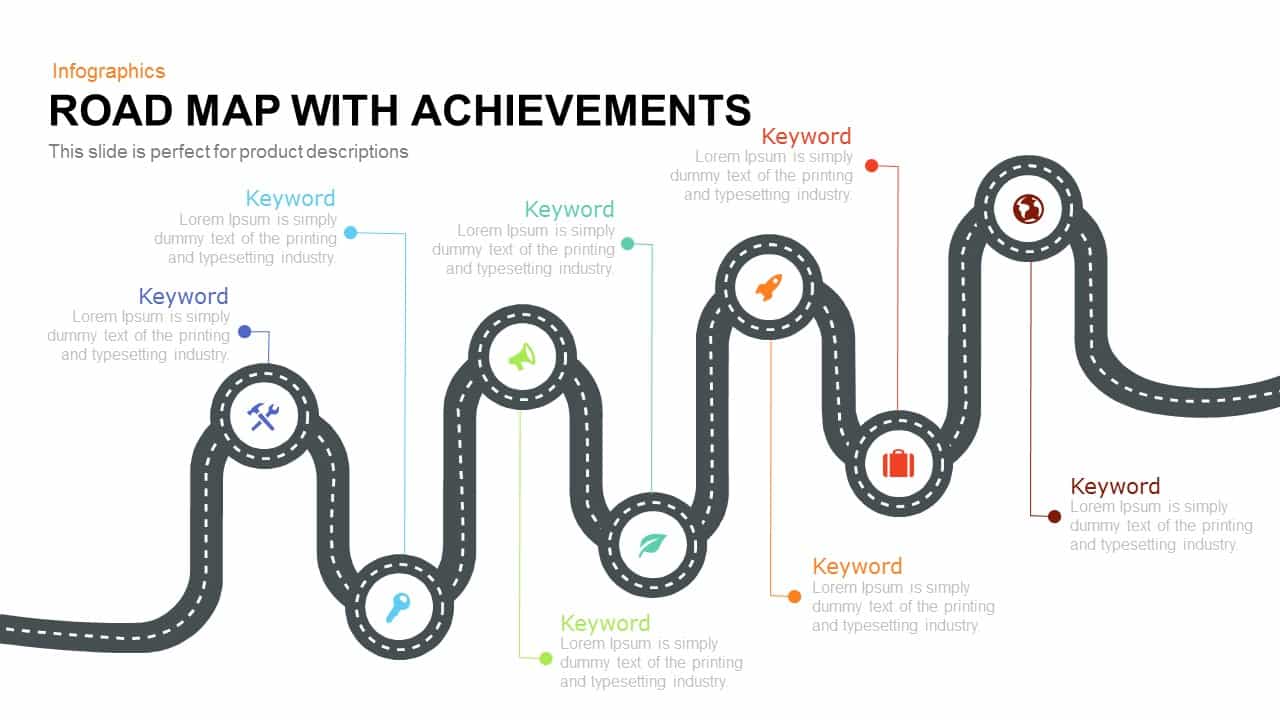 GET YOUR COPY
A roadmap PowerPoint template with achievements is the perfect way to present your chronology of development and strategy acquisitions. This roadmap presentation ppt focuses on your major accomplishments, making it easy for your audience to understand your successes. In addition, the roadmap ppt is ideal for highlighting key developments over time, so your audience can see your progression and appreciate your journey.
13. Success roadblock PowerPoint template
GET YOUR COPY
The success roadblock PowerPoint template and keynote slide are the perfect way to show the major barriers that can obstruct the progress of any organization or business. This roadmap infographic is extremely versatile and can be used for various projects, making it an essential tool for any presentation. This success roadblock PowerPoint template will help you get your point across clearly and effectively, whether you're timeline and planning presentations or demonstrating plans divided into phases.
14. Roadmap circular PowerPoint template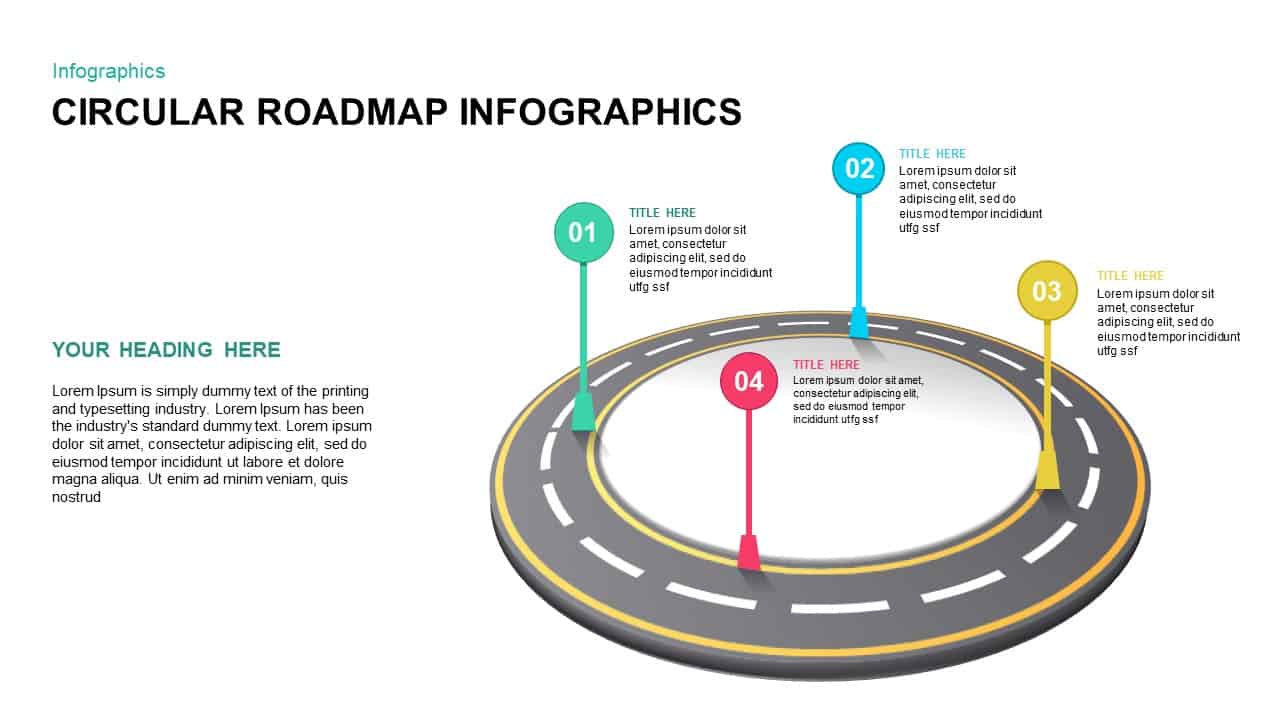 GET YOUR COPY
The circular roadmap PowerPoint template is an innovative roadmap PowerPoint in the timeline category. Normally, roadmap designs seem to be in a continuous straight pattern, but this layout is an exception that shows a road circularly. The circle diagram effectively displays messages of the looping timeline in visual form.
15. Success roadmap PowerPoint template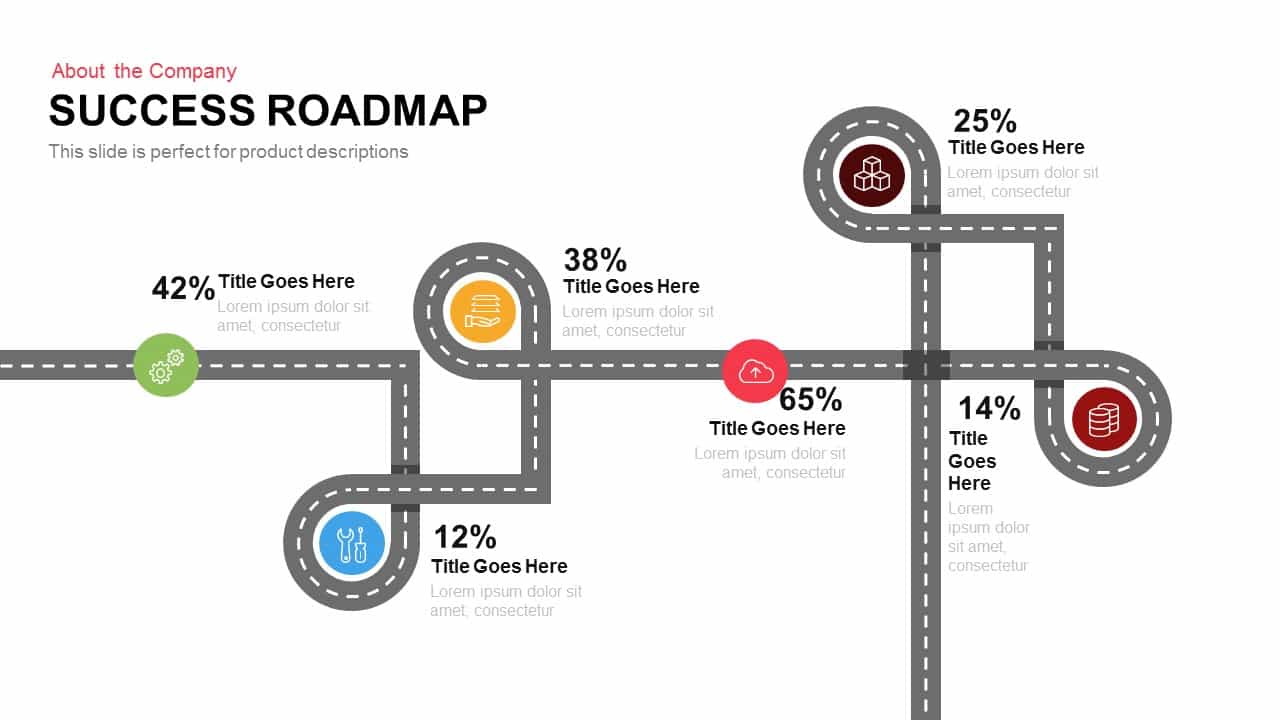 GET YOUR COPY
A roadmap is a powerful way to see relationships and complex processes. Roadmaps can help show the path to success or potential problems that need to be fixed. The Success Roadmap PowerPoint Template and Keynote can help present much different information. The roadmap can become a timeline with just a few clicks, illustrating when other things happen.
16. Corporate roadmap template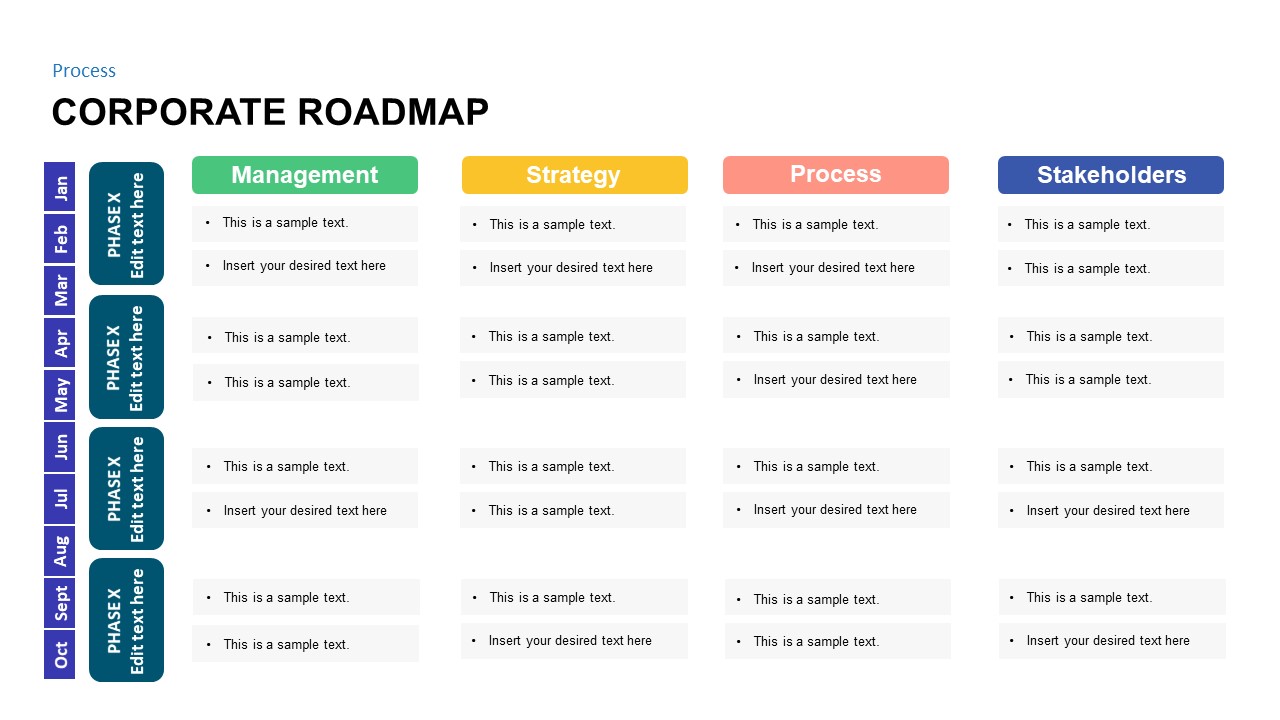 GET YOUR COPY
A corporate roadmap is a table layout in a PowerPoint model that provides a high-level overview of a company's plans and initiatives. The roadmap will support you to communicate the company's direction to employees, shareholders, and other stakeholders. Besides, it can also help present planning tools to help track progress and measure success.
17. Target business roadmap template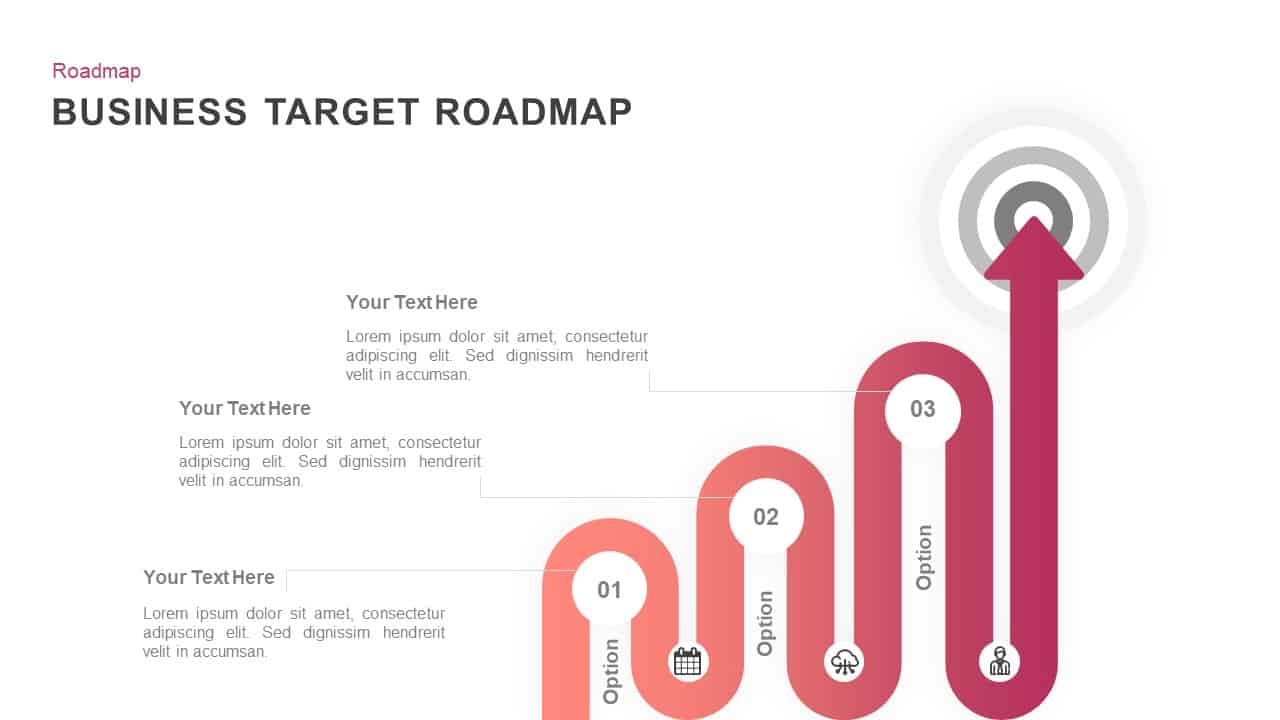 GET YOUR COPY
The target business roadmap template can illustrate the concept of target marketing. This template helps businesses to make their target explicit before their audience. The target business roadmap template is useful to identify the target market, target audience, and target product.
Final word
Roadmap templates are a great way to visualize your business roadmap and strategy. But with so many different roadmap templates out there, it can be tough to choose the right one for your needs. Luckily, we've done the research for you and compiled a list of the best roadmap templates for PowerPoint presentations. We've got you covered whether you need a roadmap template for product planning, marketing, or even software development. Click on the template that best suits your needs and start creating your roadmap today.