SaaS Business Models Explained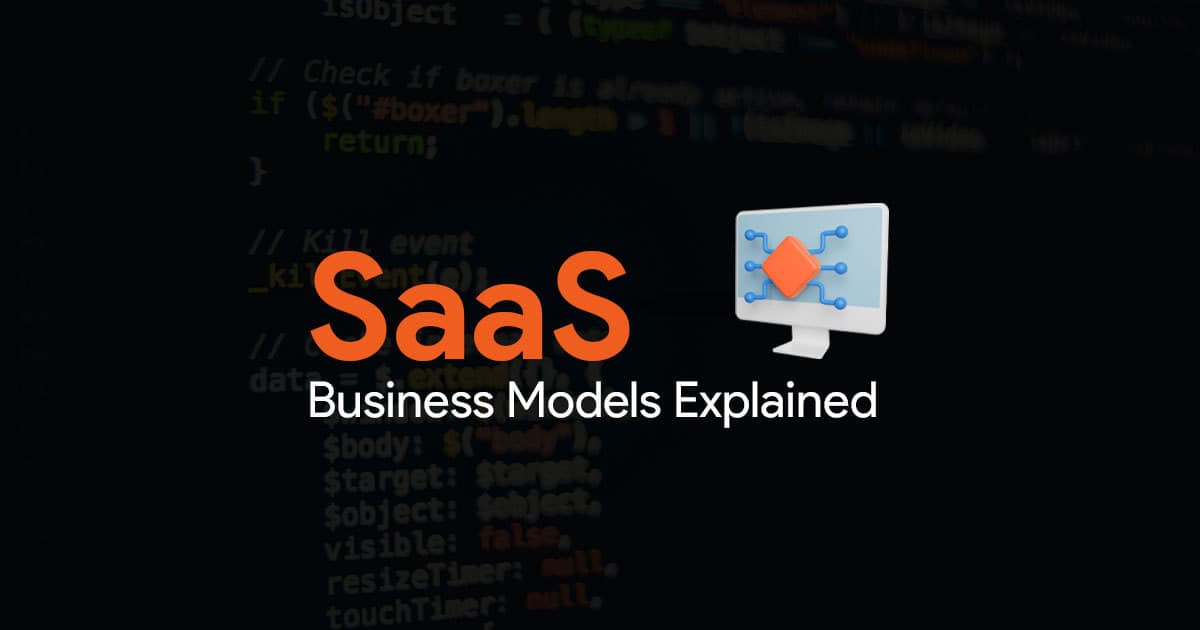 The term 'SaaS' was first mentioned in 2005 by John Koenig; since then, the software-as-a-service model has grown exponentially, generating huge amounts of revenue. Though this model of business is relatively young, its uniqueness and convenience are driving massive demand for it. Any SaaS venture that is capable of fulfilling market demands has the potential to become immensely successful. The SaaS Business Model cannot exist without the internet; it is inextricably tied to the cloud.
What is the SaaS Business Model?
The fundamental premise of the SaaS model is hosting a software solution on remote servers – that is, using cloud infrastructure. Businesses who want to use the software pay a monthly subscription fee to access it, rather than pay a large amount as a one-time licensing fee; it also eliminates the need to purchase additional hardware for hosting. The SaaS vendor hosts their membership, with the customers (businesses in this instance) logging into the account to access the software.
To make a successful SaaS product, you need to have a team with coding expertise and killer UI skills. It helps the SaaS vendor to ensure monthly revenues, simultaneously turning their attention to adding new features, developing new products, improving their service, and other activities that add great value to current and potential customers for the long term. SaaS vendors are now becoming more innovative with their pricing strategies, and approaches to tap into new markets, retain existing customers, and more. They can charge additional fees for things like premium onboarding, extra services, continuous support, and so on. So, we can see that it's not just subscriptions that are being sold by this dynamic industry. Be that as it may, it's a win-win situation, as businesses only pay for what features they use and how long they use them, so it works out economically for them as well.
SaaS in Demand
The payment model of SaaS and the elimination of purchasing additional hardware make the SaaS model of software use very attractive to businesses – especially small businesses with tight budgets, though even medium and large businesses are increasingly moving towards the SaaS model. The very fact that a huge investment at the outset – as licensing fee and for additional IT infrastructure – is eliminated, is a major plus point for SaaS vendors. It must be noted, however, that SaaS vendors often need to reinvest profits earned to grow the business, leaving them with less profit in hand.
How Does the SaaS Business Model Work?
The SaaS model has some unique features that distinguish it from other business models:
Multiple Revenue Streams
SaaS vendors can get revenue from their customers in several different ways:
Recurring payments
SaaS clients do not pay a one-time (heavy) licensing fee or purchase additional hardware to host the software. Instead, they pay a subscription fee every month to use the app features – some vendors may allow a yearly or quarterly payment, which, when paid in advance, may work out a bit cheaper for the business.
The SaaS vendor provides a service to which the customer subscribes; payment is made up front, but it can only be counted as revenue after you've earned it. Let's say your customer pays for the quarter; it becomes revenue only when they have used your services for three months. In case the customer decides to discontinue the service after say a month, you may have to refund the money after deducting payment for services used. Hence, accounting can be a bit difficult. Revenue recognition is a critical element of the SaaS business model.
In-app Purchases
Users can buy add-on features or services even after subscribing to the product, and these are called in-app purchases. For example, Canva is a graphic design tool that lets you make digital posters and flyers. While users have access to several free templates, there are many which can only be used when you pay for them.
Tailored Solutions
Companies may have custom requirements to resolve their unique situations. SaaS vendors can build solutions on demand for such customers at an extra cost. This too can be recurring or a one-time fee depending on what resources you have to use.
Dedicated Support
A dedicated service team that offers support to the users is a major boon for users; customers realize the importance of having round-the-clock-support to get the most out of their product and don't mind having to pay a little extra for the same. For SaaS businesses, this is an additional revenue source. It is good to provide basic or minimal customer support even for the lowest subscription plan – and offer dedicated multichannel support for the premium versions.
Reports & Analytics
Data is king in digital today. Take advantage of your capability to process large quantities of data, and charge your customers an additional fee for advanced analytics and reports.
Others
Additional data processing and storage charges
Hands-on implementation costs – typically for enterprise
Additional API fee
Increased customer retention
Any business wants to retain customers; it is the most crucial in the SaaS revenue model because without it, you're dead in the water. As we saw above, a customer may sign on for 12 months, but decide to stop after 3 months, meaning, you are left with no revenue for those 9 months. To avoid this scenario, SaaS vendors lay great stress on forging excellent bonds with customers, and do their best to upsell. Existing customers tend to spend more than new customers on an average. They are also more likely to discontinue using your product due to poor customer service from you rather than for better product features.
Regular updates
Often, new versions of products keep getting released; whereas in the SaaS model, the vendor provides upgrades frequently, albeit on a smaller scale; this keeps customers happy and increases the chances of them staying with you for longer periods. We're all aware that software is vulnerable to several risks from malicious users; ergo, evaluating the security threats regularly, and fixing any issues is critical for SaaS vendors. As they host the product themselves, they are able to release upgrades as and when they want: new features, product enhancements, and improved versions as well. Combined with excellent communication with customers, SaaS vendors can respond to the needs and feedback of their customers more effectively, which boosts consumer satisfaction and confidence in the brand.
The Phases of a SaaS Business Model
There are three phases for any SaaS business: the Early or Startup stage, the Growth or Hypergrowth stage, and the Maturity or Golden Goose stage. While the first and the last ones are more or less self-explanatory, the middle stage is the most critical for the SaaS business: the period where they will come to know if the business is going to succeed or fail.
So, let's check out the three phases:
Startup
This is where you are starting, with the product probably still in development, with few or no customers yet, and where you are trying to obtain seed funding. At this stage, you may have a skeletal staff, and just one product, and you may not have yet started making big money off of it. You need to consider if you're tracking the correct metrics, acquiring new users, and optimizing the pricing.
Hypergrowth
This period is marked by rapid, exponential growth, provided your product is liked by the market. Businesses will scramble to use your product. Now while this obviously brings in revenue, it also entails huge expenditure, as you have to amp up your storage, bandwidth, data handling capabilities, and technology to be able to support your new customers. We've already seen how businesses love SaaS products because they don't need to invest in IT infrastructure; that is because you as the vendor have to do it. Your customers access the infrastructure via the membership they sign up for. You may need to look for additional funding through venture capital, incubators, startup accelerators, or angel investors. Some SaaS vendors prefer to bootstrap for as long as they can.
Maturity
This is also known as the stable golden goose phase. Now the business has levelled out and you're turning a nice profit. Even if you keep gaining new customers rapidly, it won't test your infrastructure as in the previous stage. Of course, you're likely to experience some churn, with customers discontinuing the use of your software and opting for some other. This could be due to various reasons.
While most SaaS products are outstanding, many are unable to manage the hypergrowth phase – eventually leading to their failure.
What are the Different Types of SaaS Business Models?
There are various types of business models in the SaaS industry, based on different categories. Let's take a look:
1. SaaS Revenue Model
The SaaS revenue model tells you how to make profits from your business – how you can monetize the product, what price to fix, understand your target customers, and how to market to them.
Ad-based Revenue – once you have sufficient website or app traffic, you can sell ad space. Rather than charging businesses to use your product, you sell their ads to other businesses. This can be done through Google AdSense or other third-party systems or you can sell directly to the marketers.
Affiliate Revenue – Similar to the one above, here you use affiliate links to drive sales elsewhere rather than earning from those who actually view your content. This way you can earn more revenue as compared to mere ad placement on your product.
Channel sales – resellers with large audiences are hired to sell your product. Brands that sell on ecommerce sites like Amazon are examples.
Direct Sales – directly selling to businesses means no need for revenue sharing with resellers. However, you will need to engage a sales team for the purpose, which can also cost you a lot.
Freemium – this gives prospective consumers a peek into the product before they make a purchase decision. As it can help them see the benefits to their business, this is a critical method.
Subscription – this is the fee charged to customers at regular intervals – annual, monthly, or quarterly, to use your services. Streaming services like Netflix and Amazon Prime follow this method.
2. SaaS Pricing Model
Pricing your product should involve some thought process – see what the competition is doing, and try to come up with pricing that gives you an edge. Here are some popular pricing models:
Flat rate – this offers a flat price for the service, annually or monthly; the plan can be changed and more packages introduced when there is more traffic coming in. This is the phase where vendors can introduce new features too.
Per user – the pricing increases when you charge per user; it is ideal for small and medium companies with limited users; enterprises with a large number of employees are likely to choose the flat rate.
Tiered – here, the plan is priced according to what features the vendor offers in the plan. The more the features, the higher the price. When you make different plans, be sure to cater to the specific needs of different target buyers. It's a good idea to offer a free or low-cost package with limited features for small businesses and scaled-up versions for large companies.
Pay-as-you-go – as the name suggests, in this model, customers only pay for what they use; similar to your utility bills. You only pay for how much power or gas you use every month.
3. SaaS Distribution Model
This is the way the SaaS offering is distributed to consumers. There are two main types of distribution:
Direct – here your employees and team contact the customer directly and sell the product to them. The website, video conferencing, and phone are the channels used for this.
Indirect – when you engage the services of a third party to sell your services. In-app purchases, app stores, professional services firms, and resellers are the major channels involved in indirect distribution.
Some Major SaaS Vendors
The SaaS business model has helped many known companies in the world to earn significant profits. The chief SaaS businesses are:
Netflix
Amazon Prime
Salesforce
Shopify
Zoom
Slack
Zendesk
In Conclusion
The sky is the limit where SaaS applications are concerned; with more diverse methods of fundraising coming to the fore, this is the ideal time to join the SaaS bandwagon. Stick to the SaaS fundamentals of clean data, good analytics, and the right tools, and you can be successful in this industry.