Best Real Estate PowerPoint PPT Templates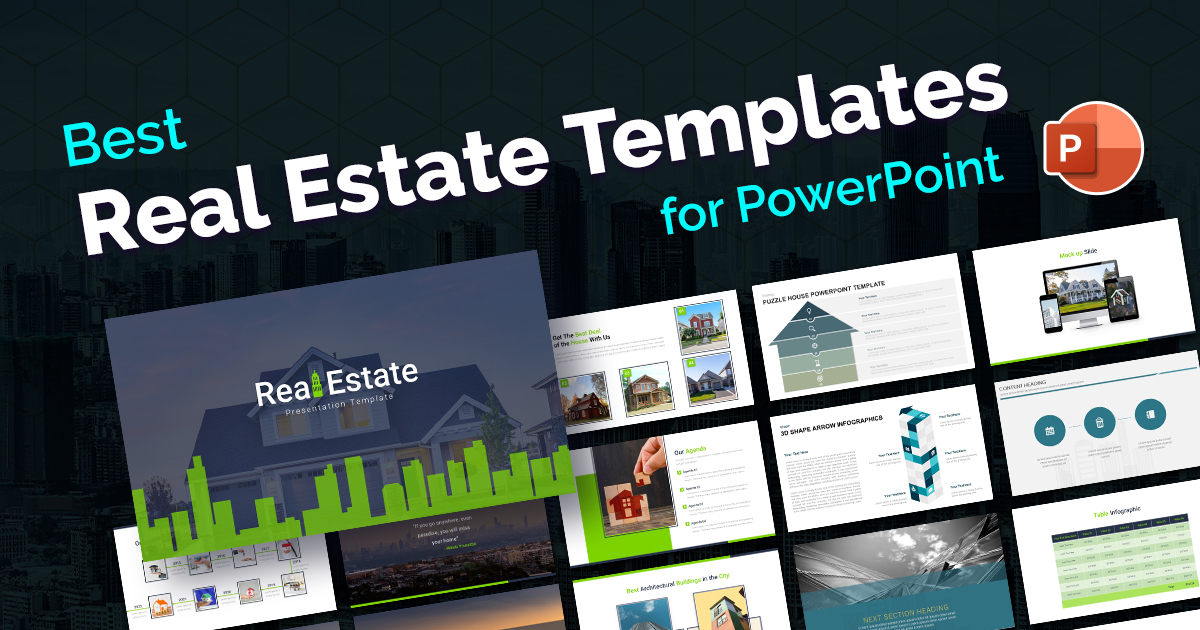 Urban development is vital for humans to get sophisticated facilities and well-being. It's a prolonged effort to keep your country best for living. Real Estate is one sector that provides modern facilities and an opportunity for all people. Business professionals, Brokers, infrastructure developers, apartments and building constructors are directly involved in the real estate business. These list of the best real estate PowerPoint templates is created for all people who are involved in buying, selling or renting businesses as a middleman or a businessman.
You will get a high dividend or brokerage if you play a broker's role in trading commercial, personal and all kinds of property. In the information society, you must utilize online trading possibilities. To do that, you need to set sales campaigns either online or offline. But you need the best real estate PowerPoint to attract customers and investors. For this, the standard ppt template never navigates you to the desired destination. So, it would be best to have aesthetic and minimal real estate PowerPoint templates.
Before we come to our real estate presentation templates, we would like to give a few tips for starting a real estate business:
Be professional and set achievable goals
Involved in extensive research
Organize your finances
Draw a business strategy
Form a Limited Liability Company
Create a marketing roadmap
Search lands on urban fringes than in the heart of the city
Create online selling strategies and build a website
Conduct campaigns
Build a good relationship with government institutions
You might be in tight competition with your business rivals as a real estate investor or agent. You need effectively communicate diagrams, ppt graphs, charts, and all components to sell your product. Search for a professionally designed PowerPoint real estate template. So, let's walk with a real estate marketing slideshow!
1. Free real estate PowerPoint template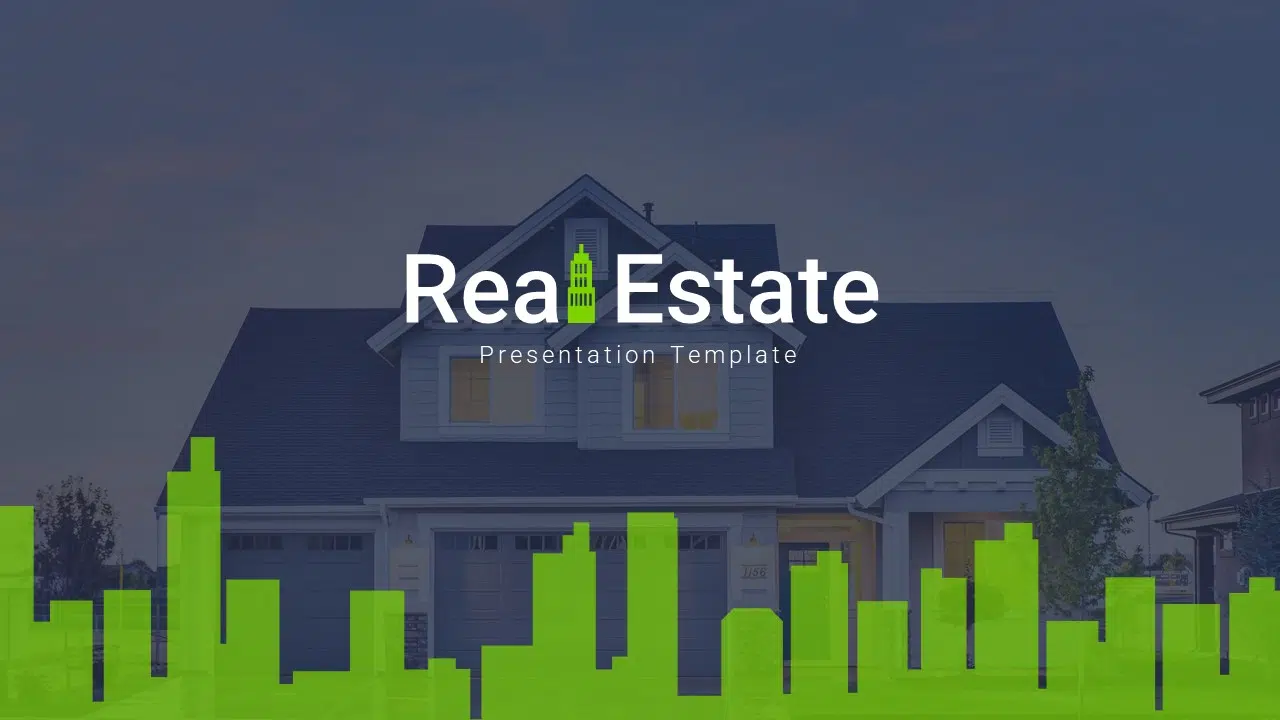 This is one of the free PowerPoint templates to aid your investment presentation on getting target. It is best for drawing marketing and sales strategy and providing a clear direction about company products/services. With the modern designs and latest layouts, you can set marketing and sales campaigns with this company profile ppt template. The investors or the customers have a right to know your business models and the proper plans you want to implement. For example, the down payment system has leveraged the real estate business. So, people want to know about your down payments and the tenure of remittance. All of this could be inserted into the real estate ppt template.
The free real estate presentation template contains 27 slides with different color variations. In addition, it includes bar charts, vision and mission templates, timeline presentation ppt, team template, SWOT analysis diagrams and many potential infographics that make your presentation catchy and comprehensive. The timeline template with photograph placeholders is one of the key attractions of this design. Using this, you can show details about your ongoing projects with photographs. So, use the real estate listings PowerPoint template and display your new ventures unquestionably.
2. Luxury homes-real estate listings PowerPoint template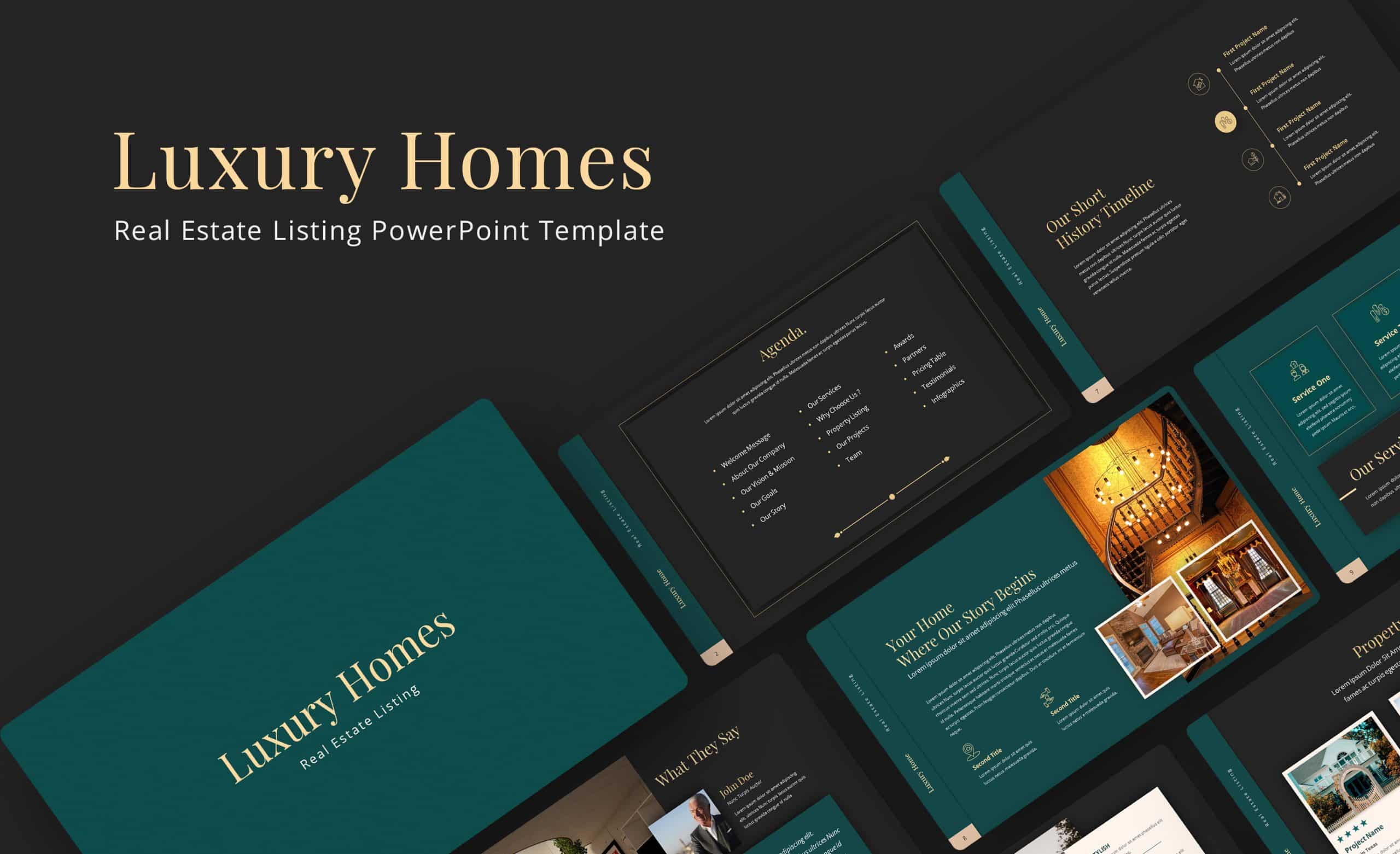 Credibility is the cornerstone of the real estate business. If you cannot complete the project after receiving a down payment from the clients, your real estate business will face a massive threat. So, emphasize credibility if you are a real estate professional. You need the best and most awesome PowerPoint designs to detail your completed and uncompleted projects, business, bank reviews, and best real estate luxury homes. The luxury home real estate listings PowerPoint template has a huge collection of beautiful templates. Sometimes, you require well-crafted yet gigantic design platforms to tell your story before a global audience. In such situations, our luxury home PowerPoint design will assist in delivering your side.
The luxury home real estate PowerPoint presentation contains 40 ppt real estate slides in a decorative appearance. The color and background mixers are the best attractions of any slide presentation. This is the best company introduction PowerPoint showing exterior and interior designs of luxury home projects. Professional designers collaboratively design each one, so it looks incredible. Easy-to-edit diagrams and PowerPoint charts help presenters to fit their data on the board. The dark background presentation slides can work as buyer or real estate slideshow templates.
3. Puzzle house PowerPoint template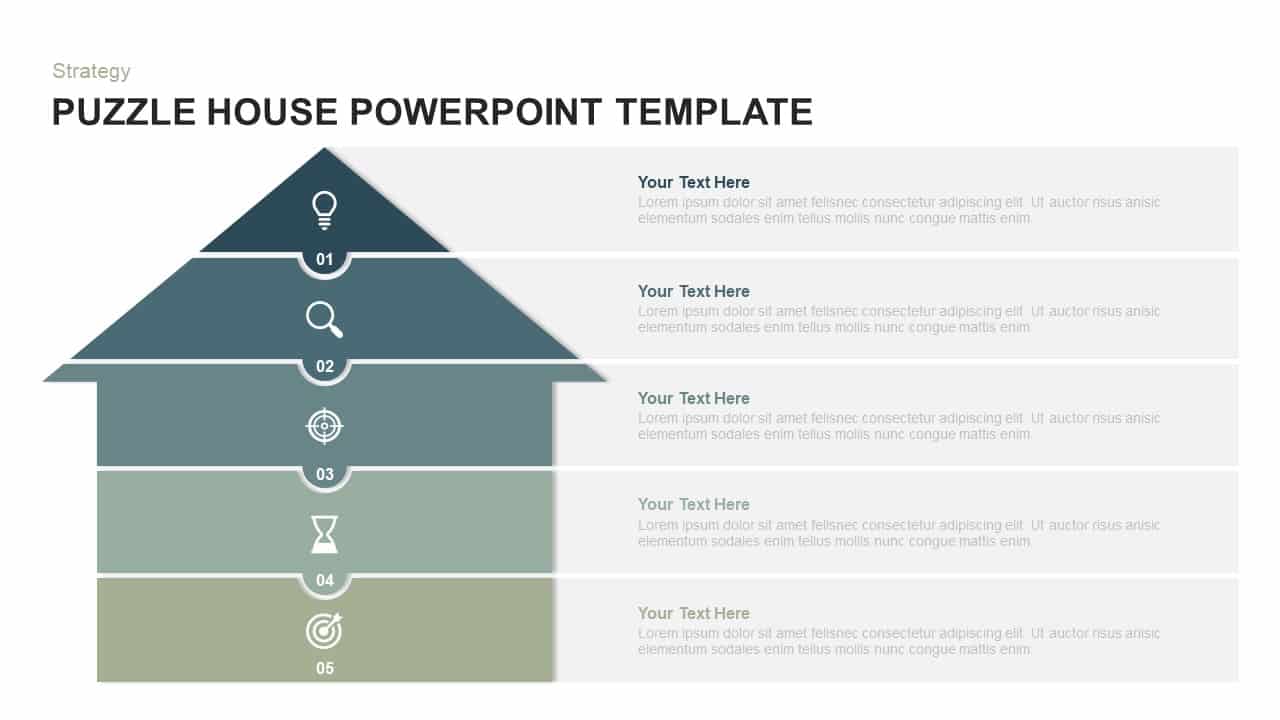 The real estate business will get impacted by interest rate hikes. If central banks are looking to curb inflations, they will use rate hikes. Therefore, it may more adversely affect real estate than other businesses. In such situations, people don't like to buy big houses o luxury homes because of high-interest rates. In this case, real estate businesses should try to make economic houses that are affordable to people. The puzzle house ppt template is a real estate presentation slide that will fit for showing small house projects and their details. If you align with current financial standings, you can stay on the field by rendering low-cost houses.
The puzzle house PowerPoint real estate template is a five-step presentation slide that conveys essential details of real estate projects. The business presentation needs a symbolic ppt template because people want a presentation template adapted to the topic. The puzzle diagram powerpoint is a simple presentation slide created with customizable designs. For example, project milestones and home features can be added to the puzzle block diagram. The ppt metaphors may assist your presentation if you combine your subject with the default icons. Otherwise, you can modify or replace the icons and put a new one instead. Download real estate PowerPoint templates to deliver your dreams.
4. Infographics buildings PowerPoint template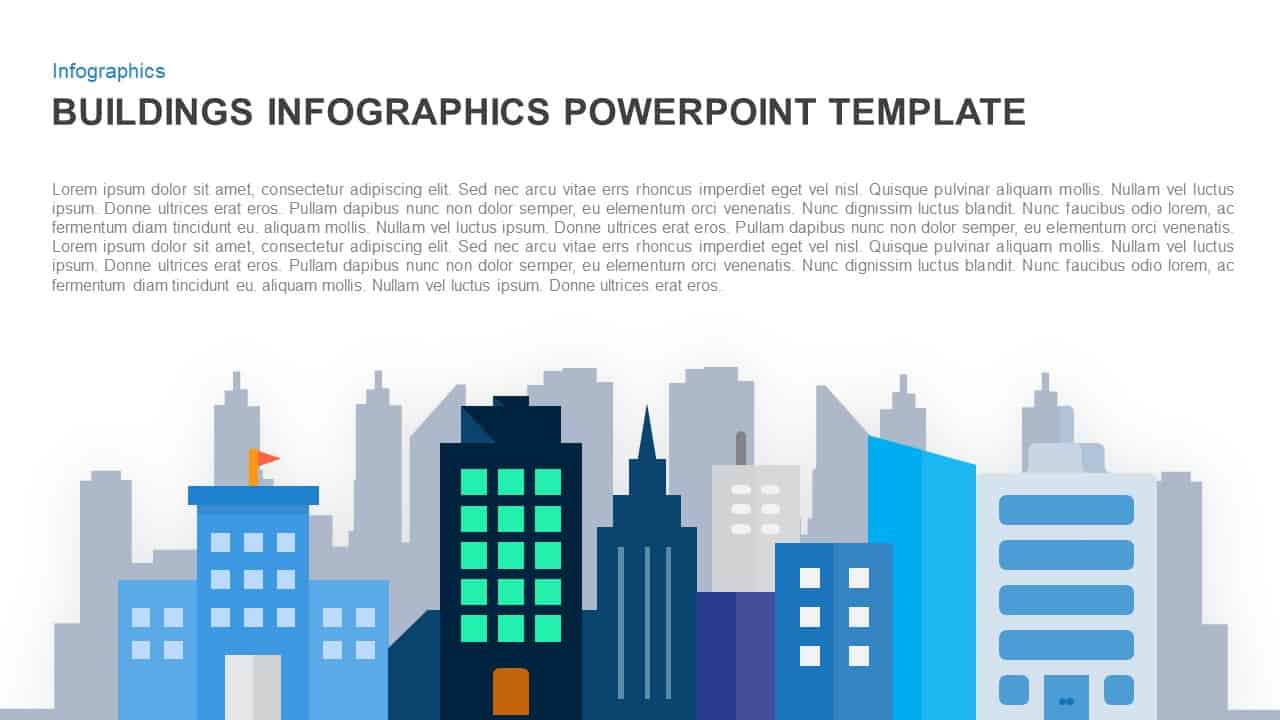 The infographic building template delineates the urban settings with the skyscrapers. We are forced to imagine the urban environments when somebody says city or town. When they point to metro cities, our mind goes to high elevated buildings, shops, and apartments. This is an urban planning presentation PowerPoint with the design of big buildings. This symbolic ppt side represents city life and the construction industry. Thus, this real estate PowerPoint presentation template is perfect for professional presentation areas like real estate, construction, engineering, global business service, information and communication technologies, urban lifestyle and urbanization.
Sometimes, you need the best intro ppt slides to deliver your message comprehensively. For example, use images for company introduction presentations since it is adaptable to any real estate PowerPoint collection. These designs are ideal for real estate marketing. You can add it with different ppt designs focusing on real estate presentations for PowerPoint.
5. Construction PowerPoint template background themes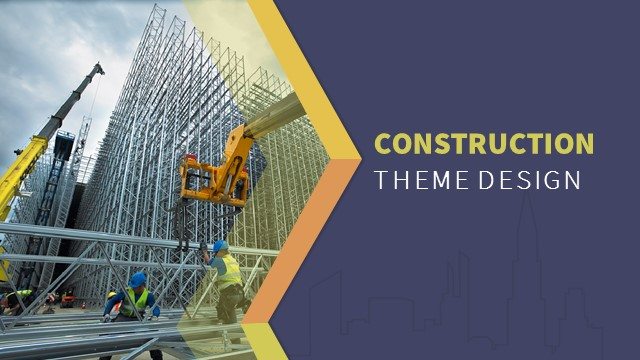 Infrastructure development and real estate business are twin sisters. The construction of buildings, bridges, roads, and big factories are signs of development. Most real estate players are also interested in infrastructure development. So, real estate investment presentation templates should mention the construction industry as a part of nation building. For example, the construction PowerPoint template has company inro features with an arrow ppt timeline and a thank you presentation slide. Architects, engineers, real estate business professionals, construction businesses, and even real estate brokers can use the template to show major projects of a company along with photographs.
Construction slide for real estate PowerPoint presentation will help logically transfer your message with customization options. This template plans a personified approach that can help you sell your land and buildings by convincing speech. Download real estate templates for PowerPoint presentations and create simple yet stunning exhibitions.
6. 3D cube shape arrow template for PowerPoint presentation.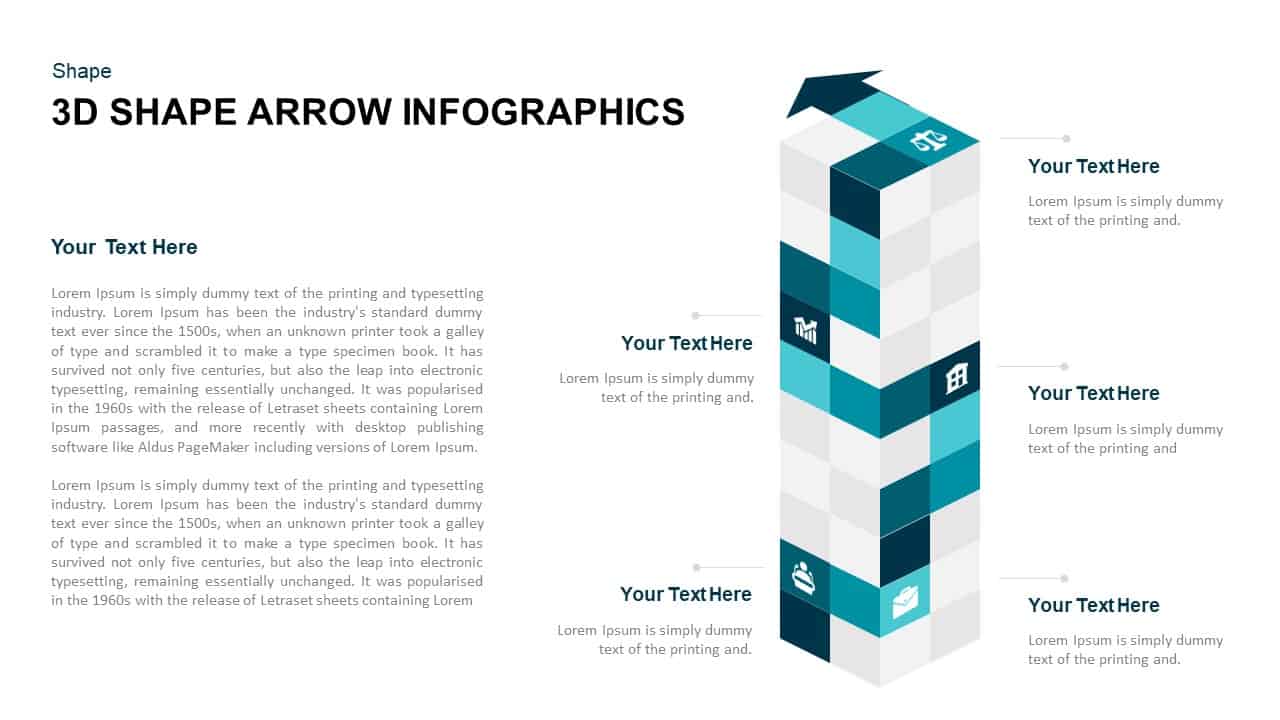 The 3D PowerPoint template with cube shapes is best for metaphoric real estate presentations using the skyscraping building design. Homes and apartments business is the common presentation diagram normally people want to exhibit. Generally, when someone says real estate business, we have a picture in mind. The image of buildings and apartments! So, the design suggests many presentations, but real estate is the most suitable. For example, suppose you are a real estate broker or a builder; your investor wants to know about the real estate sector and the benefits of investing there. The major queries possibly asking are how to buy a property using mortgage funding, sell it by receiving down payments, and book an apartment. A simple metaphor template for real estate presentations will ease conveying such messages.
A real estate design template allows you to add different images and ppt cliparts. You can use the original layouts and duplicate them to color the brick diagram for makeovers. If you magnify the lofty image with different color schemes, it will look new and fresh. The real estate listing presentation template provides all items such as charts, graphs, and infographic icons that you need for an investment ppt presentation. Besides, the template allows editing with logos and your branding.
7. Architecture PowerPoint and keynote background theme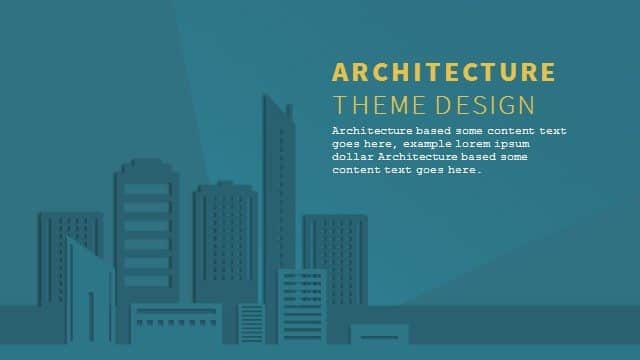 The architecture PowerPoint template is as similar to the building construction template. Engineers and architects often use the real estate template to display their decorative projects and occupancy classifications. The foggy PowerPoint slide is composed of five templates that feature construction. You can use this diagram for academic purposes to discuss multiple crises in the real estate sector, such as Government interventions, public health, pollution, social and economic backlash, and other headwinds over the real estate industry.
The infographic is a flat diagram designed with photos of urban settlements. A typical real estate PowerPoint PPT template looks modern and elegant. Instead, use multiple presentation designs and go with the SlideBazaar's premium library.
Use professionally designed best real estate PowerPoint template and create high-impact slideshows.