30-60-90 Day Job Plan Explained + PowerPoint Template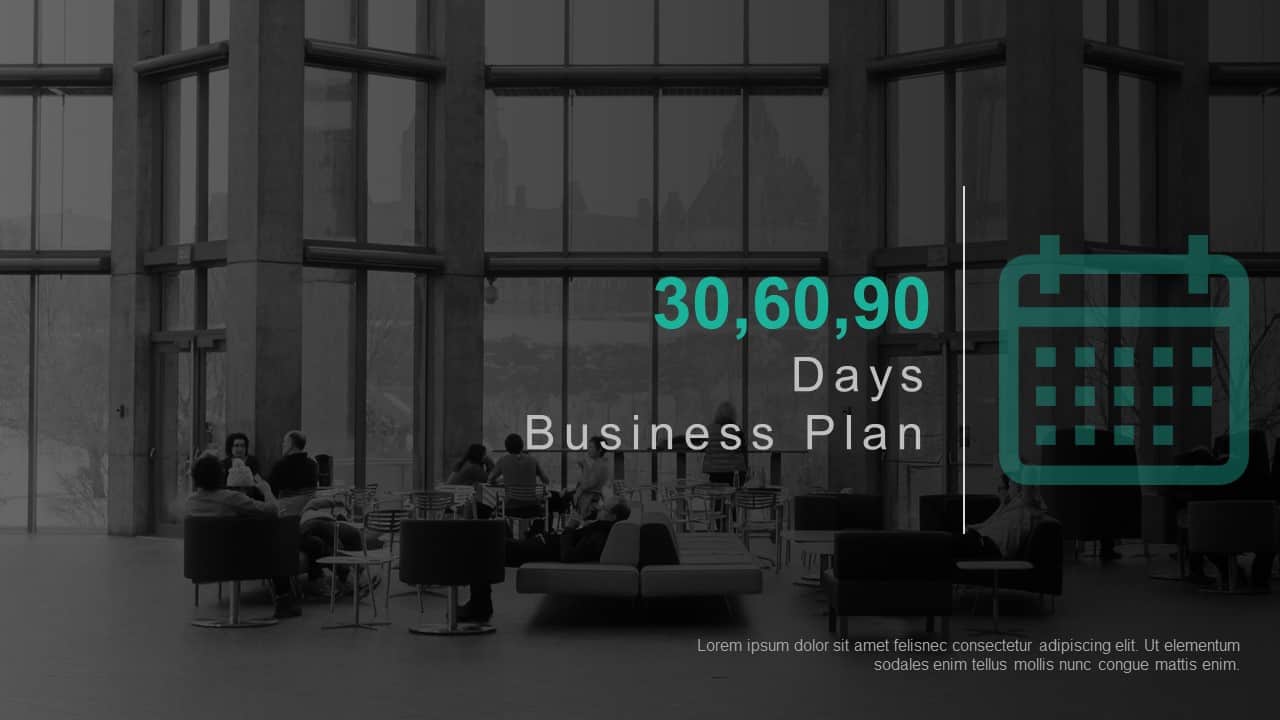 This is a strategy a lot of interview coaches teach to help candidates perform exceptionally well in an interview. A candidate or a professional who has a 30-60-90 day plan ready appears to be enthusiastic and job-ready. Such candidates are far more likely to get hired. Let's understand what exactly a 30-60-90 day job plan is.
a 30-60-90 day plan is a plan or a strategy for the first 3 months at a new job. Creating such a plan can help you get started with your new job and responsibilities seamlessly. It also helps you create plans to help bring results. A 30-60-90 day plan helps make a good first impression, so be sure to use it in your interview.
You can write a 30-60-90 day plan in two situations: during the final stage of an interview process and during the first week of the job itself. Let's look at how you can use this strategy in an interview.
30-60-90 day plan for interview
A 30-60-90 day plan is a summary of your strategy and the plans you have for the first three months on the job. It's one of the most influential tools you can bring to the final stages of the employment interview process. It can be a PowerPoint presentation or a document presentation. During the interview, the interviewer is looking for responses to the following basic questions:
1. Do you understand what the job requires?
2. Can you do the job?
3. Will you perform well at the job?
When you make an operative 30-60-90 day plan for your interview, you answer all of the questions above. It demonstrates to the hiring manager that you are focused, have a strong work ethic, are dedicated to success on the job; and you also show that you acquired the knowledge, skills, and abilities to efficiently perform in the role. Your plan also assures the hiring manager that you are a safe hire.
Some hiring managers ask aspirants to think about and describe their potential 30-60-90 day plan as a new hire. They want to see if the candidates can shape their time, arrange the tasks they'd likely take on, and plan an approach to the job description. For new recruitment, a strategically outlined 30-60-90 day plan is a great way to help the hiring manager imagine you in the role and separate yourself from all other candidates. So, a well-written plan helps the hiring manager and they will be impressed with your way of presentation of your talents and skills that also ease their jobs.
Yes, it can be hard to draft your goals for yourself before you receive a new job. How do you even know what your goals are? Start with the job explanation. Usually, open job listings have separate sections for a job's accountabilities and qualifications. Try to find ideas there to turn them into goals for the course of three months.
For instance, if a job requires 5-year experience in SEO, and the responsibilities include tracking the company's website performance every month, use these details to develop an action plan on how you'll understand the company's KPI metrics (first 30 days), reinforce the company's performance in these metrics (next 30 days), and then lead the team toward a better SEO strategy (last 30 days).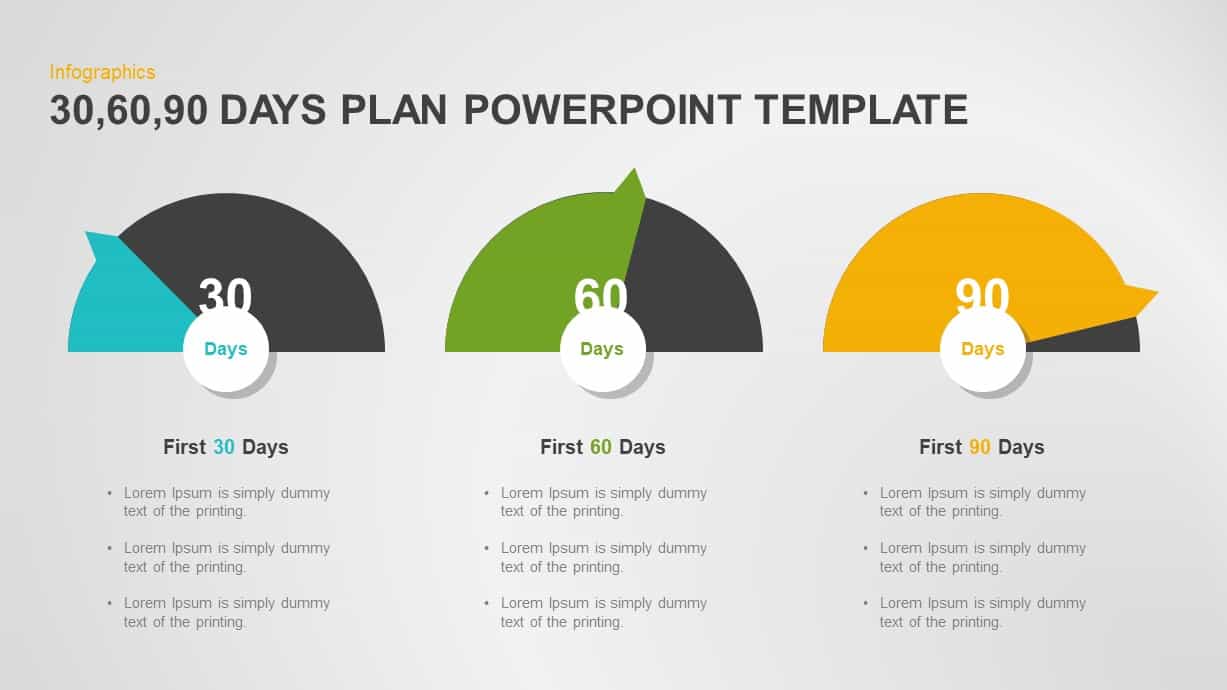 30-60-90 day plan for a new job
If you've just started a new job, you might have to outline a 30-60-90 day plan during the first week of the job. In case you're the hiring manager, this plan will let you learn how the fresh employee works, address any of their concerns or preconceived notions about the role and ultimately help them be successful.
If you're beginning a new job, and are not asked to create a 30-60-90 day plan during the first week of that job, it's still a good idea to create one for yourself. A new job can feel like an entirely foreign setting during the first few months, and having a plan in place can make it feel more like home.
Even though 90 days is the standard grace period for fresh workers to learn the ropes, it's also the best time to make a great first impression.
The purpose of your plan is to help you shift into your new role, but it should also be a facilitator for your career development. Instead of just guiding you over your job's learning curve, the goals sketched in your plan should push you to perform up to your potential and increase your bar for victory at every stage.
By linking your personal responsibilities to your team's goals, you'll know precisely how to align your tasks with the needs of the team, which keeps you responsible and compels you to help your team attain their goals.
Learning the degrees of your new role in less than 3 months won't be easy. But making a strong 30-60-90 day plan is your best bet for quickening your development and adapting to your new work environment as swiftly as possible.
30-60-90 day plan for managers
Almost all 30-60-90 day plans involve a learning phase, a contributing phase, and a leading phase, which we'll go over in the example plan later on. This contains plans that are planned to guide people in new management roles. What sets apart a manager's plan from any other is their obligation to their direct reports and the decisions they're trusted to make for the business.
If you're accepting (or hiring for) a new administrator role, consider any of the following objectives and how to roll them out at a pace that sets you up for success.
Things to do during the first 30 days:
If you are a new manager, try to know your team's strengths and weaknesses. Know their roles by creating a rapport with them. What do they like? What are their main pain points? Making your team happy is a tough goal to measure, but it's a vital responsibility to take on as a manager. Your first step is to figure out how you'll handle and coach your workers through their day-to-day work.
Things to do during the final 30 days:
You won't be anticipated to promote people in the first three months of your new job, but that doesn't mean you shouldn't have learned enough about your team to decide who's good at what and how to train them to where they want to be. During the final 30 days of your 30-60-90 day plan, you might approve to a goal to develop a training strategy that plans how to manage your direct reports, and eventually how to lead them into new roles in the future. So, drafting a training strategy is very important that help you to assign new roles in the exact positions.
Tips for creating an effective 30-60-90 day plan (for job seekers)
The plan has to be tailored and focused on a specific employer.
Find out the top strategic initiatives of the organization by detailed research. Look for clues to alert you as to what issues are keeping managers up at night. Rooms to conduct your investigation for your 30-60-90 day plan include the corporate website, Twitter, the company's page on LinkedIn, Google, and the profiles of people who work for the firm, LinkedIn groups where they hang out, and industry groups.
Your planner should be confined to a maximum of four pages in length, with as pint-sized or as much point focusing on what you will do during the first 90 days on the job for which you are applying.
Make an overview of what you would like to realize in the first 3 months on the job.
In the first 30 days on the job, spent your time attending training, creating a good relationship with your team members, exploring to organization's structures and its products/services, reviewing processes and client details.
Learning best practices in the industry, creating goals for the next 30 days, meeting your seniors to gather feedback, identifying potential mentors, visiting other departments, reviewing the efficiency of company systems and procedures, and continuing to attend training.
Download our 30 60 90 day PowerPoint template for presenting your 30-60-90 day plan. You can create stunning slideshows and presentations using these amazing PowerPoint designs.