10 Best Minimalist PowerPoint Templates [2023]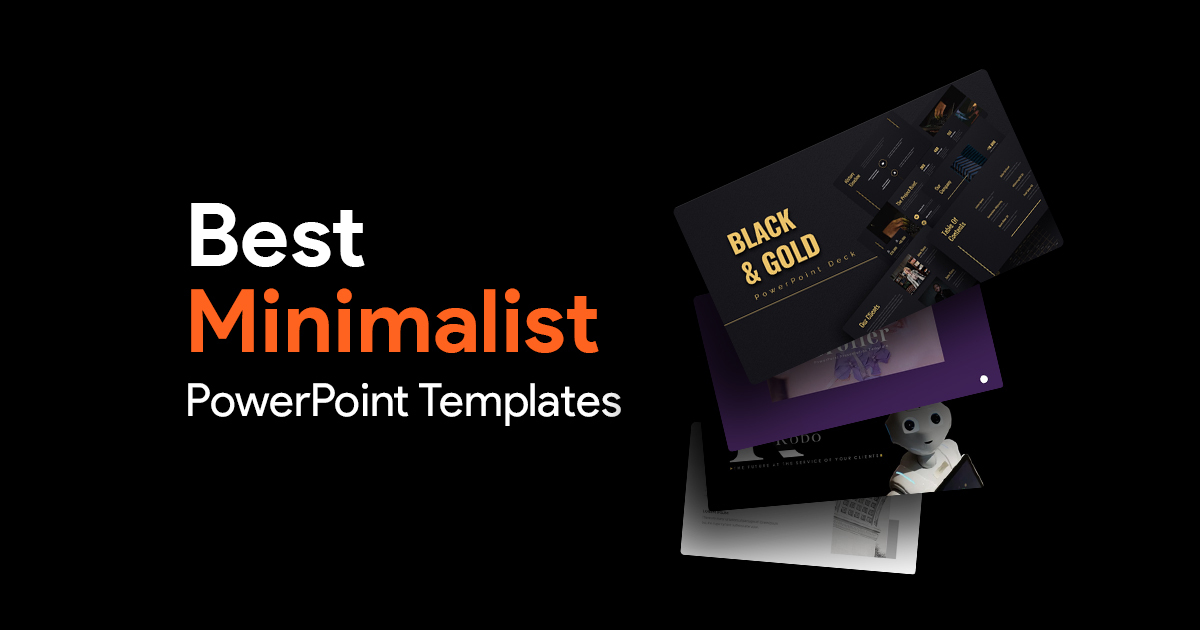 Using a simple and minimal PowerPoint Template will be the best approach when you want to create PowerPoint presentations. A Minimal PPT Template can include all sorts of charts, data, diagrams, tables, and graphics that you want to incorporate with your Presentation Slides. Whether a business PowerPoint presentation or an educational PowerPoint presentation, minimal templates allow easy reading and understanding.
In this list, we have put eye-catching, and the best minimal PowerPoint slides you can download and customize for a professional presentation. All these slides are neat and clean in look, useful for common as well as specific purposes. Besides, the slides have plenty of space for placing textual descriptions that effectively highlight your content.
Scroll to the end to pick a minimal free PowerPoint Template.
Let's get started
1. Minimal Business PowerPoint Deck
This template is a collection of business presentation themes and contents created on a white background with black highlighted tints and a minimal color mix. In addition, the template allows you to add company details and performance analysis diagrams, including a SWOT analysis PowerPoint. So, the company profile presentation deck is packed with plenty of infographic slides, maps, data charts, device mockups, image layouts, and attractive color schemes that can be applied to all slides with simple clicks.
2. Minimal PowerPoint Template
Minimal PowerPoint Template presents a business introduction deck for presenting your company profile before your investors, clients, and stakeholders. The oceanic blue PPT layouts create a stylish look to the business slides. After using the minimal business PowerPoint model, the users can ensure their topic is communicated with full potential, and the audience is learning in a full-fledged condition. The clean and modern design in 16:9 full HD resolution is fully editable and will fit any business use case.
3. Black and Gold PowerPoint Presentation Template
The company profile template in black and gold design contains simple presentation slides that provide a quick view of presentation topics. This business profile template in a minimal PowerPoint design allows the audience to glimpse an essential piece of information with the eye-catching gold and black background PPT. This company history presentation is in the form of company introduction slide decks within many frames that feature all about the company introduction. Download and edit the gold and black PowerPoint theme for the business introduction.
4. Grofler Purple Presentation Template
The cool infographic of Grofler Purple PowerPoint Template can impress your audience with the power of minimalist design. The simplicity of this layout allows you to easily create a modern and clean company profile PowerPoint deck with 20 colorful business slides. This template will enable users to present complex datasets engaging and visually appealing. The purple template contains charts, diagrams, a pricing table, vision, and mission presentation slides, a SWOT analysis template overview slide, and more. Download Purple background PPT to create a useful and impressive presentation with this business pitch deck.
5. Artificial Intelligence & Robotic Deck Template for PowerPoint Presentation
This education and business pitch deck with a simple minimal layout will help you get straight to the point and focus on the company profile with offered services and products. The template features artificial intelligence and robotic presentation in high-definition pictorial charts. The first 15 slides are educational PowerPoint for learning purposes that focus on artificial intelligence, and the last 15 point out the company profile PowerPoint presentation. The artificial intelligence templates for PowerPoint are a brilliant design that creates a PowerPoint presentation explaining the different spheres of artificial intelligence and its applications.
6. Finance Pitch Deck Prezi Style PowerPoint Template
The creative and engaging finance pitch deck Prezi style PowerPoint is a minimal template that shows a green and white backdrop PPT design with many charts and business introduction PowerPoint themes. The ready-to-use PowerPoint background and images support a finance pitch with company overview features. In addition, it has a value template, map slide, proposal slide, contact slide, and client information slides and diagrams that support the company profile presentation.
7. Marketing Agency Prezi Style Pitch Deck

Marketing agency Prezi Style Pitch Deck offers a neat and clean PowerPoint business introduction with detailed text areas. The light green background diagram contains column charts, a pyramid diagram, a bar chart, a world map slide, and many diagrams to showcase the business status of a Marketing agency. You can create an interesting presentation with these simple yet effective slide layouts if you are running a digital marketing agency. Use it now!
8. Creative Portfolio Presentation Template
This Slide contains an amazing set of slides of various backgrounds and layouts. These integrated business templates are minimalist slides so that presenters can use different PowerPoint templates from a single platform. This is a multi-purpose profile presentation template, so you can use it for company and personal profile presentations with the awards and recognition you have received. In addition, the white and green presentation template is 100% customizable for portfolio presentations.
9. Investment Banking PowerPoint Template
Minimal presentation for Investment Banking PowerPoint Template is a finance pitch deck that contains 20 slides in a single platform. It allows users to introduce company profiles, business modes, strategies, plans, and growth scenarios in data-driven slideshows. The blue, orange and white background mixes lure the audience's attention with 100% engagement. In addition, it has many charts, device mockups, pyramid diagrams, PowerPoint pie charts, and infographics. Besides, the vector graphics and minimal slide layouts help highlight significant elements of company history, performance, strategies, plans, and the founder's intro.
10. Active: Free PowerPoint Template for Business Presentation
Free PowerPoint Template for business presentation is a minimal template that can help you to create a killer presentation with the slide set. It helps pitch your company profile and plans to your investors in an engaging tone. It contains charts, mockups, team intro, and about us slides to share your portfolios. All the elements in the templates are fully editable with add options. So, you can add images, company logos, and your team profiles with photos. This minimal free PowerPoint Business presentation suits any business profile presentation and meeting.
Last word
We have compiled a few best minimalist PowerPoint Templates in the article available for premium and free download. Also, check out our collections of timeline PowerPoint templates and business PowerPoint templates that include a range of different styles and formats.