SWOT Analysis for Restaurants & Food Business + Templates
Running a restaurant business is as risky as it is profitable. You never know when the tables will turn, and you'll run into losses. Well, don't worry! We will help you understand what SWOT analysis is and how it's performed. So, keep reading to know more.
To make your restaurant business profitable and to never go into the pool of losses. It would be best if you made sure to perform a SWOT analysis of your food business.
Don't know what SWOT analysis is? Wondering how exactly to do that? Well, worry not! We are here to clear all your doubts. Without further ado, let's get started.
Table Of Contents:
Introduction
What is SWOT analysis?
Why do we need a SWOT analysis?
How to Conduct SWOT Analysis for a Restaurant or Food Business?
SWOT analysis template
Strengths of a Restaurant
Weaknesses of a Restaurant
Restaurant opportunities
Restaurant Threats
Restaurant SWOT analysis example
Conclusion
Before we move on, check out our complete collection of SWOT templates for PowerPoint. Use these templates to save a ton of time while creating your SWOT analysis reports and presentations!
What is SWOT Analysis?
SWOT is an acronym for Strength, Weakness, Opportunity, and Threat. So, it is a technique to assess all these four sides of your business.
Moreover, it is a tool that assists you in analyzing the current best situation of your company. Also, it helps develop a successful strategy for the future of your food business.
It also lets you identify what's holding you back and the available opportunities you can exploit.
This SWOT strategy keeps in mind both external as well as internal factors of an organization. After examining internal and external factors, it is up to you to make the right decision.
Why Do We Need SWOT Analysis?
SWOT analysis is very important for a company. The main purpose of a SWOT analysis is to analyze the external as well as internal environment of an organization. This can be done by identifying the weakness and threats of a company. Also, by being aware of the available opportunities and threats.
Here are the following reasons why SWOT analysis is very important.
To make a summarised analysis of internal and external factors.
To analyze the risk and problems to solve.
To conduct sales prediction and study the capabilities of the organization in general.
With the help of SWOT analysis, we can determine the different aspects of a company. This will help us work out the weaknesses and strengthen the positive traits of a business.
How to Conduct SWOT Analysis for a Restaurant or Food Business?
Now that you know the importance of SWOT analysis, let us dive into understanding how to conduct it. This should be a team effort, and that's why you should take suggestions from the executive chef, team manager, and staff members. Also, you can perform a SWOT analysis by reading the reviews of customers.
SWOT Analysis Templates
To conduct the SWOT analysis of your restaurant, you need to make a simple table with four different sections. Below we have mentioned the template. Take a look:
| | |
| --- | --- |
| Strength (Internal)The asset of your restaurant business. | Weakness (Internal) Things that you need to work upon. |
| Opportunity (External) Things that can make your restaurant grow. | Threat (External)Challenges that you need to overcome. |
Here's a PPT template with an example of SWOT analysis done for a restaurant:
Here are more examples for SWOT analysis for food businesses:
PowerPoint PPT Templates for food business/restaurant SWOT Analysis: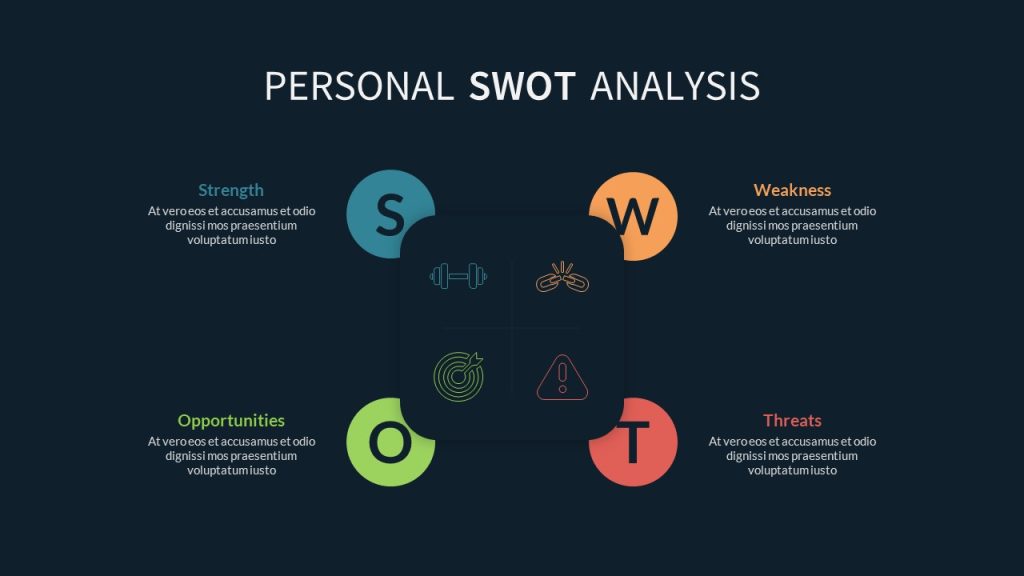 You need to fill up these boxes and review each one carefully. We have described all four aspects below.

✓ Strengths of a Restaurant
The following are considered a restaurant's strengths.
Cleanliness and neatness are one of the biggest qualities that a restaurant should have. After all, no one wishes to visit a dirty place. If your place is neat and clean, then everybody would love to visit the place. Also, it will catch the attention of many!
Generally, the restaurants and hotels are stinky and filthy. This is the foremost reason why wealthy people avoid staying in hotels. You must remember that people will only visit your restaurant or hotel when it is tidy, clean, and refreshing.
Your strength can be providing top-class hospitality at low rates. Yes, the five-star, three-star restaurants are reserved for the rich and aristocrats as they are expensive.
But, you know what? You can catch the attention of the remaining public by offering them the same services at a low cost.
Improved Customer Service
Whenever we go to a restaurant, the first and very basic thing that we expect from them is good customer service. A good environment, tidy and refreshing rooms, peaceful and well-lit surroundings, sufficient parking space, proper security, well-behaved waiters, and well-mannered staff are all that we look for.
So, to increase your customer base, make sure to provide them with excellent services.
The thing that people generally dislike about a restaurant is the limited number of choices available. That's why you try to offer a variety of dishes. Customers will view your restaurant positively when you offer different dishes to them. Your customers will think that your restaurant is very capable and has a lot of trained people to take care of all the other stuff.
✓ Weakness of a Restaurant
Every coin has two sides. We have talked about the strengths. Now let's look at the weaknesses of a restaurant.
People nowadays have become so temporary. They do not feel good in one place. So, they keep moving from one place to the other. However, some still believe in sticking to one place and being loyal to them. They will not get attracted by the new entrants. Because they will stay with your restaurant for the kind of services you provide. That's why it is always a good idea to attract and amaze them to make them permanent visitors to your hotel.
Your main motive should be offering a comfortable and never-before-experience to your customers.
Regarding offering clients a top-notch experience of visiting your place. A lot of investment is required in the location, garden, hotel grounds, and many more minute things. This can be tough when the resources are limited.
Your other weakness can be the location of your restaurant. If it's located away from the main market and city. Then you must make your services good enough to make the customers visit your restaurant. You must ask yourself why they would travel and visit your place. So, if you're not offering extraordinary services to your customers. Then, you'll get nothing! In conditions like these, the existence of a restaurant becomes quite challenging.
✓ Restaurant Opportunities
The next aspect is the opportunity for your restaurant. Try to look for opportunities to help you in growing more and more. Find opportunities that will increase your profits and lead to the expansion of your business.
Moreover, make sure to stay updated with the latest trends. Learn about what people love to eat these days. As more and more people have become health conscious, adding some healthy dishes can be a very good idea.
Also, finding out different ways to increase traffic can lead to growth. Some of the opportunities can be
Growing business sector
New markets
Stagnant and stable competitors
Positive changes in the policies
Less tariff on exports.
✓ Restaurant Threats
Threats are unavoidable. There are many threats that a restaurant has to face. One of the biggest threats is rival restaurants situated near your business. Most especially if you both deal in similar kinds of food items or offer the same dining experience to your customers.
Apart from this, there are several other threats as well. These include increasing the price of food items. For example, if you make seafood and the sea life is in danger, you might face a threat to the food supply. Other threats are as follows:
Government rules and regulations
Labour shortage
Decrease in the spending of customers
Supply chain delays
High material cost.
Restaurant SWOT Analysis Examples
SWOT for a fast-food restaurant
Fast-food restaurants fulfills the need of people who want cheap things that can be offered quickly. As a result of which, fast food restaurants offer top-quality cuisine, self-service, and an informal environment. Here is an example of a SWOT analysis for a restaurant:
Strength
Good customer service
Cost effective
Limited staff requirement
Weakness
Less preparation time
Many competitors
Opportunity
Self-service
Informal atmosphere
Threat
High competition
Health-conscious
This is how we perform a SWOT analysis of a restaurant.
Conclusion
That's a wrap! We believe you are now well aware of the term SWOT analysis and how it is conducted for a food business or restaurant.
This article has tried to cover everything you should know regarding SWOT analysis for food businesses. By reading and following the article, you can surely be able to perform a SWOT analysis of your restaurant.