The Complete Guide to Restaurant Business Models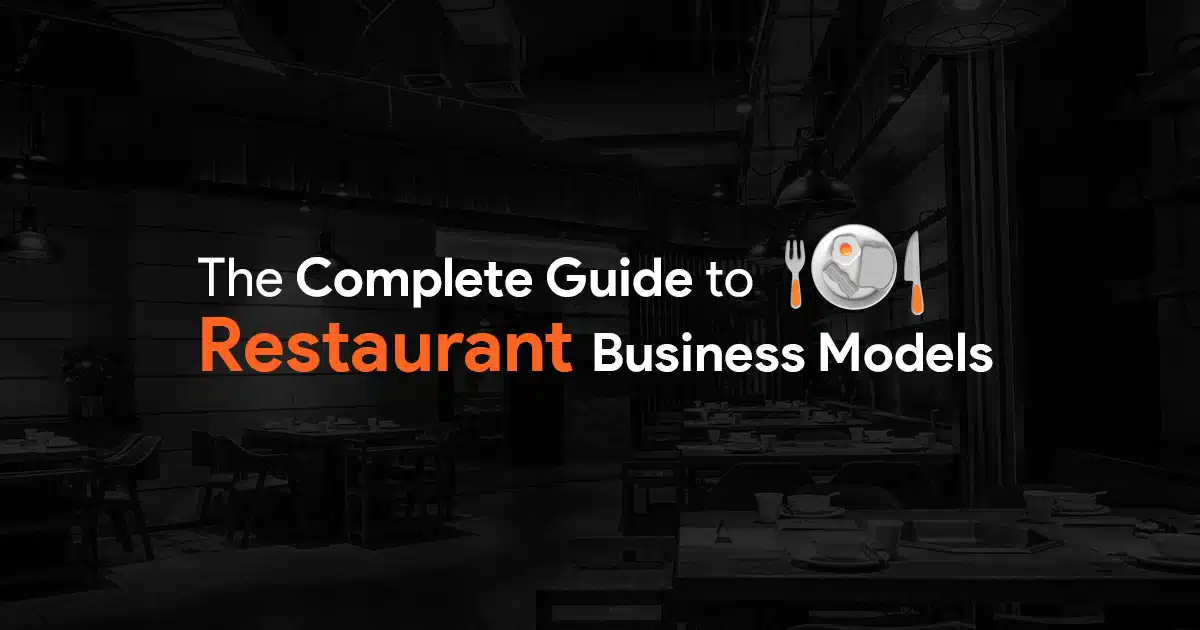 The restaurant business is becoming more popular daily, especially among the youth! Are you the one wishing to start your restaurant too? If yes, you are in the right place.
Well, starting a restaurant is not as easy as it seems. You have to do a lot of formalities and research to avoid failures in the long run. But worry not!
This article is surely going to help you fulfill your dream of opening a restaurant. So, you have to do nothing but read it till the end, and all your confusion and doubts will fade away.
First things first, let's understand what a restaurant business model is.
Table Of Contents:
Introduction
What is a restaurant business model?
What should be included in your restaurant's business model?
Best practices for restaurant business model
Conclusion
What Is A Restaurant Business Model?
A restaurant business model refers to the way a restaurant functions and generates revenue. This includes details about the target market of restaurants, revenue streams, pricing strategy, and the food offered.
Some of the most common kinds of restaurant business models are fast food, fast casual, casual dining and fine dining. The main revenue streams of the restaurants are catering services, beverage sales and food sales.
Also, some other additional revenue streams are by hosting private events or merchandise sales.
The following are some of the main kinds of restaurant business models.
1. Fast food:
You must have heard of QSR, which stands for quick service restaurant. A QSR is a restaurant business model that offers menu items that can be delivered quickly.
Also, they offer these items at low prices with no table services. McDonald's, Subway, KFC, Starbucks, Burger King, etc., are some of the popular examples of QSR.
2. Family style:
Coming over to the next kind of restaurant business model, which is known as the Family style. It is also called casual dining.
These restaurant business models provide plenty of food options at affordable prices. Also, they offer table service as well.
These types of restaurant business models offer affordable food options with table service.
3. Fast-casual:
We can say fast casual is an updated version of fast food restaurants. These types of restaurants offer more services than fast food restaurants.
In this business model, the restaurant owners provide high-quality food ingredients by delivering quick services as compared to the traditional models.
4. Pop-up:
Pop up restaurant business models are temporary restaurants which are hosted in different spaces, like existing restaurants, arcades, bars, theatres, bowling alleys or even at the home of the chef.
Also, pop up restaurants can take any form from a food tent in the local market to a one night takeover of a nearby restaurant.
They do not have a fixed place to cook and serve. Instead, they use a temporary space for cooking and serving their food.
5. Fine Dining:
The next kind of restaurant business model is fine dining. These models offer top-quality table services and high-quality food with a beautiful dining experience.
6. Ghost Kitchen:
As the name suggests, a ghost kitchen means a kitchen or a restaurant that does not offer dining facilities. They offer food only through virtual mode.
7. Buffet:
You must have got what type of business model this is by its name, right?
In a buffet-style restaurant, you can choose and serve the food items on your own according to your preferences.
8. Cafe or Bistro:
Ever visited a place that's most famous for its beverages but also offers some quick snacks along with them? You must have!
These are known as Cafe or Bistro. They are generally small restaurants that focus mainly on beverages and quick snacks.
What should be included in your restaurant's business model?
To increase your profitability in the market, you can add all these elements to your business model. Here they are:
✓ Target Market
The target market is one of the most significant parts of a business model as it identifies the potential customers of a business.
A food establishment can not be successful until it recognizes its target customers. Many restaurants spend most of their time analyzing and identifying their customers.
It's not practically possible to cater to the needs of everyone. But a restaurant owner must narrow it down to some main demographics such as lifestyle, income, age, region, and various other relevant factors.
If the restaurant is not following this strategy, then it may cost a lot of time and money.
Moreover, testing the market is also very important before deciding to launch a new product or service. That's the reason so many big restaurants prefer testing their new products first.
✓ Unique Value Proposition
A UVP or unique value proposition informs your customers about how they will benefit from your offer. Also how their products and services are different from others.
An ideal restaurant business model includes a clear statement of the UVP of the restaurant. Having a unique value proposition is very important for any business to attract more customers.
Various options can be included in the UVP of any restaurant, such as affordability, ambiance, ingredients, menu offerings, service, and many more.
Also, along with the menu offerings, the restaurant owners can put attractive pricing, loyalty programs to attract customers.
The following are some of the examples of UVP of a restaurant.
Sustainability: Using locally sourced and organic ingredients for making different dishes.
Value: Offering the best prices at affordable prices.
Service: Offering the best customer service to the customers.
Ambiance: The decor and atmosphere of your restaurant.
Convenience: Providing easy order processing and quick delivery.
Signature Dish: There must be one or two signature dishes from your restaurant.
✓ Service Style
The customer service of your restaurant is most important to your business model. Even companies using contactless restaurant models such as ghost kitchens should keep customer service in mind.
The methods can differ according to your restaurant layout, target market, concept, and location.
The most famous service styles include:
This service is mainly used in full-service restaurants where they serve food to guests at the table.
These kinds of restaurants are popular in family holiday spots. This service includes platters of food so that guests can help themselves.
These services are mainly used in the fine dining restaurant models. Some particular rules are applied here, like serving beverages from the right side of the guest.
Self-service includes a buffet-style dining concept with less customer service.
✓ The Competition and Marketing
A well-established restaurant owner or even a beginner must identify and analyze their competition before starting a business.
There are various things that potential restaurateurs can learn from their competitors.
However, understanding how competition works can assist in the following:
Identifying strengths and weaknesses in the market.
Lead to the competitive pricing of goods and services.
The design of an ideal marketing strategy.
The new business owners can create more catchy products and services.
✓ Startup Costs and Projections
Every business model must include both projections for future expenses and an estimate of the startup costs.
Startup costs might be an important element in the restaurant business model. Some restaurants open with huge fanfare and start getting customers from day one. Though, others take some time to attract customers.
There are various expenses associated with starting and maintaining a restaurant. These include the cost of food items along with supplies like silverware and napkins, employee payroll furnishings, and advertising.
The startup costs differ depending upon the kind of restaurant. Sources and amounts of external financing should be laid out clearly in a restaurant's business model.
Moreover, beyond this, there must be a clear analysis of the expected revenue, ongoing costs, and profit margin that shows how the restaurant expects to sustain profitability.
Best Practices For Restaurant Business Models
Here are some of the best practices that one must follow to scale up restaurant operations.
✓ Focus On Scalability And Sustainability
In today's world, sustainability and scalability are what everyone prefers. That is why you must aim at building both scalability and sustainability at each step of your business planning.
You can do so by:
Identifying your break-even point after the startup.
Weighing the profits and cost for each income stream.
Making an emergency plan.
Predicting if you can stay in the restaurant business if you lose the revenue from an area.
✓ Invest In The Energy-Efficient Equipment
Investing in energy-efficient equipment is a vital step toward making a sustainable restaurant business model.
It not only helps in reducing energy consumption costs but also lowers the carbon footprint as well.
Besides this, it also shows a commitment towards the environmental responsibility to both staff and the customers. Some benefits of using energy-saving equipment are as follows:
Less carbon emission
Low energy costs
More customer satisfaction
Increased equipment lifespan
Various energy-saving equipment is available for the restaurants like:
Water saving equipment
LED lighting
Energy management system
Energy-efficient appliances
Adopting all these will surely help you in scaling your restaurant business operations.
✓ Be Prepared For Every Possibility
Entering into the restaurant business is very risky, especially in a volatile economy. Make sure to perform your due diligence by examining the practicality of your restaurant model by using a feasibility study.
Once you are sure that your business model is going to work, then start working on a restaurant model that details your:
External services
Financial projections
Organizational structure
Financial projections
Menu
Employment needs
Competitors
Restaurant design
Restaurant location
Target market.
Wrap Up!
Here comes the end of our article on restaurant business models. Starting a restaurant business is a tough and risky task. But we have tried to make it easy for you by giving you a roadmap that you need to follow.
By following the above-mentioned things, you can surely win at incorporating your own restaurant business.
Just in case if you've got any doubts or confusion, feel free to contact us! You may also want to check out our article on restaurant SWOT analysis.