Top Presentation Design Companies & Agencies – 2022 (with Pricing)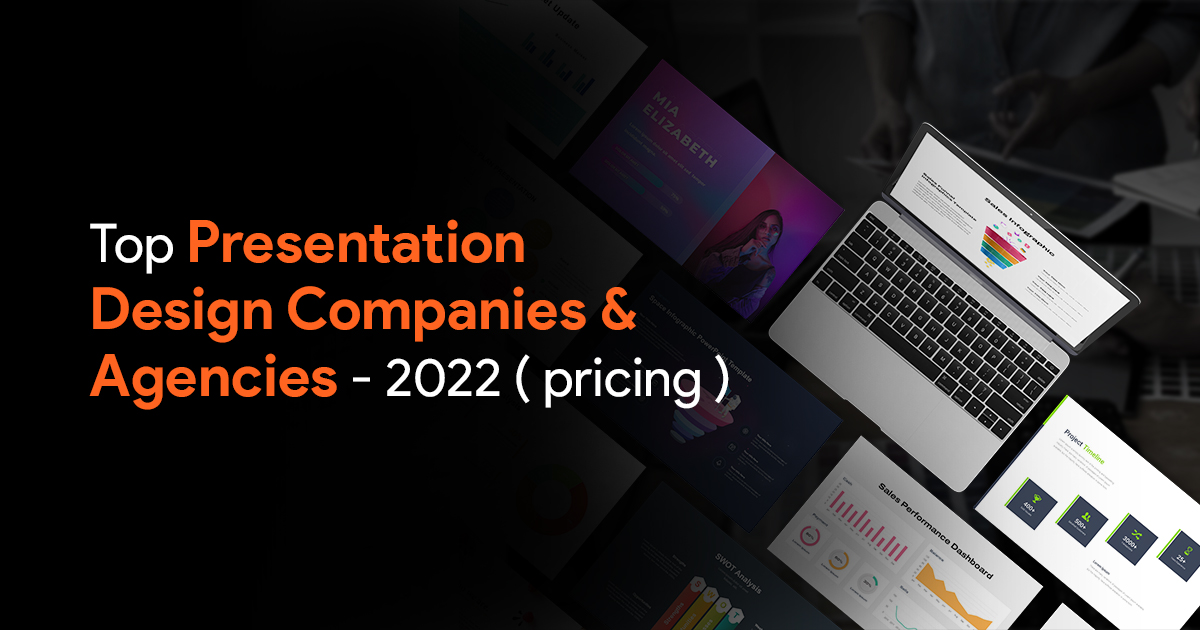 Presentations are an inevitable part of today's business world. They have the power to convey stories of your brand and create a memorable experience for your audience. But the sad part is that 79% of the audience feel that presentations are boring. However, you can still churn out great results and engage your audience with some effort and a pinch of creativity.
In case you lack the time or skill to create a stunning presentation, there are various agencies that can provide you with presentation templates.
And if you want a highly personalized presentation template that can tell the unique story of your brand, then you have amazing presentation design agencies who can do the job for you. Here is a list of the top design agencies in the market today.
Top Presentation Design Agencies Compared
1. SlideBazaar
Before we start with the others, let's introduce SlideBazaar. SlideBazaar is a fast-growing presentation design agency that was established in 2015. Although primarily they are template creators, they have a separate department for designing presentations. SlideBazaar can do anything from touching up and polishing your presentations, designing presentations from scratch, or even taking your rough ideas and transforming them into superior quality presentations. You can expect your presentations to be done in as less as 24 hours, with revisions and changes if you need them.
SlideBazaar's templates are loved by major companies worldwide and their presentation design service is one of the most affordable ones out there.
Website: https://slidebazaar.com/design-services/
Pricing: Subscription plans start from $9.99 per month and $25 for customized slides.
Pros:
Extremely cost efficient
Delivers the templates within 24 hours
Has a large collection of ready-to-use templates
Cons:
They do not provide additional services like presentation training, or strategic content.
2. BrightCarbon
The eLearning and presentation agency, BrightCarbon, consists of a dedicated team of professional designers providing high-end graphics and animations. They help transform your data into engaging visual stories.
BrightCarbon also provides training amenities for storytellers, presenters, and slide creators.
They usually take as long as 4 weeks to design your presentation, but they also can deliver the product much sooner when required.
Website: https://www.brightcarbon.com/
Pricing: $5000 for 10 slides
Pros:
Provides other services like E-learning, content creation, and training services for presenters.
Cons:
They might take up to 4 weeks for completion
Their services are costlier than most agencies.
3. SlideModel
SlideModel offers easy-to-edit quality PowerPoint templates for quick download. They are one of the largest custom slide galleries with premade graphics and professional business templates.
Website: https://slidemodel.com/
Pricing: $24.40 (for one-day access) and $20 per slide redesign
Pros:
30,000 readymade templates
New updates every week
Cons:
Customization services are limited to slide redesigns
Login is required to access free slides
4. SlideGeeks
SlideGeeks is another PowerPoint presentation company. They have over one million designs in their arcade. Their content-ready templates ensure maximum engagement for presentations. All the ppt slides are compatible with Google Slides and PowerPoint.
Website: https://www.slidegeeks.com/
Pricing: starts at $ 49.99(monthly) and customization slides are $ 24.99
Pros:
300,000+ readymade templates
Provides customized slides in 2-3 days
Cons:
The site is a bit clunky and difficult to navigate
Requires logging in for free downloads
5. ETHOS 3
Ethos 3 is a well-established presentation company with over 15 years of experience in graphics design. Their custom slides will assist in telling your story with great engagement. They cover all aspects of your presentation, from creating content to training you for your presentation.
Website: https://ethos3.com/
Pricing: Starting at $ 2000 per project.
Pros:
Wholistic solution for your presentations
Provides content creation and training services
Cons:
It takes 4-6 weeks for slides
Expensive when compared to other agencies
6. VISME
Visme is an all-in-one platform for creating presentations, documents, data visualizations, videos, and other branded content. You can use Visme as an alternative for PowerPoint and Google slides and offers a wide range of readymade templates. They provide slide decks, infographics, charts, and maps. However, there's no way to edit or upload your presentation to another platform.
Website: https://www.visme.co/
Pricing: Starts at $12.25/month
Pros:
A great tool to integrate images, videos, and infographics to create amazing presentations
Cons:
Does not provide customization services
The projects cannot be accessed in PowerPoint or Google Slides.
7. SLIDETEAM
The PowerPoint presentation designer SlideTeam is a complete content designer for business and education purposes. Their data-driven charts and graphs take your messages to the next level. In addition, they are an industry-oriented presentation agency eager to develop business frameworks and models through extensive research. They also provide customization services.
Website: https://www.slideteam.net/
Pricing: $ 49.99/ month
Pros:
Around 2 million templates.
They provide a walk-through for users to navigate, find, download, and edit the template they need.
Cons:
Many of the templates are outdated.
For customization services, you are required to have an annual subscription of $299.
8. STINSON DESIGN
Stinson is another presentation designer creating multi-faced content in PowerPoint. They are creating professional infographics across all industries. They focus on sales & marketing, scientific & technical, analytical and research, teaching & development, founders & investors, executives & thought leaders.
website: https://www.stinsondesign.com/
Service: Presentation designs, PowerPoint slides, Google Slides custom designs
Pricing: Varies as per project
Pros:
Highly personalized services, rather than one size fit for all
Helps with the entire storytelling process of your business
Cons:
Pricing varies significantly based on your project requirement
It can be time-consuming due to the high level of personalization
9. MR.PREZIDENT
Mr.Prezident is not a typical graphic design agency. Instead, they specialize in storytelling design and presentations. Besides, they only provide custom slides according to your business model and project size. They won the Prezi Awards in 2015, 2017, and 2018.
Website: https://mrprezident.com/
Service: Prezi Design, Prezi training, Google Slides themes design, Content strategy & Corporate storytelling, Graphic design, animated graphic design, Coaching for Public speaking.
Pricing: based on your requirements.
Pros:
Provides a complete solution, with content creation, presentation design, and presentation training.
Provides the presentations within the mentioned time
Cons:
Prices might significantly vary based on the requirements
Does not provide ready-to-go templates
10.SLIDESGO
SlidesGo is a business presentation company with a large collection of PPT templates, and Google slides themes. Their slides are ideal for office meetings, business plans, and project proposals. They cover all aspects, ranging from education to medical templates.
Website: https://slidesgo.com/
Service: Free and premium slide designs, PowerPoint designs, Google Slides themes, multi-purpose presentation templates, medical templates, marketing templates, infographics, PowerPoint tutorials, and Google slides tutorials.
Pricing: starting at $ 4.99/monthly subscription and customization services have a different process based on requirements
Pros:
The largest collection of ready-to-use templates
They have a unique navigation tool that helps you find the best template for your needs
Cons:
Pricing and time will significantly vary as per the requirements
11. PITCHWORX
Pitchworx is a professional design agency that provides elegant graphical designs for business users. Besides, they are creating explainer videos, graphic animations, and brand communication presentation designs.
Website: https://www.pitchworx.com/
Pricing: According to your requirements.
Pros:
Delivers templates within 2-3 working days
Provides other additional services like video animations and live shoots
Cons
Pricing significantly varies as per project requirements
12. BUFFALO 7
Buffalo 7 is a presentation design agency mainly focused on PowerPoint designs. You can transform their slides with edit options to create engaging, persuasive displays. They provide services for the world's best brands like Dell Technologies, Rockstar Energy, Sony, and Cartier.
Website: https://buffalo7.co.uk/
Service: Presentation creation, PowerPoint templates, presentation training. Sales and Marketing presentations. Infographic designs, Print designs.
Pricing: Only after analyzing your requirements.
Pros:
Provides highly personalized services
Provides training in presentation and storytelling
Cons:
Can take up to 6 weeks for delivery
Has a very limited number of ready-to-use templates
Conclusion
There are countless design agencies that can provide you with presentation templates. It is vital to choose the right partner for your presentation needs. Rather than just considering the pricing and time it is important to understand what value it can provide to your business. If it is an important meeting and if you have a massive budget, then you should consider the premium agencies like Bright Carbon and Ethos 3. On the other hand, if you are looking for great options that are quick and cost-effective then SlideBazaar, SlideGeeks, and SlideModel will be perfect for you.