Using PESO Model – Explained [+PPT Template]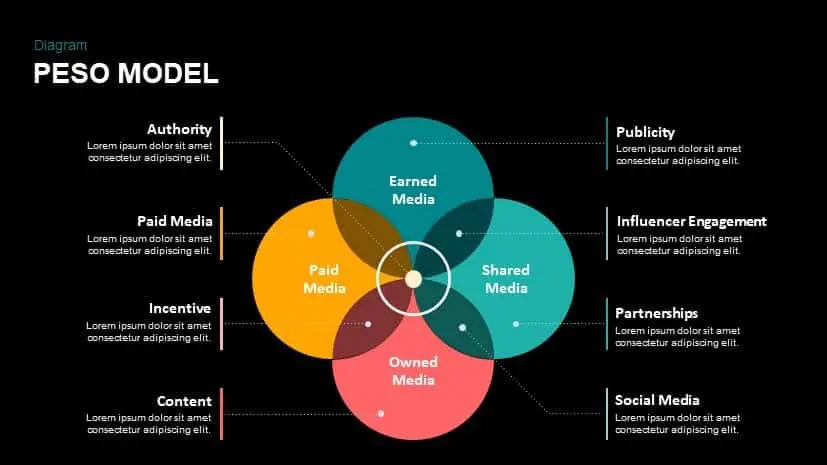 The two terms, public relations and marketing were considered as far distant domains. But nowadays the distance is shortened and both have become more integral to each other. The value of the PESO model as a strategic tool for marketing and public relations lies in the integration of different forms of media. The PESO framework is an artifact of fragmentation of media that has played out over the last years. It has grown as a means to describe modern media as the lines between paid and earned media. The PESO framework is the perfect way to create a public relations campaign today. It is the smartest way to organize our thoughts and efforts to include all aspects of marketing. Though this framework came from the world of public relations, it can also be a crucial tool for all marketing professionals, irrespective of your marketing background or speciality.
PESO Model editable PowerPoint template
What is PESO model?
PESO is a model for categorizing the different types of media that can be used in a public relations or marketing campaign. PESO stands for Paid, Earned, Shared, and Owned media.
Advertising that is purchased, such as television or print commercials, is referred to as paid media.
Media coverage that is gained by PR activities, such as press releases or media interviews, is referred to as earned media.
Social networking platforms allow users to share and reshare material, known as shared media.
Media belonging to a business or organization, such as a website or blog, is owned media.
Organizations may successfully develop a multi-channel multimedia campaign that targets their target audience by adopting a PESO model.
History of PESO MODEL
Public relations and marketing have become the two sides of the same coin. With the advent of modern digital media, the difference is slowly melting away. However, years back, teachers at universities would teach the differences between paid media efforts and earned media efforts. Publishers would make sure that there were fortifications within their organization to check advertising dollars (paid media) from influencing editorial content (earned media). Out of these isolated disciplines, ad agencies and PR agencies came into being as two separate entities. Ad agencies concentrated on artistic and paid media strategies, while the PR professionals would work to protect the strongest relationships with journalists as well as offering crisis communications and PR strategy. Ad agencies always promoting paid propagandas, whereas PR never encourage such promotion strategies.
There's constantly been a third element, owned media, to signify content that has been produced and published by a brand itself. As the internet came to allow brands the option of publishing more cost-effectively, owned media earned its room among paid and earned as a go-to channel for marketing. Though, it sat for much of this time in a no-man's-land between Public relations and advertising, with neither group really taking possession.
As we said earlier, the Paid-Earned-Owned model finally broke down due to the wide adoption of digital marketing and social media. The dissolution of this model was due to the following changes in the publishing and advertising field:
♦ Social media presented another form of spreading as prospects and customers became their own media brands, sharing and publishing content on social networks. These content producers are insufficient to fit with the Paid-Earned-Owned framework.
♦ The division between advertising and editorial wasn't as firm as they once had been, as publishers looked to other means of monetizing their media properties. Advertorials transformed into sponsored content and branded content teams were implanted within publishers.
♦ Publishers lost some reliability as anyone became able to broadcast on the internet. By consuming content in a combined news-feed rather than a single publisher, consumers don't want to know where the content comes from.
♦ Publications folded, journalists were laid off or moved from staff to freelance positions breaking down previously established PR relationships.
♦ Peers expanded authority as review sites and social media permitted anyone to crowdsource opinions.
♦ Public Relations has been experienced an identity crisis in its effort to integrate social media into its practices, only to have algorithms turn social media into a paid channel and the digital marketing strategy becomes the foremost.
♦ Even the print-media has rejected their ethics and embrace the PESO model as a lucrative strategy. Today, they are giving ads as credible news and misleading readers. The readers can't extract paid news from the whole, whether it is original or not.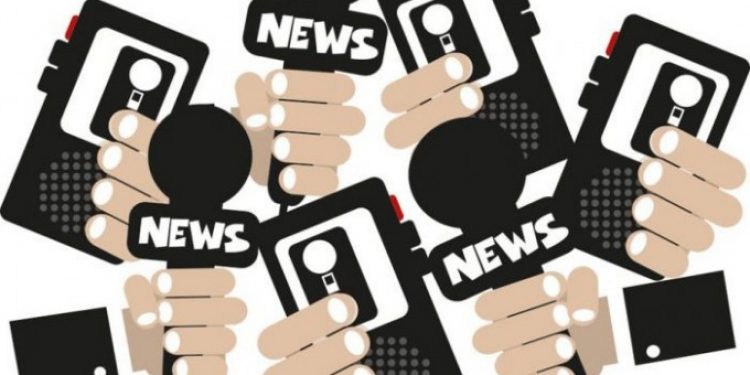 A number of innovative people in the PR industry started to look at the Paid-Earned-Owned model that they had used for years to find their place in Marketing, and wanted to expand it: some pushed social as a separate channel while others tried to separate it into earned media, new interpretations have given for the concept of mass communication to include the ideas created by everyday people. Public relations have their origins in using earned and owned media as a means of conversion. But this premise has broken down over the last decade. It's set public relations on a pileup course with marketing.
Definition of the PESO model
PESO stands for "paid, earned, shared, owned," and serves as a means of segmenting all of the marketing channels at a brand's disposal into discrete groups. It allows us to look at our efforts through any one of these four lenses (paid, earned, shared, owned), to see if there are opportunities to incorporate additional channels into our new or existing programs. The framework also lets us to make sense of and to bring together the channels in which we are presently investing.
Paid: news transmission placed by the payment of money, that is, the channel in which money is paid to place the news or message, and control its distribution or transmission.
Earned: a credible third party, such as blogger or a trade analyst created content and it is published by a media enterprise. Results are very much reliant on original and the competing news agenda.
Shared: sharing and commenting upon your content by the community through social media channels. There's usually a reasonable level of control over results but the addition of paid media helps increase efficiency.
Owned: the editorial and contents you write, publish and control by your own channel. If an organization has invested in building a community with its stakeholders it can be highly effective, and there is a high level of control over outcomes.
In the PESO model, each channel has its own significance. The focus on paid, earned and owned media is changing with growing conflict to advertising and growth in social media. According to a survey, in the coming years shared media and owned media are expected to be the most important.
No doubt, the PESO model is one of the great advertising strategies that combining PR techniques in the curriculum. The real success of the PESO model lies in merging the four outlined channels. We all stand to advantage from the PESO strategy by taking a big step back and asking the question: "How could I achieve my aims using the other components of the PESO model?" Use the PESO model template to plan how you'll execute different types of media as part of your marketing campaign.