How to Insert Slide Numbers in PowerPoint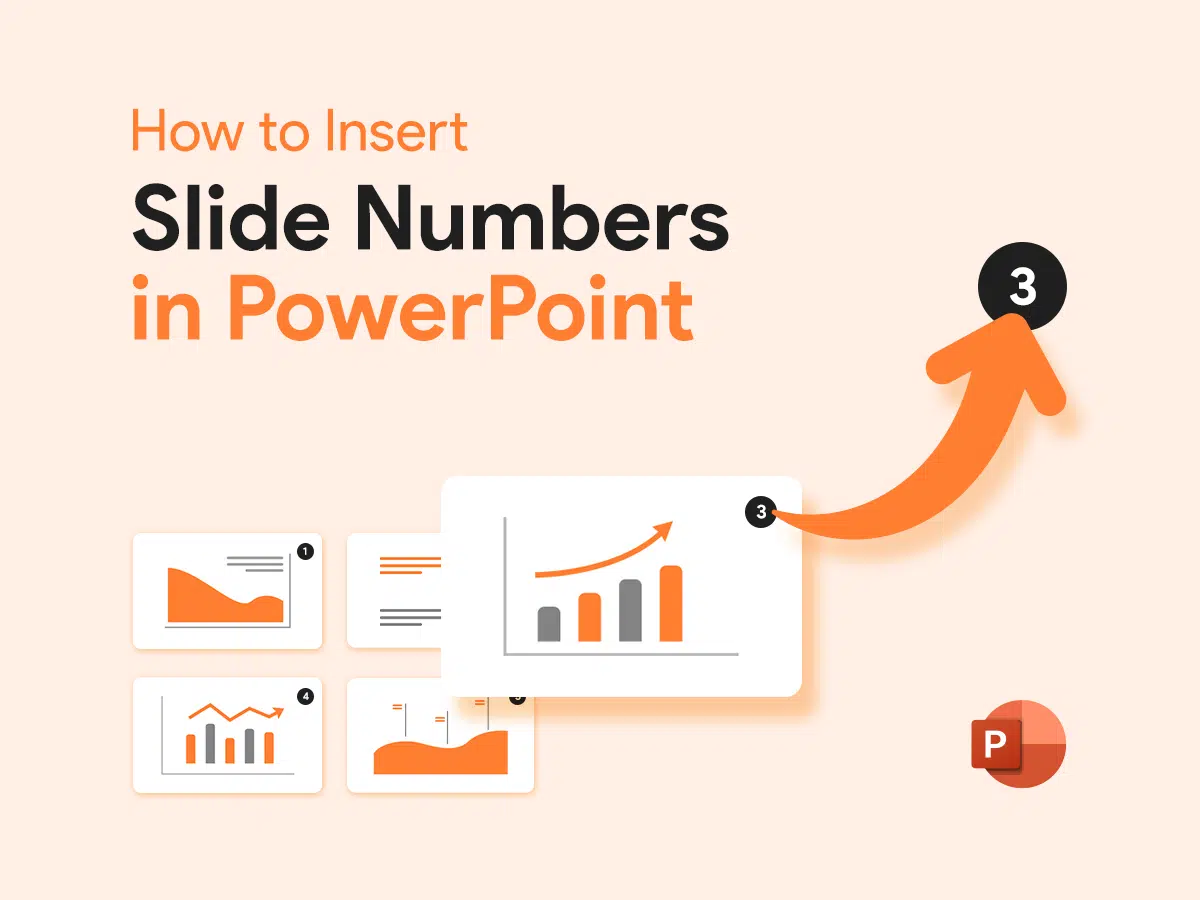 Quick Introduction
PowerPoint slide numbers are a great way to help you and your audience navigate through presentations, as well as for archiving and sharing purposes. This guide covers everything you need to know about adding slide numbers in PowerPoint presentations. You'll learn how to insert slide numbers in PowerPoint, how to change slide numbers in PowerPoint, how to insert and customize slide numbers from the default presentation templates of Microsoft PowerPoint, including applying slide numbers to a blank presentation and numbering sections within a larger presentation.
To add slide numbers in PowerPoint, follow the steps described below.
How to add slide numbers in PowerPoint
You can add a slide number that appears on each slide in your presentation. You can also change the order of your slides, and edit the number that appears on each slide. Depending on which version of PowerPoint you're using to create presentations, the page numbers are managed as a whole by the "Slide Master". If you are using PowerPoint 2013, 2016, or Office 365, follow these instructions.
Method one: Displaying slide numbers in PowerPoint
To insert slide numbers in your presentation, open your PowerPoint document on your computer.
Navigate to the "Insert" tab on your ribbon (after the Home tab) as shown below and click on it to view more options.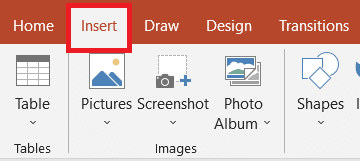 In the available options choose "Slide Numbers" or "Header & Footer" option. This will open a new dialog box where you can set the date, footer & header content, and set slide numbers for your presentation.
In the dialog box check all the checkboxes that you would like to add to your document. If you want to only add slide numbers. Uncheck date, footer, and other checkboxes while leaving the slide number checkbox ticked.
Once you've ticked the "Slide Number" checkbox click on the "Apply to All" button to automatically place a slide number for every slide in your document.
If you can't see the slide numbers on your slide, or if you want to format them, check out the steps below:
Method Two: Customizing slide numbers using Slide Master
If you want to have more formatting options and organize how slide numbers appear on your document, follow this method from step one to step ten. This method allows you to design where to place slide numbers on your document, their fonts, color, and other design features for the footer, header, and date options.
Step one (1): Open the presentation that you want to add slide numbers to
Open the PowerPoint application from your computer. Choose the presentation that you want to add slide numbers to or simply create a new presentation document. If your Presentation document opens in a "Protected View" mode, click on the "Enable Editing" button. PowerPoint will now enable you to make changes and edit the document.
Step Two (2): Navigate to the slide Master
To navigate to the slide master, click on "View" located in the taskbar. Then find the Slide Master button and click on it.

Step Three (3): Locate or Navigate to your document Parent Slide
To locate the parent slide on your PowerPoint document, navigate to the first slide on the top left of your presentation. The parent slide is the first slide listed on the top left side of your screen.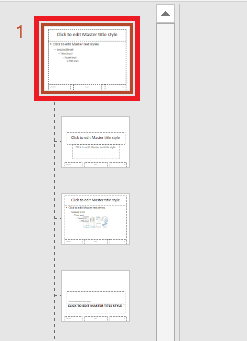 Step Four (4): Open or Click on the Master Layout Dialog box.
Depending on the version of your PowerPoint application, there are two ways of accessing the "Master Layout" dialog box.
Navigate to your Slide Master tab and click on "Master Layout" to open the dialog box. If you can't find the "Master Layout" option on your screen. Right-click on an empty area of your parent slide and choose Master Layout from the drop-down option presented on your screen.

Master Layout is a powerful feature that helps you create a consistent look and feel across your slides. You can apply a master layout to multiple slides, and then make changes to the layout on any of the slides in your presentation.
The Master Layout dialog box allows you to set the Date, Text, Slide Number, Footer, and Title of your PowerPoint presentation.
Step Five (5): In the Master Layout dialog box checkmark the "Slide Number" option and click OK.
In order to be able to add slide numbers to all your PowerPoint Presentations, ensure that you've selected the Slide number check box from the dialog box. You can also add the Date, Text, Slide Number, Footer, and Title if you want to make your presentation more organized.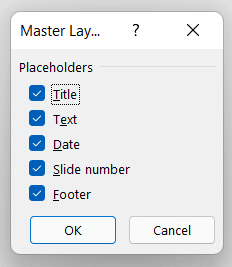 Step Six (6): Insert and Format your Slide Numbers
After you've successfully added the slide number to your master slide, you'll now be able to format and place the slide number anywhere you want in your slides.
How you place and format the slide number on your Parent slide determines where the numbers will show up on all your child slides.
By default, PowerPoint populates slide numbers to all child slides at the same position of the parent slide layout. If this doesn't happen, you'll have to cycle through all the child slides in your presentation and delete or add the page numbers manually.
Step Seven (7): Close the Slide Master View
Once you've all your slides with slide numbers formatted properly, close the "Master View". To do this, select the "Close Master View" command option that is located at the Slide Master tab in your ribbon.

Step Eight (8): Open your slide number Dialog box
In your normal view of your PowerPoint Presentation, you can now insert slide numbers to your slides. To do this, navigate to the Insert tab and click on the Slide Number button. You can also click on the "Header & Footer" option to open a dialog box that will allow you to add a footer, date, and slide numbers to your document.
Step Nine (9): Apply Slide Numbers to all slides in your document
In the new pop-up dialog box check-mark all the boxes with information that you want to include in your document. For example, if you want to add a date, footer, header, and slide number, check all the checkboxes and then click on "Apply to All" to save your changes.
Step Ten (10): Review your changes and save your Presentation
After you've successfully added and formatted your slide numbers, save your PowerPoint presentation. Now all slide numbers will appear on every slide of your document.
The following are some benefits of adding slide numbers to your presentations:
Slide numbers give structure to your presentation, which makes it easier for an audience to digest the information being presented. It also helps them follow up with questions after the presentation when they have time to reflect on what they've just seen and heard.
Slide numbers help you keep track of your slides. You can see at a glance which one is coming up next or where you are at in the presentation. It also makes it easier to refer back to specific slides later on.
Slide numbers make it easier for others to follow along with your presentation by highlighting where they are at any given time. They can also easily jump from one slide to another with just a few clicks if needed, so there is no need for them to read through everything word for word.
Ensures that important information is not lost.
Enables speakers to quickly review their presentation before they present it.
Takeaway
Slide numbers can definitely help you when you're dealing with a large number of slides. They also make it easier for participants to review the information contained within each slide. With slide numbers, you and your audience can know which part of your presentation you are. It is also great if you have to find something important in your presentation. Overall, it's easy to add slide numbers into your slides in PowerPoint.