How To Change the Size and Aspect Ratio of PowerPoint Slides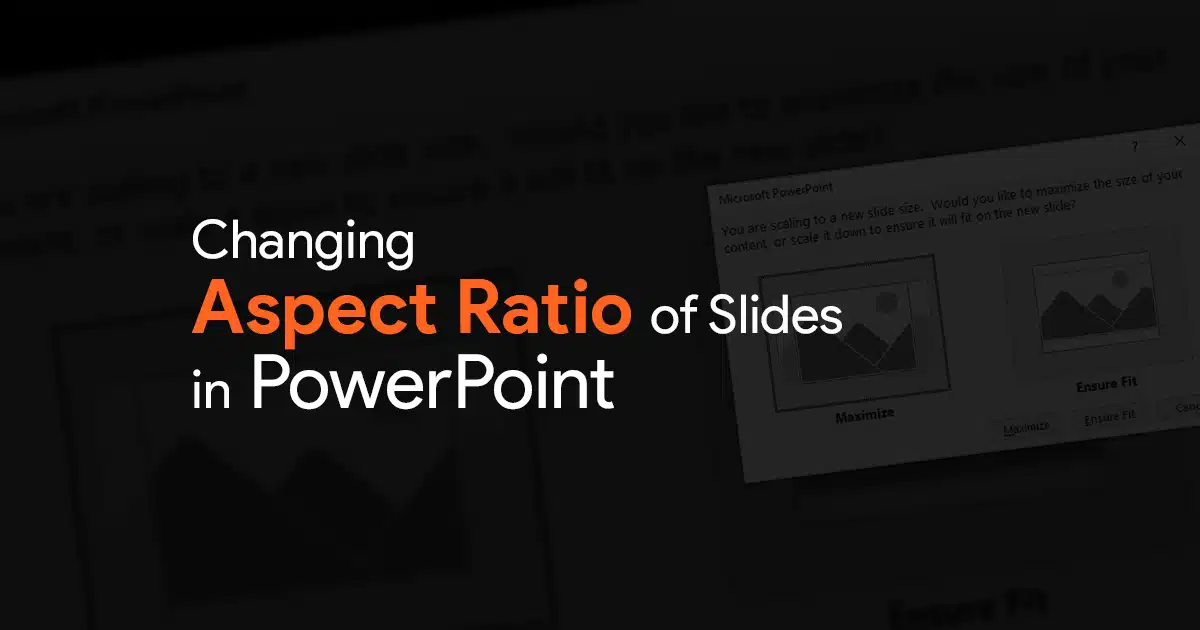 If you make presentations frequently, you sometimes may need to prepare a presentation on one device and present it on another. This means your slides can appear differently on different devices. It makes sense to learn how to change slide size in PowerPoint or change the aspect ratio of slides so that you don't flounder when you must present. After all, you have worked hard on your project, done your research, practice your speech, and are all set. You should not have to squander it all due to minor things like skewed PowerPoint slide sizes.
PPT Slide Dimensions
Before we begin looking at how to resize, it's important to understand the different sizes and what they mean.
The default size of the slide in PowerPoint 2019 is 16:9 or Widescreen. If you get a device with an older version of PowerPoint (say 2010), or an old projector with the 4:3 Standard size, your slides won't look like what you had designed them originally, and you will need to adjust them to fit your screen to avoid edges getting cut off. These are the most commonly used dimensions in PowerPoint:
Standard is ideal for old projectors, iPads, low-resolution screens, SlideShare, and other online platforms for sharing presentations. The slide size is f 10 x 7.5 inches or 25.4 x 19.05 cm.
Widescreen is the default for MS PowerPoint versions from 2013 onward and is ideal for 4k monitors, LCDs, Smart TVs, HDTVs (these are wide aspect ratio screens), new/HD projectors, YouTube, Microsoft Surface devices, etc. Widescreen slide sizes are 13.33 x 7.5 inches or 33.867 x 19.05 cm.
Though you have more options for slide size available in macOS and Windows 10, like A4, or letter paper, the above two are the only ones available for iPhones. To optimize the display, you can also enter your custom size in pixels, centimeters, or inches. Ideally, change the size before you design your presentation to make the canvas a perfect fit. Once you've added content, changing the slide size can cause distortion of the images and elements. It's, therefore, helpful to know the resolution of the device on which you'll need to present.
How to change slide size in PowerPoint Microsoft PowerPoint 2016 and 2019
Windows 10
Start a new project or open your existing PPT
Open the Design tab
Go to Customize on the right, and choose Slide Size
If it's hidden, click on Customize; next, click on slide size
From the drop down select Standard (4:3), Widescreen (16:9), or Custom
By clicking on Custom, you get a popup window to select the size you want, change orientation, or other aspects
Choose the option 'Slides sized for:' and get a dropdown menu with pre-set dimensions to choose from. These include A4 paper, on-screen show 16:9 or 16: 10, A3 paper, 35 mm slides, banner, overhead, letter paper, and custom sizes.
Use arrow buttons next to the Width and Height fields to resize or enter your preferred measurements in the box (pixels written as px, centimeters denoted by cm or inches written as in)
Click OK
In MS PowerPoint versions 2016 and later, you can change slide size from a popup window when you are scaling down to Standard from Widescreen. You can select:
Maximize to retain the slide contents as is without resizing – which can lead to some elements getting cut if there's a lot of content on it
Ensure Fit – decreases text and image size to fit the smaller slide, ensuring no content gets cut
The new settings are applied to the presentation immediately.
How to Change Slide Size in PowerPoint on Mac
The process is similar to the one we just saw for Windows.
Go to Design -> Slide Size
You get a drop-down menu with options Standard, Widescreen, Page setup (custom or preset size)

Click on it to open the page setup popup

Size options are the same as in Windows; enter your desired measurements

A new popup opens, and you can select either Scale or Don't Scale; scale will fit the content to the new size, reducing its size if necessary. Don't Scale will retain elements in their original sizes whether they fit the slide or not.
The new size is applied to the presentation immediately.
How to Change Slide Size in PowerPoint on iPhone
iPhones have a lower version of PowerPoint. Access the Design menu, which contains the setting on iOS.
Tap on More, an icon of three horizontal dots in the bottom right corner
You will see which tab you are in; edit this if you want
Tap on Home to see other options available
You get a dropdown menu, which has the Design tab
Tap on Design and then on Slide Size
Select the slide size of your choice
This size is immediately applied to your presentation.
Compressing Pictures in The Presentation
PowerPoint presentations generally contain several images and photographs. Given the quality of DSLR cameras and even Smartphones today, the images are of very high resolution. This can cause problems when you use such images in your PowerPoint presentations, as the resolution is much more than what you need to present it on a screen. Ideally, you should know to compress pictures, so your file size is not too large and you can load it quickly before the presentation.
Quick Recap
Let's encapsulate what we have learned so far:
When you change the slide size of a PowerPoint slide, it is applied to all the slides. You cannot change the size of an individual slide.
When you define or change the orientation of a slide in PowerPoint, it is immediately applied to every slide in the presentation; it is not possible to have different orientations for different slides.
Office 2010 is not supported anymore by Microsoft, and you will have to upgrade to Office 365 to receive support