15+ Best Title Slides and Intro Slide Templates for Your PowerPoint Presentation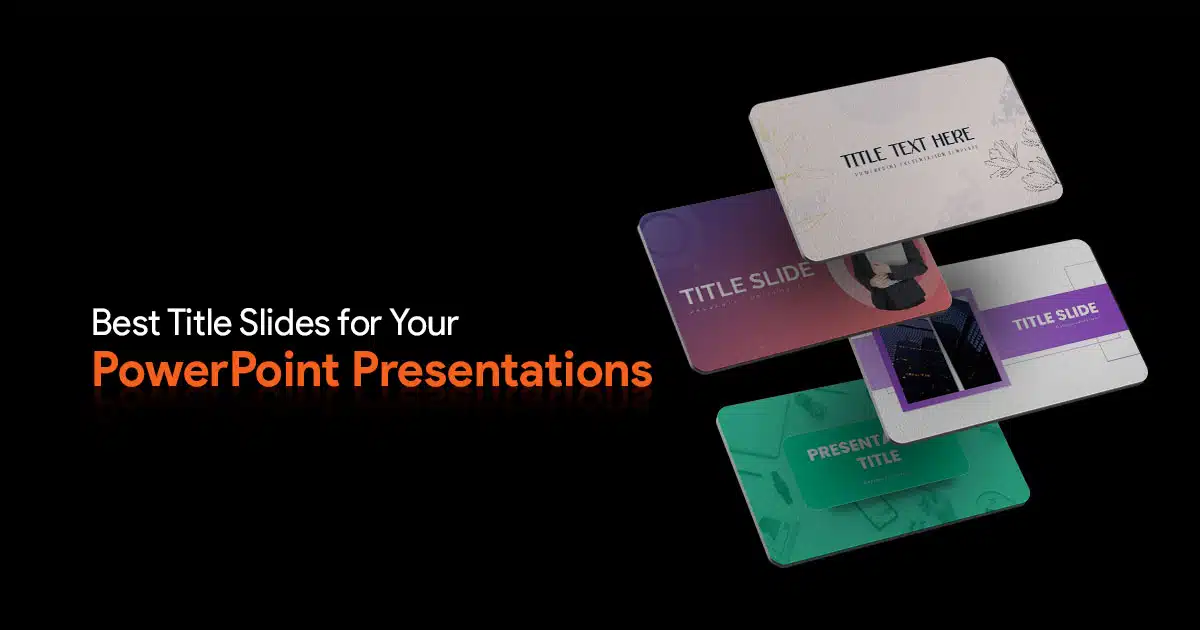 The importance of title slides cannot be overstated, as they set the tone for your PowerPoint presentation. A captivating and well-designed title slide grabs the audience's attention and creates a positive first impression. It serves as a visual hook that immediately engages the viewers and prepares them for what lies ahead. With an impactful title slide, you can effectively communicate your presentation's main theme or message and generate a favourable response from the audience.
We all know content is the king of any presentation. However, the Best title slides for PowerPoint presentations will serve a lot for your theme. So, you must invest your time in creating the best cover or title slides. If you don't have time to create a stunning presentation slide for introductions, go with a readymade PowerPoint title slide. In this blog, we have compiled many title slides from different fields that also suit your theme. Let us explore each one!
1. Title Slides PowerPoint Template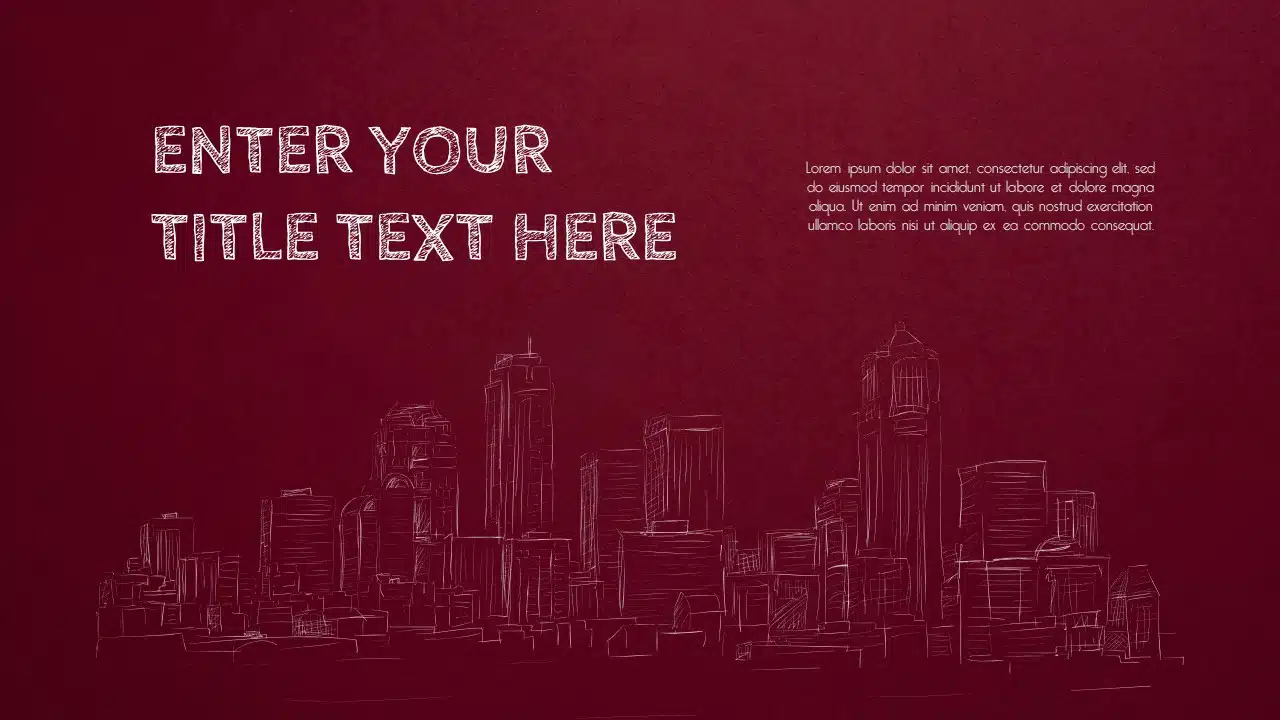 This title slide PowerPoint Template is One pager premium PowerPoint created on a brown backdrop with illustrations. This simple yet elegant title slide is versatile and can be used for any presentation. Its sophisticated design effectively captures the audience's attention and sets the stage for an engaging presentation. The inclusion of introductive paraphrases adds a professional touch, concisely summarising the main ideas to be presented. With this template, you can create a strong and impactful first impression that leaves a lasting impression on your audience.
2. Title presentation Template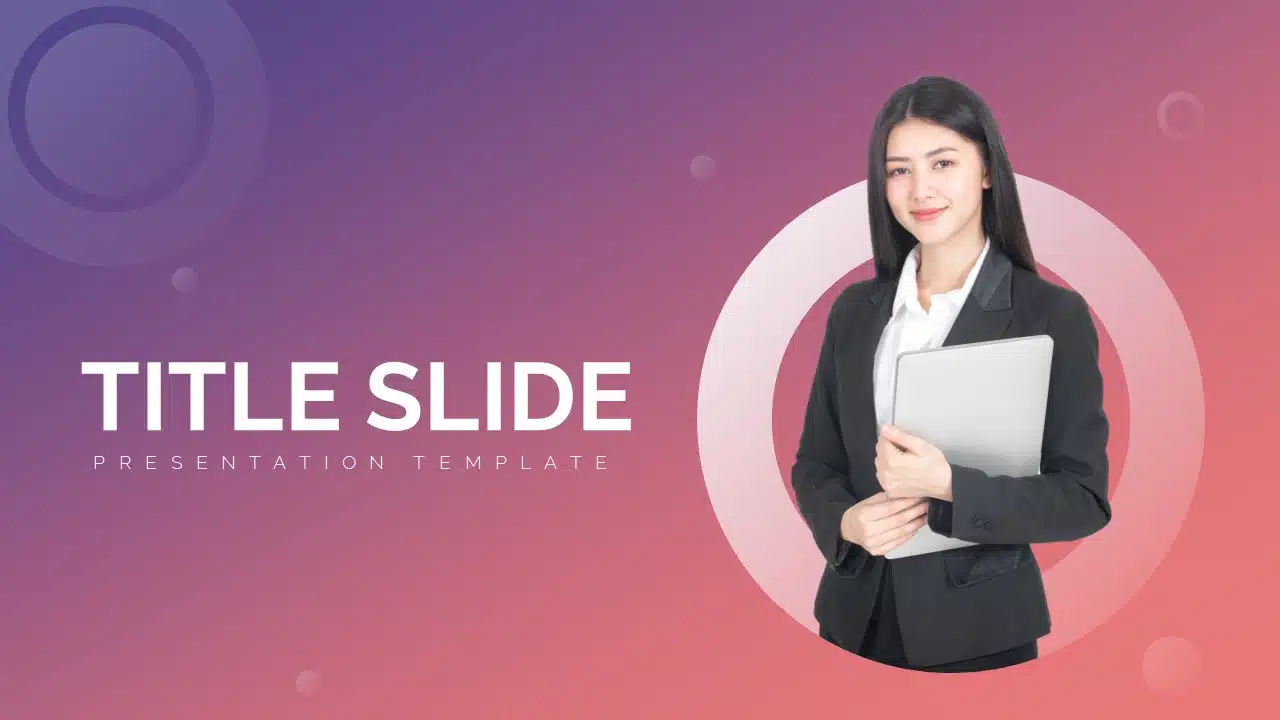 The title presentation template featuring an image of a professional lady carrying a file is highly versatile, catering to both business-related displays and thesis defense presentations. Its adaptability makes it an ideal choice for educational PowerPoint presentations, particularly those focusing on research themes. The template offers a visually appealing and professional backdrop that complements the content effectively.
3. Title Slide for Presentation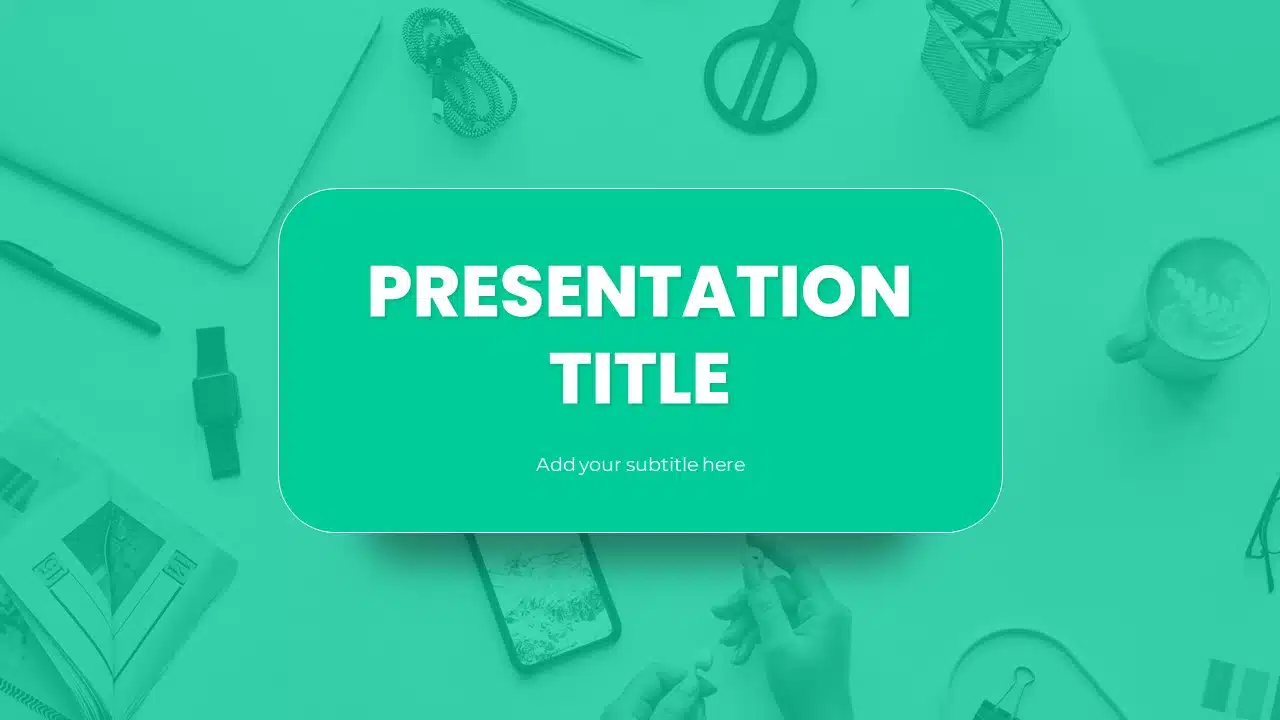 The green background PowerPoint title slide presentation offers a user-friendly interface for customization. With PowerPoint's editing options, you can easily personalize the slide by adding your desired elements. The simple layout includes a dedicated text box where you can summarize your presentation effectively. Furthermore, you have the flexibility to incorporate your brand's color scheme, logos, and other branding elements to enhance the visual appeal and align it with your corporate identity.
4. Presentation Title PowerPoint Slide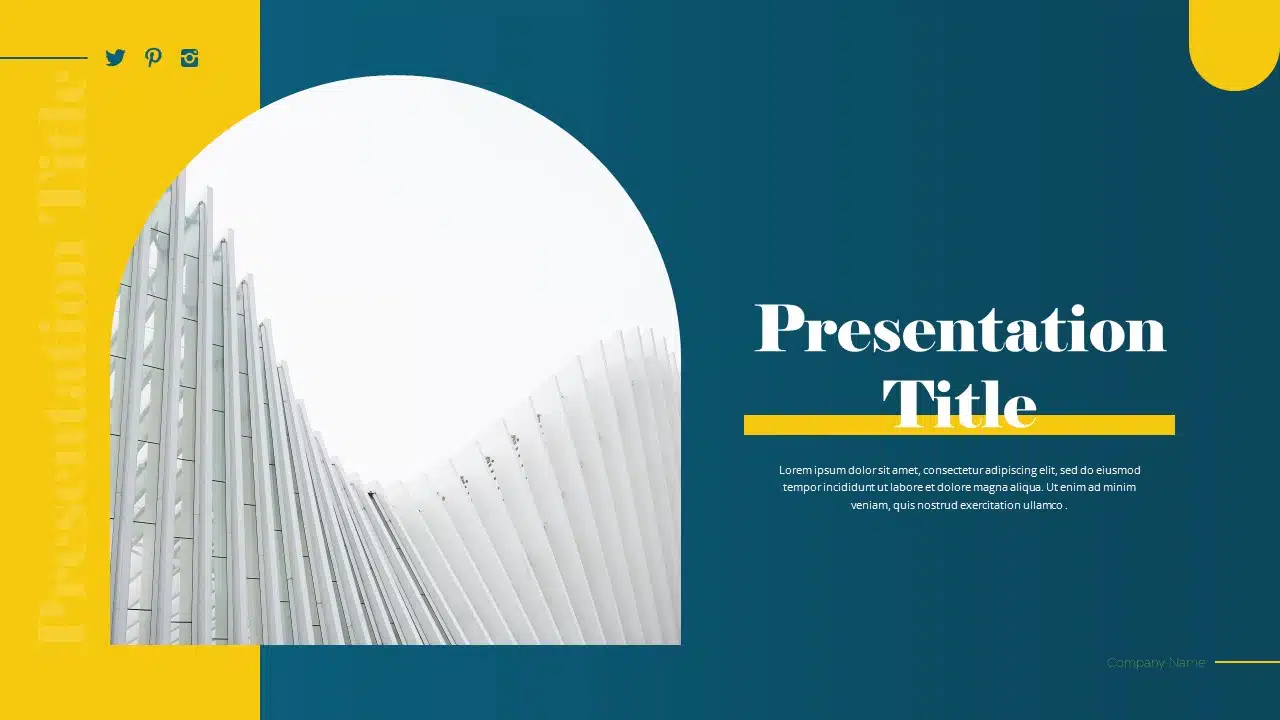 The two-tone color mix on the presentation's title slide is a fantastic example of a minimalist design. Its visually stunning yellow and dark combination captivates the audience and creates an impactful introduction. This simplistic yet elegant approach lets viewers swiftly grasp the summary, making it an effective and efficient design choice.
5. Title Slide Template for PowerPoint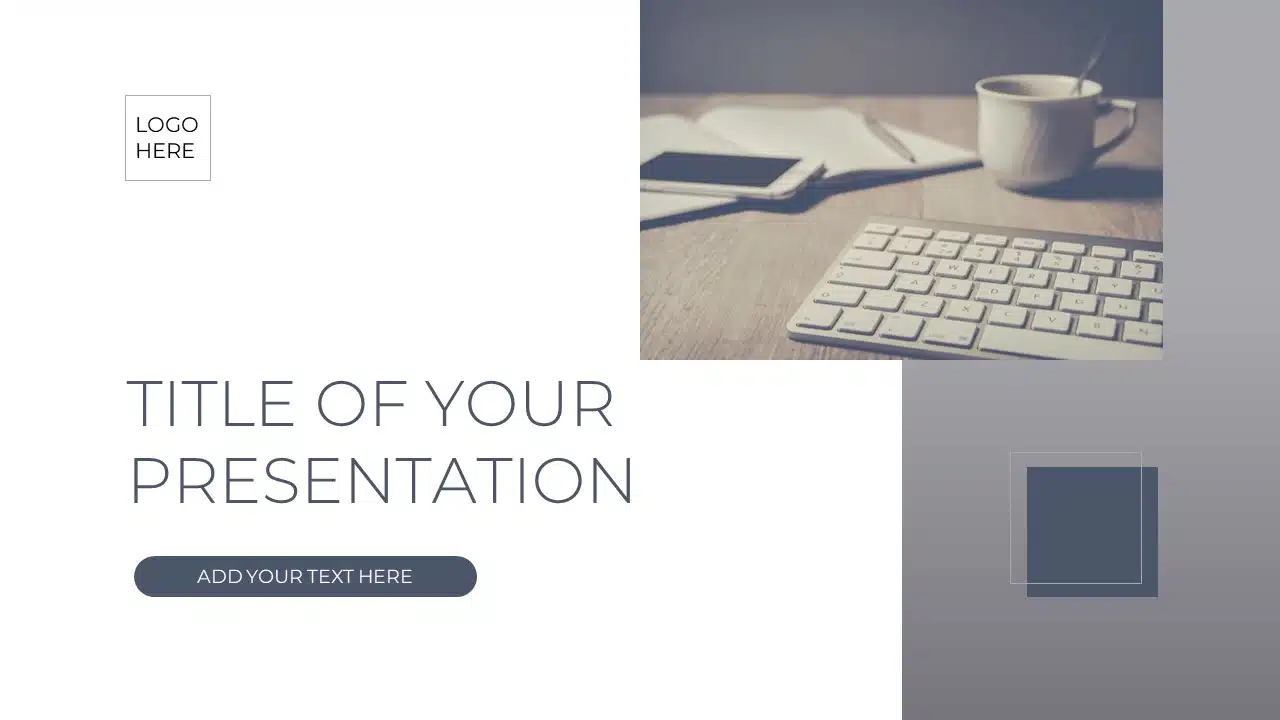 The Grey Color Presentation Title Slide is a sophisticated and professional PowerPoint template for business presentations. Featuring an office space cutout design, it creates a modern and simple look for your slides. This template is ideal for use as a title or cover page, with a summary section elegantly placed on the left side. Impress your audience with this stylish and impactful presentation design.
6. Title Slide for PowerPoint Presentation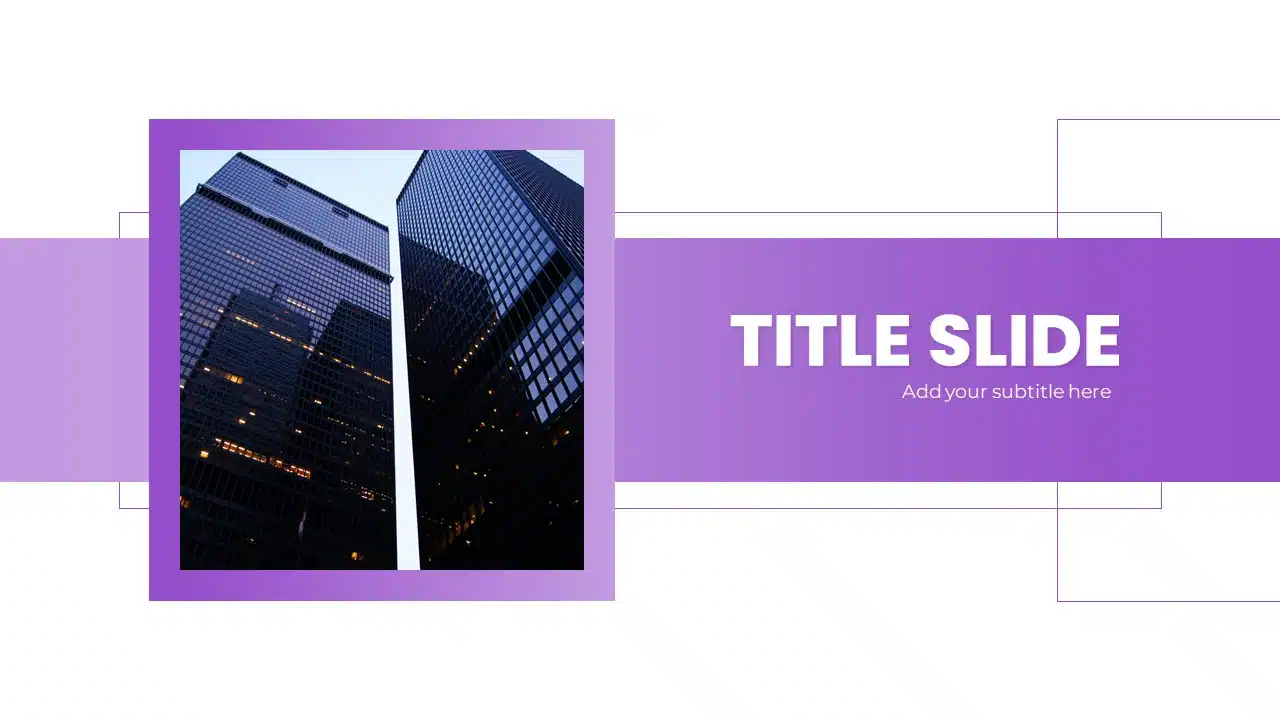 Violet tinted title slide for PowerPoint presentation is perfect for your business cover page. The background building scenario makes this diagram suit for a finance presentation or as an introduction slide for a company profile presentation. This multipurpose template can use for any presentation title with an elegant touch. The Pager template allows you to make changes in colour, size, and shape.
7. Title Slide PowerPoint Template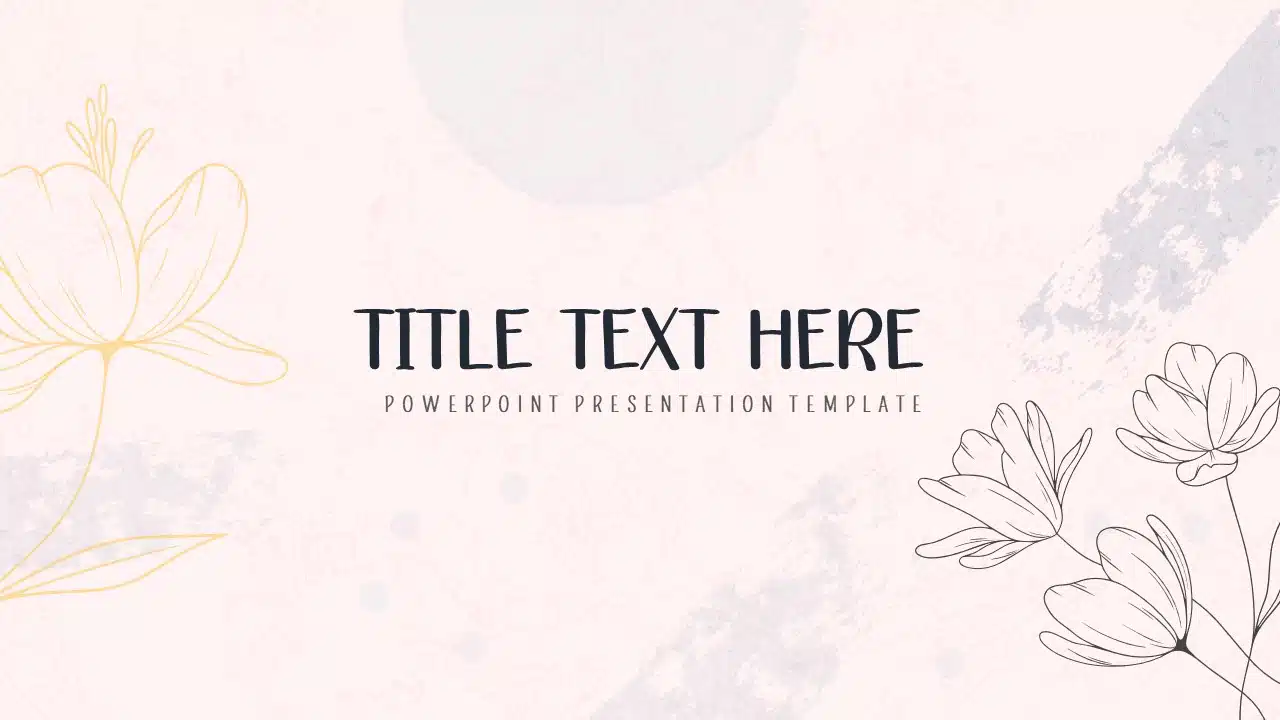 With our customizable title slide PowerPoint template, you can effortlessly create captivating presentations in a matter of seconds. This slide is designed to cater to a wide range of requirements; this template is perfect for literary shows, welcoming exhibitions, happy birthday celebrations, and any other occasion that requires maximum audience engagement right from the start. The visually appealing background images in this PowerPoint ensure that team meetings become a pleasurable experience while also making it suitable for acknowledgement and reward slideshows. This versatile template can also be a wrap-up slide for thesis defense discussions, providing a professional and sparkled conclusion to your academic presentations.
8. Cover Slide Template
A cover slide template with a blue background theme is an excellent choice for title presentations. The soothing blue color creates a professional and calm atmosphere. You can establish a warm and welcoming tone by incorporating a hand-shaking image at the beginning. This image is versatile and can be used for business presentations and reward-giving ceremonies, adding a sense of appreciation and celebration. Its universal appeal makes it suitable for a wide range of occasions.
9. Presentation Title PowerPoint Template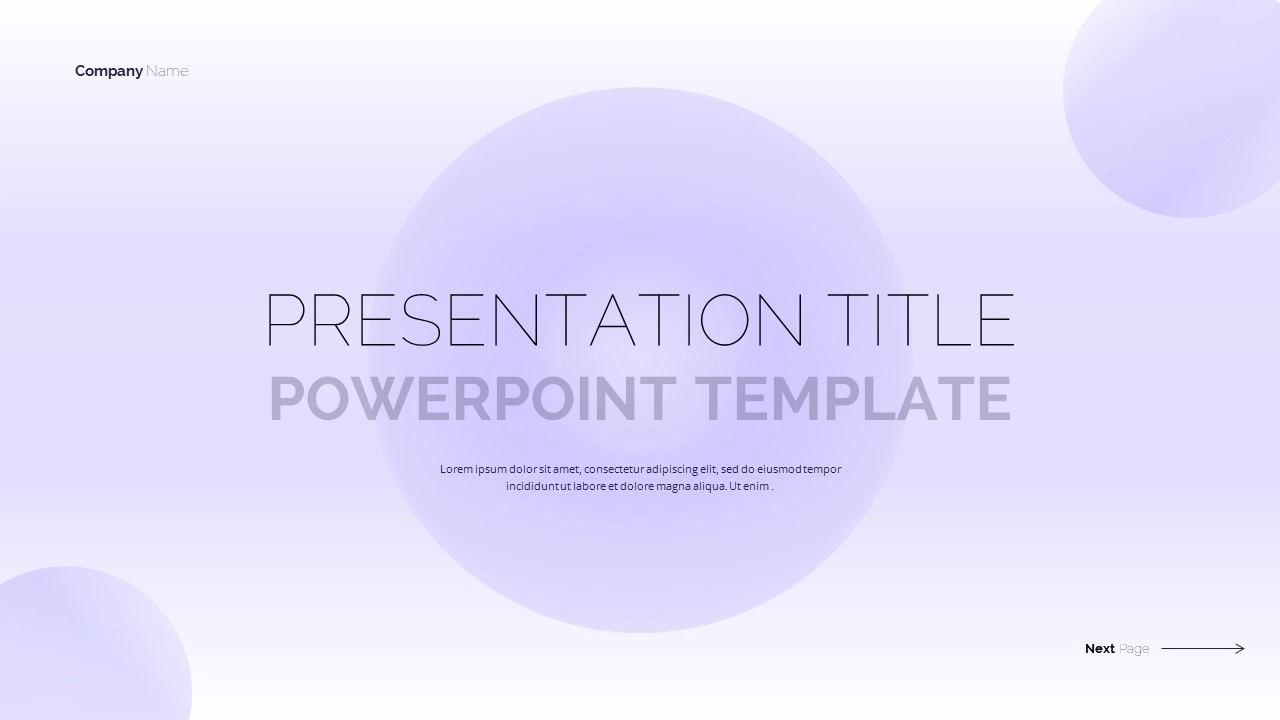 The Presentation Title PowerPoint Template features a contemporary title slide design with clean background images. Presenters can place their brief descriptions in the center, enabling a concise overview of the presentation topic. In addition, this template offers a modern and professional appearance to captivate the audience.
10. Cover Slide Template for PowerPoint
This dynamic cover slide template for PowerPoint serves as a captivating title slide, perfect for introducing your team to stakeholders or investors. The symbolic imagery of hands coming together conveys unity and collaboration, emphasizing the strength and cohesion of your team. With its professional design and impactful visuals, this template sets the stage for a compelling team introduction presentation.
Title Slides from PowerPoint Pitch Decks
Apart from specially designed One Pager title slides, you can opt for more templates from the Slide deck presentation. All these slides are high-definition PowerPoints within the set for pitch decks.0
1. Red White Food PowerPoint Template (Title Slide for Food and Restaurant Presentation)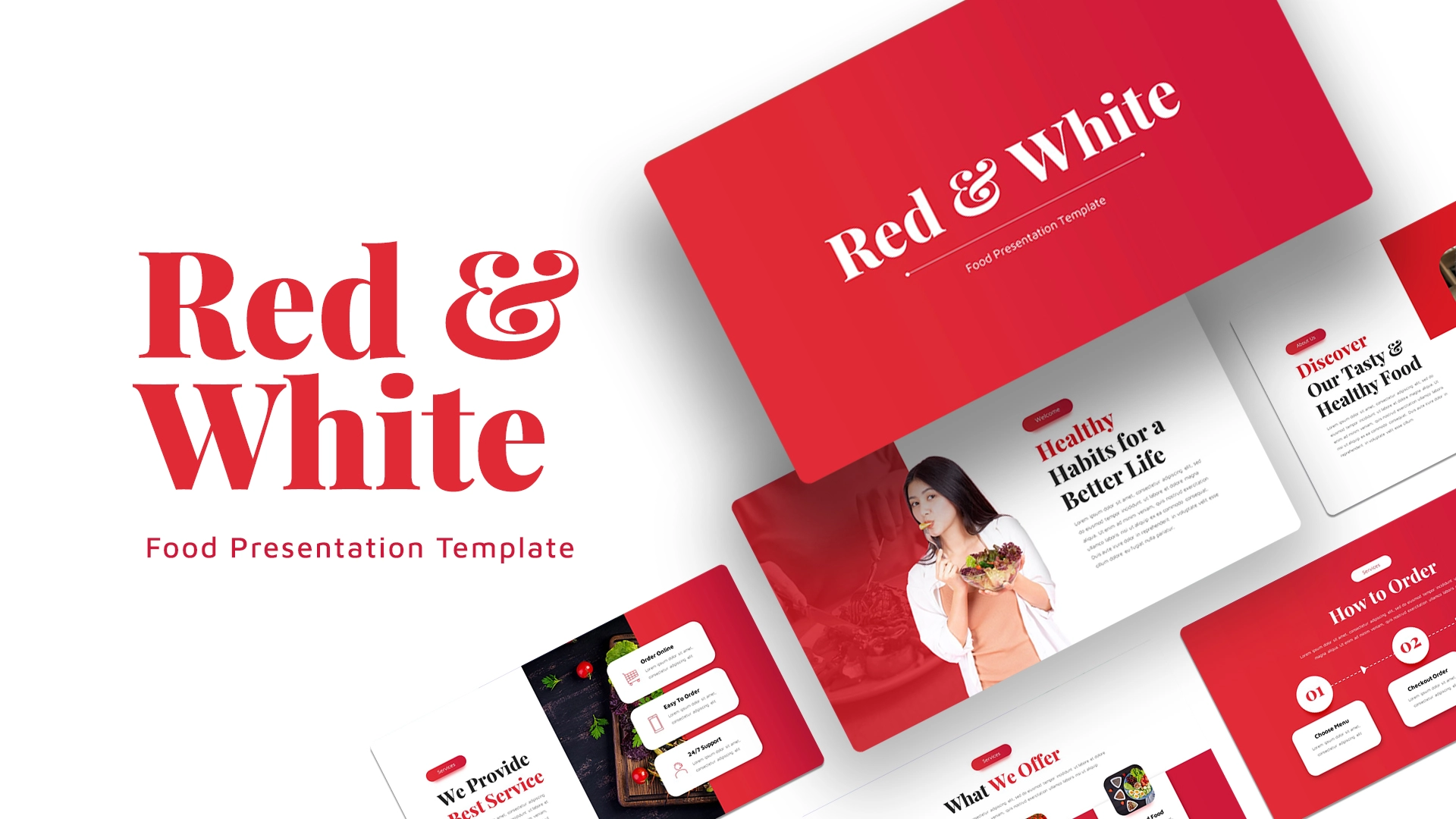 Use this food and restaurant introduction slide in a red and white half-tone mix. This template will be advantageous if you aim for a restaurant company profile for investments or introduce your food chain business. Furthermore, this food presentation template allows you to add with other slides for a pitch deck presentation. Besides, while downloading, you get all the slides that will enable you to give a complete picture of your food business.
2. Artificial Intelligence Presentation Template (Title Slide for AI and Technology Presentation)
This AI template will be the best choice if you need a symbolic title slide for an artificial intelligence presentation. Make sure, too, that your version of the technology slide stays with a branding message. Besides, you can adjust the shape, size, text, and colors to match the overall color scheme of your business. This template is fit for educational PowerPoint presentations as well. Teachers can use the title slide to introduce artificial intelligence. Its adaptability and ability to convey a strong visual impact make it an ideal option for informative and engaging presentations.
3. Medical PowerPoint Presentation Template and Keynote (Title Slide for Medical PowerPoint)
Introducing our exceptional title slide design, perfect for medical presentations. With a sleek layout that seamlessly blends with your medical PowerPoint collection, this slide captivates your audience from the beginning. Featuring a stethoscope as a metaphorical representation, it symbolizes the essence of healthcare and creates an instant connection. Deliver impactful presentations by leveraging this visually appealing title slide, setting the tone for your medical discourse. The presenters can alter color, font, and size according to their requirements.
4. Transport Consulting Firm Presentation Template (Title Slide for Company Profile PowerPoint)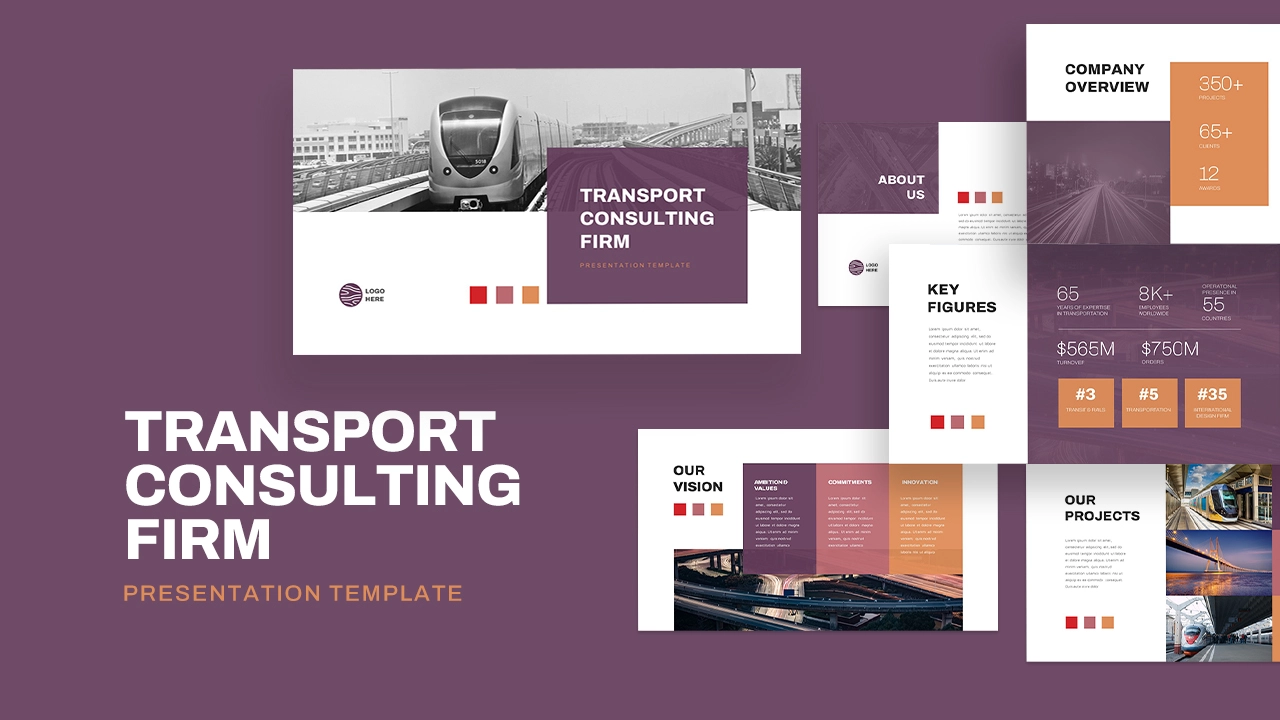 This is an ideal title slide for business introductions. It is created with the sense of how minimalism impacts design aesthetics. It adds many informative concepts on the cover slide for company profile presentations. That is perfect for company introductions. The presenters can use each box to provide company information. For example, your logo can be inserted with the company name on the first box. Similarly, each container can use to show a vision, mission, ongoing projects, company overview, and key figures with the starting slide. With this comprehensive starting slide, presenters can captivate their audience and provide a concise yet impactful summary of their company's profile and accomplishments.
5. Space Infographic Template for PowerPoint (Title Slide for Science PowerPoint Presentation)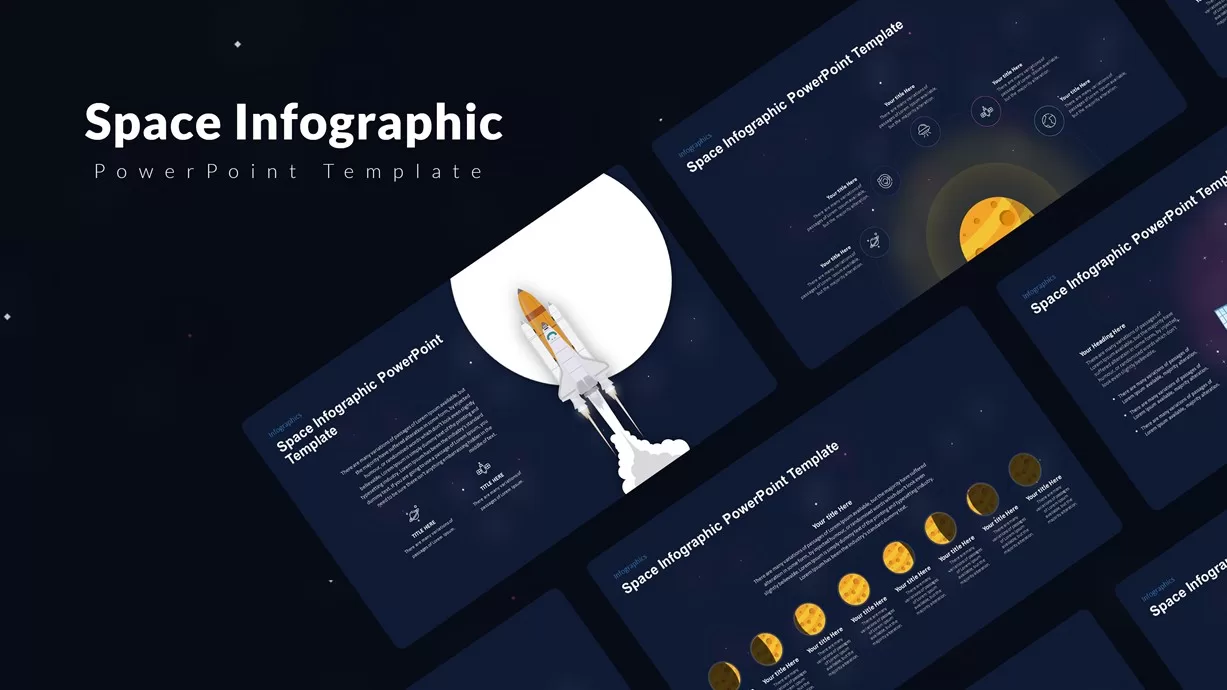 Space Infographic template for PowerPoint is the best title slide for science and technology presentations. All the images are fit for giving a scintillating display about science presentation. Teachers and science institute professionals can use this image as a presentation title slide. It is actually a great way to conjure attention and lock in audience focus. PowerPoint presentation needs awesome title slides because audience attention should begin when the presentation starts. This stylish template is ideal for the first page of science presentations. Its captivating imagery will attract the audience's attention, making it an excellent choice for any science-related topic.
6. Health Insurance Presentation Template (Title Slide for Insurance PowerPoint)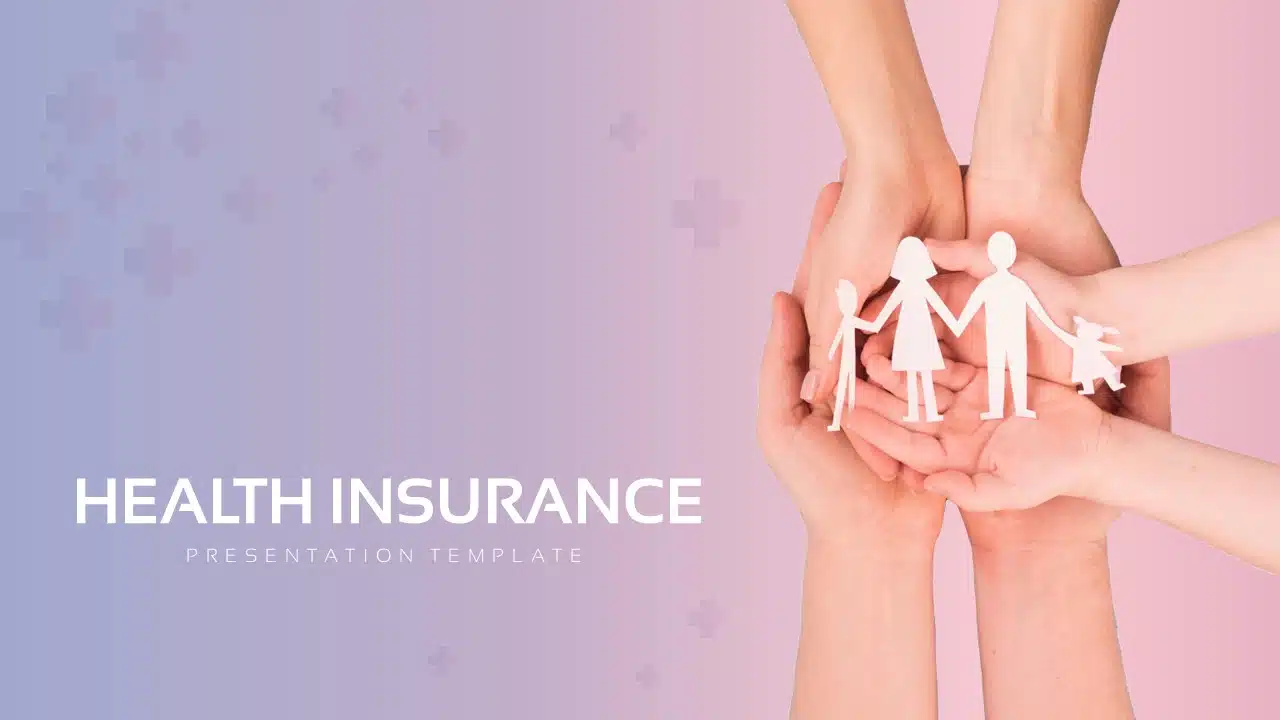 Are you searching for a title slide for insurance presentation? Then, choose our symbolic representation for graphical PowerPoint displays. The health insurance PowerPoint slide is an ideal template for any insurance presentation related to general, life, and health insurance. The duotone cover slide will encompass all areas of insurance since it has symbolic picturization featuring people protection. The vibrant typography brings stylish, subtle text descriptions to any slide. Be specific in your presentation using metaphor title slides. Take your presentation to the next level with symbolic title slides that bring clarity and specificity to your message.
7. Finance Pitch Deck Prezi Style PowerPoint Template (Title Slide for Finance Presentation)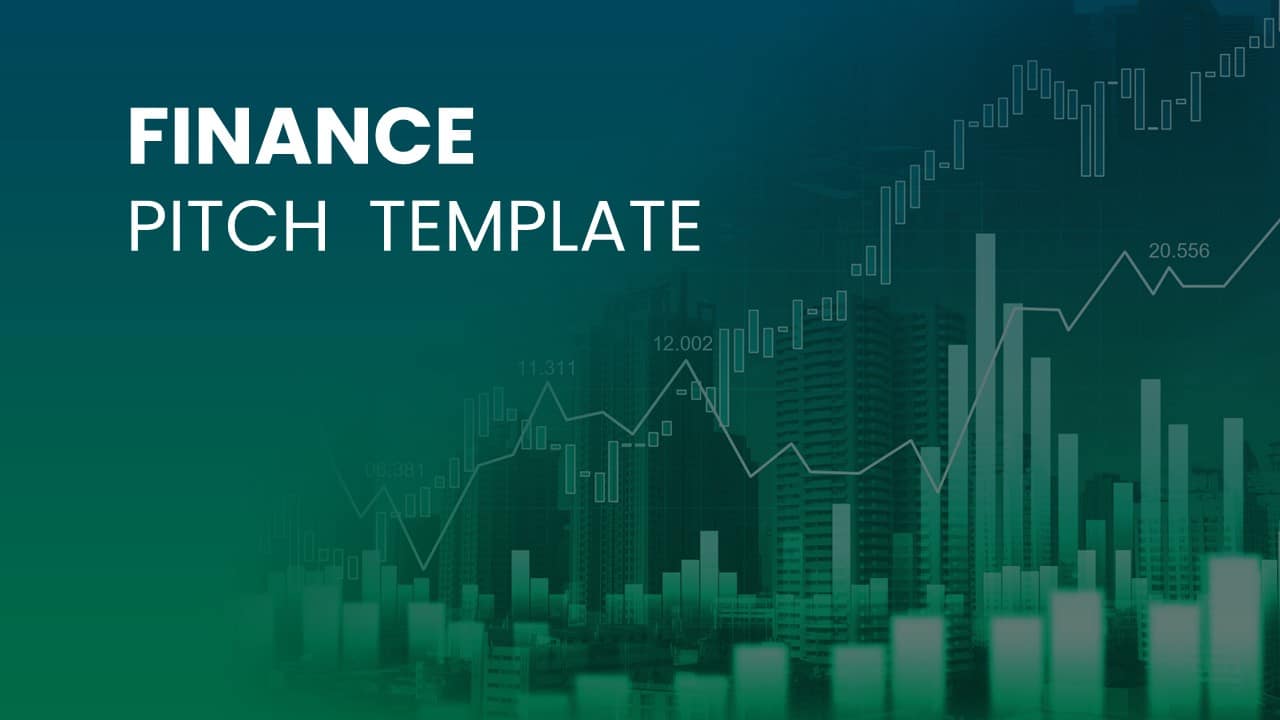 The first impression is key. So, you need to do what you can with your PowerPoint title slides. This finance pitch deck template contains the best title slide for a finance presentation. It includes the imagery of a finance graph with a skyscraper background. The background images and diagrams will make the finance presentation eye-catching. The presenters can alter or modify the background images and green color using customizations. Elevate your presentations to new heights with SlideBazaar's professional templates and custom design services.
8. Smart Farming Presentation Template (Title Slide for Agricultural PowerPoint)
The smart farming presentation template offers an ideal agriculture title slide for your farming presentations. It showcases captivating imagery of saplings and a lush greenery background view, creating an amazing visual impact. This visually appealing design perfectly aligns with the theme of smart farming, conveying the message of innovation and sustainable practices in agriculture. With its vibrant and refreshing visuals, this title slide will surely capture your audience's attention and set the tone for an engaging and informative presentation.
Final word
Title slides for PowerPoint presentations need a creative tone to attract your audiences. Besides, it should contain your messages with brief descriptive text placeholders. Here, all slides for title presentation allow you to create whatever you need for a cover page. Let your title page set the stage for an engaging and memorable presentation.