10+ Best PowerPoint Templates for Meetings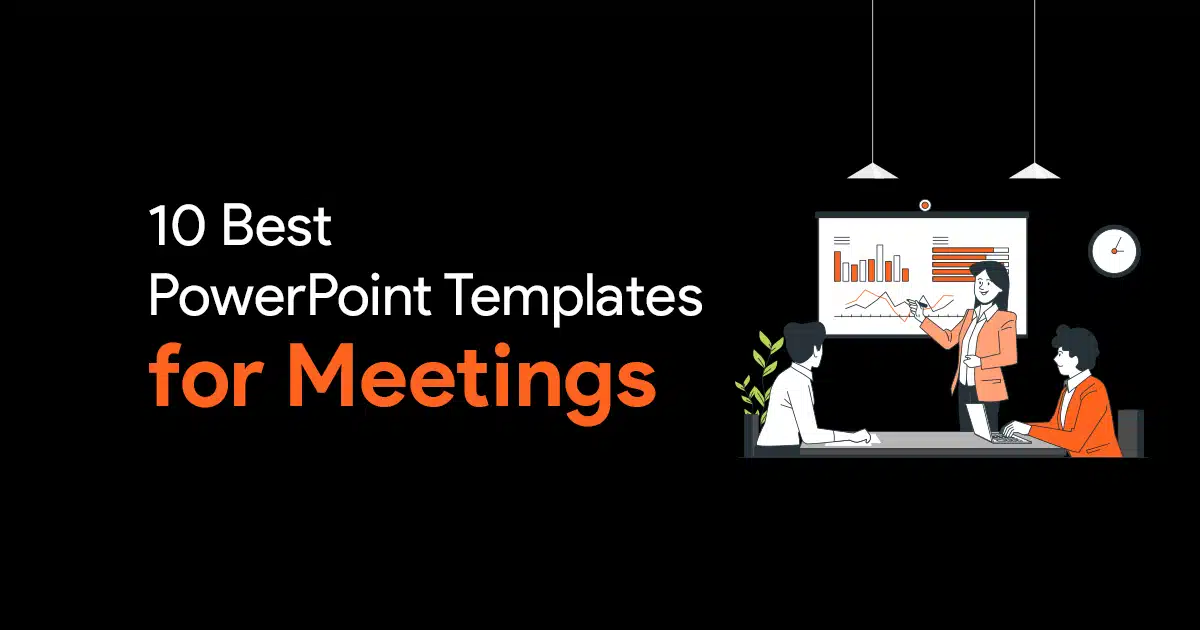 Do you want to have a look at the agenda before the meeting begins? Distributing a printed agenda can be challenging if you need a meeting urgently. So, it would be best if you created or used a readymade meeting PowerPoint slide that comprises all ingredients of a business meeting. In this collection, we have compiled a professional PowerPoint template for meeting in no time. Add your agenda and other information to the meeting template. You'll have a stylish and latest PowerPoint that's sure to impress your boss in 2023.
Meeting agenda templates provide a compass for the discussion, so the meeting will be in the right direction if the conversation encompasses. In this list, you can find Slides for minutes of meetings, agendas, sales meetings, business conferences and so on. Here's a list of premium PowerPoint templates for Meetings.
1. All Hands Meeting PowerPoint Template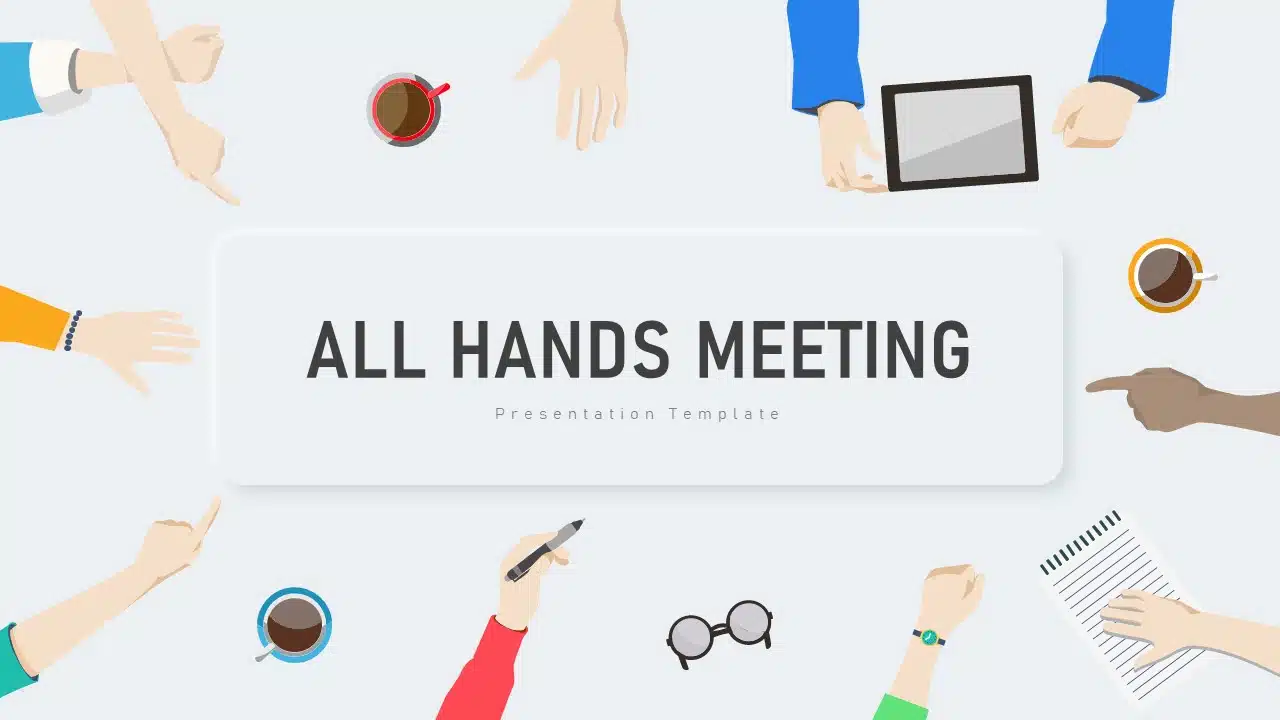 The all-hands meeting PowerPoint template will support your meeting with premade slides. It contains 21 meeting presentation slides, including the CEO, CPO, and CMO messages. This is a perfect slide for a sales meeting with a data-driven chart and team introduction templates.
This PowerPoint deck contains various slides that are organized logically and easy to follow. It also has illustrative designs and vector art for your meeting presentation.
2. Meeting Agenda PowerPoint Template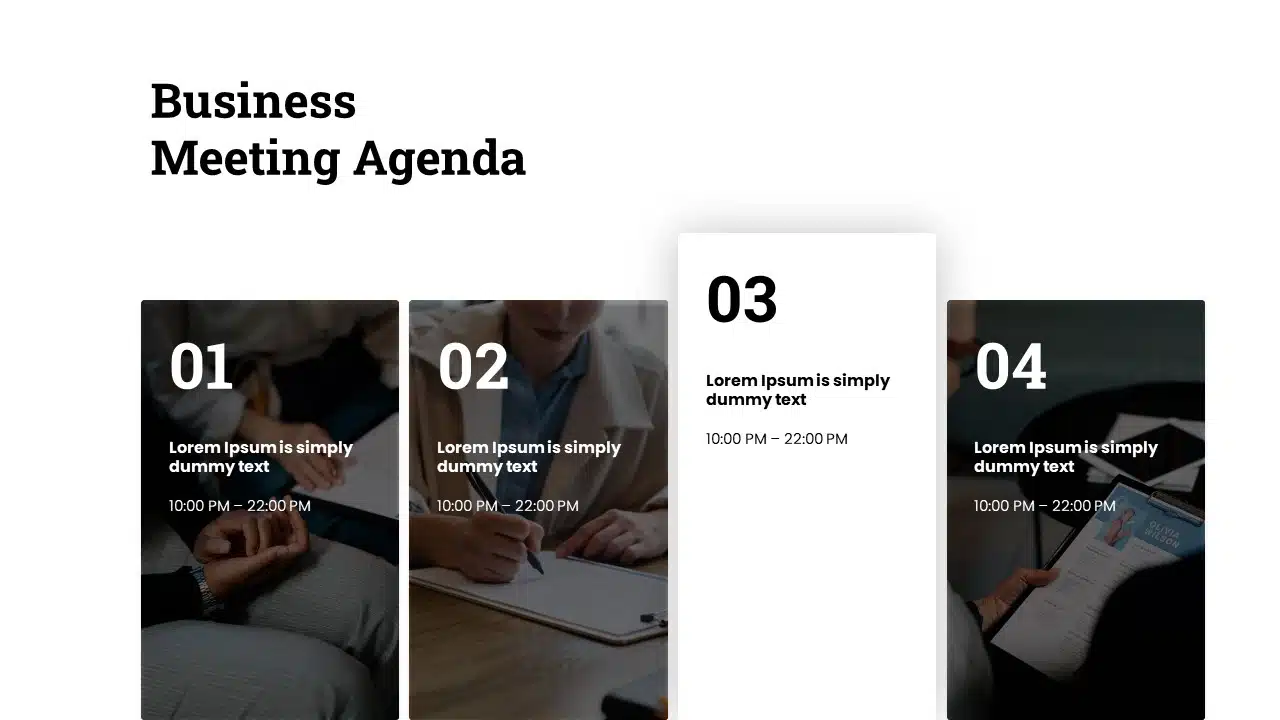 Are you searching for a multipurpose agenda template for your meeting purposes? Then, use our Meeting agenda PowerPoint template and enjoy all benefits of your business meeting. It is created with attractive layouts for daily agenda, monthly agenda, yearly business agenda, monthly meeting agenda, today's agenda, and all-time stipulated agenda markings for your business meeting.
In addition, you can show upcoming meeting sessions using templates separately or combinedly. Besides, this meeting PowerPoint contains a timeline template, comparison diagram, and other presentation shapes and models with plenty of text placeholders.
3. Sales Meeting PowerPoint Template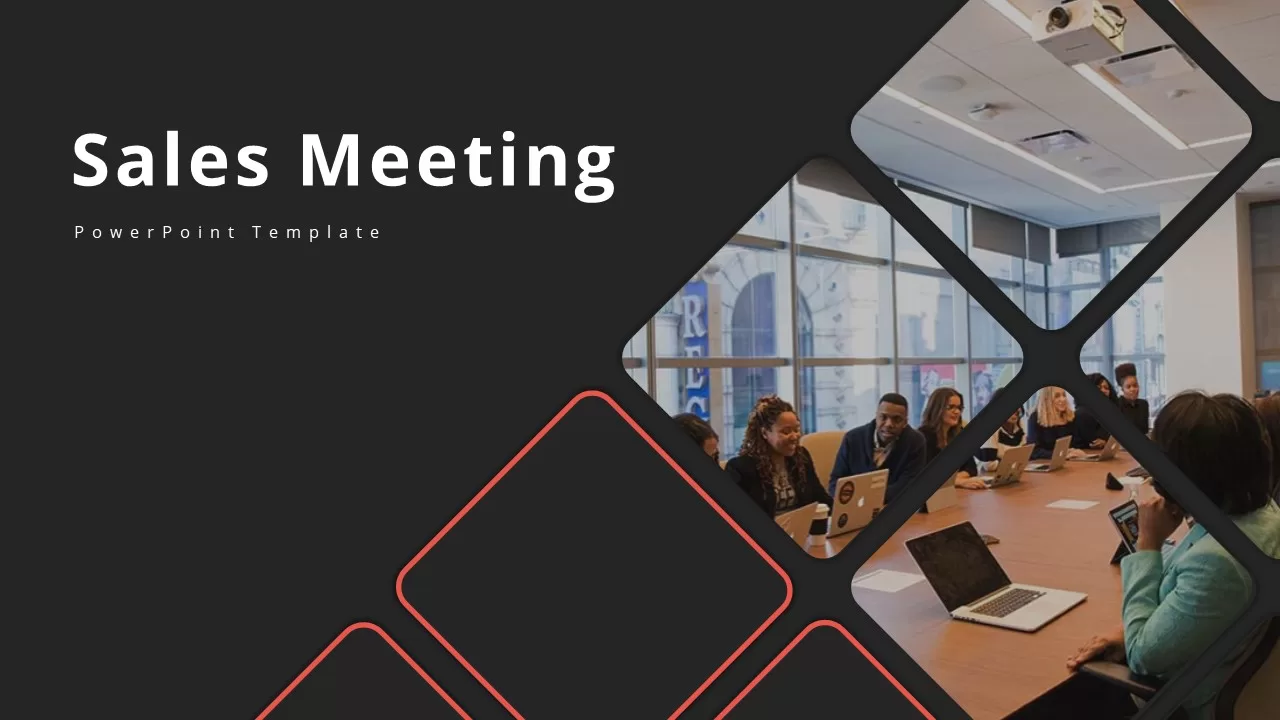 You have different purposes in a meeting. So, you need different slides according to your meeting agenda. This sales meeting PowerPoint template is an exclusive slide for sales meetings. It is comprised of many slides of sales reviews and future strategies. This is a colorful slide featuring sales outcomes, sales statistics, business profiles, revenue, sales forecast, etc. Sales data presentation would be boring to the audience unless you have creative and engaging graphical elements.
So, our designers made this template with stunning statistical diagrams and data charts for your sales meeting. If you want to make a sales meeting presentation memorable, come and pick our sales meeting PowerPoint template.
4. Meeting Minutes PowerPoint Template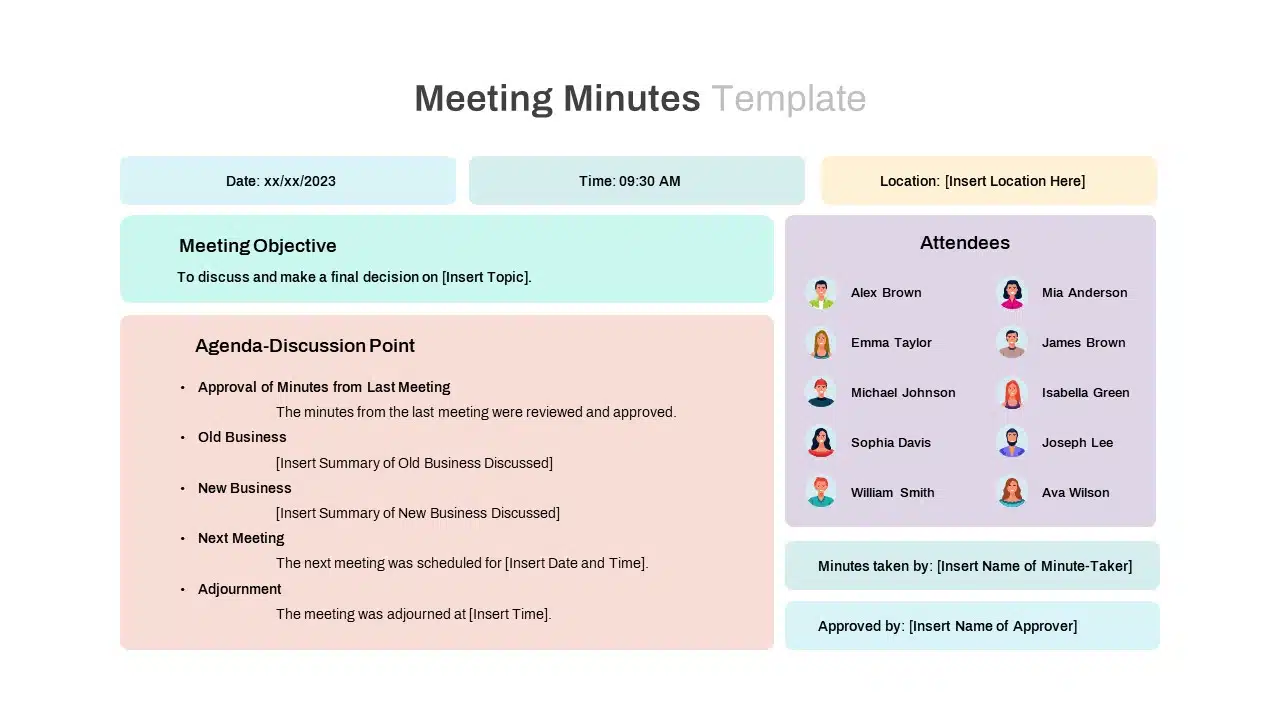 PowerPoint meeting slides need many designs and structures since meetings must show different documents in the form of minutes, agendas, and resolutions. So, our designers have created a Meeting minutes PowerPoint for presenting minutes in a ppt document. The table template design will show meeting objectives, agenda, attendees, names, and minutes taken by so and so and approved by so and so. On the top of the tabular bar, the presenters can add the meeting date, time, and location.
This One pager minutes slide has a black-and-white background that you can opt for accordingly. This perfect meeting minutes presentation allows you to present meeting outcomes with a single pager!
5. Meeting Minutes PowerPoint Template
The meeting minutes PowerPoint Template in black and white layout could be used as an official document of your business meetings. This is a table PowerPoint template that is organized in a structured fashion. It allows the users to display the date, time, location, agenda, discussion point, and action to be taken. The action to be taken is a separate column in a table format comprising three subheadings: action item, assigned to, and deadline. Each row and column in the PowerPoint has been perfectly drawn for the meeting minutes presentation. Use this to create your next PowerPoint meeting minutes.
6. Black and White Meeting Agenda Template
The black-and-white meeting agenda template is a slideshow with a nice layout. This template has a total of 20 slides. So, incorporate this business pitch deck for meeting slideshows in black and white design into your PowerPoint collections. Black and white slides will provide vintage effects, making it a trendsetter among other colorful PowerPoint designs.
It allows you to share the agenda with your stakeholders or team members before the meeting, ensuring everyone is on the same page and understands what to expect. All the slides have enough places to insert large or small text.
7. Meeting Minutes PowerPoint Template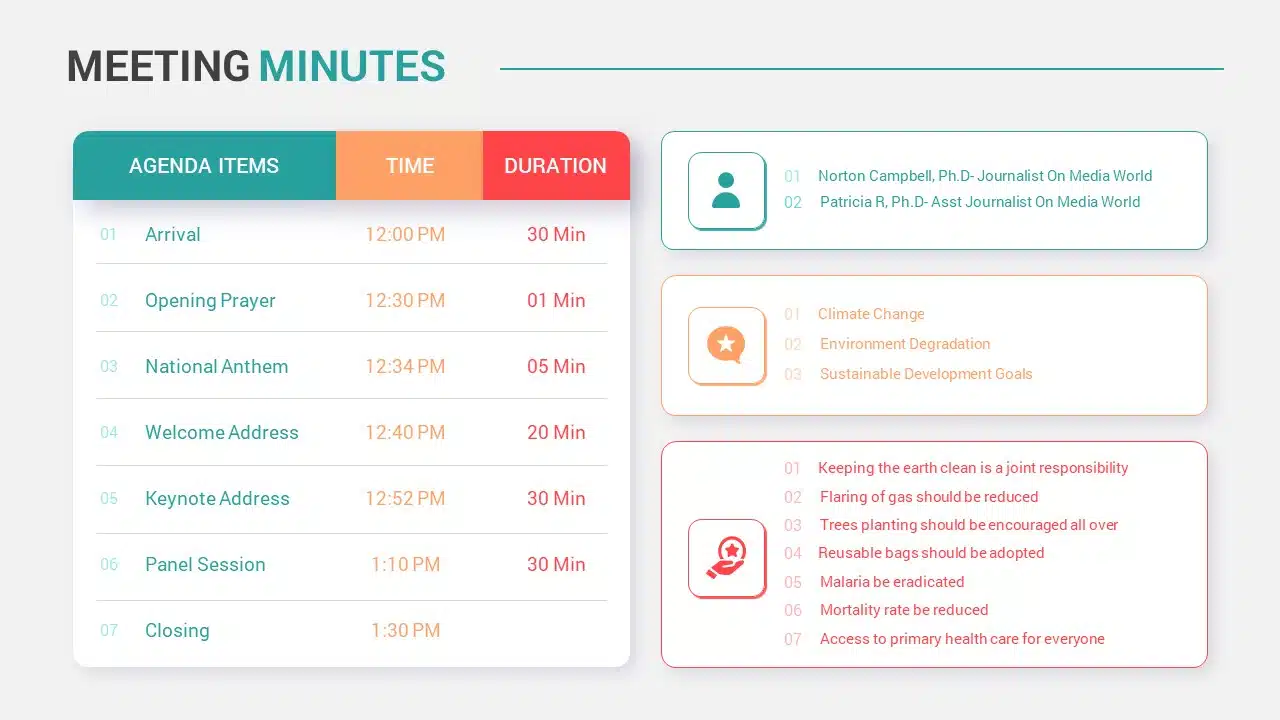 When someone creates the same topic from different angles, we can call him a genius. So, our expert designers want a variety in look when they got a topic. Here, the meeting minutes PowerPoint comes in a different attire when comparing the above-listed slides. As meeting minutes are official summaries of the discussion, it is useful for future references and the signing of contracts.
This PowerPoint meeting slide has four columns (big columns with many rows) that easily put your texts in a simple yet catchy design. The presenters can jot down all points using the table One pager PowerPoint format.
8. Sales Meeting PowerPoint Template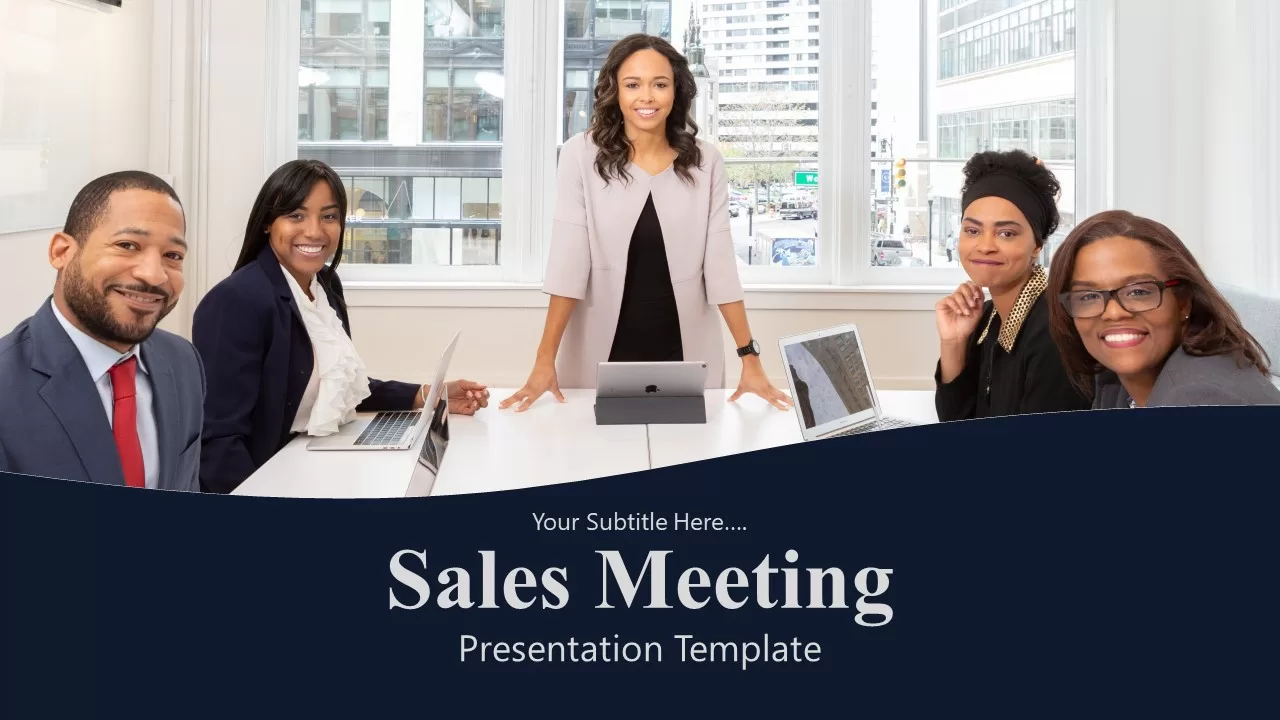 The sales Meeting PowerPoint template is a complete deck for showing your company's sales data and analytics. It would turn into a business profile presentation when compiling all slides. However, it is best for sales meetings to discuss sales expectations, sales analysis, business plans, case studies and smart goals. This slide deck contains 30 slides featuring shapes such as circles, pyramids, roadmaps, and timeline infographics.
As a sale professional, you can use the sale meeting ppt to show where you stand in the marketplace. The PowerPoint includes a tremendous set of slides of various backgrounds and layouts.
9. Business Conference PowerPoint Template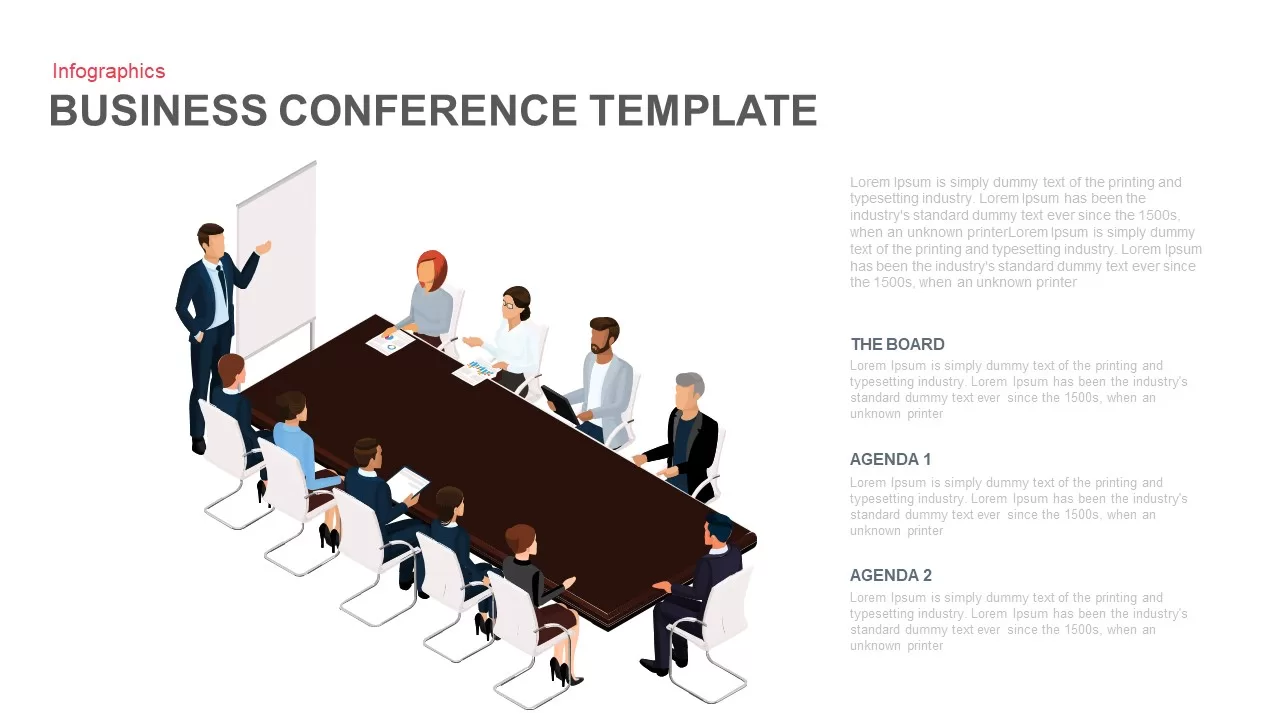 The business conference PowerPoint template is an illustrative design featuring a business meeting ppt design. This slide is suitable as a title slide, introduction slide, and a regular display image for online conferences. It provides a nice illustration of a board meeting or employee meeting with a presenter at the forefront. Conferment presentations allow you to edit and easy to make your own.
The text placeholders are created as a chat box of discussion that may allow you to display texts as opinions of the members. The users can modify the editable figures according to the text holders' preferred size, color, and position.
10. Meeting Agenda PowerPoint Template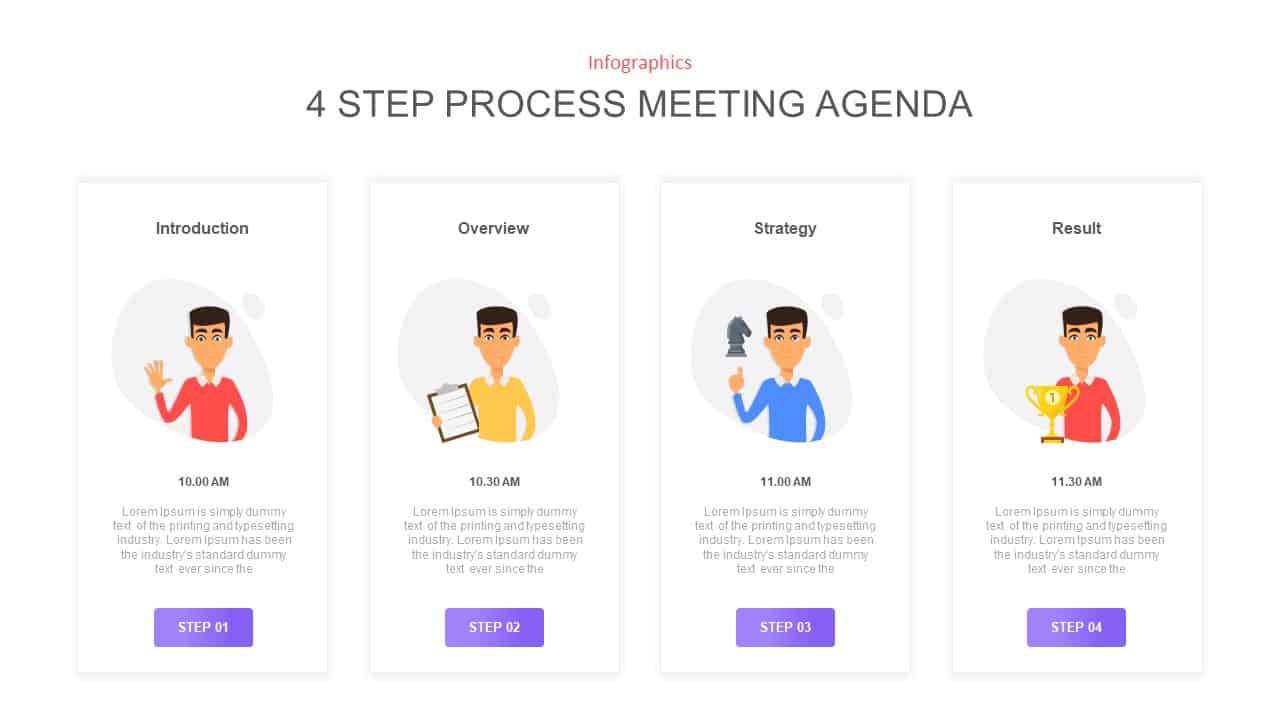 Here's a PowerPoint meeting agenda template that's easy to customize. It's got 10 unique slides to use for your presentation. This template allows you to present four sessions of your meeting with human illustrations. With the human picturizations, the template is decorated with symbolic infographic clipart.
Whether you conduct a business meeting or an organizational meeting, the meeting slide enables you to display the core agenda of the meeting with individual descriptions. It has a master design and individual highlights. It helps comprehensively know more about the upcoming sessions. Users can download meeting agenda templates for a wide range of presentations, including marketing, business strategies, plans, company vision and mission, business process, and the like.
11. 4 Puzzle Meeting Agenda PowerPoint Template and Keynote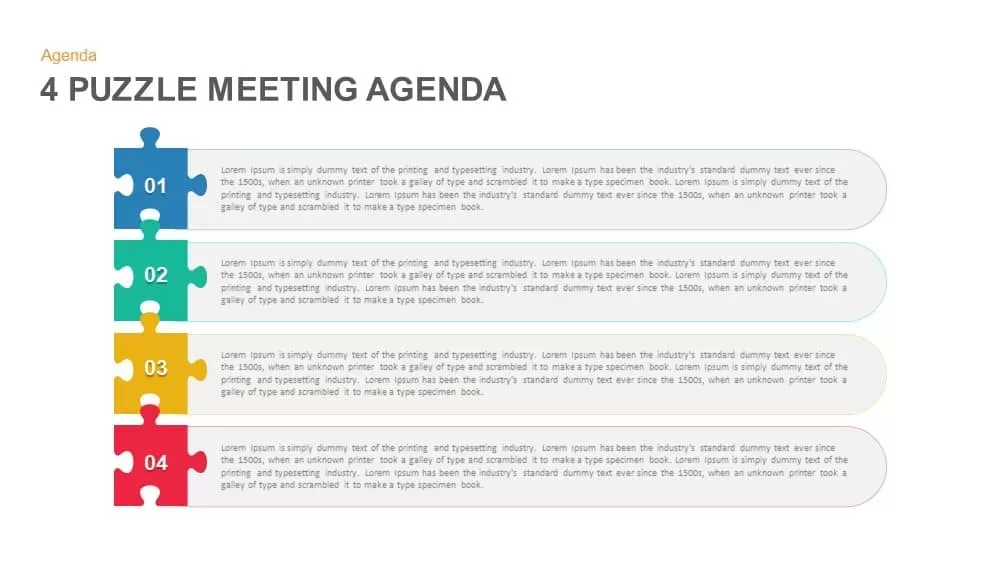 You can go straight with your agenda using the generic PowerPoint design. The Four Puzzle Agenda PowerPoint template is a common presentation tool that consumes any topic with four elements. The long text areas are the key highlight of this diagram. This sequence will give a straight look to the descriptions. It can be used as a bullet slide for agenda presentation. This elegant and simple PowerPoint allow customization on jigsaw puzzle image and overall appearance.
12. 4 Step Process Meeting Agenda PowerPoint Template and Keynote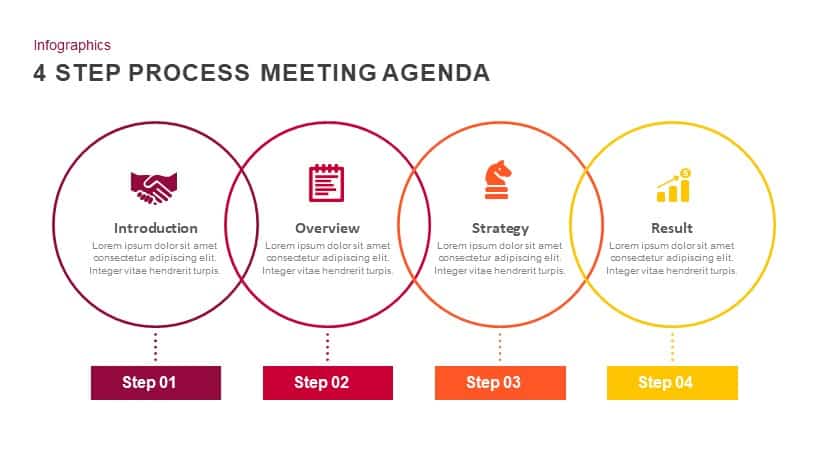 Choose a neat and clean template to give a compelling presentation. This common presentation slide in PowerPoint will help you engage with your viewers due to the generic style options to lay out your message in any way you want. The four-stage meeting agenda template helps guide and control the main agenda under discussion. The four circle shapes will show key factors that viewers need to focus on.
Last Word
Editable meeting templates for PowerPoint presentations help you organize both online and offline discussions and present content to a global audience. These ready-made meeting PowerPoint slides help save you time and effort. Remember, premium PowerPoint slides for meeting presentations are better made and usually have more visually appealing formatting options than free business meeting slides for PPT.