Best Add-ins for PowerPoint That You Can Use to Create Timelines
PowerPoint Add-ins have the ability to enhance your work significantly by boosting productivity and offering a range of diverse design and interactive animation features. Whether referred to as a PowerPoint plug-in, PowerPoint software add-in, PowerPoint extension, or PowerPoint add-on, these valuable functionalities provide various benefits.
As the most used diagram for presentations, you need a PPT timeline add in. In this list, you can find many PowerPoint plugins that help you create engaging slides, including apps for improving presentation designs, a tool for building online courses and many more. But, the list of existing ppt add-ins is far longer. So, we have compiled the best PowerPoint add-ins extracted from online. Let's check each one!
1. Lucid chart
Lucidchart offers a range of powerful flowcharts and diagrams with customizable features. With Lucidchart, users can effortlessly create visually appealing slideshows with images, texts, diagrams, and multimedia elements. Add flowcharts, dynamic diagrams, and wireframes to your PowerPoint.
Lucidchart's versatility extends further by enabling integration with various applications like Zapier, enhancing workflow efficiency. With over 15 million users worldwide, Lucidchart has become a go-to solution for collaboration, diagramming, and data visualization needs.
2. Power-User

This is a free PowerPoint add-in, but premium plans are also available. Power-User is a feature-rich add-in that offers a wide range of tools to enhance presentations significantly. It allows users to easily incorporate professionally designed templates, icons, pictures, logos, and maps into PowerPoint. Additionally, Power-User enables the creation of advanced charts, including Waterfall, Tornado, and Gantt charts. The timeline add on for PowerPoint also facilitates the seamless integration of Excel charts and tables into PowerPoint, streamlining the data visualization process.
Moreover, the PowerPoint add-on automates formatting tasks, such as generating a table of contents, ensuring consistency in titles, colors, fonts, and bullets throughout the presentation, and even simplifying the overall layout.
3. Office Timeline
Office Timeline is an ideal PowerPoint timeline plugin for simplifying the process of creating charts in presentations, which can often be time-consuming. With this add-in, course creators can effortlessly integrate visually engaging graphics into their materials. Users can generate captivating PowerPoint timeline add ins, and Gantt charts directly on their desktop using Office Timeline. In addition, the add-in ppt offers extensive customization options, enabling users to personalize every aspect of their charts and make them stand out with uniqueness and visual appeal.
4. SlideHub
SlideHub is an innovative PowerPoint add-in that specializes in business PowerPoint timeline designs. With its extensive collection of ready-made assets, SlideHub simplifies the process of creating visually appealing presentations. The tool automatically adjusts the design elements to match your company's colors, allowing you to save valuable time. By selecting the desired content, and adding text and numbers, you can swiftly create a professional presentation without requiring extensive design skills.
5. PowerPoint Labs
PowerPoint Labs simplifies creating captivating PowerPoint presentations, saving you valuable time. This free PowerPoint add-in enhances your slides by adding visually appealing animations to design elements. With this design tool, you can effortlessly incorporate attention-grabbing movements like shape animation, seamless slide transitions, zooming capabilities, and automatic text highlighting. Elevate your presentation to new heights with PowerPoint Labs and effortlessly capture your audience's attention.
6. MLC PowerPoint Add-in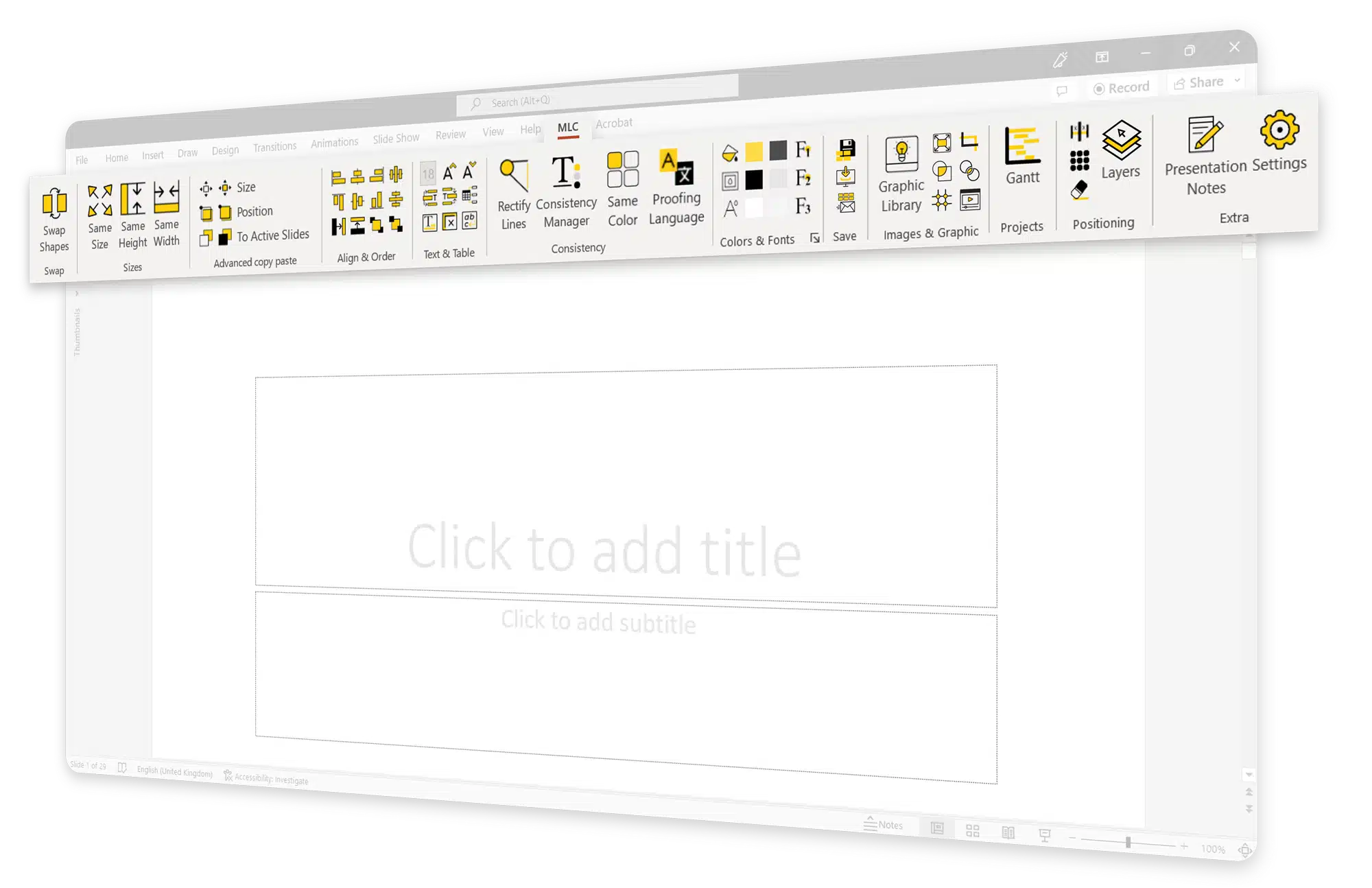 Checkout this PowerPoint add-in
The MLC PowerPoint Add-in offers a range of convenient features designed to enhance your productivity in PowerPoint. It provides tools that enable swift shape position swapping, uniform resizing of all items, line alignment correction, effortless replication of selected objects onto active slides, consistent color application to all shapes, and additional functionalities. Moreover, the MLC PowerPoint Add-in allows you to establish your Branding Colors within PowerPoint, ensuring easy access to your corporate assets. This premium PowerPoint add-in has a huge collection of templates for corporate presentations.
7. Pexels
Checkout this PowerPoint add-on
Pexels, a popular PowerPoint add-in, provides a wide range of free stock photos, royalty-free videos, and images. With its extensive library containing thousands of media files, this add-in offers a convenient shortcut to finding the perfect creative commons photo for your presentation. Utilize features such as the "search by color" option and various image filters to discover the most suitable images for your needs. Additionally, you can easily mark and save your favourite shots, ensuring quick access whenever required.
8. PowerPlugs Ultimate Combo
PowerPlugs Ultimate Combo presents thousands of multimedia presentation tools for PowerPoint. It comprises amazing charts and diagrams, animated and 3D slides: this PowerPoint add-in support both PowerPoint and Google Slides Themes.
9. Mentimeter
Mentimeter provides a range of powerful features to enhance your PowerPoint presentations, transforming them into engaging and interactive experiences.. Additionally, you can captivate your audience by utilizing interactive polls, word clouds, and quizzes, allowing them to participate and share their opinions in real time using their smartphones.
Moreover, Mentimeter enriches your presentations with visually appealing elements such as slides, images, gifs, and word clouds. Whether it's training sessions, meetings, workshops, or conferences, Mentimeter empowers you to create memorable and interactive experiences for your audience.
Final word
We have curated a collection of PowerPoint add-ins offering various benefits. These add-ins not only assist in creating timelines but also allow users to create multiple presentations effortlessly. Furthermore, these PowerPoint plugins enhance slides with engaging animations, making them ideal for educational purposes. Additionally, they aid in project management by facilitating the creation of task lists. An example of such productivity software is To-Do List Pro, which seamlessly integrates with PowerPoint and Excel to efficiently manage your tasks. This list of PowerPoint add-ins comprises tools that can enhance your workflow, as well as those that enable the creation of visually appealing charts and diagrams for both business and educational presentations.