How to Create a Business Case Presentation [Templates and Examples]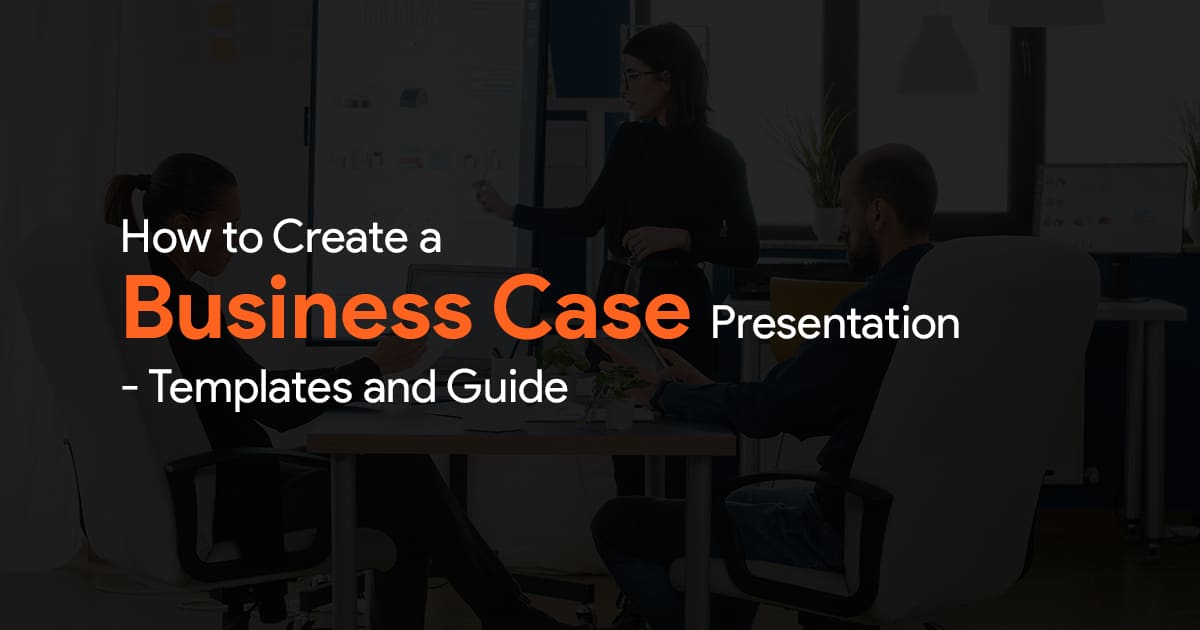 As an executive in an organization, there may come a time when you need to convince others to take certain actions – and you may have to do it formally, even if you have a very convincing verbal argument to present. In such a situation, what you need is a business case presentation, which can be made easily using a business case PowerPoint template, some of which we're going to mention here.
What is a Business Case?
A business case is a document containing all details of a specific initiative – the costs, benefits, and associated risks, and the 'Why'. Why should the initiative be undertaken; why invest in it? MBA students are often assigned to prepare business case studies and present them, as it can help them in their marketing skills, improve their forecasting, and get better analytical skills.
There is no hard and fast rule for creating business case studies; it could be a simple, informal document, to a formal business case template PPT presentation in front of all the stakeholders. Whatever the format, the purpose is the same: convincing the audience about the feasibility and worth of a particular project and why a certain approach is preferred over others.
A Business Case Vs. Project Proposal Or Project Plan
A business case is not the same as a project proposal; true, both have almost the same goals and will cover roughly the same topics. However, they are not the same thing. A project proposal discusses several project details, mentioning budgets, milestones, deliverables, timelines, etc. Project plans contain even more details, explaining how someone will implement a particular project. A business case is for getting people to invest in your initiative. If your business case is accepted, you can draft the project proposal and plan.
When Do You Need a Business Case Presentation?
Presenting a business case can be undertaken whenever you have to persuade management, customers, or other stakeholders to back your initiative and where an informal conversation simply will not do the job.
Here are some of the most common reasons that you may need to present a business case:
When you need funding for a new project, you need extra funding for an ongoing project, or you need the funding to continue
The project scope has to be changed
When you want to begin a new project
To change the policy in an organization
Asking for additional resources for a specific project or team
Requesting to be granted an exception to a rule.
The Business Case Template
While the template will differ according to the purpose behind your presentation, there are some logical elements that your business case template PowerPoint needs, and can be broadly divided into:
Financials – how much will be required
Defining the project – the background, benefits, limitations, objective, scope, assessment of risk, project approach, and more
Organization of the project – the governance and reporting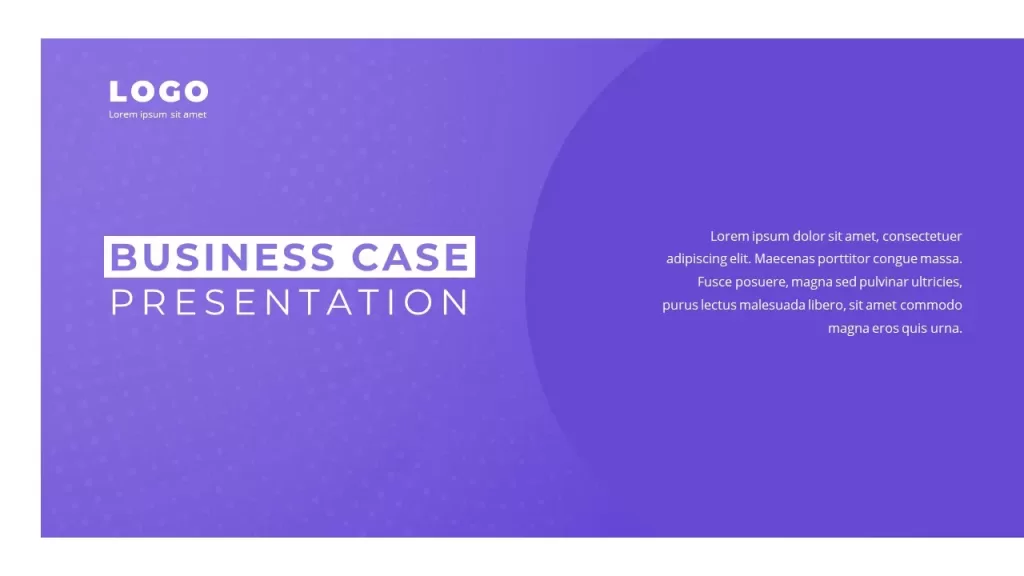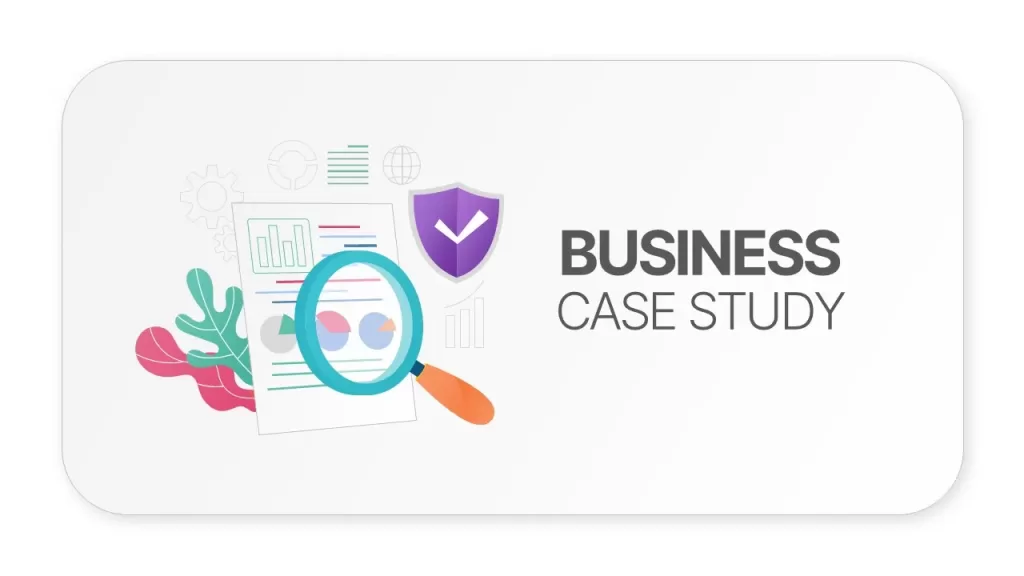 How Do you Create a Business Case Presentation?
You can use a PowerPoint business case template if you have not prepared such a document before. Doing this will simplify your job, guiding you through all the steps. To prepare a business case properly, first and foremost, you need to evaluate the following:
A business opportunity or problem
The risks and benefits associated with it
Time
Expenses, including an appraisal of investment
How will your operations be affected
Technical solutions required
Does your organization possess the capabilities to successfully deliver the project's desired outcomes?
Getting carried away with one's idea, especially that which one is enthusiastic about and firmly believes in, is easy. It makes sense, therefore, to take a step back, view it dispassionately, and consider it from all angles. This will help you prepare a watertight case. You can make a strong case when you can work out or collect and present as many details as possible – including numbers. The problem statement, situational context, financial study, opportunities, and description of the solution form the bulk of the document.
Let us now take a quick look at what you need to include in your business case slide to make it a convincing presentation:
1. Establishing the Context
Every person attending your presentation is not likely to know what the background is. Therefore, as the first step, explain what made you feel that such an initiative was required in the first place. This is why you should establish the context and explain the background as the very first slide of your business case presentation.
2. Problem Statement
This is the slide where you have to make your audience realize that there is a problem and stress the significance and magnitude of the problem. You must also explain the necessity of the solution you are about to present. Finally, you need to consider the ramifications the situation has – both direct and indirect, while you are talking about the problem, along with what they imply, internally and externally. If it is possible to do so, include statistics and analysis if you foresee negative consequences that the situation could cause.
3. Evaluating Opportunities
Your solution must be related to the problem you spelled out earlier. Along with it, you can mention the potential opportunities available that can help you resolve these issues. This slide or section is a transition area – from the problem, progressing toward the solution. You could also approach it in another way: assess the possible reasons which caused the problem you presented to the audience earlier; then you could introduce them to possible approaches and solutions, and finally, stress your chosen solution.
4. Financial Analysis
This is the most important thing occupying the minds of stakeholders for any business case or project. If you don't do a thorough job here, your presentation may not have the impact you desire. Therefore, it is a good idea to first talk about the financial situation as it is at present and compare it to the possible outcome you can achieve if you receive funding from them for your solution or initiative.
5. Describing the Solution
This is the moment you've been waiting for; you have convinced the audience that there is a pressing need for change. This is where you talk to the audience about your solution. How you lay it out depends on the action you want the audience to take. You have to outline what has to be done, when it should be done, and who has to do it.
If you're trying to get the project manager to add you to a particular team, tell them about your skills, how they are relevant and even necessary for the project, and how you can contribute to the team's success.
If you want your manager to give you time to resolve issues with a product, you need to talk about the skills you possess that will help you fix the problem, the time and resources it will require, and of course, the expenditure that it will incur. It's also good to detail the (not so favorable) alternative.
Suppose you want to impress HR that an employee working for you needs a raise. In that case, you have to be specific about the amount of salary increase you think the employee requires, and any other benefits that could be given, like training, flexi-hours, etc.; you have to stress why that particular employee needs to be retained – their skills, experience, and more.
If you want the management to start a new outlet or office at a different location, you have a lot of work to do. You need a detailed case document. You can look online for a suitable business case PowerPoint template to help you prepare for such a case. List things like the expected financial outlay, the forecasted returns, the resources you require, and the benefits your organization will enjoy from opening up the new outlet or office.
Tips for Presenting Effective Business Cases
Here are some tips that can help you present your business cases successfully.
Make sure that the visuals you use are not run-of-the-mill ones. They should be unique and instantly catch the viewer's attention. It is quite likely that your audience has already seen many business case presentations in their careers – don't make them feel like they are seeing a business case presentation for the second time.
Be clear about the financial requirement, the risks, and your recommendation. Be confident, and don't falter or get flustered.
It is important to be concise – don't ramble; also, ensure you use a consistent style throughout your presentation.
Make sure that when you're presenting your solution, you assess different scenarios.
You must practice presenting your case in front of an audience when preparing the documentation. Use a couple of trusted colleagues – or the mirror.
It's a good idea to narrate the entire thing as a story together with hard facts and numbers. After all, human beings, regardless of age and profession, love a good story.
The document containing your business case will have all the minutest details. Therefore, avoid overloading your PPT slides with data. It will become monotonous and confusing for your audience. Check out these business case PPT templates to get a better idea.
Connecting with your audience and engaging with them is crucial. Make eye contact, and try to include real-life scenarios they may have been part of or at least heard about. Narrate a few amusing anecdotes, if possible, to keep them interested.
Consider what questions your audience will likely have for you, and be sure to include them in your presentation.
Create a brief version and a lengthy version of your presentation. You may have to present the same case to different audiences, and the time available may vary – from a few minutes to about an hour. It's a good idea to be prepared for both.
To Wrap Up
There you go – all set to deliver a killer of a business case presentation! We have done our best to include everything possible to help. Do you have any more tips for creating the perfect presentation for your business case? Let us know!