SWOT Analysis In Healthcare – A Guide for Healthcare Professionals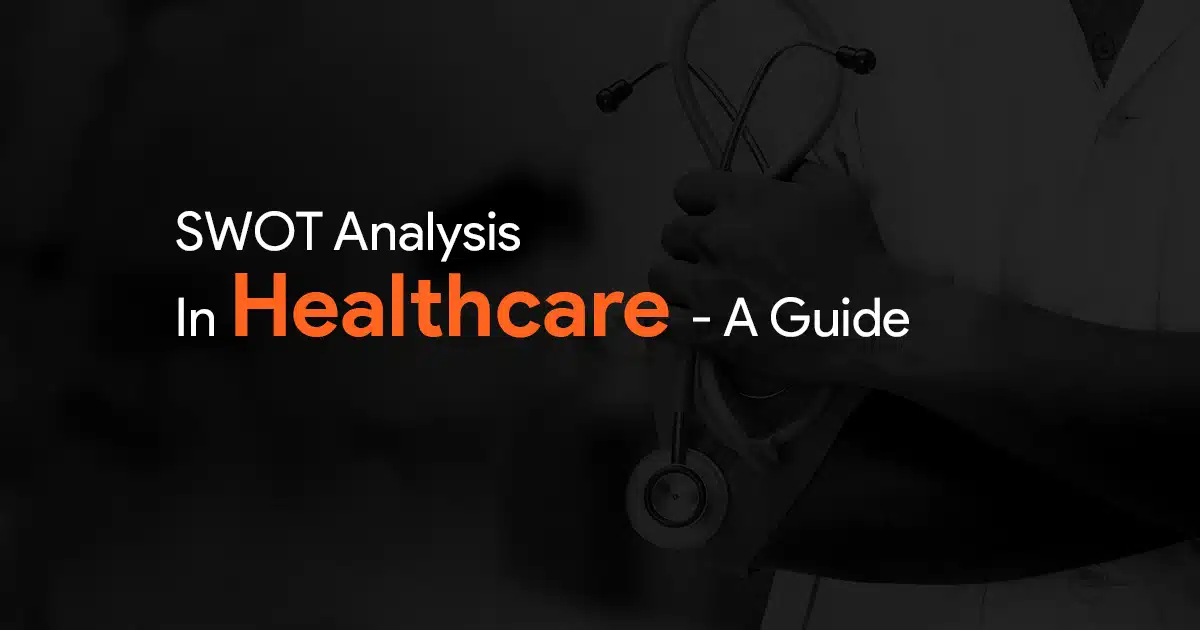 Conducting a SWOT Analysis in healthcare can be daunting, especially if it's your first time. This article will cover everything you need to know about SWOT analysis, how to conduct one, what you must include, and more importantly, what you must avoid. Keep reading to know all there is to know about healthcare SWOT analysis.
Before we move on with the article, check this page if you're interested in getting a SWOT PowerPoint template.
Table Of Contents
1. Introduction
2. What is SWOT analysis in healthcare?
3. What are the benefits of SWOT analysis in healthcare?
4. How to conduct a SWOT analysis for healthcare?
Formulate an objective
Spot your primary area of focus
Take a toll on your strengths and weaknesses
5. Strengths of the Healthcare Industry
6. Weaknesses of the Healthcare Industry
7. Threats in Healthcare Industry
8. Opportunities in Healthcare Industry
9. Healthcare SWOT analysis example
10. Conclusion
What is SWOT analysis in healthcare?
SWOT is the shortened version of Strength, weakness, opportunity, and threat. SWOT analysis is a practical and simple evaluation model used by medical practitioners.
Also, it assists healthcare providers in assessing the internal and external conditions of their business.
Moreover, SWOT analysis is generally used as a basis to make a business strategy. This analysis makes use of both quantitative as well as qualitative information.
Using a mix of both helps in assessing the strengths, weaknesses, opportunities, and threats of your hospital or healthcare organization.
What makes a SWOT analysis important for medical practitioners is that it can assist you in finding out the opportunities that you can exploit.
Also, this analysis helps in figuring out the weaknesses you can overcome and pointing out the threats you might have ignored.
What are the benefits of SWOT analysis in healthcare?
What is the purpose of performing SWOT analysis in healthcare organizations?
So, we have put together some points of importance. Read them below.
✓Boost Your Strategy
First things first, the information that healthcare organizations get from SWOT analysis helps them in making better strategies.
By offering a top-notch review of your competitive stake and positioning, SWOT provides you the ability to minimize weaknesses, maximize strengths and seize the available opportunities.
✓ Enter The Niche Segments
Healthcare organizations can gain an extensive understanding of the competitive landscape. Then, they can use these insights to craft entry strategies in the market to enter the niche segments.
✓ Prepares For The Future Hindrances
The Healthcare sector is very unpredictable, and it keeps changing. You never know what will happen next. That's why you need to be well-prepared for future changes. Otherwise it will be very difficult for you to adapt to the changes.
How to conduct a SWOT analysis for healthcare?
So, are you convinced about the credibility of SWOT analysis? Now is the time to learn about how you can conduct a SWOT analysis for the healthcare sector and how to implement this method for your business:
1. Formulate an objective
The first and foremost step to successfully conducting a SWOT analysis is understanding your intentions.
By intentions, we mean whether you are looking to assess your entire business plan, are you willing to evaluate a current trajectory, or are you even considering entering a new market? These can be answered and analyzed with the help of SWOT analysis.
So, if you are clear about this objective, you can begin by gathering all the facts and data to help you assess.
2. Spot your primary area of focus
If you are a healthcare business, it is crucial first to analyze all the aspects of healthcare marketing so that you can make a sound strategic decision.
It would not just help you develop effective strategies but would also help you achieve the objective of your organization.
The primary area of focus for healthcare marketing is:
Public health agencies
Providers
Payers
Patients
If you conduct a SWOT analysis for a medical practice, it will help you understand and serve your patients in a better way.
3. Take a toll on your strengths and weaknesses
This SWOT analysis would give you a fair idea about what all areas of your healthcare organization excel and which areas need improvements. Your organization can not be optimal, as there's always room for improvement.
Hence, there are some questions that you might want to ask yourself during this step:
What is your competitor doing that you are lacking?
What are your patients most commonly complaining about?
What are the most common operational challenges in your organization?
What are the things through which your staff is suffering the most?
With the help of these questions, you will be able to analyze the issues in your organization. At the same time, you will be able to formulate some strategies to eliminate them.
Now, you know how SWOT analysis for hospitals is conducted. Let us further understand the healthcare industry's strengths, weaknesses, threats, and opportunities.
INTERNAL FACTORS: Strengths and Weaknesses
The strengths and weaknesses are the internal factors in SWOT analysis. Both of these factors are explained below in detail.
Strengths of the Healthcare Industry
The main strength of the healthcare industry is that one thing at which it excels and sets the organization apart from its competitors.
Well, suppose you think you could produce incomparable results using unique technology. In that case, this can foster you towards a positive direction and act as your organization's biggest strength.
Moreover, in the process, you could analyze your unique selling proposition and cultural capabilities as part of the strength in the SWOT analysis.
Some of the strengths of healthcare organizations can be:
Name and reputation of your organization.
Cultural connections
Favorable location
Experience and specializations
Unique values
Weaknesses of the Healthcare Industry
If you have any persistent weakness in your organization, it will prevent you from performing at your best.
If you are well aware of the weaknesses and problems of your hospital. Then, make sure to find out the effective ways and strategies to tackle them.
Moreover, if you need to catch up in implementing modern technology for your business, it's better to opt for one for the full functionalities of your business.
Here's a list of some possible weaknesses in the healthcare industry. They are:
Bad Reputation
Outdated technology
Geographical disadvantage
Staff or management issues
Failed services
EXTERNAL FACTORS: Threats and Opportunities
The strengths and weaknesses are the internal factors in SWOT analysis.
We have described both of them in detail below. Keep reading further to learn more about them.
Opportunities In The Healthcare Industry
Do you know what opportunities in a SWOT analysis mean? It is a favorable external factor that could help you with a competitive advantage.
Opportunities normally arise from outside of your organization. Hence it's always necessary to keep a keen eye on them.
The inability to focus on the potential opportunities can make a huge difference while competing in your healthcare market.
You must be wondering what the opportunities are in the healthcare industry. Right? Here they're!
Availability of the latest technology
Vulnerabilities of competitors
Absence of dominant position
New niche, horizontal and vertical markets.
Threats In The Healthcare Industry
Well, a threat to your organization can be anything that stands you apart from achieving success for your organization.
Moreover, a threat is a possible element that harms the reputation of your business and, at the same time, tarnishes your image in the industry.
Often, a company fails to analyze any possible threat to its organization and ultimately fails. But what can be done to mitigate these threats? A SWOT analysis is one of the best answers.
Here's a list of threats that you can experience in the healthcare industry.
New competitors
Loss of main support staff
Economic shifts
Change in referral sources or market demand
Hospital SWOT Analysis Example
The healthcare sector fulfills the needs of the patients. They, in turn, help them survive and sustain.
Here's a hospital SWOT analysis example:
Strengths
Established brand in the market
Strong funding
Partnership with public health
Strong presence in communities
Weaknesses
High nurses turnover rate
Staff participation limitations
Bureaucracy and the need for brand culture
Opportunities
Technology upgrade
Increase branding efforts
Consistent messages in programs
Threats
Decreased workforce
Patients experience challenges that come with expansion
Decisions are disconnected
Conclusion
Here comes the end of this article on Healthcare SWOT analysis examples. We believe that you have answers to all your questions.
Well, you cannot go through risk assessment and marketing research independently. It can only be done with the help of proofs which can be gathered with the help of SWOT analysis.
However, SWOT analysis is easy to understand, but you need to be very patient and creative while pursuing this method.
Now that you are fully aware of SWOT analysis, you need to make some powerful strategies to do great with your analysis.
Moreover, if you follow the method correctly, you will be able to keep your current performance on point and make implementations in your organization by staying ahead of your competitors.