How to Create SWOT Analysis for Non-profits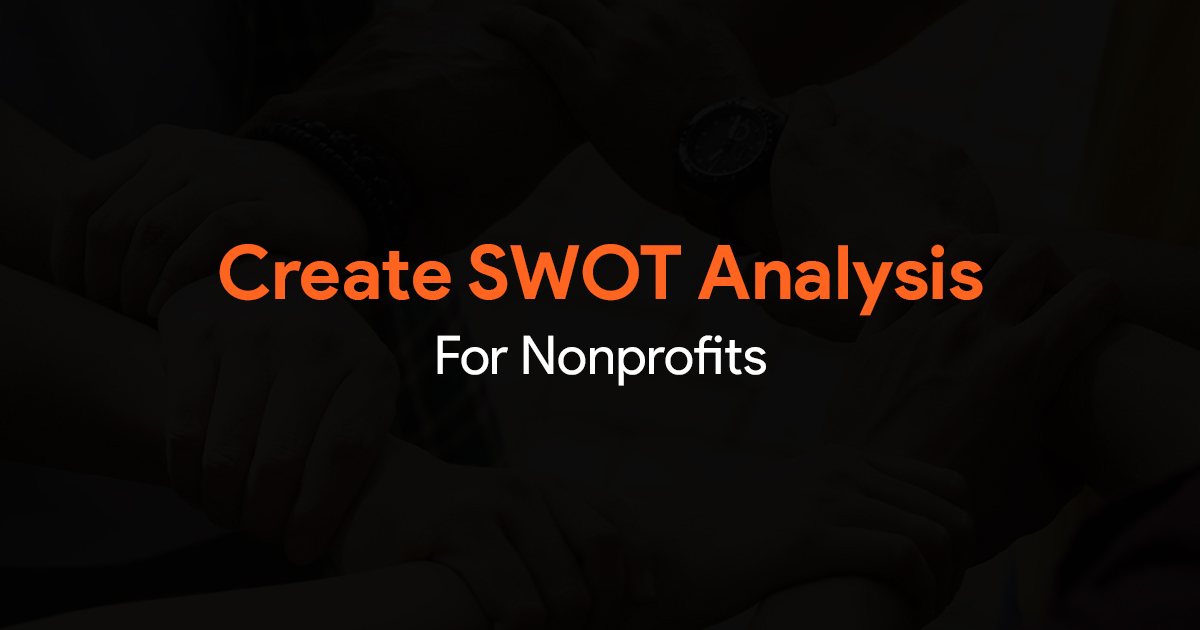 What is SWOT Analysis?
A SWOT analysis is a simple technique with which you can establish the Strengths, Weaknesses, Opportunities, and Threats of your organization. It provides a method to delve into your operations and determine where the organization stands in terms of efficiency. Today nearly every business carries out SWOT analyses to see how and where they can improve and achieve growth. In this article we shall explore and learn about SWOT analysis for nonprofit organizations.
Strengths: the internal advantages you have that can help you perform better, like trained and dedicated employees
Weaknesses: the internal deficits that can hamper your ability to perform well, like a shortage of resources
Opportunities: external situations that you can leverage to grow
Threats: external risks that could hinder your organization's activities; factors not in your control like regulations, economic, social, and political factors etc.
Before we move on, you should know that having a great template really helps bring your SWOT analysis together. Check this page if you need a SWOT PowerPoint template.
Why Does Your Non-profit Need a SWOT Analysis?
Though traditionally, it's businesses that conduct a SWOT analysis, non-profit SWOT analysis is now becoming very common, as it enables the directors to critically examine the performance of their organization and compare it with other non-profits. Here are some things a SWOT analysis can help establish:
Introspection helps you see what worked and what did not, and the reasons for those
Strategic plans for the year
Setting goals and defining the tools and techniques required to achieve them
Having an integrated strategy and making sure your team works alongside it
Decide when you want to conduct the analysis; if your entire planning is done quarterly or half-yearly, this can also be done at the same time. You can, however, do a SWOT analysis before taking major decisions or after implementing new campaigns.
Applications of SWOT Analysis for Non-profits
Non-profits use SWOT analysis to market, plan, develop programs, analyze requirements, and so on. For optimal benefits, non-profit organizations need to concentrate on analysing particular functions. Here is how you can use SWOT analysis non-profit in your organization:
Marketing Strategy
A non-profit organization needs funds to function; this means catching the public eye, demonstrating your success stories, and attracting more donors. It's imperative you develop a plan that delivers maximum ROI. In the course of crafting a strategy, conducting a SWOT analysis can help you learn vital information regarding finances, staffing, possible donors, partners, and more. If you have a strong and reliable team, you can make that the focus of your marketing campaigns.
Improve Programs
Non-profit SWOT analysis can help you understand if your organization isn't implementing best practices or what funding and publicity issues are present. You can also check if your programs receive the desired acceptance socially or not.
Redesign your Website
A SWOT analysis prior to a website project can help you understand if your organization's visibility is poor or if your staff is not adequately tech-savvy. If you're unable to attract new visitors, you must conduct an SEO audit to see how you can improve web traffic before you do anything else.
Tips for Creating an Effective SWOT Analysis for Non-profits
Find the Root Cause
When you identify an issue, dig deeper to find the root cause, why it came about and its impact on your business. Discussions with team members can help you identify more of its aspects and take decisions; it's possible that your strengths neutralize some threats.
Take Feedback
Your team members are likely to have different perspectives and may have something valuable to contribute. You want the truth to come out in this exercise, and hence, taking feedback is essential.
Be Honest
It is imperative to establish what keeps your organization ticking and what hampers it, so don't try to hide the negative factors that become part of your SWOT analysis. Rather, concentrate on maximizing your strengths and opportunities outside, mitigating threats, and fixing the deficits.
Be Patient
Don't rush through the analysis but do a thorough job; though you may spend time and money on it now, it will reap rich dividends in the future.
Quantify
Guesswork will not cut it; wherever possible, quantify the factors that make it to your SWOT; like shortage of x number of administrative staff, for example. Or, say you spent $500 on social media ads, and expected 2000 visitors, but only 750 actually came. This makes it easy to resolve the issues.
Think Differently
What seems like a threat or weakness may actually be a strength or opportunity if you look at it from a different perspective. Look at the issue with fresh eyes and an open mind.
Conducting a SWOT Analysis for Non-profits
To perform a SWOT analysis, you must look internally at your strengths and weaknesses, and externally at the opportunities and threats.
Strengths in Nonprofit SWOT Analysis
This could be anything that your organization is good at. This can include:
Experienced staff
Dedicated volunteers
Clear objectives
A couple of regular and high-ticket donors
Subsidies from the government that take care of several expenses
Spacious office and adequate storage space that is owned or at a low rent
Reputed leaders with strong community connection
A great website with heavy traffic
Weaknesses in Nonprofit SWOT Analysis
Here you need to list anything that is a drawback or inadequate internally. This can include:
Paucity of funds
Shortage of skilled staff
Lacking facilities
No strong ties to the government or community
A pool of erratic donors
Improper intake process
Opportunities in Nonprofit SWOT Analysis
List all external factors which may be helpful to the organization. This can include:
Other non-profits want to team up with you
Government increases funding
Closing down of similar organizations in your area
Changing legislations that make it easier for you to operate
Threats in Nonprofit SWOT Analysis
These are external factors beyond your control, capable of hampering your operations. This can include:
Your donors becoming bankrupt or having business failure
The increasing cost of marketing campaigns
Unfavourable government policies
Unstable political situation
Potential war situation
Sudden change in the economic situation
Malicious actions by third parties to discredit you.
Example of Swot Analysis for a Non-profit organizations
Here is a non-profit SWOT analysis example:
Name of the organization: Street Children and Us
Example of Strengths in Nonprofit SWOT Analysis
A dedicated base of volunteers
Well-trained staff
Voluntary services by doctors and teachers in the area
A self-owned hall where the children are taught basic reading and writing, and hygiene for three hours every day
No other non-profit in the area providing a similar service
Successfully enrolled 3500 children in regular schools over the past 12 years
The founder is a street child who was helped by a kind family, who then made it his mission to pay it forward.
Examples of Weaknesses in Nonprofit SWOT Analysis
No regular donors
Volunteer burnout
Very few young (aged 20 to 50) volunteers
Inadequate record keeping.
Unable to attract new supporters
The solutions are to create outreach programs and appeal to younger individuals to volunteer at least for a couple of days a week, automating record keeping, reducing time-consuming events and press ahead with what works. Rope in young creative minds to roll out attractive marketing messages and create a buzz.
Examples of Opportunities in Nonprofit SWOT Analysis
Partner with local non-profits that don't directly compete with you but provide complementary services – like a non-profit that cares for homeless single mothers
Showcase your success stories, like the children you enrolled who graduated from high school and went on to get decent jobs and their own accommodations.
A survey reveals that there are a few retired teachers in the area looking to do some social service; rope them in to help.
Examples of Threats in Nonprofit SWOT Analysis
Inability to quantify and measure the impact of some of your programs; solution – establish what impact is best to actually measure, so that you can convey that to the public
High external costs; solution – only go ahead with events that do well. Also discuss with your finance team to find other possible solutions
Local residents are not happy about having street children walking into a hall in their neighbourhood; solution – conduct awareness sessions and try to build empathy.
---