How to use PowerPoint for Online Presentations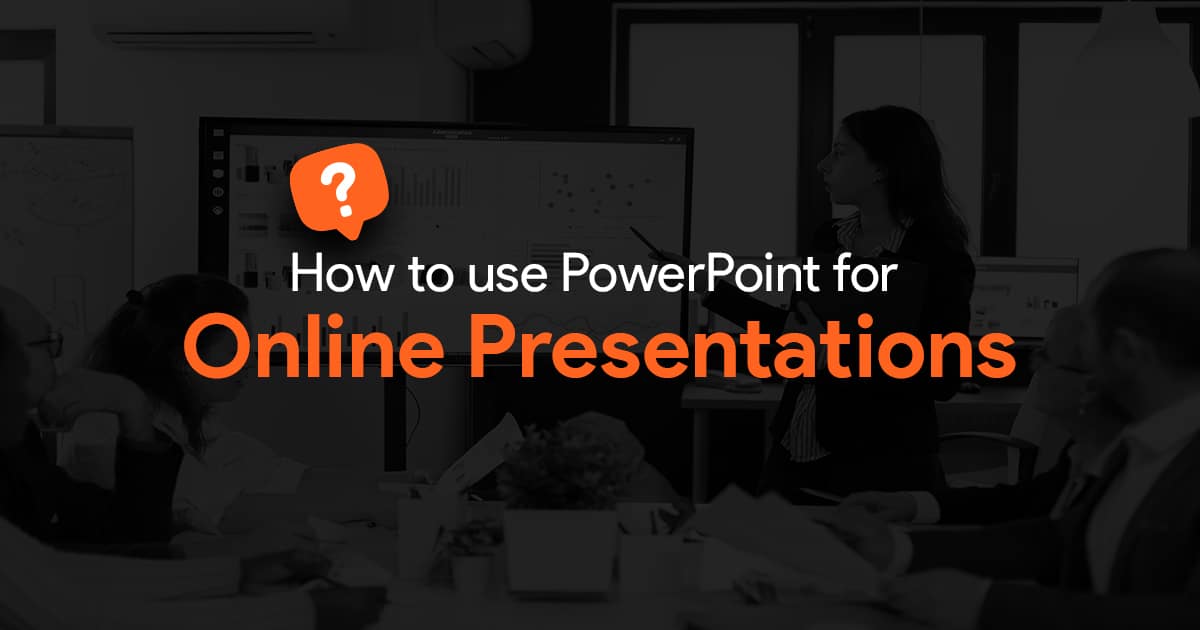 This article will look at how you can use PowerPoint for online presentations. If you've never taken an online presentation before, you'll learn just how easy it is. Or, if you're someone who has done it before, reading this article might teach you a thing or two about using PowerPoint for online presentations. So, stick around and skim through this article.
Online presentations became an increasingly common way to share information and ideas with others, especially during the COVID-19 pandemic. While it may seem intimidating initially, it's much easier than you think. In fact, some people, especially those with presentation anxiety, might even prefer to give a presentation online since they won't be around people.
Let's look at how to use PowerPoint for online presentations, including tips for setting up your presentation, choosing an online platform, and engaging with your audience. By following the guidelines and steps in this article, you'll be well on your way to delivering a successful online presentation using PowerPoint.
There are a few key steps you can follow to use PowerPoint for online presentations:
PowerPoint Web and Teams
Once your presentation is ready, you can easily give an online presentation on Teams. If you're using the web version of PowerPoint, go to Slide Show and click on Present in Teams. This works only if you're currently in a meeting.
If you're not using the web version of PowerPoint, you can also share your presentation right inside Teams. During a meeting, click on Share. In the drop-down list, you'll see PowerPoint Live. Your recent PowerPoint files will show up there. Click on your presentation, and it'll be broadcasted to your audience.
PowerPoint live gives you enough features to give an online presentation, including the laser pointer, pen, notes, and more. This is one of the easiest ways to use PowerPoint for an online presentation.
PowerPoint presentations on Zoom, Skype, and other apps
Presenting on Zoom is straightforward. All you need to do is click on Share Screen and choose PowerPoint from the options. Then start the slideshow and continue as you normally would.
We also have an article on how to record your presentations on Zoom. You can check it out here.
Some tips on delivering a kickass online presentation.
Set up your PowerPoint presentation and practice delivering it as you would in person.
Use the annotation tools in PowerPoint to highlight important points or draw attention to specific elements on the slide.
Test your internet connection and audio/video setup before beginning the presentation to ensure that everything is working smoothly.
Benefits of using PowerPoint for Online Presentations
PowerPoint is the most powerful tool for presentations. While there are many alternatives you can use, PowerPoint is the gold standard for presentations. It allows you to create visually engaging, professional slides. It also comes packed with a lot of features, which make it the perfect tool for online presentations. Out of all the presentation tools out there, you will find that PowerPoint is the best tool for giving online presentations.
PowerPoint also allows for easy sharing and collaboration. This makes it a great choice for online virtual presentations. You can also record your slideshow and share it with others so that they can watch later. This is especially useful because it allows you to share your presentation with those who missed it. This feature is extremely useful for remote teams, especially if you have team members in different timezones.
It also comes with many additional features like presenter's view, laser pointer, annotation tools and more, that will definitely make your online presentation easier.
In conclusion, using PowerPoint for online presentations can be a convenient and effective way to share information with a wide audience. By setting up your presentation, choosing the right online platform, and using the tools available to you, you can effectively engage with your audience and deliver a successful online presentation.
With a little preparation and practice, you can confidently give online presentations using PowerPoint and reach a wider audience than ever before.