The Best PowerPoint Plugins and Add-Ins to Enhance Your Workflow in 2023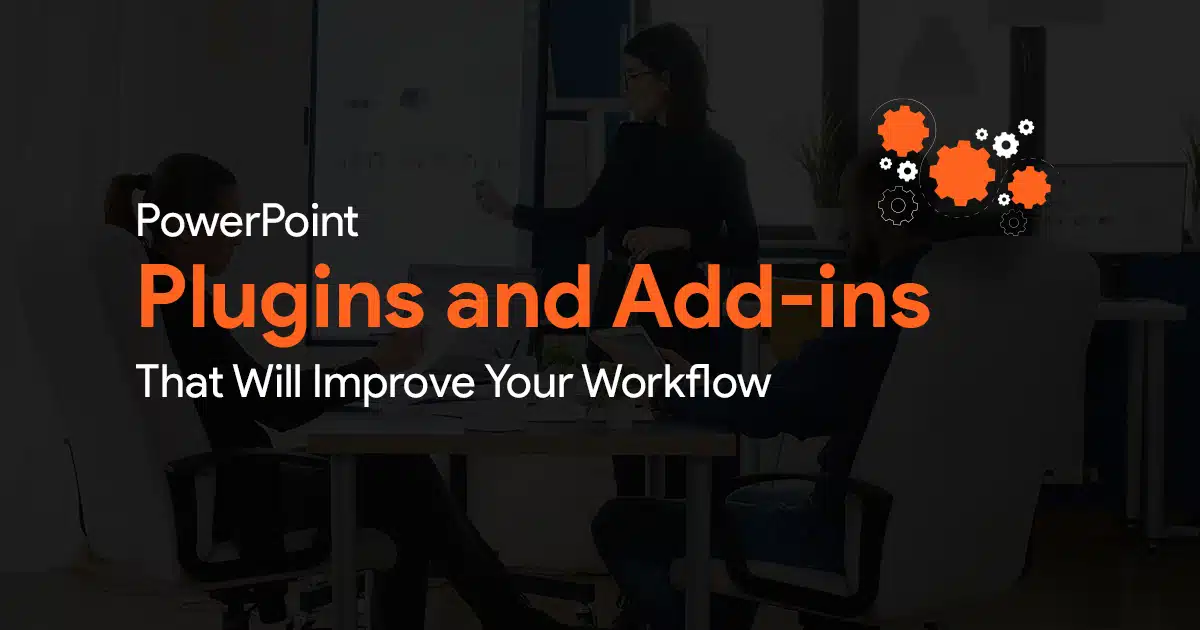 Here's a compilation of some of the best PowerPoint add ins and plugins that can enhance your presentations and workflow in 2023. We've included free and paid plugins and reviewed some lesser-known PowerPoint plugins so that you don't have to waste time testing them yourself.
Before we move on with the list, here's a quick section on everything related to using plugins on PowerPoint.
Where Do I Find Plugins and Add-ins for PowerPoint?
You can search for Add-ins in PowerPoint by clicking on Insert and then on My Add-ins. This opens a pop-up box where you can check out the add-ins you've already added. Click on STORE to access the add-ins store and search for what you're looking for.
Emoji Keyboard for PowerPoint
This add-in makes it easier for you to use emojis in your presentations. It's really easy to use this plugin to add emojis. There are over 1300 emojis to choose from. You can add emojis either as text or as images in different sizes. This plugin is a must-have if you frequently use emojis in your presentations. This plugin was created by Patrick Buergin, who you can find on Twitter.
This plugin lets you choose from a massive collection of high-quality icons and add them to your presentation with just a click. To try out this template, you do not even need to sign up. The icons are all of good quality. However, sadly, only 100 free icons are available without subscribing to their pro plan. I think that's too little. There should have been more free icons available. But other than that, this is a solid plugin.
The plugin can be used without signing up and is very easy to use. It's 100% worth the money if you decide to purchase the pro plan.
This is a handy PowerPoint add-in that you can use to quickly add presentation templates, photos, and GIFs in a few clicks. With a simple sign-up procedure (they don't even ask you to confirm your email ID), you'll be able to use the plugin right away. There are many free icons, images, GIFs from Giphy, shapes, and templates that you can use right away. Some of these are only available once you get a subscription. But overall, this is a solid plugin.
Solid plugin, with no hassle sign up. Lots of icons, graphics, and templates to choose from.
This add-in lets you turn your presentations into an interactive and dynamic learning platform. It's great for adding multiple choice questions, polls, fill in the blanks, questionnaires and so much more. This is great for teachers who are looking to make their presentations more interactive and engaging. After a quick sign-up, you can create events on their website, which will automatically load into your slides when you select them. Overall, it's very easy to use, but the first time I used it I was a little confused. So not the most user friendly add-in I should say. But once I figured stuff out, things became so much easier.
Great add-in for classroom interactive presentations.
Mentimeter – Interactive Presentations
This is another add-in that helps you create interactive slides. I remember a similar add-in being used in a meeting I attended a few years ago. You can create polls and add other interactive elements. This plugin offers 15 different ways to visualize your audience's input, including options like open-ended questions, word clouds, Q&A, spider charts, and more.
Pickit | Make impactful presentations in minutes
Pickit offers easy access to handpicked photos, icons, and clipart from its public image library to add in your presentations. This add-in provides legal and compliant images, ensuring worry-free usage.
Pickit also enables easy access to brand assets, maintaining consistency with your brand identity. They claim that you can create slides up to 5 times faster than traditional methods, boosting productivity. The add-in works seamlessly with PowerPoint Designer, suggesting layouts and providing presentation tips.
Pickit is an excellent choice for businesses and individuals looking to streamline their presentation creation process and make a lasting impact on their audience.
Keep in mind that continued access to the add-in requires an additional purchase after the trial period.
Pexels – Free Stock Photos
Pexels PowerPoint add-in is an excellent solution for those looking to add high-quality stock photos to enhance their presentations. The add-in provides a vast collection of professional stock photos that can be accessed easily. With the ability to search for images, view popular images, and save images as favorites, it's an easy-to-use and valuable resource for anyone looking to create visually stunning presentations. The best part? It's entirely free. Overall, Pexels PowerPoint add-in is an excellent option for businesses or individuals looking to save money while still having access to high-quality stock photos for their presentations!
harmon.ie for Office
The harmon.ie PowerPoint add in is an excellent tool for businesses and individuals looking to streamline their document management process. The ability to share and save documents to Microsoft 365 apps like SharePoint Online, Microsoft Teams, and OneDrive directly from PowerPoint eliminates the need for constantly switching between different apps. The add-in lets you specify metadata, required properties, and retention labels, ensuring accurate document classification which makes it easier to find them later. It also helps in reducing email storage by allowing you to share document links instead of email attachments.
With the harmon.ie add-in, you can work more efficiently and increase productivity significantly. It's also perfect for remote work, as it enables easy access to all your important documents and emails from one place. Overall, harmon.ie is an excellent choice if you're looking to improve your document management and compliance while also saving time and boosting productivity.
SlideHub
SlideHub is an excellent PowerPoint add-in for business professionals and consultants who want to create better presentations quickly. The add-in provides access to over 1200+ editable slide templates that you can use to create presentations with. Additionally, with the ability to gain access to your company library (requires additional purchase), you can easily reuse your company's assets and ensure consistency across your presentations. The only caveat is that the add-in requires an existing account, which can be created via their website www.slidehub.io. However, once you have a valid account, additional purchases of services can be conducted via the add-in. Overall, SlideHub is an excellent choice for business professionals looking to improve their presentations' quality and save time.
PPT-Design Infographics Templates
PPT-Design is a PowerPoint add-in that provides presentation design support with the following features:
• Browse, search, and insert ready-made templates, color palettes, and designs in just a few clicks
• Customize dynamic QR codes to replace links and URLs
• Insert website screenshots in different screen sizes
• Access a vast library of stock images from Pexels
• Find and insert GIFs powered by Giphy
Limited functionality is available without purchase. To unlock the full range of features, users can subscribe through a link available within the add-in.
Conclusion
In conclusion, the right add-ins can significantly enhance your PowerPoint presentations by providing access to high-quality images, templates, and designs and improving productivity and collaboration with others. By incorporating these add-ins into your PowerPoint workflow, you can create engaging and impactful presentations that will leave a lasting impression on your audience. Some plugins mentioned here, enhance your presentations, while some improve your workflow. We hope you've found this article helpful. Bookmark and come back to this article, since we'll update it with more useful plugins.
Oh and check out our PowerPoint templates to make better presentations!