Microsoft Create – Everything We Know So Far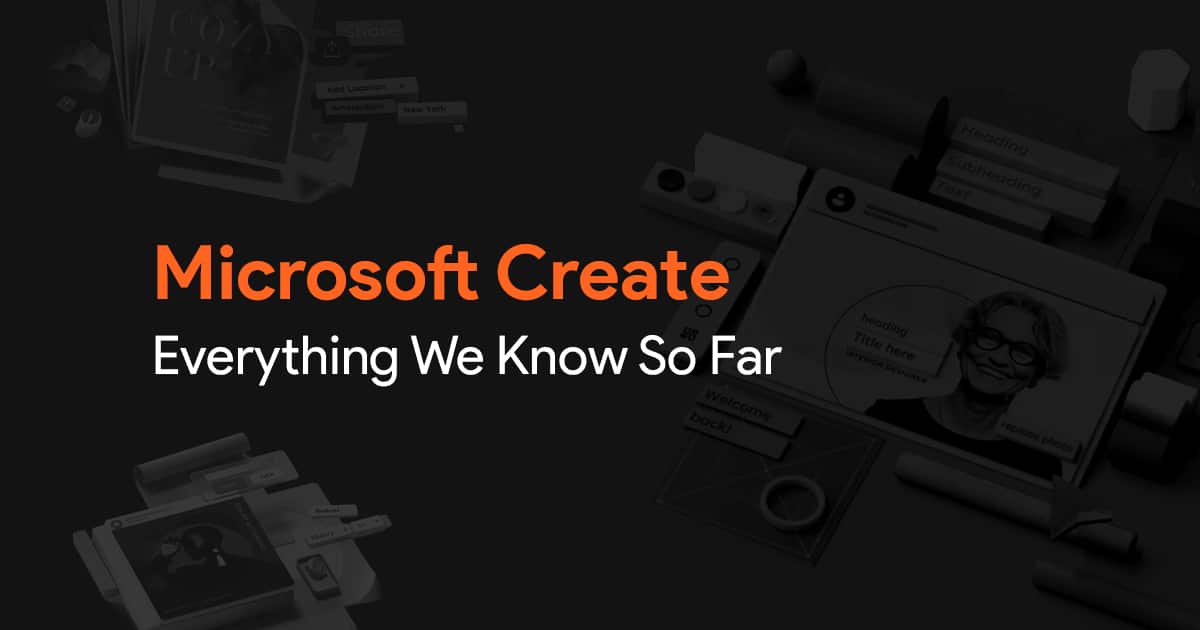 Microsoft Create is a new website that brings the familiar Office 365 productivity apps and creative apps like Designer and Clipchamp under one umbrella. The website has free templates for PowerPoint, Word, Excel, etc., that you can use right away. Create also has social media templates for Designer, which cannot be used as of now since, at the time of writing this post, Designer is yet to be released.
Apart from this, the website doesn't offer much, which may be why it hasn't created any buzz. None of the social media templates on Create can be used. It would have been better if they launched Create along with Designer because, as of now, this feels like unnecessary hype. Only the Office 365 templates are usable but limited in number. Not to mention that there are tons of other websites that provide thousands of free templates.
Once Designer gets a release date, we'll be able to check out all the features Create fully has to offer and update this article.
Microsoft Create – At a Glance:
Microsoft Create brings all Microsoft content creation tools under one umbrella.
It has many templates for PowerPoint, Excel, Word, etc. that you can use right away.
Microsoft Create also offers many video templates for Clipchamp, Microsoft's video editing tool.
It also contains many types of social media templates for TikTok, Instagram, etc. that should work with

Microsoft Designer

.
The focus is on content creators. This feels more creative compared to the usual Office 365 productivity apps we're used to.
What is Microsoft Create?
Microsoft Create is a new website from Microsoft created with content creators in mind. It brings together the familiar Microsoft 365 apps like PowerPoint, Word, along with newer creative apps like Clipchamp and Designer. As of now, the website hosts a bunch of templates that anyone can use for free. You can download the templates, customize them using the recommended apps, and share your content with your fans and followers.
At a first glance, it looks like Microsoft is trying to get all the content creation tools under one umbrella just like Canva. The website is now available for preview, which according to Microsoft, means that they're still working on some features. We can definitely expect new features and content soon.
As of now, the website contains many free templates. You can customize them using PowerPoint, Word, Excel, forms, Clipchamp, and Designer. Add your text, change the design, customize colors, add video elements, or whatever you need.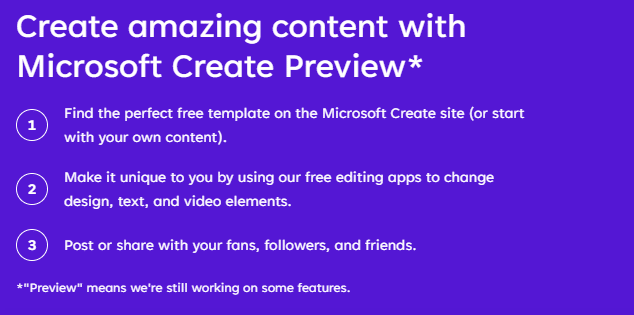 Interestingly, it looks like Microsoft is also trying to create a platform for all the web versions of the Office 365 apps like PowerPoint, Word Excel for free for its Outlook users, just like Google has done.
Microsoft Learn and Grow
You can also find a learn and grow section on the website that provides a ton of useful tips, tricks, and informational content from experts for content creators.
Content creators can find expert advice on creating inspiring and engaging content for social media platforms. There's a section that focuses on designers, and business owners as well. Click here to check out the full list of experts you can learn from.
The Verdict
Microsoft Create definitely seems promising. The focus is on content creators and it's a refreshing change from the usual productivity apps that we're used to. Once Microsoft Designer releases, users will be able to fully test out all the templates Create provides. We're super excited to see the new features and content that should roll out soon.