Demand creation strategies for new entrepreneurs

Businesses or companies are struggling when they try to market their products/services. Every company looks for new marketing strategies to stand out in the market. Demand creation is a part of a customer acquisition program, so it is also part of marketing and sales. Customer acquisition will be a difficult task or goal when the business competition mounting up because the number of the business model increases. So, startups should be careful about new marketing strategies and market penetration methodologies. Demand creation will be the only solution to sell your products and thereby you can generate revenues. In this post, we are trying to uncover the facts and methods that help you to create demand for your businesses.
What is demand creation?
Simply we can say demand creation is the method of creating a need for your product/service in the minds of your potential customers. If we want to create demand, we should keep some things on our mind. Demand creation is an integral process i.e. if your customers show a problem, bring a product/service as a solution for their problem and displays the value of choosing you over others. So, we can say demand creation can be achieved through a comprehensive, gradual, and holistic process that often connected with entire marketing departments. However, two terms, demand creation and lead generation should be defined separately to understand the difference between the two.
Demand creation vs. lead generation
In spite of the same category demand creation and lead generation are two different initiatives. Before going to understand the demand generation strategies, we just try to uncover the differences between these two twins.
Lead generation is the way that you invite and get people to give you their contact information to you. It is the techniques you use to gather leads. By collecting email address or phone numbers, marketers attracting their prospects into the business. It is the initial process of getting customers instead of education. Lead generation is very essential for the growth of a business. The buying process has changed and marketeers need to reconsider and refocus their efforts in order to stay relevant. Converting these leads as your buyers are the integral process of demand creation.
Demand creation is the process of educating potential customers and tells them how your product/service solves the problems that they are facing over the years. It is a method of creating awareness about your product/services. Demand generation processes originate by identifying audiences that are likely to be receptive to the marketing messaging of a brand, before driving prospects through a funnel that talks every stage of the conversion process.
Ultimately, the dissimilarity between demand creation and lead generation is that demand creation is a considerably more inclusive process that takes place over a much greater span of time than lead generation, contains close association and communication between sales and marketing departments, and integrates elements of inbound, direct, and email marketing to foster prospects while proposing them the material they need to learn more about how you can solve their problems.
Most demand generation strategies want to track certain steps to get customers interested in your product or service. Without a strategy, it's tougher to get your customers from one place to another. Demand creation strategy depends on your product nature and its qualities. If you have a unique product/services it is easy to create demand. Otherwise, you should frame some unique strategies in order to sell ordinary product/services. It is important that if your product/services haven't shown unique features, you can sell your dreams by demand creation through intensified advertising strategies.
Create a product need
Demand creation depends on the quality of your product and the needs of the audience. If you work in a fair position or new industry then a big portion of your time should be spent teaching your market on the problem your product/services aims to crack, because they won't always be acquainted with that they have one. This creates a demand across the whole industry.
Boost brand awareness
The next step to create a brand is increasing the overall awareness of your brand. That you can do with marketing and advertising pitch decks. By getting in front of a targeted, educated audience you increase the possibility of someone remembering your product when they choose it's time to purchase.
have a look at slidebazaar blog: effective brand building strategies to stand out in the market
Reinforce awareness drives fit product market
Once your targeted audience has identified the product that fit to solve their challenges and problems, then you can create more suitable contents that show the benefits after they are choosing you. This is the reinforcing phase in which your audience comes to know more about your products and its benefits. Instead of these general strategies, there are some focused strategies that help create demands.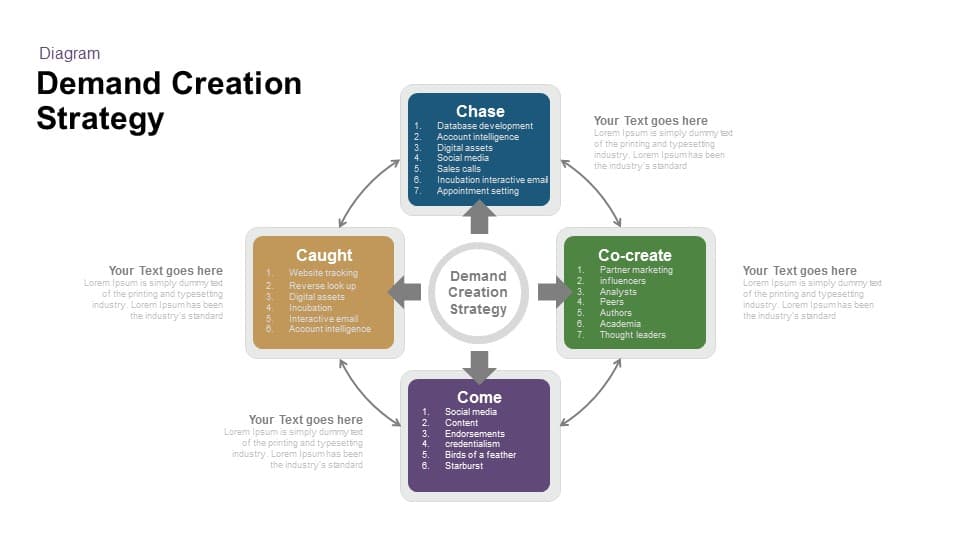 use: demand creation strategy PowerPoint
1. Design a free tool
One method to dynamically increase the demand for your core product/service is to build a free tool that compliments it. By presuming out a pain-point your current customers and prospects face you can design a tool to help them crack that. Free tools are the gateway of customers thereby you can create both leads and demand.
2. Provide free reports
Like free tools, free reports are another strategy to create demand for your product/services. If you produce a tool that spawns useful, relevant reports for your users they'll likely be very interested to see how they perform and run them for themselves. For instance, if you are a site ranking analyst, offer free reports on-site traffic and keyword gaps, then the customer will periodically visit your services, and they may become a premium customer to your business.
3. offer free resources
Many marketers have considered free resources like eBooks, toolkits, blogs and webinars will sprout the traffic and creates demands for the products.
4. Update SEO contents or blog
Your contents or blogs are powerful sources to create demand for your product/services. If your article couldn't find new viewers or it fails to communicate the practical aspects of your products/services, your traffic will go down. So, frequently refresh or update your company blogs and contents is a must for lead generation and demand creation. Consistently writing wonderful content should help you make higher volumes of organic traffic.
5. Share videos for product marketing
Brands can drive unbelievable demand for their business by generating and sharing videos that detail what their products can do. Video sharing on YouTube will incredibly increase your product's demand because it has millions of viewers.
The above-said strategies are more useful for inbound marketing demand creation. If you are ready to follow these strategies frequently, then your online business models will increase with a higher volume of visitors.