Competitive analysis is essential for business development (template included)
Put an eye on your competitors to help you spot new trends and to develop innovative strategies, and stay on the cutting edge of what's working within your place. A competitive analysis is a critical part of your company sales and marketing plan. With this study, you can understand what makes your product or service unique and therefore what attributes you play up in order to attract your target market.
But it's not just a foul play on your competitor's reputation management strategies and also it's not just spying on your competitor's social media accountants and subscribes to their email lists. Business professionals need a strategy behind your efforts to ensure you're commendably observing your competitors on an ongoing basis and updating your view of the competitive setting as it changes.
Try to assess your competitors after placing them in strategic groups on the basis of their customer spending. For each strategic group, list their product or services, growth pattern, profitability, marketing goals and assumptions, a new outlook on the market, research spending, past and present strategies, strengths and weaknesses and volume of the competitors business.
General questions for competitive analysis:
• Who are your competitors?
• What are their products and services?
• What is their market share?
• What are their marketing strategies (past and present?)
• What type of media they are used to market their products or services?
• How many hours do they are picture their product through advertising on the media?
• What are the strength and weaknesses of your competitor?
• What potential threats and challenges do your competitors pose?
• What possible opportunities do they make available for you?
• What are the unique qualities of their product and services?
You can use the above-mentioned questionnaire to compare your product or service with similar ones on the market is to make a competition grid. Let you name the four or five products or services that compete with yours and make just assumptions on the basis of these questions. This is the simple way to understand the intensity of the competitions and thereby you can frame your own marketing strategies.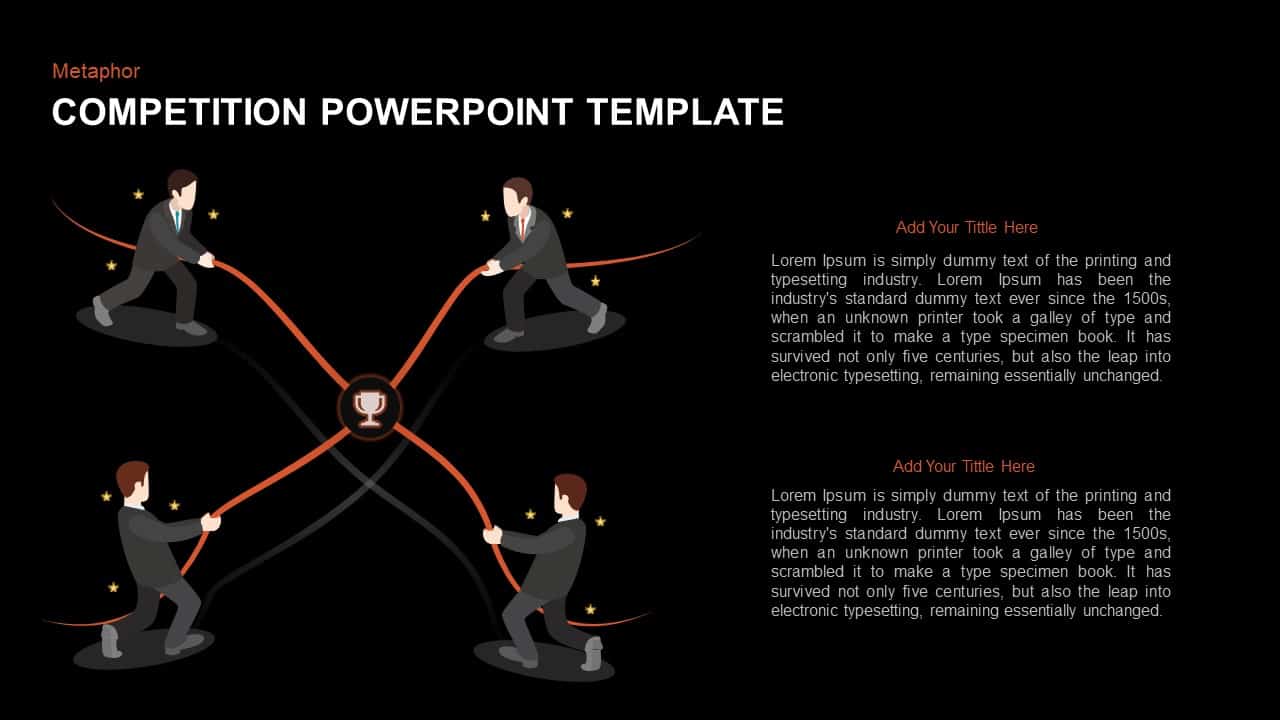 In this post, we'll outline a method for conducting a competitive analysis of your online business.
Your competitive analysis may vary depending on your competitor's strategies and the cognitions that you acquired about your competitors. You might do a competitive analysis around the particular feature of your competitors business—like their website, for instance—or you might do an extensive look at their marketing approach as a whole.
If you want to look at more specific aspects of your competitor's online approaches, you should consider additional questions or sections, these are:
• Makeups on competitor's websites such as product images, search tools, design/layout etc.
• Customer experience elements like mobile UX, customer support, subscription withdrawal options etc.
• Social media approach (frequency of posting, channels used, engagement etc.)
• Marketing tactics (types of promotions, skimming, frequency of discounts, etc.)
• Content marketing strategies (keyword volumes, blog topics, content types, etc.)
• Email marketing approach (promo codes, newsletter, etc.)
• Customer reviews (pros and cons, recurring complaints, language used around products, etc.)
• Website ranking updates and the amount of visitors increase.
Typically, a competitive analysis can take on different forms and shapes depending on what an organization wants to evaluate about its competitors, for example, some are focused on the quality of the product, and while others are put interest on marketing strategies they have developed, but this should give you a rough idea of what could be included within the different sections.
Why Competitive analysis is the core of e-commerce
The e-commerce business is facing too many challenges when we compare traditional business landscapes. Though, every business needs competitive strategies, while the amount of intensity is much more in e-commerce. The main reason is that you can't effectively compete without knowing your direct competitors—and you can't distinguish yourself if you don't know what actually makes you different.
For an online business, a competitive analysis can also help:
• Identify industry trends
• Determine your pricing strategy
• Create your own marketing strategy
• Find out new paths of speaking to customers
• To discover market gaps
• Uses of new technologies that attract new customers
• Create a benchmark for yourself
Competitive analysis can be an active document that frequently surrounding as your company grows and matures over time.
Simple Steps for conducting a competitive analysis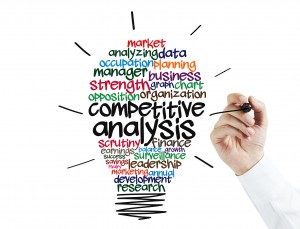 1. Outline a list of 5-10 competitors
Start identifying relevant competitors; they are doing the same business model that you have run. Search on Google, Alexa, and Amazon around your product and business idea. Identify the competitors:
• Sell similar types of products
• Have a similar business model
• Check out the buyer's demographics
• Understand whether they are new in the market or old chaps
Your list may give a good idea about your competitors before you want to analyze a particular competitor, decide to make a list. The diverse competitor's landscape gives you a better idea. However, your list shouldn't be too small and not too large.
2. Create a spreadsheet
As per your collected data of competitors, put in a spreadsheet or as a tabular form that can be easily pooled and updated over time. With this spreadsheet, mark down the different parameters you want to compare and contrast, such as:
• Product offerings
• Price range
• Social media engagement
• Lead generation strategy
• Contents for lead generation
• Subscription offers
• Free schemes
3. Categorize primary/secondary competitors after identification
Begin your table by categorizing each competitor as primary, secondary, or tertiary. This will help you to make a better understanding of their business idea generation and you can determine how they'll relate to your business.
• Primary competitors are your direct competitors, selling the same product/service to your target customers. These are the brands your audience may compare you to. Example: McDonald and KFC.
• Secondary competitors are also selling similar product/services but to a different audience. Example, Wal-Mart and Victoria's Benz and Honda are secondary competitors.
• Tertiary competitors are related brands who may sell to the same audience, but don't sell a similar product/service as you or directly compete with you in any way. They may be your future partners or potential competitors if they choose to expand their business. Example, Under Armor and Gatorade.
4. Collect data via tools
Once you know the competitor, the time has come to start deep exploration or research for your competitor's analysis. For every research, data collection is the prime source of research. Today, there are many different tools available to take proper data and it also makes your competitive analysis simpler, efficient and more accurate. Some more options for your competitive analysis are given below:
Neil Patel
Similar web
Mailcharts
Alexa
Buzzsumo
5. Participatory research
Apart from the software research, it's a good idea to get hands-on with your competitive research. Be disguised as a customer and check out what your competitors are doing in the marketing department.
For instance:
• Subscribing to their blog
• Abandoning a product in your shopping cart
• Following them on social media
• Even purchasing and product and evaluating their customer service
As you apply these activities, be sure to record your findings with notes on the tactics you see and feel.
Add-on data
You can enlarge the vision you get from your competitive studies by also collecting information about the market, such as industry-specific trends and economic indicators.
Study doing a SOAR or SWOT analysis to supplement this data set, which outlines the Strengths, Weaknesses, Opportunities, and Threats around your business and your competitor's. Describing these areas will help you take an objective look at your business and can help you make smarter, more informed choices that future-proof your brand.
Visual graphics to show competitive analysis as an academic topic, or to show your business competition. (PowerPoint templates)
1. Porter's five forces analysis PowerPoint template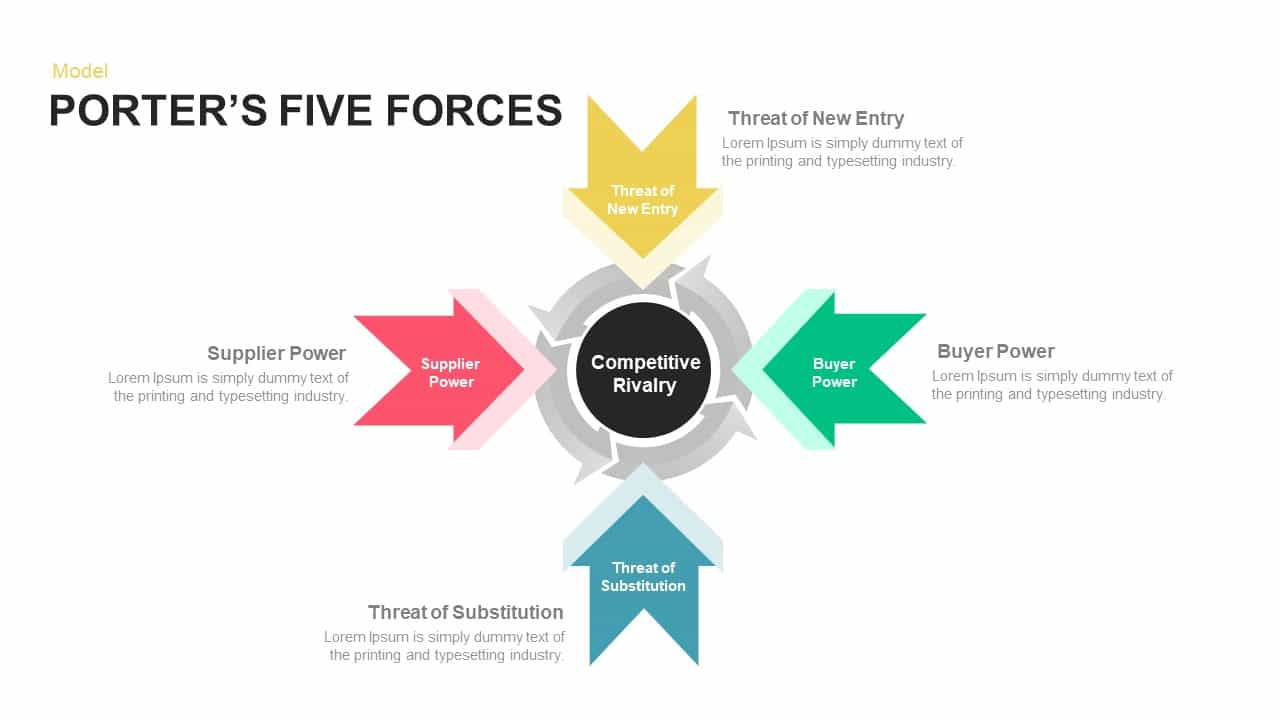 Academicians can use this template to show the market competition theory by Michael E. Porter. Porters Five Forces PPT is an analysis tool that identifies and analyses the five competitive factors of an industry that determines the strength and weaknesses of a company. This model can also determine the intensity of any industrial competition and the level of its profitability.
If you are a strategic planner and want to develop an edge over rival firms, then this will aid you to understand better the context in which firms are operating. Porter's Five Forces are mostly used to calculate the intensity of competitions, the profitability of the market etc. The main forces are:
♦ Rivalry: This force determines how competitive and profitable the industry is. Intense rivalry competition results in low profit.
♦ The threat of new entrants in a market: This force enables the strategist to determine how easy or hard is to enter an industry. The smoother the entry into a marketplace, the higher is the risk of market shares getting depleted.
♦ Power of supplier: This force analyses the power of business suppliers. Strong power allows the supplier to sell the product or service at higher prices; they may also sell low-quality materials.
♦ Power of buyers: This force lets the buyer affect pricing and quality. Consumer power is high when there aren't many buyers of a product, but lots of sellers are available.
♦ The threat of new substitute products: This force is threatening when buyers find substitute products at a low price and of better quality.
2. Harvey balls PowerPoint diagram and keynote slide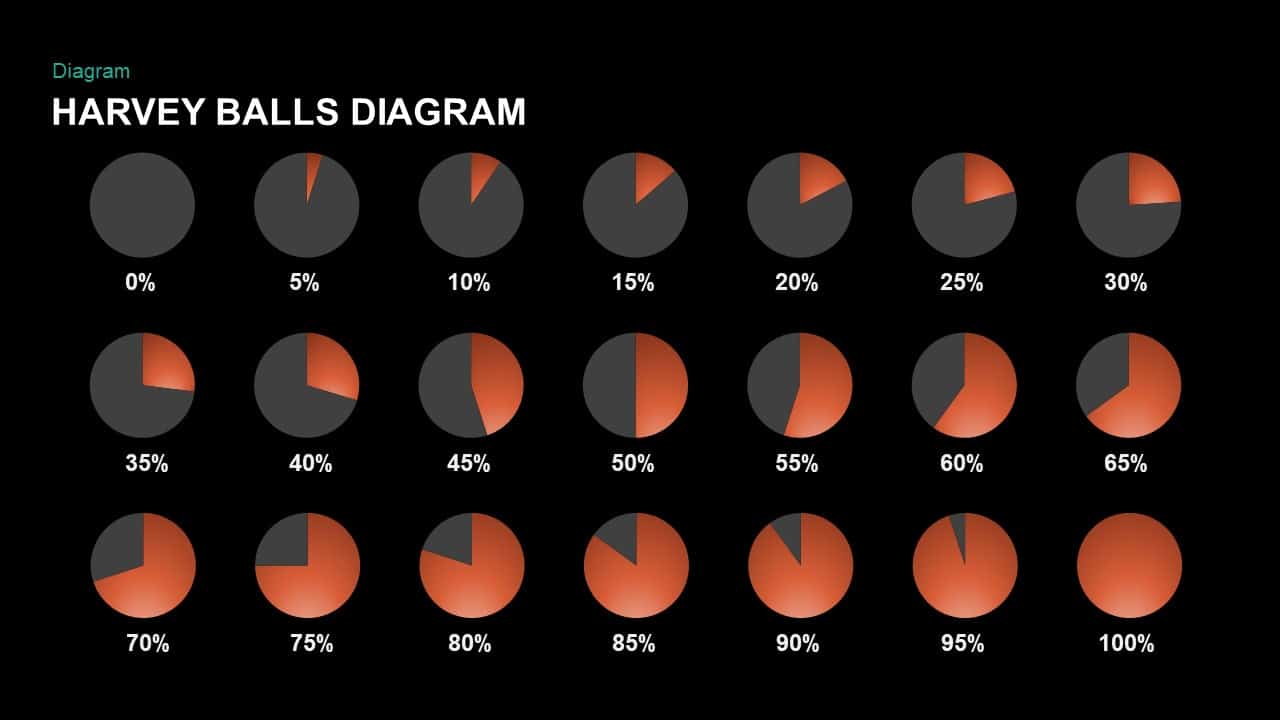 Harvey balls ppt template can be used for comparing data in order to assess the attainment of diverse performance indicators or to clarify features. Harvey balls design is often used in evaluation tables to indicate the quantity to which a particular item meets a particular standard. This illustration can combine with any of our editable Gantt chart PowerPoint and keynote template or project management dashboard PowerPoint template and keynote template.
Competitor analysis is an important part of your business plan. You can display your competitive scorecard with Harvey balls PowerPoint diagrams. Slidebazaar has created a number of competitive analysis slides for visually illustrating your presentation contents. Now start your exploration of our PowerPoint collections and make your presentation appealing.