Target marketing is the way to business success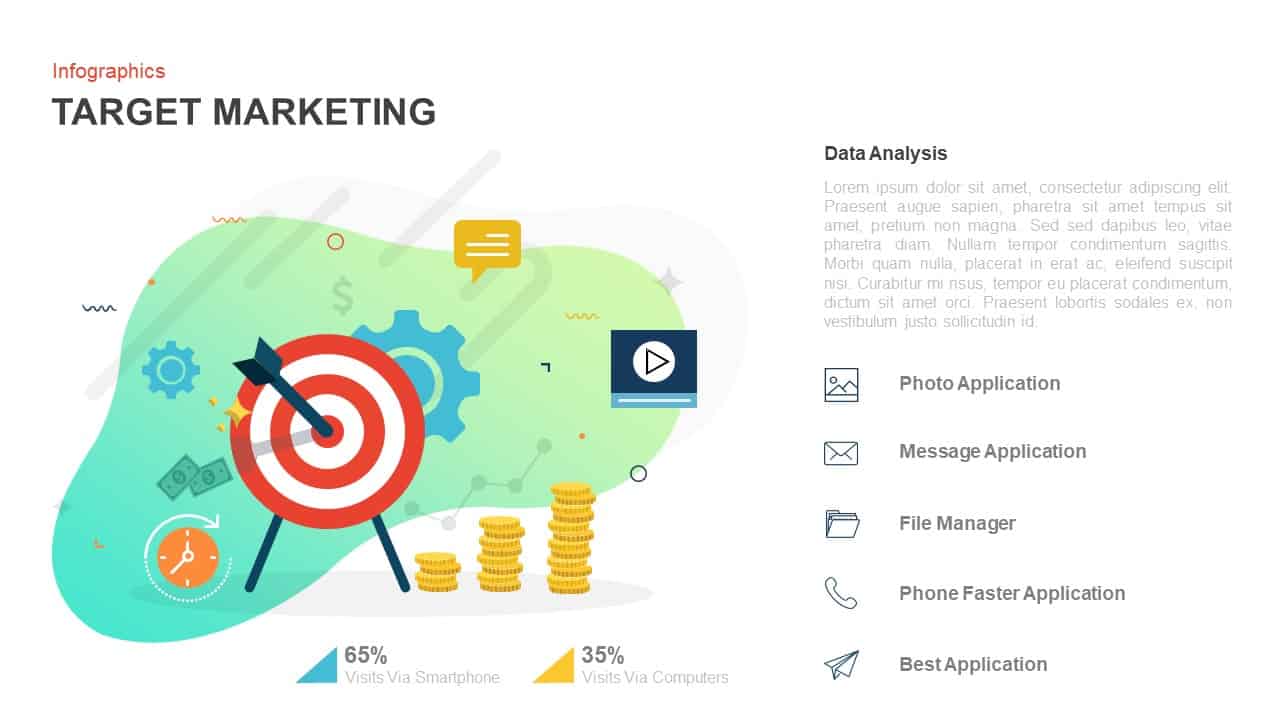 When you enter into the market with your product, then the real problem comes to you. You can produce a good product with the help of technically sounded professionals. But when you come into marketing, the real challenges begin. Here, you need to focus your target customer because in marketing, if you are trying to talk to everybody, you can't get the exact results.
What is target marketing?
Simply, target marketing is the segmentation of the market on the basis of the nature of your product. This is the way you can take more concentration on your marketing efforts to a particular audience they mostly match your product or service offerings. It states a segment of customers based on their unique characteristics and focuses exclusively on serving them. In other words, a target market refers to a group of potential customers to whom a company wants to sell its products and services. Target marketing is the key to attract new business, enhancing sales, and making your business success.
Instead of talking with everybody, you just focus on a specific audience or a group within the market. Identifying the target market is a necessary step for any company in the development of a marketing plan. Without knowing who the target market is could cost a lot of money and time for a company.
The following are the main types of market segmentation: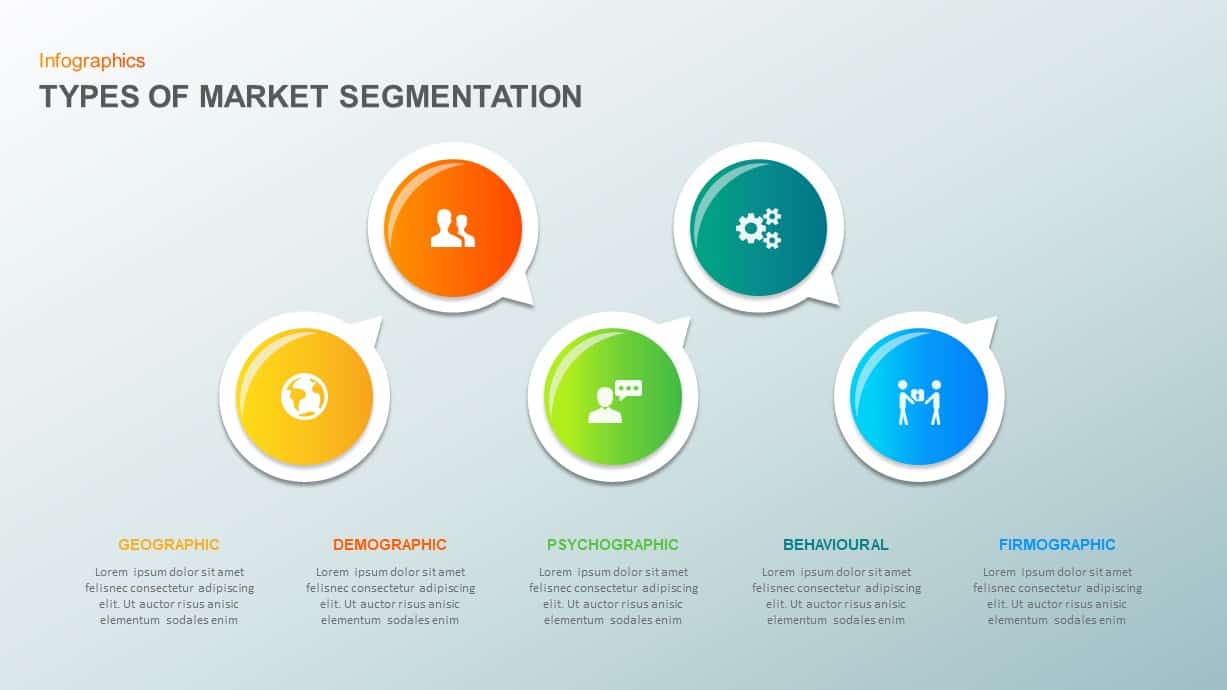 download this PowerPoint template for presenting market segmentation concepts
• Demographic segmentation: age, sex, education, race, religion, marital status, occupation, income etc.
• Psychographic segmentation: beliefs, values, personality, lifestyle, interests etc.
• Behavioral segmentation: buying habits, spending habits, brand interaction etc.
• Geographic segmentation: area, city, region, neighbourhood country etc.
If you can define your target group without any doubts, you can understand how and where to reach your best prospects. You can make broad categories but you need to get a more focused audience to achieve the best possible conversion rates.
Through market segmentation, the business gets more specific about their target market. When we focus small group of customers we can analyze their needs and inclination towards a particular product and why do they enjoy that product, and what benefit they get from that product. This will also help you to produce favourable changes.
have look at our blog: how does market segmentation help you to get maximum results
For example, a company producing fashion wears, focusing a target market composed of men and women between 18-40 years of age, with mid-range income. This target customer is very fond of fashion and they are always trending conscious, living in urban areas. With your marketing strategies, you can more specific in these terms. Your advertisements can't target everyone, but you can sell to everyone.
The importance of targeting in marketing
Targeting in marketing is inevitable because it's a part of a complete marketing strategy. It influences advertising, as well as customer experience, branding, and business processes. When your company attentions on target market segmentation, you can do the following:
Talk directly with the focused group
Marketing messages echo more intensely with audiences when readers can relate directly to the information. Products that have a large, diverse market of customers often struggle with forming marketing campaigns that speak directly to their audience. Because their audiences are very different, few mantras or stories can echo with each person on a personal level. Through target marketing, you can lighten this problem and focus on creating messages for one specific audience. For example, if you are a dish wash seller, you should give more focus on ladies and housewives.
More focused on high-quality leads
When you talk directly to the group you want to target, you should give more preferences to the right people and attract them. If you follow this strategy, your marketing will more effectively reach the people who are most likely to want to do business with you. When you contact the right people, then you get high-quality leads that definitely turn into paying customers. Here, we can see that if you want superiority in conversion rates, you have to be focused on the right group by attractive target marketing campaigns.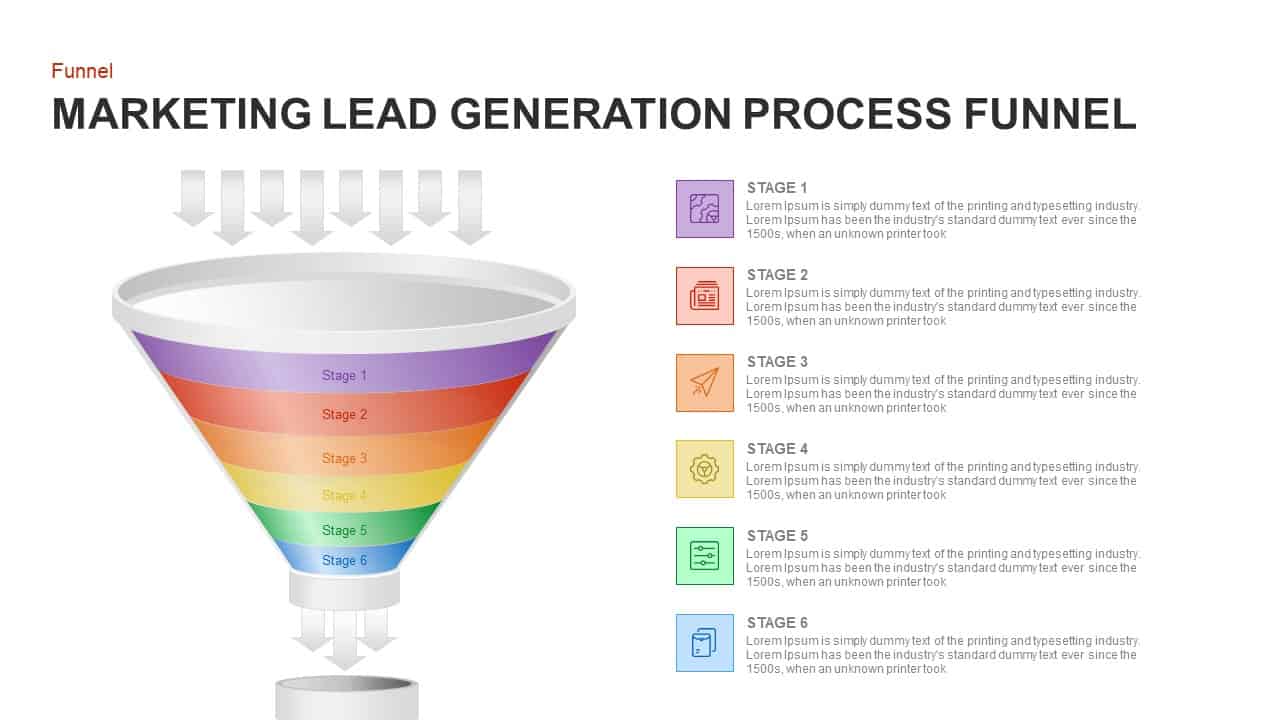 source slidebazaar: use helpful lead generation funnel PowerPoint
Differentiate your product from competitors.
When you discontinue voicing to every customer in your market and start focusing on a smaller segment of those viewers, you also start to stand out from competitors in your business. When customers can undoubtedly identify with your product and your unique selling propositions, they will choose you over a competitor that isn't precisely speaking to or targeting them. You can use your positioning in marketing to make your product more popular and unique.
Develop deeper customer loyalty
When your target marketing campaigns would have clicked the right spot, most likely the customers become your advocates. The capability to stand out from competitors by reaching your customers on a more personal, human level also makes longer-lasting relationships. When customers recognize with your brand and feel like you are a promoter for their specific perspectives and requirements, they will likely be more loyal to your product and continue to do business with you over a longer period of time.
Improve products and services
If you try to know your customer intimately, it will help you look at your products and services in a new way. When you have a better understanding of your target audience, you can design your products/service according to their requirements and wants, this will helps attract and maintain a deep relationship with them. In order to attract your audience, you should add features that they are looking for.
Keep focused
Lastly, the advantage of using targeting in marketing is that it also aids to help your product and team. Target marketing lets you get more precise about your marketing strategies, creativities, and direction of your product. It helps you make clear your vision and get everyone in the organization in the same direction. You have more direction when it comes to shaping upcoming roadmaps for both marketing and the business as a whole. A focused method helps you fully improve your possessions, time, and budget.
Your target marketing should be based on audience research, not mere speculations. To conduct customer research, be prepared to get exact data. Once you have got audience data then prepared for improving customer services and targeting marketing.
How to conduct customer research (online strategies)
Compile data on your existing customers
The first step for audience research is to identify who is already using your products or services. Once you recognize the defining features of your existing customer base, you can go after more people who fit the same mould.
Either you have little information about your clients or you have a lot. In both cases don't ask too many questions because this can disturb customers and results in abandoned shopping carts. But collect whatever information you do have about your current customers into a database you can use to track trends and averages. The main data points you must consider are:
• Age: No need for deep analyzing, just knowing which period of life your customers are in, or their generation, this can be very useful.
• Location: Where do the existing customers live? In order to target your location, this data would be more helpful to figure out what hours are most important for your customer service and salesperson to be online, and when they are engaging with their social media, to ensure the best visibility.
• Language: If you are targeting online marketing, don't assume the customer speaks the same language you do. If they are speaking the same language, don't assume they are in the same territory or region.
• Interest: Besides using your product/service, what are the hobbies, and what they like to do? What sport or TV show do they watch? What other business do they interact with?
• Spending habits and patterns: How much money do they can spend? How do they approach buying in your price category? Do they have specific financial preferences or concerns you need to address?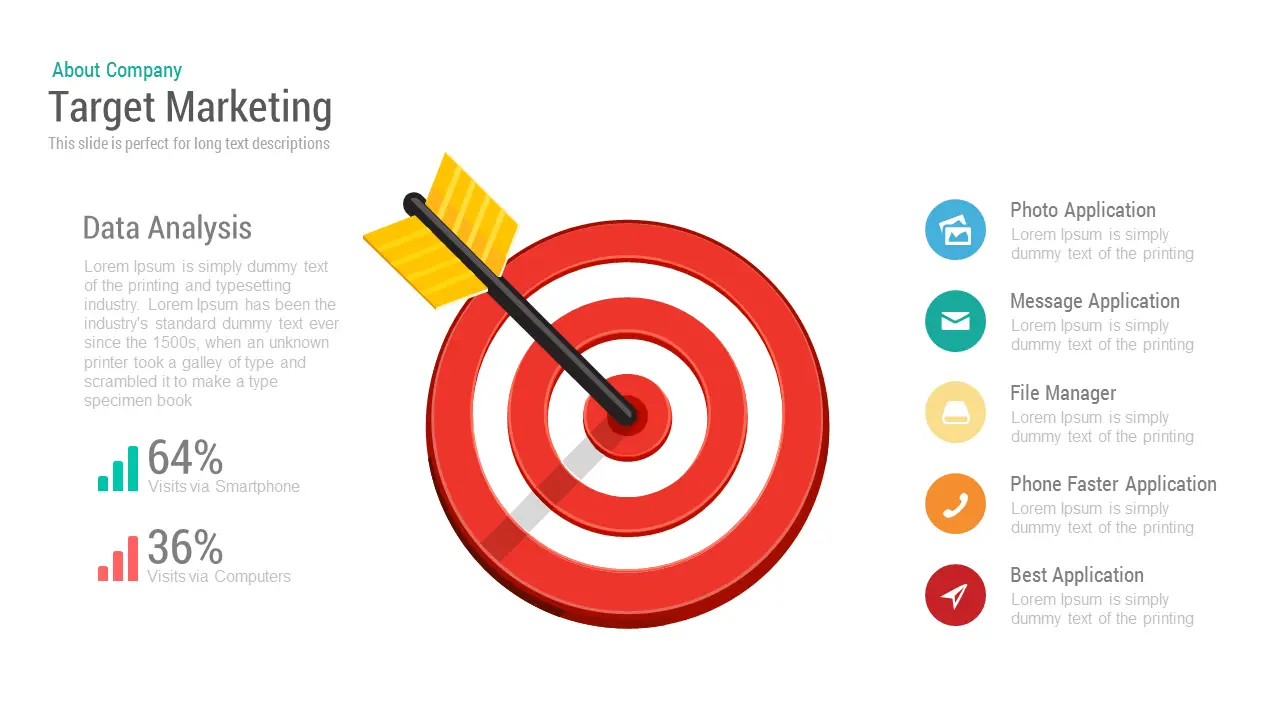 source slidebazaar: this slide will help you to present target marketing concepts
Keep an eye on the website and social media analytics
Through social media and website analytics, you will get all this audience research information. They can also aid you to know who's interacting with your social accounts, even if those persons are not yet customers.
Check out the competition
By social media analytics and website analytics, you can understand who is already interacting with your business and buying your product or services, and then the next step is to see who is engaging with the competition. Are your competitors going after the same market segments as you are? Are they getting segments you hadn't thought to consider? How are they placing themselves?
Sites like alex.com or neilpatel.com will take you to exact data and where do your competitors stand. This analysis will help you understand which markets they're targeting and whether their exertions perform to be effective.
Add your traditional marketing strategies with this internet marketing strategy such as, be clear about the value of your product/service and how does it stand out from other products.