Easily Insert a Calendar into Your PowerPoint Presentation: A Step-by-Step Guide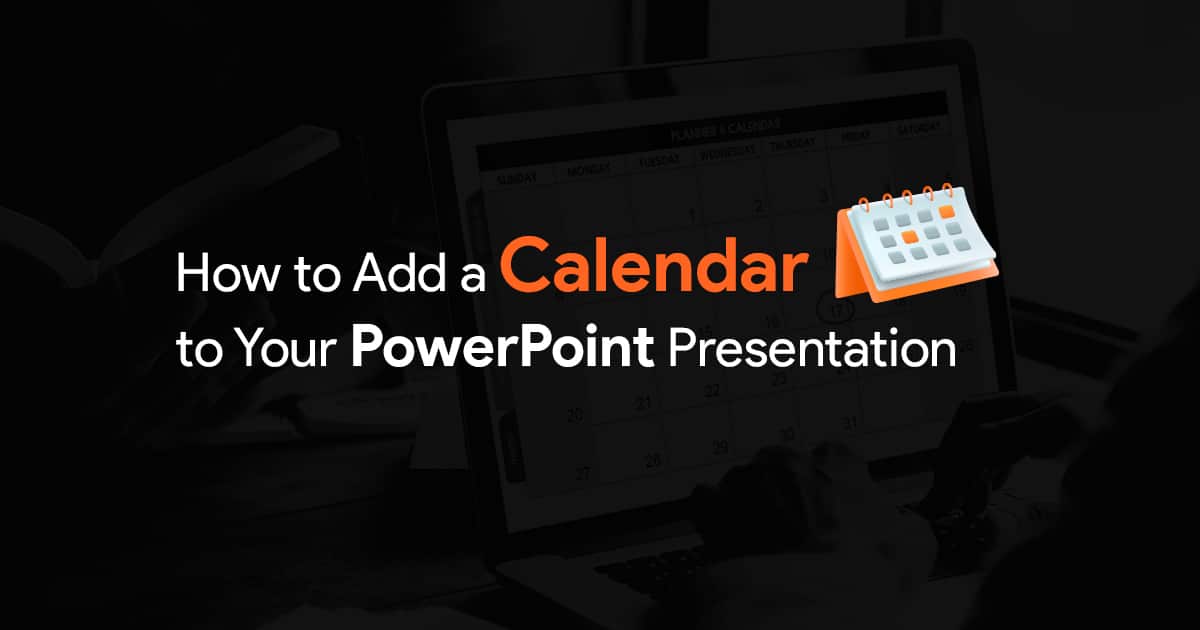 Do you wish to insert a calendar in your PowerPoint presentations? You must be wishing for it, right? After all, keeping a watch on time and planning the tasks is very crucial.
But you are worried because you don't know how to insert a calendar in a PowerPoint easily? Well, worry not! We have jotted down this article just for you.
Benefits Of Calendar Templates
Before learning how to insert a calendar in PowerPoint, let us know about calendar templates' benefits.
Some of the benefits of implementing calendar templates in your PowerPoint presentation are as follows:
To show specific records.
Use it as an appointment book.
Keep an insight on different events.
As a monthly or yearly planner.
Scheduling meetings for the team, clients, or board members.
Steps to Insert Calendar in PowerPoint
Adding a calendar to your PowerPoint slide makes your presentation attractive. But also it makes the presentation well organized.
Now you do not have to move here and there in search of a calendar to add to your PowerPoint presentation. Instead, you can easily do it using PowerPoint only.
We are here to guide you on how to add a calendar to your PowerPoint slide. Here's a step-by-step procedure:
Step 1:
Choose A New Slide
First things first, go to the PowerPoint presentation. Then, open a new slide by clicking on the layout option under the 'Home tab'. After that, create your calendar on that blank slide.
Type calendar in the text box and press 'Enter' on your keyboard. This action will start a search for beautiful calendar templates.
Step 2:
Find calendar templates in PowerPoint
Choose from ready-made calendar templates to use. Then, on the expanded Templates screen, click 'Create'.
A calendar template appears in your presentation. For example, if you plan to add many tags and notes to your calendar, you should choose a calendar template that now supports notes.
Step 4:
Edit a Calendar Template
The changes you can make to your calendar template vary greatly depending on the type of template you choose. For example, you can quickly edit the selected calendar image.
Some calendar templates do not allow the editing of some objects correctly. Here we refer to objects such as shapes, numbers, and text. To work with such objects, you need to access the slide master from View > Slide Master.
If you want to format the text in your calendar, you'll need to go to the 'Home' tab and use the formatting options (which you're probably familiar with).
Similarly, if you want to insert and edit more shapes, go to the 'Insert' tab and select Shapes.
Step 5:
Add a Reminder To Your Calendar
Calendars can be used for many purposes, but meeting and event reminders are important uses. So if you're planning on such a tag, add it now.
You may also need to make adjustments to make your reminders stand out, so they don't look out of place. To do this, mark the reminder text.
For example, for a single reminder, you can highlight the text (all) and then select your preferred font size, style, and color.
Step 6:
Calendar Formatting
You can make your calendar look even better by formatting the main theme, background, and other important elements.
To format your calendar, go to the 'View' tab and select 'Slide Master.
Change the calendar theme, click 'Themes' (Slide Master tab) and select your preferred theme.
To change the background of your calendar, see the background under Background style and select a new background.
Step 7:
Save your Calendar, Print, or Share
Once you have finished designing your calendar in PowerPoint, save the calendar now. To save your PowerPoint presentation, go to the File, then choose Save As.
Some Good Calendar Templates
Below are some of the good calendar templates that you can use.
If you wish to have a calendar template that can save you time, help you achieve your goals, and keeps you organized. Then, this one is just for you!
You can use Calendar Infographics to correctly present the different tasks to your audience.
2. Calendar Template
Moving to another Interesting template in our list. It is a Calendar Template.
This template is mainly designed to present your monthly plans in an organized way.
This template is quite similar to the calendar template. The only difference is that it is used to present monthly plans. Whereas a calendar presentation template is used to present the weekly plans.
Looking for a template that can be edited easily? Well, Calendar PowerPoint Template is the one for you. You can use it for project planning and daily planning. But, most importantly, it is editable, so you can surely reuse it.
Conclusion
That's a wrap!
Calendars are very important. That is why you must add them to your presentation. They give a deadline for when the task will be completed, when the goals will be achieved, and so on.
We believe you are now well aware of the process of inserting a calendar into your PowerPoint slide. We have mentioned some templates as well. You can choose from them too.
And in case you have any queries, feel free to get in touch with us.