Here's what 25 TED talks tell us about delivering winning presentations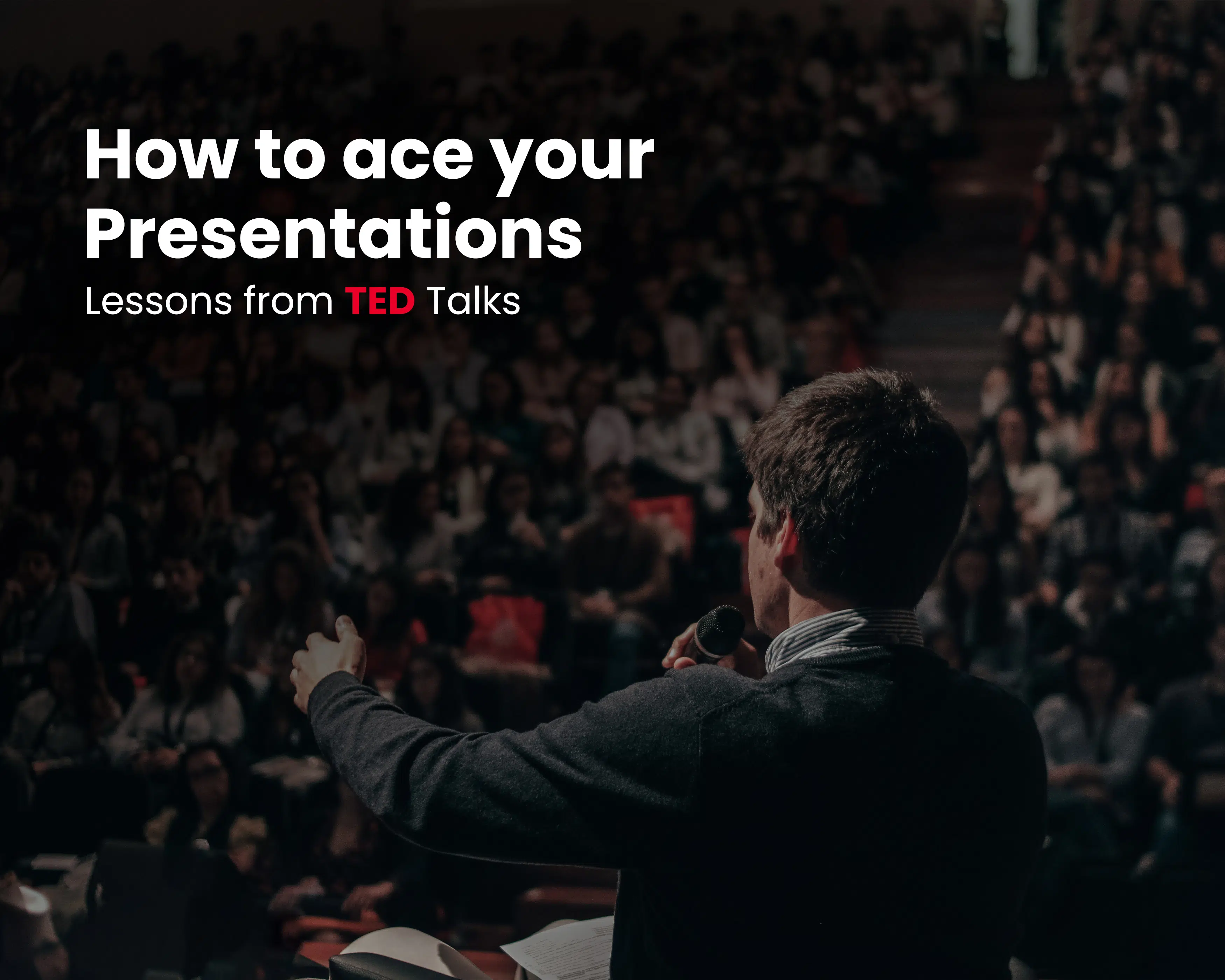 Originated in 1984, TED talks have come a long way from Technology, Entertainment and Design (TED) to the treasure trove of ideas worth spreading. The popularity of TED talks is clear evidence that we are interested in listening to people who can tell the story right. We all have relied on TED talks to improve our presentation and communication skills.
Nowadays, it's more important than ever to have effective communication skills to make your mark in the world, regardless of the career choice you make. There are certain characteristics that are common of the world leaders and their communication style. This includes both verbal and non-verbal aspects, starting from saying your name right to engaging the audience to creating an impact. To know this better, we watched all 25 TED talks on presentations that speak about the different aspects for a great presentation. Here are the key takeaways from the talks, each of which practices what it preaches.
Biggest takeaways from TED talks to improve presentation skills
1. Form a connection with the audience
Any form of communication from public speaking to a business meeting to a friendly conversation requires you to establish a connection with the person you're communicating to. Don't try to impose your ideas without understanding your audience and what they want. So, in the first few minutes of the presentation, try to analyze your audience and tweak the parts of your presentation to fit the context and audience well.
Introduce yourself and tell them why they should listen to you, and ask them what they expect from the presentation. Find ways to engage and interact with them. This way, they will feel included in the presentation and would be ready to listen to you.
2. Avoid the jargons, tell a story
Remember that you are talking about something you have expertise or training in. Hence, there will be terminologies that may seem trivial to you. But if your audience can't get around the jargons, you have lost them already. The real challenge is in breaking down the jargons and handing them over to the audience in bits they can chew.
Your job is not to give them definitions and technical definitions which they can easily find elsewhere. They need to know why and how that matters to them. They have come to listen to your story, so tell them one.
3. Train your voice well
Apart from the PowerPoint templates or pamphlets, your voice is the most significant tool in any kind of presentation. You should do warm-up exercises before an important presentation to ensure your tone of voice aligns with the context and objective of the talk. If you want people to take actions based on the ideas you proposed, an aggressive tone wouldn't help to connect with them. You should try an empathetic yet affirmative tone to convince the audience to trust you.
However, maintaining the same tone throughout the talk will only bore people. So, employ different tones and pace in your speech so that you can take the audience with you as you progress. For examples, a high pitched and fast voice indicates urgency whereas a low and composed voice indicates authority.
4. Focus on transforming, rather than informing
"We are drowning in information, while starving for wisdom". Your job as a presenter does not end with passing on the information, it's just a start. Your aim is to give a purpose to the information in hand. You need to understand the pain points of your audience and convince them how they can use the shared idea to make a change.
To do that, you should be clear of the ideas and the perspectives you want to instill in the audience. So, before the presentation, identify the key takeaways of your talk, and direct your presentation to the main ideas. Use analogies from daily life to tap in to their emotions, and make a transformation within them.
5. Prepare well, but be ready for changes
You can prepare all the slides in advance, rehearse the main points many times, warm up your voice, and yet something might go wrong on the day of presentation. For instance, the mic may not work, your file may not open, venue may change, you may forget lines, someone might ask an unexpected question, and so on. How you deal with these unexpected situations tell you how confident and efficient you are.
Remember not to panic and focus on what could be done to proceed with the presentation. To start with, have an extra copy of all relevant files you may need. Reach the venue early and double-check the technical stuff. Memorize the main pointers so that you can pick up from where you lost the lines.
6. Sound confident and authentic
Be it in business, education or politics, you need to sound confident if you want others to listen to you. No matter how innovative or groundbreaking your idea is, if you don't sound confident about it, no one will buy it. It's okay to feel nervous about public speaking, but there are ways to overcome it. You can try conscious breathing and wide arm gestures to overcome your nerves.
Another thing to take care is the authenticity of your idea and your presentation. You have a distinct voice and a unique story, so tell your original narrative in your true style. This will make you stand out in a crowd.
7. Work on your body language
A presentation is not merely the delivery of ideas in a structured way or choosing the right words to greet your audience with. It is also, if not mostly, about the way you present yourself in front of the audience; from the way you enter a stage to the way you smile to the way you move around to the hand gestures and different facial expressions you use. Learn different hand gestures that imply different meaning, and practice them to develop your presentation skills.
A firm handshake and a warm smile can go a long way in industrial collaborations. Even before you utter the first word, your body language gives away a lot about you. People use these cues to assess you as you appear in front of a crowd. So, work on them to create a good impression and even better connections.
8. Observe other speakers and learn from feedback
Most people miss out on this. If you observe keenly, there is a lot you can learn from the people you communicate with. The next time you listen to someone talk, notice the good and bad aspects of the presentation. Practice the factors you found interesting and try to avoid the ones you didn't like. This doesn't mean you should imitate them; you have to find what excited you about their talk and find your own way to use it in your presentation.
You may like the use of simple analogies or the organization of ideas or the hand gesture. Look for both verbal and non-verbal cues and analyze your own presentation with reference to other great speakers. This helps you to naturally absorb the skills for an effective communication.
9. Add personal stories to sound credible
With internet overflowing with information, there is nothing a person cannot find online apart from the personal stories. So, your narrative determines the success of your presentation. Adding personal touch not only makes you sound credible; it also enhances bond-building with your audience. That will make them want to listen to your version.
Besides the qualifications or expertise you possess in the field, your personal experience can enrich your presentation. But, don't brag too much or promote yourself since that may distract others. Stick to the story and elements from your personal life that supports your claim.
10. Practice, practice, practice
This goes without saying, yet many speakers overlook the power of practice. Anyone would want to listen to a person who seems like they know what they are speaking. And you will gain the confidence only by practicing the speech several times. Each time, you will find areas where you can improve and working on them gives you the edge to be the best communicator in the room.
Practice in front of a mirror or in front of your friends and improve the subtle details with every rehearsal. Record yourself and watch it later and observe the areas where you can improve. Keep a conversational tone so that you don't sound mechanical while talking.
Things to do before your presentation
No one has ever entered a stage without their heart racing up. It's inevitable to have the adrenaline rise before any big event and managing them starts before you enter the stage. Here are the TED talks that focus on the aspects which you can work on before your presentation which will help you deliver a confident and compelling presentation.
The three magic ingredients of amazing presentations
by Phil
Waknell
A leading expert in presentations, Phil Waknell helps thousands of business leaders, speakers and entrepreneurs daily to design and deliver powerful and engaging presentations. By using the three proposed ingredients wisely in his presentation, Waknell proves that he practices what he preaches.
The audience, the speaker, and the transformation created in audience: these aspects in harmony can make a presentation successful.

It's very important to

know your audience

, show them you care and tell them why they should care. Understanding the context helps you in designing the presentation well and adding a personal touch will help you deliver it better.

There's a major misconception that presentations are all about passing on the information to the audience. In reality, it's what they feel about and do with the information in hand that matters.
The surprising sec
r
e
t
t
o speaking with confidence
by Caroline Goyder
Caroline Goyder is an author, an actor and a voice coach who also runs a business in helping people find calm and confidence in life. She tells us how our understanding of anatomy can help us improve confidence and delivery by regulating our body parts.
Everyone has a unique voice and it's very important to explore different expressions of your voice to use it effectively. Modulating the tone and expression of your voice according to the situation takes practice, which will eventually make you stand out in a crowd.

Diaphragm is the center of all expressions and it regulates the whole body. Focusing and regulating its movement with each breath would calm you down.

Inhale with strong emotions and it will reflect on whatever you speak in the outbreath. This way, you can control the tone of your voice by picking the right emotion to convey to the right audience.
Can you improve presentation skills after your presentation?
So, you delivered an amazing presentation and connected well with the audience. What next?
Remember learning never stops. So, keep looking for ways to improve your presentation by getting feedback from people you trust. Being open to criticism can help you in the long run. Get a copy of your presentation from the organizers and watch it repeatedly and note down the aspects that need polishing. Here is a TED talk that tell you how effective feedback mechanism is, and why we should embrace it both hands.
How to use others' feedback to learn and grow by Sheil Heen
Sheila Heen works with different industrial leaders and organizations to coach them about handling tough conversations at work. She discusses the psychological factors and triggered responses of giving and receiving feedbacks, and how we can learn faster and grow better if we are open to feedbacks.
We find it hard to accept feedback because it's a competition between a need to grow and a need to be accepted the way we are. The key is not to take it personally and to focus on learning.

Actively seek feedbacks from peers and friends who can give you honest opinions. Ask specific questions and find out things you can improve on.

Don't judge yourself for the shortcomings. Stay patient, work on yourself and come out brighter on the other side.
If you watched the above TED talks, you will observe that many people speak about the same topic in a unique angle and style. Every speaker added a personal anecdote to amplify the message they were trying to convey. Some shared the moments of failure and how they bounced back so that audience could relate and empathize. None of them spoke the same; each had their own voice, their own story, their own tone.
Every human being is a storyteller by nature. It's sad how many stories remain untold either because of the lack of tools or the lack of confidence. It's very important to fight all the insecurities and present ourselves in our most confident self to progress in both personal and professional life.
Find your unique voice and tell your story.