Best Six Sigma PowerPoint Templates (DMAIC, SIPOC, MUDA 7, DMADV)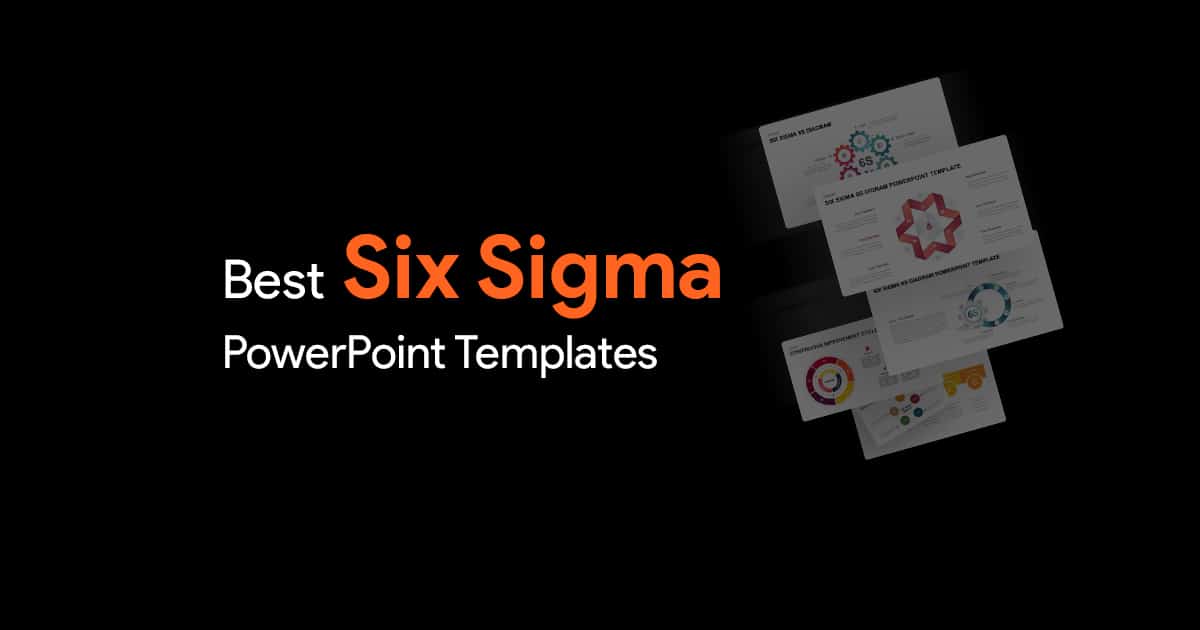 Applying business improvement methodologies is key for any business to lead the market. Many process improvement concepts aim to reduce defects and provide quality products or services. The six sigma process is one among them. We have curated Best Six Sigma PowerPoint Templates that help you better understand Six Sigma and DMAIC. However, before digging into our Best PowerPoint collection, let's have a quick view of Lean Six Sigma.
Table of contents
What is Six Sigma?
DMAIC
DMADV
DMAIC VS DMADV
SIPOC DIAGRAM
When does a SIPOC tool useful?
7 Muda: the seven wastes of lean manufacturing
What is Muda?
The seven forms of Muda
Best Six Sigma PowerPoint templates and slides
Last word
Please scroll down if you're only here for Six Sigma, DMAIC, SIPOC, MUDA 7, DMADV templates for PowerPoint.
What is Six Sigma
Six Sigma is a methodology used for process improvement to eliminate problems, identify defects, remove waste and inefficiency, and improve working conditions and profitability by providing quality end products/services.
A six sigma practitioner tends to follow the DMAIC approach to solve manufacturing and quality issues; moreover, more methodological approaches are in use. Therefore, let us examine some methodologies and approaches combined with the Lean Six Sigma process, including DMAIC, DMADV, SIPOC, and 7 Muda.
What is DMAIC?
DMAIC encompasses five stages to limit instability within business processes and quality management. So what does DMAIC stand for? Let us break down each.
Define: In this first phase, the project team should define the problem by identifying the project goals and all customer requirements.
Measure: In this phase, the project team starts assessing current performance issues by collecting and interpreting the available data.
Analyze: During the analysis phase, the project team tries to determine the root causes of the defects.
Improve: In this phase, the project team will apply possible changes to the process by establishing a defect reduction and correction process.
Control: In this phase, the supporting systems are updated, and control and monitoring measures for future process performance are implemented.
What if we say you will get a DMAIC Template in the last section of the article? Let us wait!
What is DMADV?
The first three elements of DMADV are Identical to the DMAIC. It looks like the following when we break down Six Sigma DMADV.
Define: Identify the project scope and all customer requirements
Measure: Understand current performance by collecting and interpreting available data.
Analyze: Determine the root causes of the defects.
Design: Create a manufacturing process that meets customer requirements and expectations.
Verify: Ensure the new applications meet customer requirements and perform according to expectations.
DMAIC vs. DMADV
The DMAIC methodology will apply when an existing product/service is not meeting customer requirements or performing as expected. At the same time, DMADV methodology will apply when an organization wants to develop a new product/service.
What is a SIPOC diagram?
SIPOC is an improvement and process mapping method that summarizes the inputs and outputs of a single process or more processes using the SIPOC diagram. The letters stand for Suppliers, Inputs, Processes, Outputs, and Customers. SIPOC is typically applied at the Measure stage of the Six Sigma DMAIC methodology.
SIPOC helps the team to consider suppliers of your process, inputs to the process, the process that your team is improving, the outputs of the process, and the customers that receive the process outputs quickly.
When is a SIPOC tool useful?
To identify Who supplies inputs to the process?
To know What terms are placed on the input?
To identify Who are the real customers of the process
What are the needs of the customers?
What if we say you will get a SIMPOC Template at the end session of this article? Let us read more!
7 Muda: The seven wastes of Lean manufacturing
What is Muda?
In the Japanese language, Muda means waste. Toyota chief Taiichi Ohno initially developed it to reduce waste within the manufacturing systems to maximize productivity. However, it also refers to the inefficiencies within the process which you can seek to mitigate, reduce, or eliminate.
The seven forms of Muda
Overproduction
Waiting
Unnecessary Transportation
Inappropriate processing
Excessive Inventory
Unnecessary movement
Defects
These are hidden wastes that often become the most serious wastes. To tackle these inefficiencies or waste:
Make waste visible
Be watchful of the waste
Be accountable for the waste
Reduce or eliminate waste.
Streamline the business with our Best Six Sigma PowerPoint Templates for presenting continuous improvement methodologies and Lean manufacturing. These are print-ready templates that help you for delivering concepts with improved results.
The Best Six Sigma PowerPoint Templates and Slides
Six Sigma 6s Diagram PowerPoint Presentation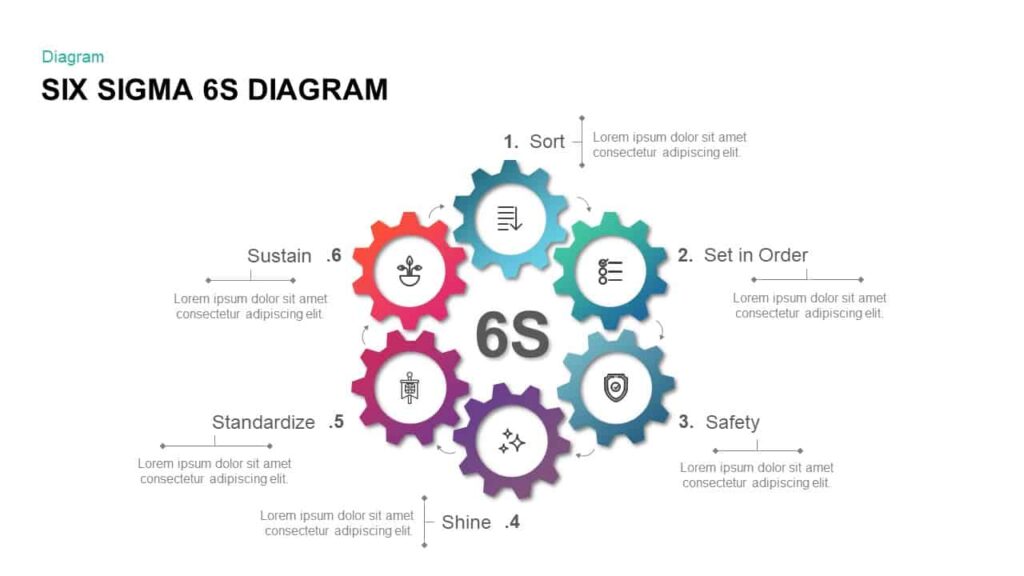 The toothed wheel diagram circular Six Sigma template for PowerPoint presentation is imprinted with characteristics of the Six Sigma process. The six-gear wheels represent 6s attributes such as Sort, Set in Order, Safety, Shine, Standardize, and Sustain. Users can use it with customizations as an instructional tool for the Six Sigma process.
DMAIC PowerPoint Templates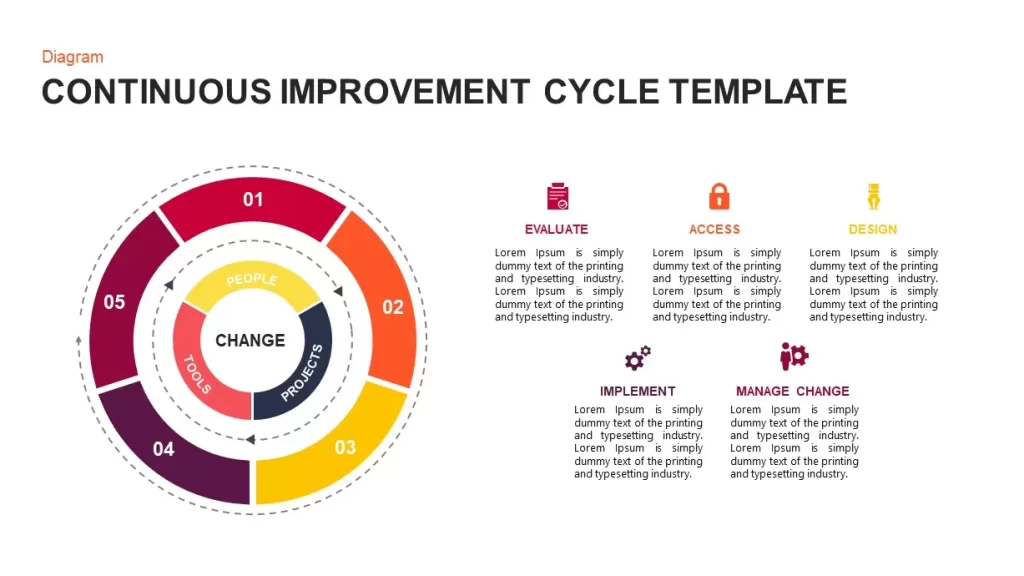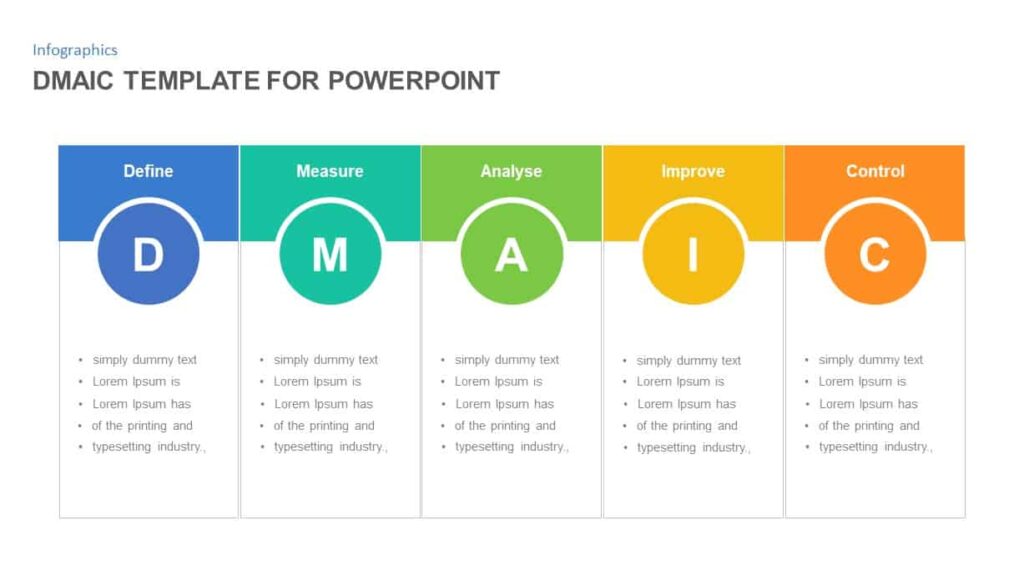 Explain the DMAIC and its usability for attaining organizational success using our DMAIC PowerPoint Deck. The business slide contains different shapes to lure maximum audience attention. It has circle, square, hexagon, and PowerPoint columns for the five stages of DMAIC presentation. It ensures all important aspects of DMAIC in Six Sigma methodology. Download the editable PowerPoint and impress your audience.
SIPOC Template for PowerPoint & Keynote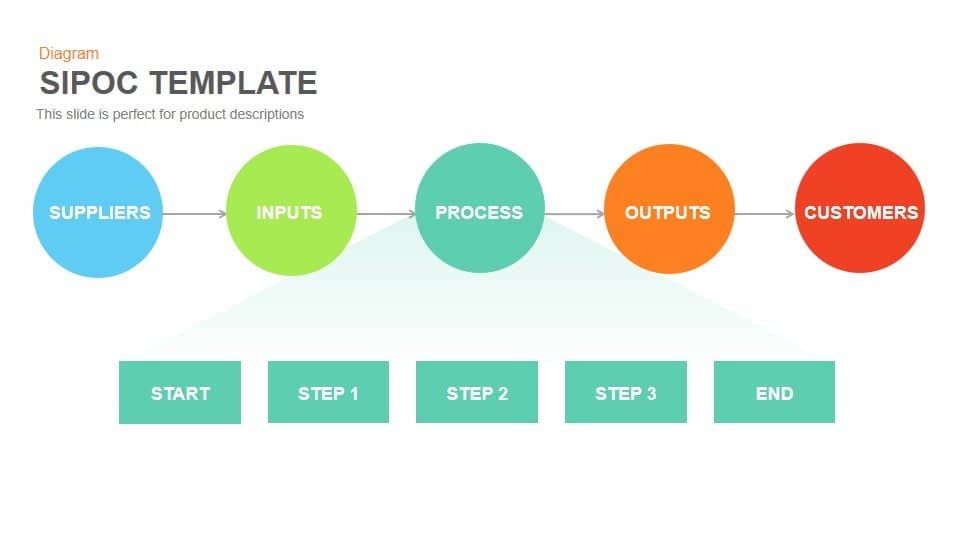 Create a well-organized presentation with our pre-designed SIPOC PowerPoint Template. This is a professional tool comprised of editable PowerPoint in a timeline design. Users can make an overview of SIPOC with distinct color themes and put texts in the bullet point ppt structure. Besides, the spotlight effects enable the presenters to specify practical points across. Further, you download alternative diagrams for the SIPOC presentation.
DMADV PowerPoint & Keynote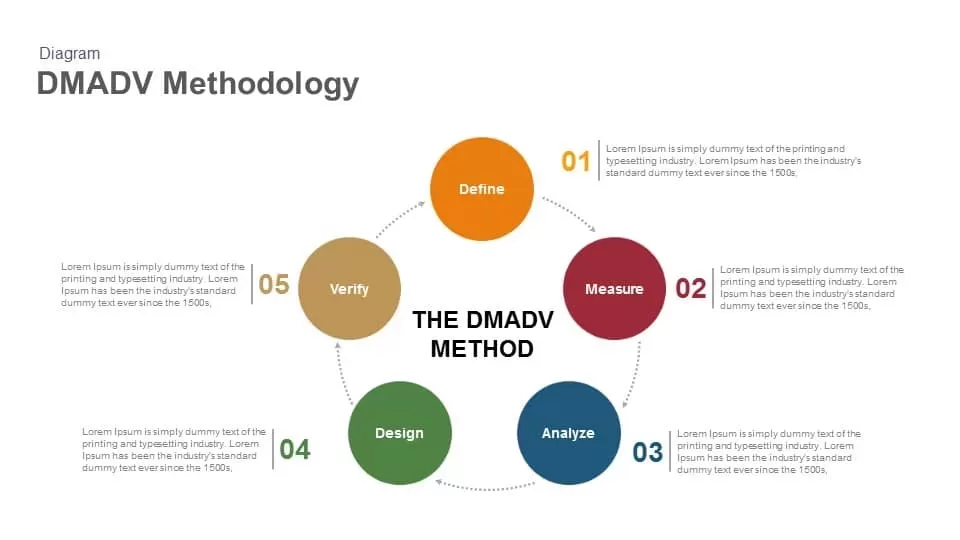 The different phases of DMADV methodology and its importance in the corporate environment can be discussed by downloading this pre-built and editable DMADV PowerPoint & Keynote. This customizable five-step process diagram is designed in a circular format on a black and white ppt background. Users can insert their text all over the board to describe functional aspects of DMADV.
Muda 7 Wastes PowerPoint Template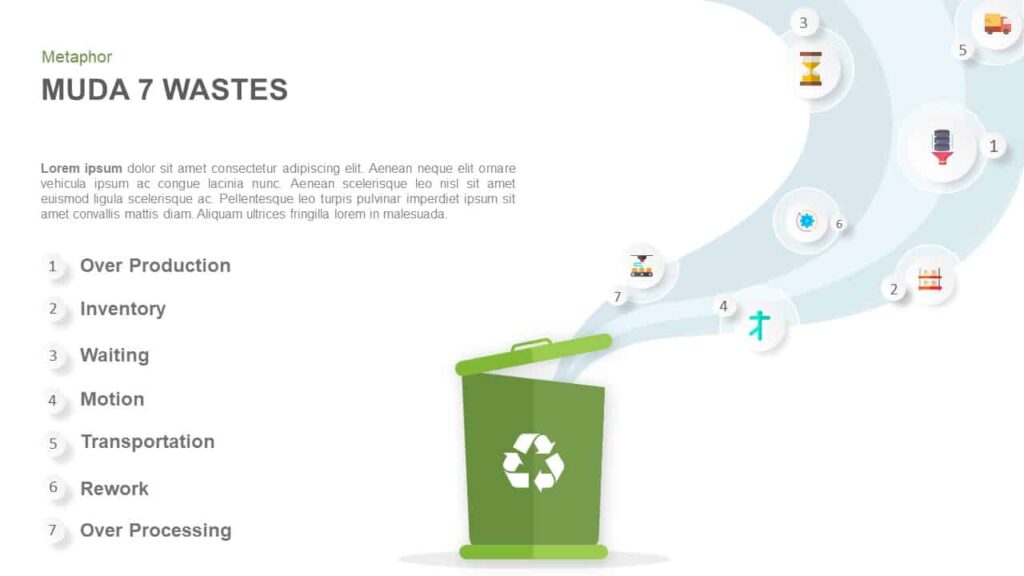 Use the artistic illustration of the Muda 7 Waste PowerPoint template to discuss the Lean Six Sigma process. The template contains a bin that outpours seven types of infographic clipart symbolizing Muda 7 wastes. Highlight the issues and problems using the Muda seven waste template.
Continuous Improvement Cycle Diagram for PowerPoint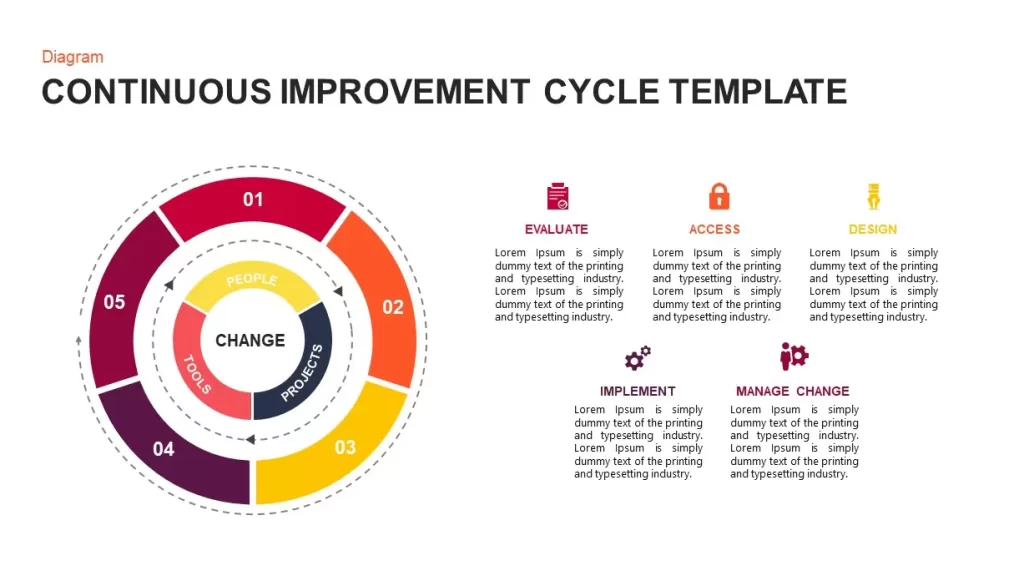 This template presents ongoing efforts to improve products, services, or processes. Give a detailed overview of continuous improvement focusing on process improvement techniques—the editable concentric circle layout of every activity in a precise manner. Download the continuous improvement PowerPoint cycle diagram for a comprehensive delivery.
Last word
Take your business to the next level by downloading our best Six Sigma PowerPoint Template for process improvement presentation and Lean Manufacturing in PowerPoint. If you need a detailed look at Muda 7 waste, look at our blog What is Muda? The 7 waste in Lean manufacturing.