Aristotle Model of Communication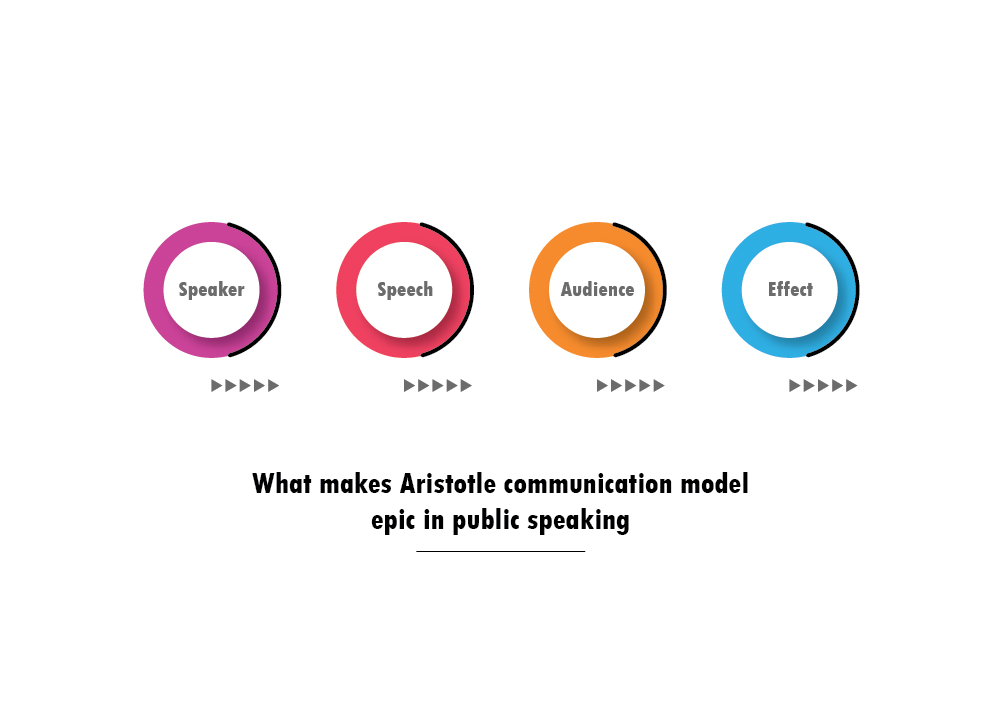 Aristotle model of communication
Aristotle's model of communication gives emphasis on the public speaking model rather than interpersonal communication. The Greek philosopher who is still remembered for his thought-provoking ideologies has a place in soft skill fields as well. When telling about human nature logically, Aristotle established a linear model of communication; this is considered as the first model of communication and was suggested before 300 B.C. It is also the most widely recognized among all communication models.
Aristotle's model of communication is a speaker-oriented model. He believed that the speaker is the most important element in communication. Aristotle's Model is largely focused on speaker and speech. It is the speaker's job to give a speech to the community. The part of the audience is passive. This marks the Aristotle Model of Communication a one-way model, from speaker to receiver. It can be broadly divided into 5 major elements: Speaker, Speech, Occasion, Audience, and Effect.
According to the Aristotle Model of Communication, the speaker is the main character in communication. This person is fully responsible for all communication. In this model of communication, it is vital that the speaker chooses his words sensibly. He must analyze his viewers and prepare his speech accordingly. At the same time, he should adopt the right body language, as well as ensuring right eye contact and voice variations. In order to lure the audience, blank expressions, confused looks, and tedious speech must be avoided at all times. The speaker should easily stimulate the audience with his versatile qualities and way of expression.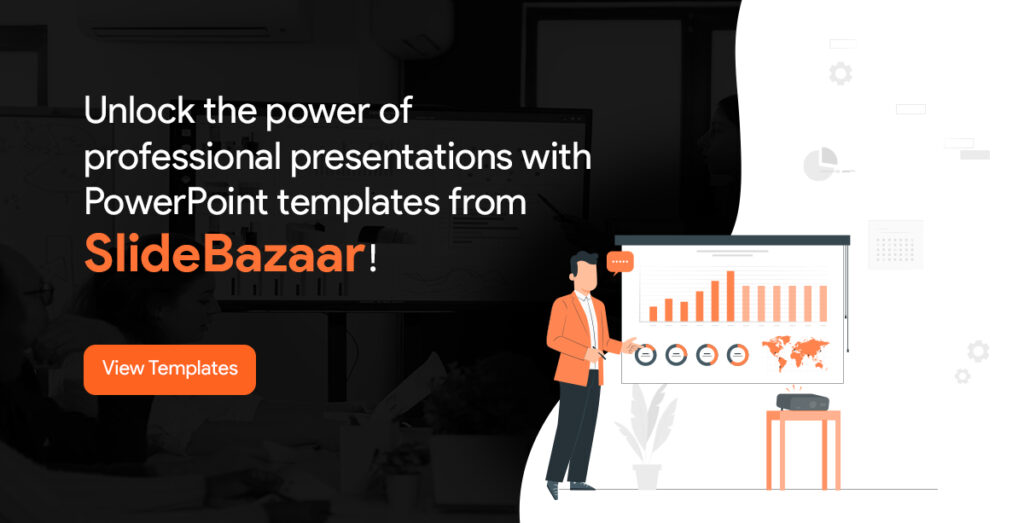 Before we move on, if you're someone who works with presentations, here's something that will save you a ton of time. Check out these PowerPoint templates to create impactful presentations in no time.
Tips to remember during the preparation of speech by the speaker
Sensible selection of words
Study the audience
Adopt the right body language
Ensure proper eye contact
Ensure verbal modulation
The aim of a political leader is to gain votes by his speeches and as well as retain and attract people into the party that he represents. The politician speeches about his party's viewpoints and will probably be familiar with his listeners.
In other circumstances, it would be more appropriate to actively research the audience in advance and define their potential standpoints or opinions. If the political speaker can give impressive messages with his/her unique speaking styles could influence the mass. So, a public speaker must design the message carefully.
Important Elements of a Good Communicator
Aristotle has given three elements that must be present in a good communicator or public speaker. These rhetoric elements are related to each other, and they strengthen the other elements. The three modes of persuasion are called logos, pathos, and ethos.
Here's a PowerPoint template explaining the three important elements of a good communicator: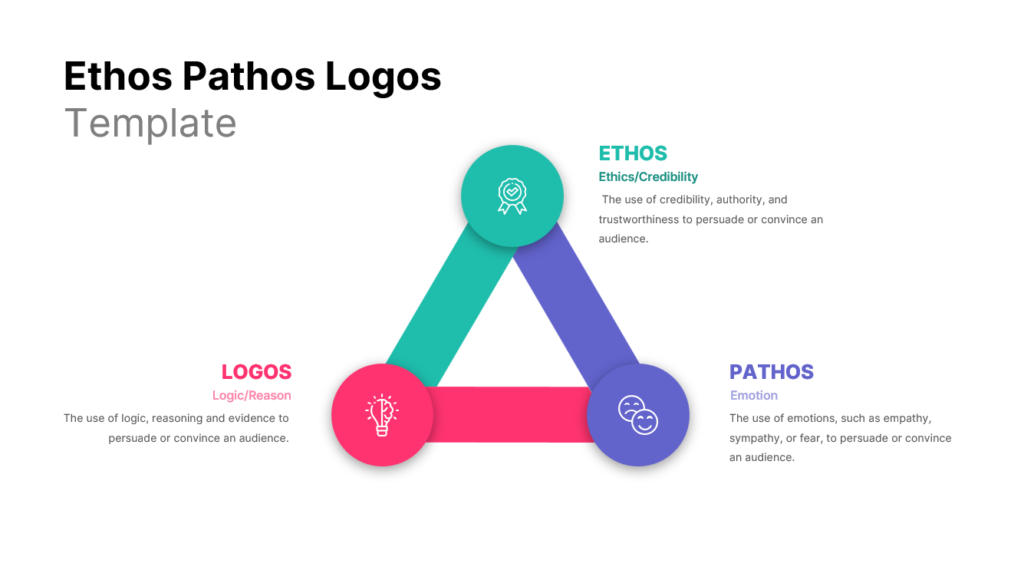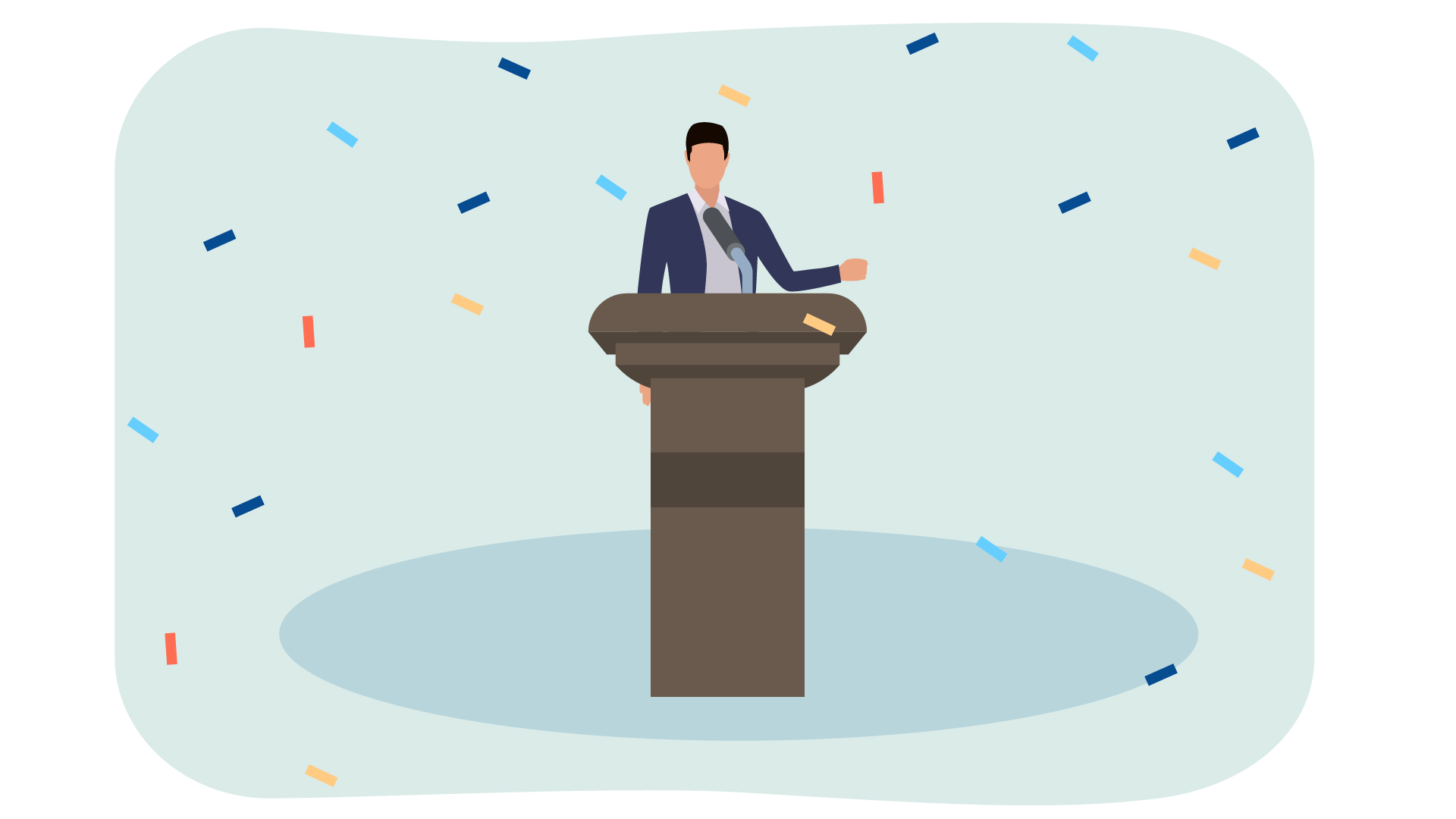 Ethos
Speaker's credibility will be measured by the people and by which they decided whether messages are accepted or not. Ethos is about the speaker's credibility and degree of authority, especially in relation to the matter at hand. If there is no credibility, the audience will not believe in you and will not be influenced by you. For example, if a corrupted leader delivering a philippic speech against scams and illegal offences audience shall not accept his/her words. Meanwhile, if a politician is known for his ethical stringent, people would be ready to listen to him. Tips for creating ethos in communication:
Use the right language that suits the target group
Keep communication professional
Study before words are presented as proofs
Use references from competent experts
Make logical connections and avoid errors
Pathos
Emotional bonds will make the listeners fascinated and they feel the speaker is one of their own people. The literal meaning of pathos is emotion. If a speaker can make excellent emotional bondage with the audience, the speaker's credibility will be on rising.
The notion behind pathos is that the audience must feel that they are interconnected. In certain situations, they want to feel more confident, in others more sad, angry, or emotional. For instance, if people of a village need schools and hospitals and the political leader tells them that he will be ready to help to build infrastructure, people won't get influenced but might be more influenced if he says will construct schools and hospitals for their convenience. Tips for effectively addressing emotions:
Approach with humor and have seriousness with audience issues
Use visual materials or images to evoke strong emotions
Start with their own stories instead of the common issues
Logos
The term logo denotes logic. But in public speaking, it more widely refers to the anchor's message and more specifically the statements, facts, figures, and other components that contain the discussion. If there is no lucidity behind the speaker's work or time, they do not want to get engaged. Everybody has a sense of reason. You must present evidence to the audience for them to believe in you. For example, if a politician attributes corruption against the opposite leader, he must present facts and figures with evidence.
When examining logos, always ask yourself:
What is the context? What conditions are significant?
What are the possible counter-arguments?
Is there any proof that supports my argument?
Do I properly avoid broad view and am I being specific enough?
Final word
Aristotle's model of communication is the most used expression model to outshine in public speaking, seminars, lectures where the sender makes his point clear by designing an inspiring message, passing on the message to the second part and they simply react accordingly. Here the speaker is the active member and the receiver is a passive one.