Definition, Types and Importance of Work Schedules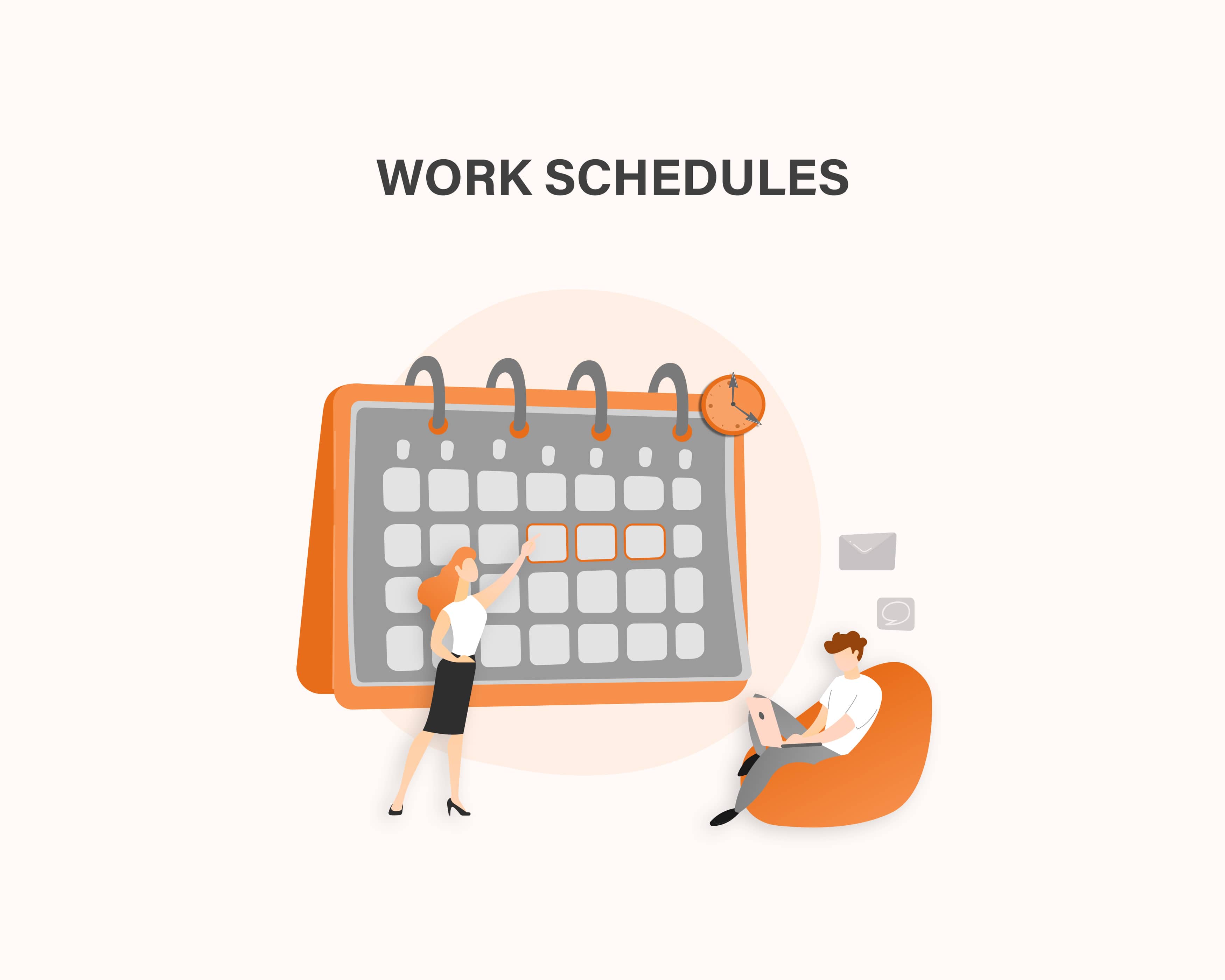 A work schedule refers to the days and times that a person is expected to be working. Creating a work schedule is the job of managers in which they clearly mention the number of days and hours to be worked. Traditional work hours are standardized from 9 a.m. to 5 p.m. in most countries. However, many employers offer a part-time and alternative schedule to cover their work needs and attract workers. Many jobs differ slightly in their schedules. For example, works between 8 a.m. to 6 p.m. Wednesday to Sunday are also seen in different contexts. These variations in a work schedule are the results of the type of job and company. A company security guard might have to work from 5 p.m. to overnight or a restaurant hostess might have to work from 4 p.m. to midnight.
There are different types of work schedules, which differ based on the organization and the position. Your schedule can also differ based on the time of year. For example, depending on the season the hours of work will change. Similarly, depending on the nature of the work and the risks of the work schedule may be varied quickly. For example, people who work in mines and rigs don't' have longer work schedules.
As an employee, you have to know the work schedule for any job before accepting a job. This will help you sidestep any surprises when you start work. Along with the nature of work, the management also makes clear the type of work schedule that an employee going to be done. So, an employee can accept or reject the offer during the time of the interview itself. If you're not clear about the work schedule, check with the employer prior to accepting a job offer. Besides, it is important to understand if the work schedule will match with employee lifestyle and other personal matters like family or school.
Depending on the nature and scope of work, climate, and season there are different types of work schedules. The types of work schedules as follows:
Full-time work schedule: This is the most common work schedule we can see in most organizations. According to this work schedule, an employee should engage a minimum of 35-40 hours of work in a week. Most of the people who are engaged in this tight schedule are eligible for employee benefits. These benefits can include sick days, health insurance, holidays, and different retirement plan options. Full-time plans vary from company to company, but most of the time, employees will work the same shift every week.
Most work schedules with full-time works have normally the same shift each day that is 9 p.m. to 5 p.m. however, in some cases it may vary, (for example, in the case of a retail business or hotel business), but the number of hours still remains as the same. This PowerPoint Gannt chart will help create a project work schedule.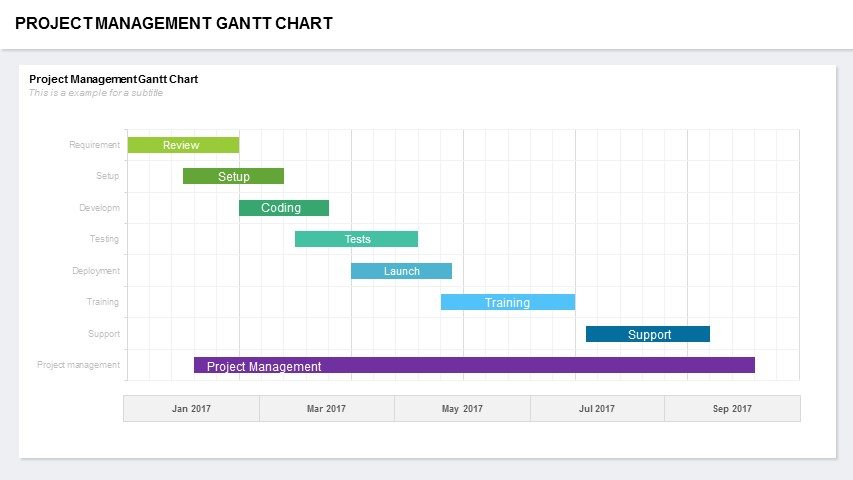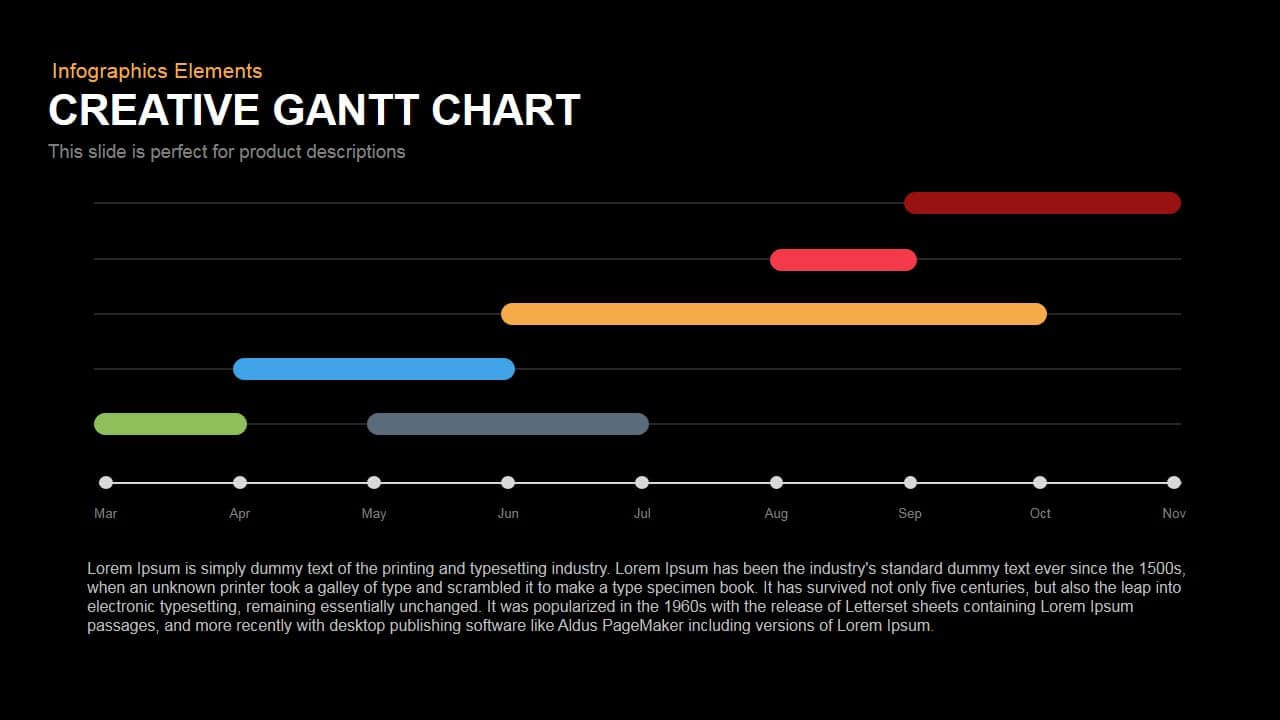 In the case of overtime works, the full-time workers (in some countries they are considered exempt) will get extra pay. This occurs when the hours worked exceed the established 40-hour maximum. Your extra work is paid at a minimum of base hourly pay plus half of that base pay, also called "time and a half." This is typical for people who get paid hourly. Employees protected by the Fair Labor Standards Act (FLSA) must receive overtime pay for hours worked in excess of 40 in a workweek of at least one and one-half times their regular rates of pay.
Part-Time Work Schedule: A variable or fixed work schedule that has fewer hours than a full-time workweek. For example, if a full-time works hour is 48 hours a week (6 days with 8 working hours) under 32 hours may be considered part-time. The benefit of this type of schedule is that it permits greater flexibility to maintain other duties outside of work.
Part-time workers won't get all benefits enjoyed by a full-time employee. Besides, the working hours will not be in a consistent manner. For example, if you are a part-time employee in a retail business, your work schedules may vary according to their business and profits. You will get more works in festive seasons and fewer works in off-seasons. Because of this, a part-time work schedule is exposed to continuous changes. An example of a part-time work schedule could be Monday through Thursday from 8:00 AM to 12:00 AM and Saturday and Sunday from 10:00 AM to 4:00 PM.
Fixed Work Schedule: A fixed work schedule is consistent in nature. It is a timetable that generally contains the same number of hours and days worked per week. Once the working days and hours of work have been scheduled, there will be no changes until a new scheme would issue. Either it might be based on mutual understanding of both employer and employee or it might be the sole decision of an employer. An example of a fixed schedule would be Monday through Friday from 9:30 AM to 6:30 PM or Thursday through Sunday from 2:00 PM to 10:00 PM.
Flexible Work Schedule: In this type, employees, and employers work together to define the number of hours and days of the week the employee will work. Employer's decisions and policies may decide the minimum number of work hours. However, shifts can often be switched with coworkers in order to fulfill the needs of the employer and the busy life of the employee. In a flexible work schedule, work exchanges between employees are common. But there is only one demand from the employer's point of view; the assigned works should be done in the stipulated time. Flexible work schedules have been profoundly seen in IT fields, where the employees can do their work at home, and workdays and time can be determined by the workers themselves.
Shift Work Schedule: This is rotating in nature. Night and day shifts are allocated to the employees. But the hours and days exchanged according to the convenience of the workers too. This cycle aids to allocate different shifts between all employees so that no one is fixed with the less desirable hours every shift. These shifts can rotate weekly or quarterly, depending on the type of work required. A shift work schedule benefits the employees to get more spending time with their family and friends.